There is no doubt we love SPAM. We've tried almost all of their variants available at the grocery, with the original and the one with bacon topping our list. So when we saw a post on Facebook about SPAM Tocino, we thought it was some kind of April Fools' day joke.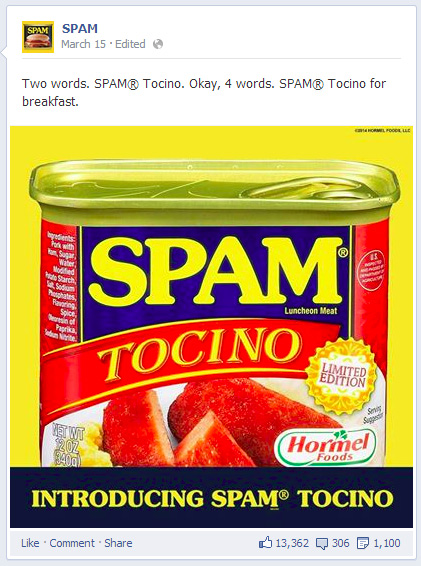 I didn't take it seriously UNTIL I decided to check out SPAM's official Facebook page and saw the post above. I did mention it to Ken and he said he saw some people saying it was based on Mexican Tocino. Still, I was curious. He LOVES tocino, and I do too. And we love SPAM, so we just had to find out how this new variant tastes like.
We learned it was available at Robinsons Supermarket. We first checked the one at Victory Mall in Monumento – nada. We finally found it after a few days at the new Robinsons Supermarket here in Malabon. Though we wanted to know if we'll like this, it took us a few more days before we decided to give it a taste.
The SPAM itself was a li'l wet compared to the original variant, so it slid smoothly out of the can. You can also smell that the sauce that surrounds it is sweet. When I started slicing the meat, I saw that the color was slightly yellowish (as you can see in the photo below). By this time, I was already excited to fry them up to get the crisp we wanted.