In our over 4 years of food blogging, Ken and I have been invited to guest in various TV shows as food critics / bloggers / reviewers. We were even invited to share our own recipes in a televised cooking demo, but our busy work schedules and the fear of the 10-pound gain when you're on TV held us back. 😀
Okay, that last part was a joke. And you know what they say about jokes. 😛
When we got this invite to guest as judges for the Battle of the Best Pansit Malabon on Kapuso Mo, Jessica Soho, we were ecstatic! We're big fans of Jessica Soho and her show. After a few hours of deliberation (si Kenneth kasi ehhhh 😀 ), we accepted the invite and braced ourselves for what's to come.
On day 1 of our shoot (we didn't know there'll be a day 2), we were both nervous but excited. We both love Pansit Malabon and it's a staple in almost all of the parties we hosted and attended since we were kids. So yes, we know what we're looking for when it comes to Pansit Malabon.
Pansit Malabon is almost similar to our Pinoy favorite pansit luglog. Thick noodles, orange sauce made with annatto seed oil, strong flavors, lots of toppings. The main difference is the amount of seafood you'll get. Malabon is known for the abundance of fresh seafood, and our own version of pansit is generously topped with them. Nowadays, they mainly use shrimps/prawns, squid, and tinapang bangus, but the old versions used tahong or fresh oysters (sushal!). The market prices in recent years have affected the amount of seafood you get per serving.
We've seen many food places here in Malabon that sell Pansit Malabon, but we've always ordered from Nanay's, and Norma's (they're in Navotas). We've had other versions of this dish from other stores at our relatives' and friends' parties. So, yes, we've eaten a lot of Pansit Malabon in our lifetime. 😀
Now, going back to our TV guesting, I t was crazy seeing how a 15-minute segment on TV needed to be shot for 2 days. Though it was a tiring shoot, we had fun during the whole experience, seeing what happens behind the scenes of our favorite TV show.
Day 1
We waited patiently for our part to start. It was a little hot out, but everyone at the San Bartolome parish were excited to see what's going on. It was when we found out that 3 stores that serve Pansit Malabon were going to compete during the battle: Tito Roy's, Nanay's and Milflores.
We met Tito Roy during the preparations of their parade before the battle started. It was our first time to hear about his Pansit Malabon. Milflores is owned by the family of one of my HS batchmates. We haven't tried their pansit yet, but we've heard good reviews from friends. Nanay's is pretty familiar to us since they're our go-to when it comes to Pansit Malabon. We were excited and nervous for them since they're already a well-established name when it comes to Pansit Malabon.
We finally met the Amazing Betong who was the host of the Battle of the Best Pansit Malabon. He was super fun and has this very warm personality. 🙂 And, yes, of course, our nanay was there to watch us. Almost all of the photos here were taken by her. 😀
After we were introduced (which you didn't see in the show), we were blindfolded and stayed that way from the time they assigned the places for each Pansit Malabon bilao, so we really had no idea which is which. I was uneasy about eating blindfolded 'cause I couldn't even locate the plate and fork correctly. What if they found my eating funny and it makes the final cut? 😀 (Sheesh, vain much?!)
Thankfully, Ken and I didn't mess up the whole eating part. I didn't know they'll show me multiple times whiffing the aroma of each plate of pansit Malabon laid in front of us. They even asked me to do it twice the first time 'cause they didn't expect I'll do it. 😀 It was my first instinct to pick up the plate, and jerkingly smell the pansit. Plus, it's one of my criterions when it comes to good food – mouth-watering aroma that excites my senses. 🙂

Pardon some of the photos – they were just taken from YouTube and when the show aired. 😀
So, we finally started the Battle of the Best Pansit Malabon. I can still remember distinctly what happened during the tasting.
Pansit Malabon A was a little lacking for me in terms of flavor. Could've used more tinapa or patis. The noodles had the right softness, and the veggies on top were fresh.
Pansit Malabon B made my mouth water. I knew my plate of this pansit was already right in front of me 'cause of its strong aroma. Nakakagutom! And it didn't disappoint. I couldn't have enough of it! The sauce was thick and quite savory.
Pansit Malabon C surprised me when I took a forkful and found out they were using bihon. I instantly thought, wait. This is the Battle of the Best

Pansit Malabon

. Why are they serving us this? 😀 Authentic Pansit Malabon is known for using thick noodles like the ones we use for luglog. Flavor-wise, it was okay but needed more saltiness 'cause I was getting more acidity. They probably used too much calamansi, so it was sour for my taste.
I wish they also showed the feedback we gave for each pansit Malabon, but since it was just a 15-minute segment, they couldn't fit everything. 😀 When we finally gave our scores, I gave 5 calamansi to Pansit Malabon B, 3 to A and 1 to C. Ken and Ate Carmen both gave 1 to A, 3 to C and 5 to B.
It was funny learning that someone from one of the competing stores that lost complained that we were siblings. So? 😀 We don't have the same taste buds. 😀
After we tasted all 3, the winner was pretty clear though. All of us LOVED Pansit Malabon B, and even the Amazing Betong agreed with us when he had a taste of all 3. When the winner was announced, we were not surprised. Nanay's was the best out of the 3 versions of Pansit Malabon presented to us during the battle.
And I felt Net of Nanay's (we didn't know she was an Ignacio 😀 ) deserved it the most 'cause of her speech after she won (most of it didn't make the final cut though). She's happy that after all these years, the consistency is still there in every Pansit Malabon they serve. But, most of all, she encouraged everyone to try what her competitors are offering because they all have their own spins to the much-loved staple food of our hometown. She also said that competition keeps the industry exciting. What a gracious winner! 🙂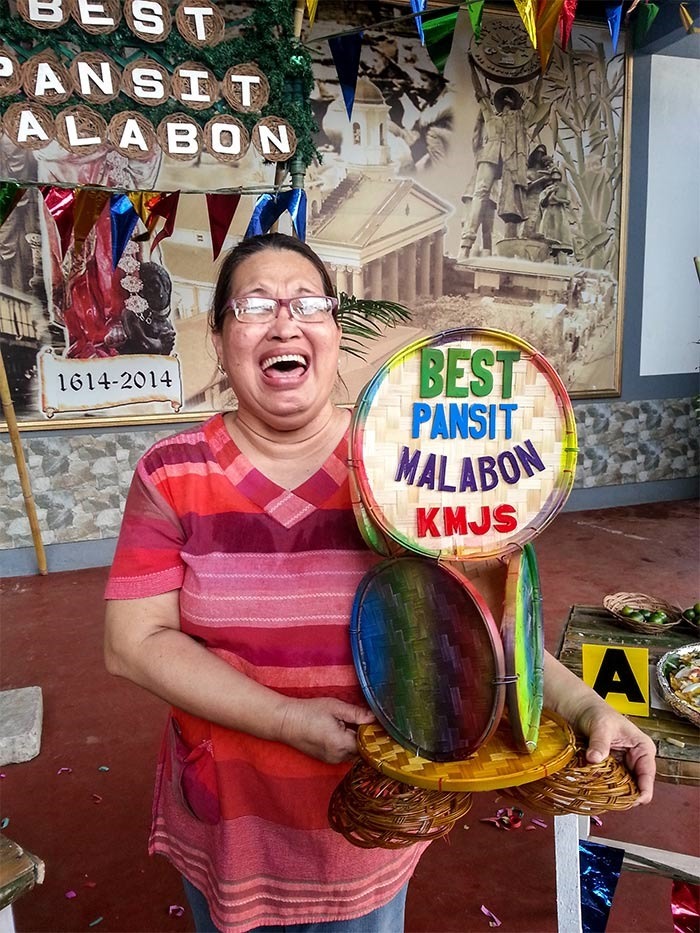 Day 2
I wanted to tell you about Day 2 'cause it was when we shot our intro where I was flipping my hair. Eewww hahaha. Sorry, it was a last minute decision. 😀 We were all dugyot na 'cause it was raining so hard and it was humid.

Anyway, we met Angel Cacnio, the artist behind the design of our old 100 and 20 peso bills. We couldn't believe we have such a well-known artist in Malabon.
Overall, our 2-day shoot for our first ever TV guesting was super fun! We couldn't stop laughing when we were watching the live broadcast of our Kapuso Mo, Jessica Soho episode. We loved the support we got from friends and those who read our blog. Thank you! 🙂
In case you missed it (it was replayed last December during their year-end lookback), here's a video we found. It's not the full episode, but you'll get to watch our segment. You can watch the introductions of the competing stores here.
The following two tabs change content below.
Michelle (aka Mhel / blankPixels) is a social media nerd and works as a Digital Marketing Lead for one of the top online companies in the Philippines. On her free time, she travels, goes on food trip and loves to take photos. She's the main editor of this food blog.
Latest posts by Michelle Ignacio (see all)
Comments
comments