Subway is the world's largest submarine sandwich restaurant and for years, we've wanted to try one of their sandwiches. Mai is not really into sandwiches before I came along so now that we both love it, we decided to try Subway's famous sandwiches at their branch in SM Mall of Asia.
Did you count how many times I said "sandwich" in the above paragraph? Expect more. *grin*
Subway has a wide range of sandwiches you can choose from. Here's their menu:
Mai ordered the Spicy Italian sandwich (PhP 125), and I ordered the Subway Melt sandwich (Php 150, with sliced chicken, ham and bacon).
To start, we were asked what bread we want. We can choose between Italian, Wheat, Honey Oat and Parmesan Oregano. I chose Wheat, Mai chose the last one.
Then, we got to choose toppings along with the meat and veggies already included in the sandwich we selected. Mai wanted to try the Jalapeño slices, but, we were told by the guy behind the counter to only choose from the ones he already prepared. So, we only picked cucumbers, lettuce and tomatoes.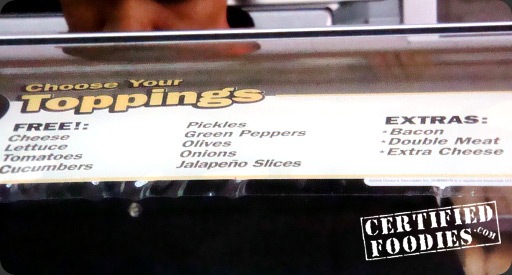 Lastly, we get to choose the sauce.
Mai picked the Sweet Onion sauce and I wanted to try their Honey Mustard sauce.
And, here are our sandwiches: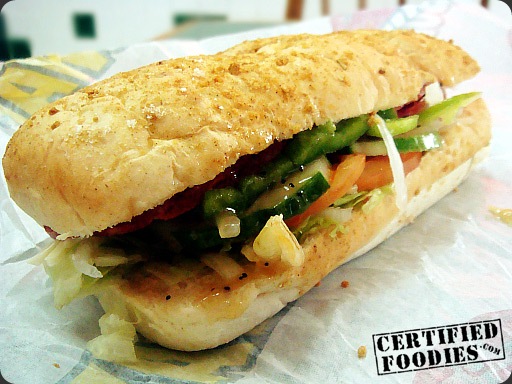 Subway's Spicy Italian Sandwich
Parmesan Oregano bread and Sweet Onion Sauce
Subway Melt Sandwich
Wheat bread and Honey Mustard sauce
We enjoyed the sandwiches! Mai and I both took turns in trying both sandwiches and we're pretty happy. I love my Subway Melt sandwich over what Mai ordered, but I'm guessing it's because of the Honey Mustard sauce. The Sweet Onion sauce is a bit too strong for me.
The Spicy Italian was a bit of a disappointment, actually. It wasn't spicy at all. And the fact that there were no Jalapeños available yet made the whole spicy flavor non-existent.
But, overall, we still liked the sandwiches we ordered. They're fulfilling, but, not overwhelming to the tummy. Great for health buffs out there, definitely.
Review : Subway Branch in SM Mall of Asia
Okay, we loved the sandwiches and we'd love to try something else on their menu next time. The food was prepared right in front of us and so we can say that the Subway guy was organized and prepared our orders quickly.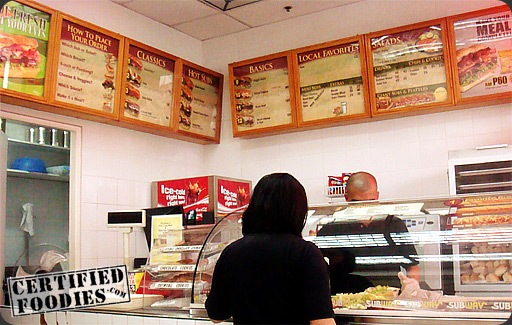 However, let me tell you that I hate it when staff people of restaurants or food places are not friendly or welcoming to their customers. Don't they know that their behavior affects the overall appreciation of their food?! So, even if the food tastes great, people will still rate your restaurant badly if your waiting staff doesn't take their jobs seriously. And, for heaven's sake, they're selling FOOD. People should be leaving their restaurants HAPPY, right?!
The Subway guy at their MOA branch looked like a snob. I think we were the first customers for the day and he looked like he wasn't ready and didn't want to entertain customers just yet. Must have been having a bad day. He didn't ask if we wanted anything else and even told us to only choose from what we see that he already prepared at the counter, even when we can freely choose what toppings we wanted. He didn't say it nicely, by the way. He said, "Dyan lang kayo pumili". He was like that even to the next customer who asked for Jalapeños and olives with his sandwich. The guy repeated what he told us, saying he doesn't have any Jalapeños or olives prepared yet. Argh.
Anyway, we still enjoyed our Subway sandwiches.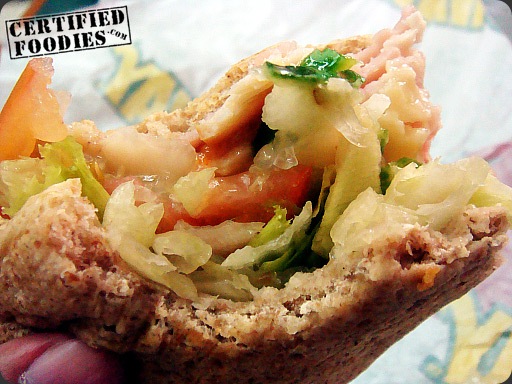 So, Subway sandwiches is a MUST-TRY. But, if you don't want to spend Php 100+ for a sandwich, we know there are cheaper alternatives than Subway sandwiches (or you can try their Sub of the Day for only Php 99– thanks for the tip, U8mypinkcookies!). If you prefer healthy over meaty, then, go for Subway sandwiches.
We really want to go back and try something else on Subway's menu.
The following two tabs change content below.
Michelle (aka Mhel / blankPixels) is a social media nerd and works as a Digital Marketing Lead for one of the top online companies in the Philippines. On her free time, she travels, goes on food trip and loves to take photos. She's the main editor of this food blog.
Latest posts by Michelle Ignacio (see all)
Comments
comments