Whenever the clock hits 3 o'clock in the afternoon, it's like our bodies are programmed to want to have merienda. We grew up like this, and I still remember our nanay knocking on our doors at 3pm, announcing it's merienda time. When we follow her to the kitchen, we'll be delighted by the spread of different snacks she bought or prepared for us. You'd usually find pansit luglog or Pansit Malabon, lugaw with tokwa't baboy, turon (we call it valencia), sopas, ginataan, ensaymada, bibingka and, my favorite, champorado.
Yes, champorado. Some may think that it's better enjoyed for breakfast, but I beg to disagree. 😀 I love champorado for merienda because it gives me a much-needed boost in the middle of the afternoon that'll last until the end of the day. 🙂 I also love turon, ginataan, peachy-peachy, and, of course, Pansit Malabon.
Ken's merienda favorites are lugaw, Pansit Malabon and bibingka. The latter, you'd think you can only find people selling them during the holidays, but in Malabon, it's a regular snack choice because it's readily available all year round (that's why we LOVE our home town 😀 ).
If you've seen our past recipes, you already know how we enjoy adding our own twists to usual dishes. This time, Ken came up with 2 Pinoy merienda recipes with a sweet twist that we're sure you'll both love. He used products from Mondelez Philippines.
Mondelez Philippines, formerly named Kraft Foods, has been around for over 5 decades. They're the authority when it comes to snacks. Don't believe us? Under their belt, they have Oreo, Toblerone, Cadbury, and Tiger Enery Biscuits. Their Eden Cheese is a regular when we prepare spaghetti. We also add cheesiness to our 'flying saucer' sandwiches with Cheez Whiz. Merienda won't be complete, especially for our nanay, without a pitcher of her favorite Tang.
Mondelez has been constantly innovating, coming up with new flavors that us Filipinos love. Have you tried their Oreo Coconut Delight? You must! How about the Tang Dalandan, Honey Lemon and Calamansi? 🙂
Since we're talking about innovation, these merienda recipes we're sharing with you use the following Mondelez products: Cadbury Dairy Milk chocolates, Eden Cheese, Toblerone Dark Chocolate and Kraft Cheddar Cheese. See, Cadbury and Toblerone aren't just for quick snacking, but you can also use them to bring your merienda favorites to a whole new level. We're sure your loved ones will love these snack surprises. 🙂
We hope you'll make new and fun memories with these recipes. If you want more exciting ideas for merienda, you should check out the last recipes we posted using Tiger Energy Biscuits and Oreo, or visit Mondelez' website: http://ph.mondelezinternational.com/recipes.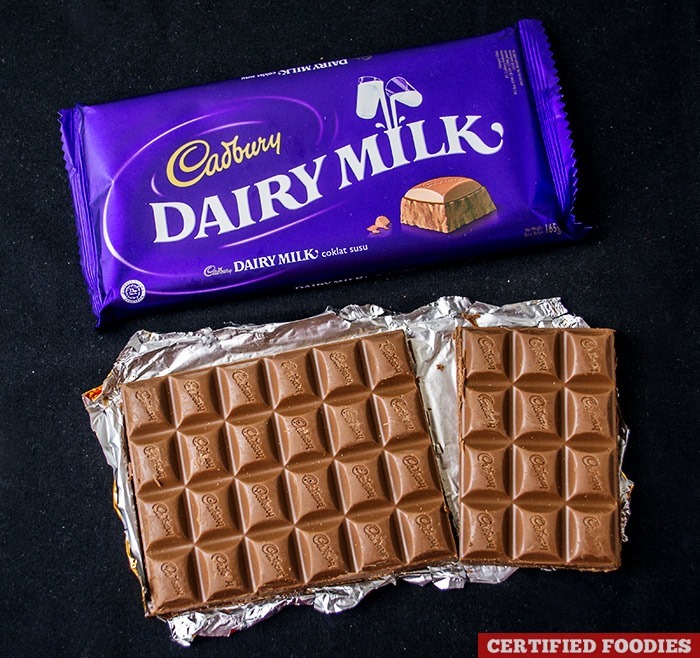 Cadbury Champorado with Eden Cheese
Yield: 6 bowls
Ingredients:
250 grams Cadbury Dairy Milk (1 1/2 packs 165g packs)
1 cup sticky rice (malagkit)
5 cups water
1/3 cup white sugar
1/2 cup evaporated milk
1 cup Eden Cheese (grated)
Procedure:
1. Put 250 grams of Cadbury Dairy Milk in a microwave-safe bowl. Heat the chocolate at 30 seconds interval until completely melted. Set aside.
2. Wash sticky rice well with water. Drain off liquid.
3. Combine rice with 5 cups of water in a pot. Let it boil, then lower heat to a simmer for 15 minutes or until rice is cooked and the desired consistency has been reached.
4. Pour the melted Cadbury Dairy Milk chocolate into the bowl together with the white sugar. Stir at low heat until no sugar granules remain.
5. Scoop out champorado into serving bowls, garnish with evaporated milk and grated Eden Cheese. Enjoy! 🙂
The Eden cheese adds a contrast of flavor to the sweetness of the Champorado made with Cadbury.
Another serving idea. 😉
Toblerone Bibingka with Kraft Cheddar Cheese
Yield: 6 mini bibingkas
Ingredients:
1/2 cup rice flour
1/2 cup all-purpose flour
1 tsp baking powder
2 pcs whole eggs
1 cup coconut milk
1/2 cup white sugar
1/4 cup butter (melted)
1/4 block of Kraft Cheddar Cheese (cut into small rectangular pieces)
1 pc salted egg
8 pcs Toblerone Dark Chocolate
1/4 cup butter (melted / for brushing on banana leaves)
Procedure:
1. Cut banana leaves to fit your container. Brush with melted butter. You can pop the cut banana leaves into the microwave for no more than 15 seconds to make them softer. It will be easier to push and fit them into the mold.
2. Slice Kraft Cheddar Cheese into small, rectangular pieces.
3. Cut salted egg into small pieces.
4. Sift rice flour, all-purpose flour, and baking powder into a clean bowl. Add in the coconut milk and mix well until there's no more visible lumps. You can use a handmixer if you like.
5. Mix white sugar with melted butter. Add in 2 pieces of eggs and stir until well-incorporated. Set aside.
6. Combine flour mixture with egg mixture. Mix well, then pour them into the containers until they're 2/3 full.
7. Heat Toblerone Dark Chocolate in the microwave at 30 seconds interval until completely melted.
8. Scoop 1 tablespooon of melted Toblerone Dark Chocolate into each individual bibingka mixture. Using a toothpick or a chopstick, swirl the melted chocolate into the batter to create a marbled effect. You can combine the melted chocolate into the flour batter if you don't want to do the marbled effect.
9. Put slices of Kraft Cheddar Cheese and slated egg on top.
10. Boil a pot of water, then place your steamer on top. You can use your rice cooker's steamer attachment for this.
11. Cook the bibingka for 10-12 minutes or when you insert a toothpick in the middle of the bibingka and it comes out clean.
12. When it's done cooking, allow the bibingkas to cool. Serve with grated coconut on top.
We're sure this recipe will surprise your loved ones as they bite into the chocolatey bibingka. 🙂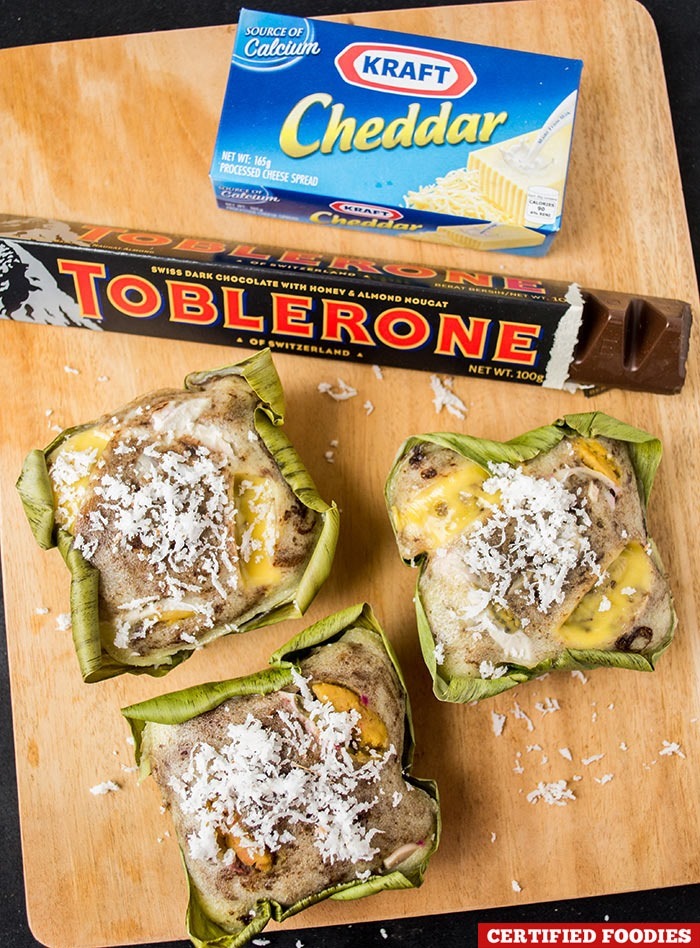 The following two tabs change content below.
Michelle (aka Mhel / blankPixels) is a social media nerd and works as a Digital Marketing Lead for one of the top online companies in the Philippines. On her free time, she travels, goes on food trip and loves to take photos. She's the main editor of this food blog.
Latest posts by Michelle Ignacio (see all)
Comments
comments