Ever since my mother saw the fruits of my labor from blogging and became supportive (read: active), most especially here on Certified Foodies, whenever we go out, she NEVER wanted to eat anywhere we've already dined in before. So, when we went grocery-shopping a few weeks ago at Victory Mall, she convinced me to eat at Golden Fortune Restaurant.
I've been seeing this Chinese restaurant for like a hundred times over because I usually frequent Victory Mall when I buy inks for my printers. So, I was looking forward to trying their food, especially because I wanted to know how they compare to Wai Ying Fast Food Restaurant in Binondo.
The ambiance inside Golden Fortune's branch in Victory Mall is surprisingly warm considering they're at a VERY crowded mini-mall at the heart of Monumento, one of the busiest places in the Metro. I guess it's mainly because of the lighting. But, the waiting staff were also very accommodating. We didn't have to wait long for our orders and the woman waiting on us seemed okay with our questions. She was all-smiles and was even checking if we needed anything. That's awesome customer service, if you ask me. I forgot to get her name though. 🙁
Anyway, as soon as I saw the menu of Golden Fortune, I heard my tummy grumble. Aside from the dumplings and rolls one can order, their rice meals (Che Chai Rice) were also very tempting. There are a lot of food choices on their menu! And my first impression was they were all reasonably priced.
I wanted to try Golden Fortune's Hongkong Lechon that they've been advertising on their walls. So, that's what I ordered. I ordered the Hongkong Lechon Che Chai Rice for Php 88.00. You can order this with unlimited rice by just adding Php 8.00. But, since my mom was not ordering their rice meals and I'm trying to lessen my carbs intake, I didn't avail of their unlimited rice promo. 😀
As you can see, for Php 88, the serving is big enough for someone with my appetite (I shared, promise!). 😀 I love the crispiness of the pork skin and the flavor of their lechon. I also liked that there wasn't much fat on the lechon slices I got.
We ordered Golden Fortune Fried Rice, Php 198.00. Honestly, it was a bit expensive for me since the serving wasn't that much. Good thing it was good, with all the carrots, shrimps, green pepper, and cabbage adding more flavor to it. I expected it to be a little oily, but it wasn't. So, I was still very satisfied with this order.
My mom and I had our own choices of dumplings so we just ordered away. I, of course, had to try their Shrimp Hakaw, priced at Php 80 for 4 pieces.
It was okay, the shrimp had that bit of crunch to it. But, the wrapper was a li'l too thick for me. I want it softer that it'll feel like it's melting in my mouth.
We also ordered their Sharskfin Dumpling, Php 65 for 4 pieces. Again, the wrapper was thick for me. But, it was still good.
Of course, we ordered their Pork Siomai. I forgot to take note of the price, but I believe it's at Php 65 for these 4 pieces. Nothing too special, but still meaty and flavorful. 🙂
Lastly, we tried their Corn Siomai, Php 70 for 3 pieces. I didn't like the presentation, but I loved the sweetness of the corn blending in with the saltiness of their siomai. My mom enjoyed this.
Though I might be sounding like I was disappointed with what we had for lunch at Golden Fortune in Victory Mall, Monumento, I actually did enjoy the food. Though I still prefer Wai Ying's dumplings over theirs, I will still give Golden Fortune 4 stars for the accommodating staff, flavorful food (the fried rice, Hongkong Lechon and Siomai especially) and affordable prices.
☻☻☻☻

I'm looking forward to trying other items on their menu next time we drop by Victory Mall. I'd probably try their Hainan Chicken, Peking Roast Duck and their Shabu-Shabu All You Can next time. We might be at Victory Mall again next week to shop for things for our home's renovation, including bathroom faucets and a new sink.
Golden Fortune The Hongkong Cuisine
Store Hours: 10:00am – 8:30pm
G/F Victory Mall #717 Old Victory Compound Rizal Ave.
Monumento, Caloocan City
Contact #: 332-3333/332-5555
Fax #: 332-6182
Golden Fortune on Facebook
For the Love of Hakaw…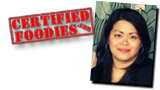 Our entry this week for:
The following two tabs change content below.
Michelle (aka Mhel / blankPixels) is a social media nerd and works as a Digital Marketing Lead for one of the top online companies in the Philippines. On her free time, she travels, goes on food trip and loves to take photos. She's the main editor of this food blog.
Latest posts by Michelle Ignacio (see all)
Comments
comments