Buffalo Wings are considered American staple food, together with our favorite burgers and fries. They're the kind of food people don't ever mind getting down and dirty in eating because it's best savored using your bare hands, licking all the crevices of your fingers clean of the delicious buffalo sauce and blue cheese dip.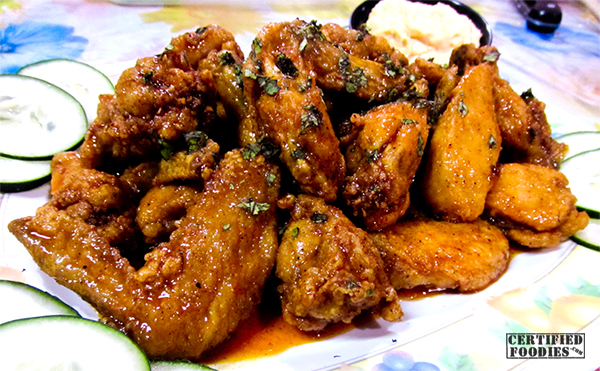 I had my first taste of the hot wings when some of my friends and I once dined at TGI Friday's in Greenbelt. They ordered their usual nachos, burgers, and fries. One friend suggested we get the Buffalo wings, but another friend was quick to negate, saying that it's too spicy for her taste. But since I love my food hot and spicy, 10 minutes later, we had two servings of Buffalo wings on our table, and they all agreed that I ate 2/3 of it. 😀
Friday's Buffalo Wings
After that dinner, the Buffalo wings flew straight up my all-time favorite food list, but it's not everyday that I have the luxury to buy wings at Friday's. So I decided to make some myself at home, and it's a good thing that I have a very generous sister like Mhel, who shouldered the expenses for the ingredients.
My first attempt to make Buffalo Wings at home – all gone in about 15 minutes! 😀
The Homestyle Buffalo Wings recipe I'm sharing with you are bits and pieces of different stuff I found on the internet. Not one recipe matched what I wanted to do because there is one requiring me to broil then bake the chicken wings, instead of simply frying them; another has a lousy breading mix recipe, but their instructions for doing the buffalo sauce was by far the simplest among all I've seen. And almost all sites had a recipe for blue cheese dip to accompany the chicken wings, but blue cheese is out of the question – too expensive for me. But, we'll try that, too, soon. 🙂