There's no better way to blow off some steam after a hard day's work than chillaxing with your barkada over good food and strong booze. That is exactly what we did when Dencio's Bar and Grill invited me and my friends to visit their Eastwood branch to try their bestsellers and latest food and beverage offerings!
Dencio's at Eastwood Citywalk has a simple yet inviting façade that attracts big groups of friends or officemates, who are out for a few rounds of drinks. But that doesn't mean you can't drop by just to have lunch or dinner because, after all, do they have a sumptuous line of dishes and drinks that greatly appeal to the Filipino appetite.
The interior is very straightforward with its harmonious combination of wooden furniture with natural design pieces, giving it a comfortable and very Pinoy atmosphere. The al fresco dining area is ideal for groups with smokers. For non-smokers like me, they have two spacious air-conditioned rooms on the second floor, which can also be booked for private events.
Dencio's Bar and Grill
Now onto our drinks! We were quite parched when we arrived at Dencio's, so we ordered four of their bestselling fruit shakes (PHP 85 each). One sip and we knew that they use only the freshest fruits and ingredients in whipping up these refreshing beverages.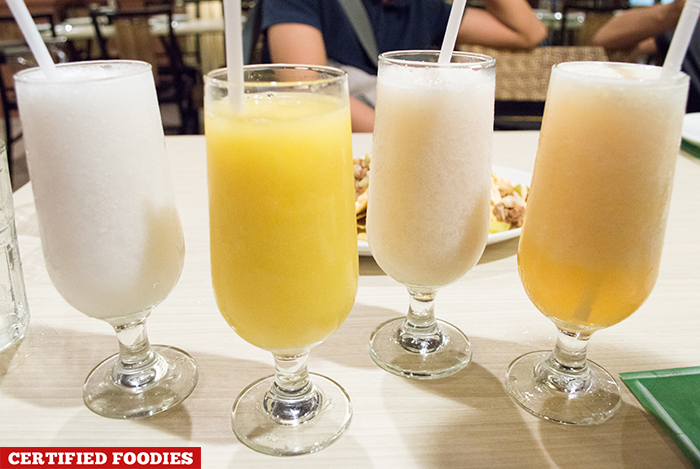 Can't decide between ordering nachos or pork sisig? Don't fret; you can now enjoy both with Dencio's Macho Nachos (PHP 175). At first, we had no idea why it was named as such, until we took our first bite and realized that the dollop of meat on top of the nacho chips was actually made with sisig.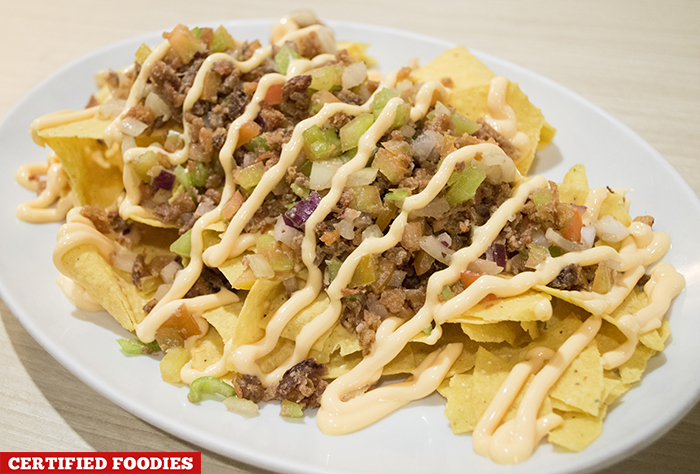 The next dish that landed on our table was the Pancit Dencio's (Platter PHP 205 | Bilao PHP 449). It's a plate of canton noodles with fresh vegetables, pork, and seafood, all tossed in a thick and super flavorful sauce that I seriously wanted to eat it with a cup of rice. Haha!
The Tuna Salpicao (PHP 255) is one of the newest additions to Dencio's menu. I'm used to having salpicao with beef, but this version was a welcome surprise. I had no idea that salpicao sauce can totally work with seafood.
One of their bestsellers that we ordered was the all-time Pinoy favorite Kare-Kare (PHP 399).  Their interpretation had a sauce with a thinner consistency to what I'm used to eating, but it was well-seasoned and it complemented the generous mix of beef meat and tripe that were so tender and soft to the bite.
Their Krispy Sisig (Regular PHP 209 | Large PHP 319) is a huge hit with their diners because it's super crispy and tasty. It's the kind of dish that pairs well with a bottle of below-zero beer or a heaping serving of rice. Both the regular and large servings are not served with an egg on top, but you can opt to add one for only PHP 10.
Dencio's famous Krispy Pata (Regular PHP 639 | Large PHP 759) is a sinful platter of deep-fried pork knuckles with an irresistible goodness that seeps down to the bones that we barely had enough left by the time we started with our cocktails.
The Krispy Buntot ng Tuna (PHP 70 / 100 grams) is one of the latest food offerings at Dencio's. It's a big portion of tuna tail, grilled to perfection and served with a small mound of atchara that delivers a nice balance to the tuna's distinct flavor.
Their Sari-saring Sinugba (PHP 545) is definitely my favorite. It's a mouth-watering surf-and-turf dish with four delicious grilled items – tuna, pork belly, pork barbecue, and squid. It also comes with sliced tomatoes and various pickled vegetables.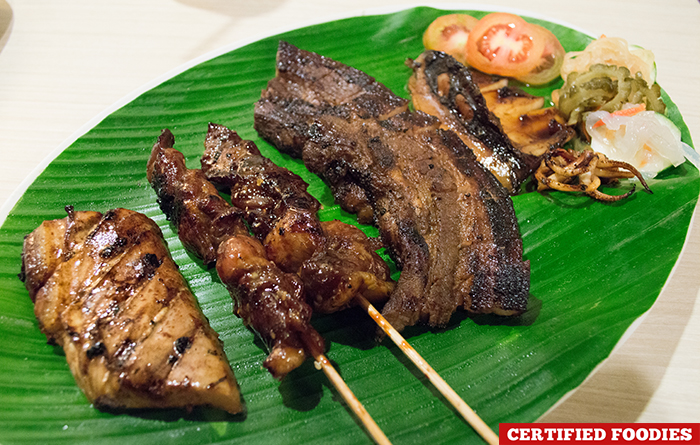 For our desserts, we asked for their Halo-Halo and Buko Pandan. The Halo-Halo (Regular PHP 82 | With Ice Cream PHP 102) was so big and brimming with ingredients that it was more than enough to feed four people. They also have a Mini Halo-Halo, which you can buy for PHP 62 or PHP 75, if you want it served with ice cream.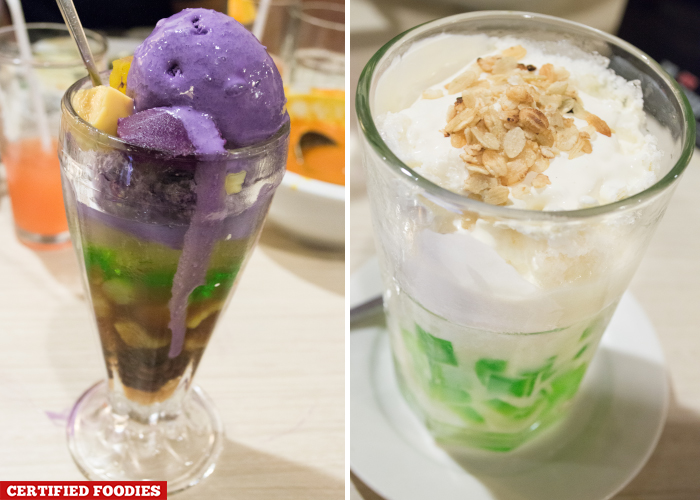 The Buko Pandan (PHP 99), on the other hand, was a pretty light but uber refreshing dessert because it was not overly sweet and it had a good play with textures and flavors.
Now it's time to get hammered!
We initially wanted to drink some ice-cold beers, but when we found out Dencio's have cocktails available, we decided to give them a try. I asked for their Weng Weng (PHP 150). It tasted like I was just drinking regular juice, but it seriously packed a mean punch and I was tipsy in just a few sips. That's how I like my cocktails—sweet but rich in booze! The same is true with Reish when she got the Mudslide (PHP 165), which had a distinguishable sweet and boozy taste of Bailey's Irish Cream. Rose Ann went for the cold and refreshing Margarita Frozen (PHP 108), while DJ opted for their equally lip-smacking good Tequila Sunrise (PHP 108).
It was a long night of eating and drinking, but we all went home with full stomachs and inerasable smiles on our faces. So if you're looking for an excellent place where you and your friends can enjoy some mouth-watering Filipino dishes and ice-cold beers or cocktails, then head over to the nearest Dencio's Bar and Grill, where you are definitely sure to have a good time!
Dencio's Bar and Grill      
Bldg. G9-B Eastwood Citywalk 1, E. Rodrigues Jr. Ave. Q.C.
The following two tabs change content below.
Kenneth is the chef in the family (he studied Culinary Arts and Baking & Pastry Art in GCHA). He's responsible for most of the more complicated recipes featured here, and loves preparing pastries and desserts. Aside from being a chef, he's also a Registered Nurse and Midwife. His love for cooking led him to pursue a culinary career.
Latest posts by Ken Ignacio (see all)
Comments
comments