For hundreds of years, the Japanese people have been observing their "Hanami" tradition, where they enjoy picnics under the blooming cherry blossom trees during Japan's spring season. Travelers all over the world are packing their bags to join in on the celebration. But like the most of us, we don't have the free time and—let's admit—the financial capacity to splurge on a trip just to witness Japan's iconic Sakura Season. But don't fret; Tokyo Bubble Tea has finally brought the Sakura Season right to the Philippines with their newest offerings—the Sakura Bento Trays and Sakura JCC Milk Teas.
Tokyo Bubble Tea at SM North EDSA The Block
I dragged my good friend, Rose Ann, with me since she's more familiar with the Japanese culture. She's an online English tutor and it's her amazing job to talk with Japanese people all day. We visited the Tokyo Bubble Tea at SM North EDSA The Block in Quezon City for it's the branch nearest to us.
Upon entering their store, we were greeted by their very accommodating staff. One was even game enough to strike a pose for a picture. This branch has limited seating capacity. I remember my family deciding to have dinner here one time, but we had to wait 15 minutes to get seated because the place was jam-packed with customers. I was also quite surprised with their cake display, since the last time we were here, they only had a handful of cakes to choose from. Now they're selling more than 10 varieties of cakes, and they all look so sweet and delicious!
Tokyo Bubble Tea's Sakura Season Menu
Launched last April 15, 2015, Tokyo Bubble Tea's latest Sakura Season menu features 3 new drinks and 3 new bento trays.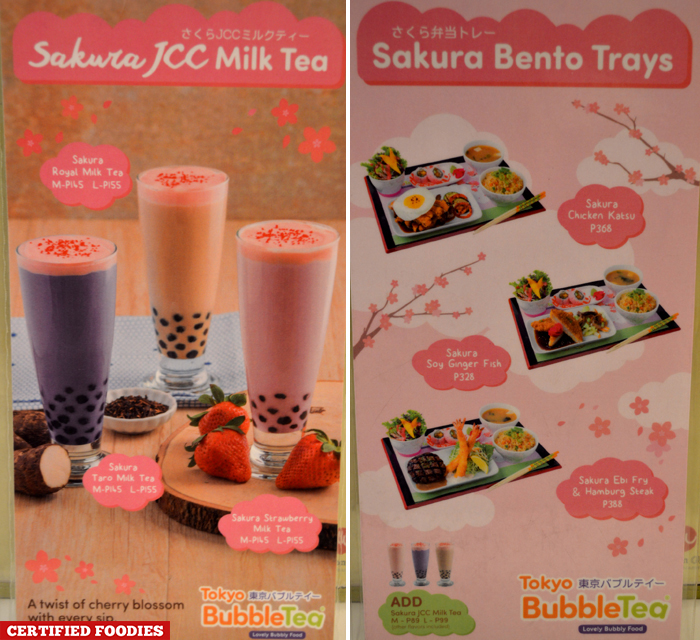 Sakura JCC Milk Tea
Just in time for summer in the Philippines, their Sakura JCC Milk Teas are the best way to cool off. They have 3 new flavors—Royal, Taro, and Strawberry. We tried a serving each of their Royal and Taro flavors.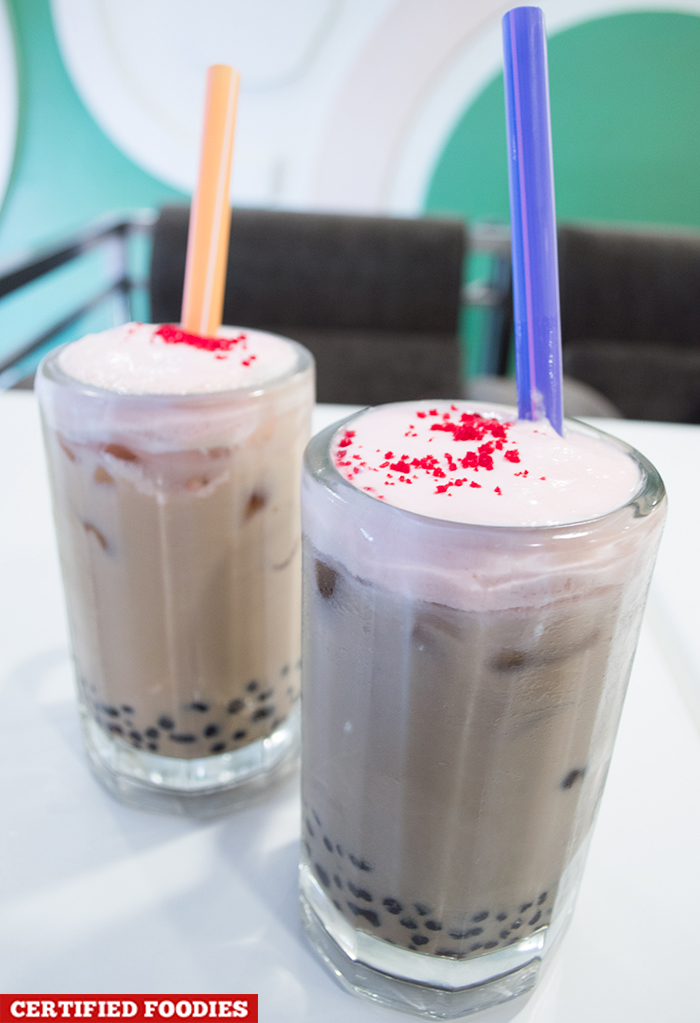 Sakura JCC Milk Tea – Medium PHP 145 | Large PHP 155
Both of our drinks were topped with their frothy Sakura cream cheese and cherry blossom cake crumbs. These added an interesting depth of flavor that made their milk teas quite refreshing.
PROMO ALERT: And we bring you good news! If you buy any of their Sakura Bento Trays, you can avail of the Sakura JCC Milk Teas at PHP 89 for medium and PHP 99 for large. What a good deal!
Sakura Bento Trays
Tokyo Bubble Tea's Sakura Bento Trays all come with a main course, miso soup, fried rice, Sakura salad, Sakura maki. You have 3 options for your main-course: Chicken Katsu, Soy Ginger Fish, and Ebi Fry with Hamburg Steak.
Rose Ann went for their Sakura Chicken Katsu. The chicken was soft to the bite and very flavorful, too. One reason, perhaps, is their decision to use the thigh part of a chicken for their katsu. The meat sat on a bed of mushrooms that my friend found a little too oily, but it was seasoned pretty well so things evened out at the end.
Sakura Chicken Katsu PHP 368
I ordered their Sakura Ebi Fry with Hamburg Steak. This bento tray comes with 2 pieces of ebi fry and a piece of beef patty. The ebi fry was delightfully crunchy. It was served with a small dollop of tartar sauce for dipping. The hamburg steak was surprisingly good! It was cooked medium well and its seasoning was on point. I actually wished I could order another serving of it. Haha!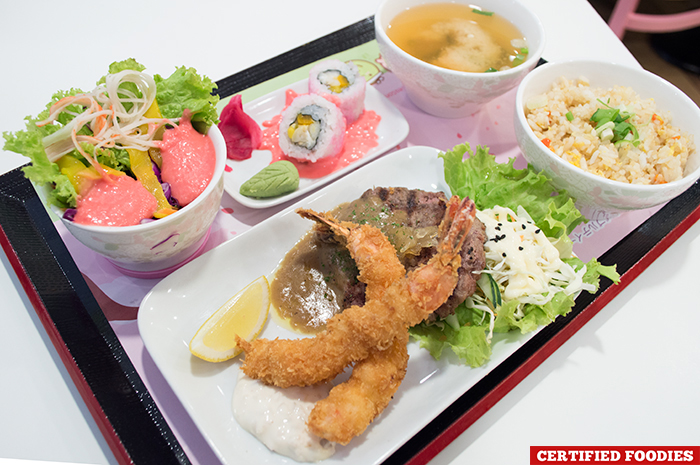 Sakura Ebi Fry with Hamburg Steak PHP 388
Tokyo Bubble Tea's new Sakura Season menu will run for a limited time only, so be sure to try their newest dishes and drinks before they're gone!
Tokyo Bubble Tea
Tokyo Bubble Tea has 11 branches nationwide. You can visit their two social media channels below to see their addresses and contact numbers.
The following two tabs change content below.
Kenneth is the chef in the family (he studied Culinary Arts and Baking & Pastry Art in GCHA). He's responsible for most of the more complicated recipes featured here, and loves preparing pastries and desserts. Aside from being a chef, he's also a Registered Nurse and Midwife. His love for cooking led him to pursue a culinary career.
Latest posts by Ken Ignacio (see all)
Comments
comments