It's a fact: more and more Filipino young adults are moving out of their parents' nest to start living independently. My sister, Mhel, has become one of those people, when she traded her home-based work for an office job in Makati. She rented a studio unit right across her office, sparing herself from the inevitable stress of daily commutes. The major drawback? She misses our Nanay's delicious home-cooked meals, and after a hectic day at work, she doesn't have much time for cooking, so she resorts to ordering fast-food and feasting on unhealthy fare. What she and most young, independent professionals need are efficient and reliable pieces of equipment that will help them prepare "lutong bahay" quality food in a short time, like Russell Hobbs' small kitchen appliances.
Russell Hobbs Small Kitchen Appliances
Russell Hobbs may not be a household name in the Philippines, but it's considered the number 1 brand in the United Kingdom with its line of innovative and stylish small kitchen appliances. We owe it to its founders, Bill Russell and Peter Hobbs, for revolutionizing the way we enjoy coffee and tea with their invention of the electric kettle and the coffee pot with a keep-warm feature.
Mood-Food Cookbook
Our daily food choices are greatly affected by our mood. When we're stressed at work or when we're nursing a broken heart, we always turn to our favorite foods for comfort. With this in mind, Russell Hobbs has decided to collaborate with Chef JP Anglo, who owns the successful Sarsa Kitchen + Bar, in creating a coffee table book with a collection of positively mood-altering recipes that can easily be prepared using Russell Hobbs kitchen appliances. It's the perfect book for budding cooks, professionals with tight schedules and a tighter kitchen space, or any person who enjoys food!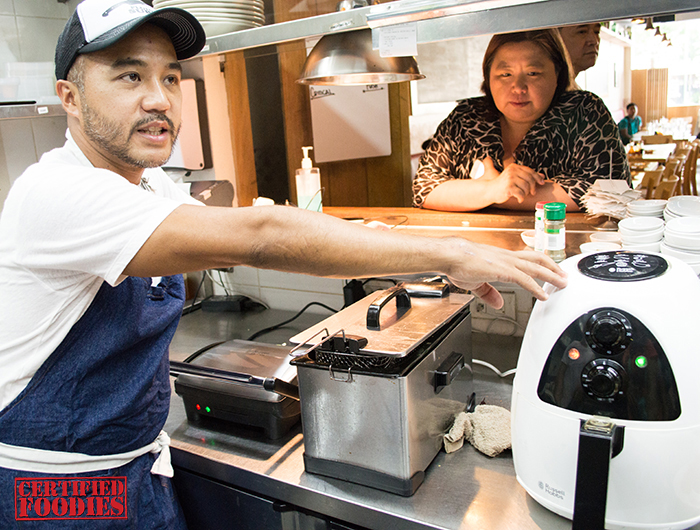 Note the visible signs of wear and tear on the kitchen appliances.
Russell Hobbs made an excellent choice in choosing Chef JP as their endorser and collaborator for the cookbook because he truly believes in the brand and he uses their kitchen appliances in his restaurant's every day operation.
Chef JP gave us an exclusive sneak peek of what we can expect from the cookbook by inviting us into his kitchen and showing us how to prepare four comfort foods using Russell Hobbs equipment.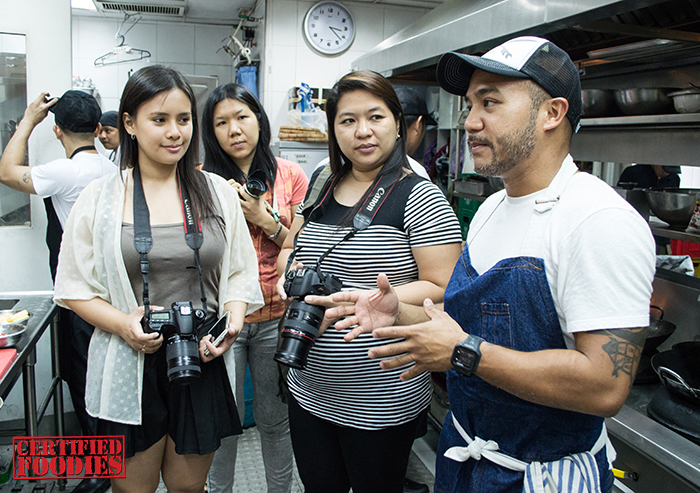 SPOTTED: Jill of TheFoodScout.net, Stacy of Crumpylicious.com, and Peachy of ThePeachKitchen.com
We were first introduced to Russell Hobb's Purifry Health Fryer. It's an oil-free fryer that can reach a maximum heat of 200 degrees Celsius with a 2-liter capacity drawer. With this bad boy, you can cook fries and bacon to a crisp without the unpalatable oiliness. You can even use it to bake cupcakes!
Chef JP demonstrated how to prepare camote chips using the Purifry. He drenched thin slices of camote with a minimal amount of olive oil and tossed it inside the fryer. After a few minutes, out came crispy camote chips that Chef JP finished with some seasoning and served with a side of chocolate sauce, sprinkled with chili powder. It's a weird mix, to be honest, but it worked and was quite addicting, too!
We were not yet done munching on the camote chips when Chef JP showed us the Panini Maker from Russell Hobbs. Surprisingly, you can also use it a grill and a griddle. Its top portion can open a full 180 degrees, allowing you to griddle bacon and vegetables. It has non-stick coated plates, so it's very easy to clean.
To demonstrate the different functions of this Panini Maker, Chef JP prepared, before our eyes, a longganisa triple-decker sandwich. He used this kitchen wonder to cook the longganisa that created beautiful grill marks on its skin. The longganisa was rich in sugar, so burnt sugar stuck on the top and bottom grills. Chef JP's assistant took a kitchen towel and wiped the grill clean. No sweat.
Next, we were presented the Russell Hobbs 3-in-1 Hand Blender. It has three attachments: a stainless steel blade for blending, a whisk attachment for whipping, and a chopper (for chopping? LOL).
With the hand blender, Chef JP showed us how easy it is to make your own homemade pimiento cheese spread. He grilled some bell peppers, tossed it into the beaker with all the other ingredients, and blended it all to his preferred consistency. The spread was served with some crunchy pieces of bread that he grilled on the Panini Maker. It's the perfect merienda, breakfast, or any meal, really.
We moved from Sarsa's kitchen to their bar. For his final recipe, Chef JP employed the help of Russell Hobbs' Jug Blender. It has 3 speed rotary control with pulse setting and can accommodate up to 1.5 liters. The strong engine and the presence of suction  cups at the bottom provide better stability, so you don't have to hold it down to prevent it from moving across the table (I hate it when that happens!). It even has a light ring that changes color at different speed settings.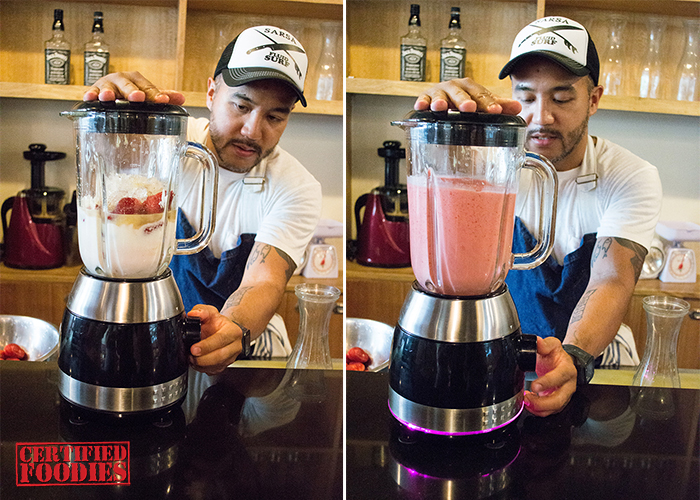 Chef JP's cooking demo ended with his Strawberry Yogurt Shake. Fresh strawberries, plain yogurt, ice, and honey were all he needed to whip up this tart and refreshingly creamy beverage.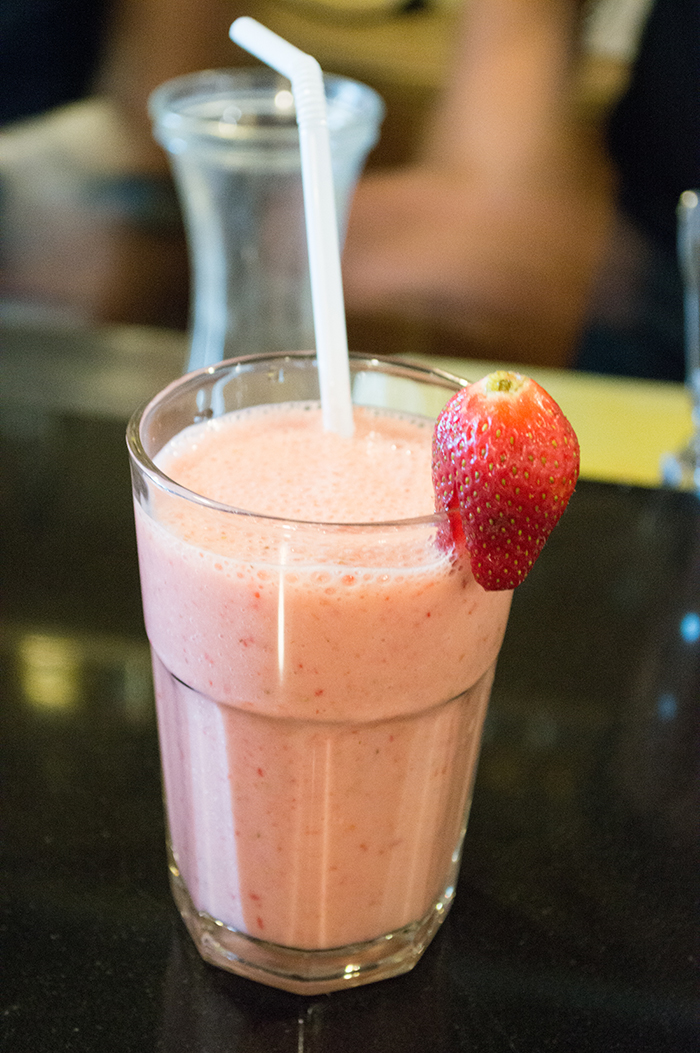 We can't hold our excitement for the official launch of Russell Hobbs' cookbook. It's definitely a cookbook you would want to use in the kitchen instead of being another design piece for your coffee table.
Where To Buy Russell Hobbs Appliances
We were at SM Appliance Center in SM North EDSA last Saturday and it seriously made my mouth water to see that their products are on sale!
The following two tabs change content below.
Kenneth is the chef in the family (he studied Culinary Arts and Baking & Pastry Art in GCHA). He's responsible for most of the more complicated recipes featured here, and loves preparing pastries and desserts. Aside from being a chef, he's also a Registered Nurse and Midwife. His love for cooking led him to pursue a culinary career.
Latest posts by Ken Ignacio (see all)
Comments
comments