The much-awaited food event of the year – the 12th Ultimate Taste Test – is happening this coming Saturday, September 27th, at the Rockwell Tent. And if you haven't bought your tickets yet, you still got time! 🙂
This year, there are over 40 food purveyors who will be there, so just imagine how much food you get to taste and discover in this 1-day event. You can see the full list of Ultimate Taste Test 12 concessionaires here.
Last time we were at the Ultimate Taste Test, here were our favorites:
Premium Roast Angus Corned Beef from The Plaza
Hillside Ranch's Corned Beef Brisket & Slow-Roasted Beef Belly
Masatami Shave Ice
Frisch Liquor Ice Cream
These food providers won't be there at the 12th UTT, that's why we're super excited to find out which ones will be our favorites this year. We're looking forward to the following:
Jack Frost's Premium Ice Cream – They're serving their Raspberetto (Raspberry with Amaretto) and Butterbrew (Root beer, caramel, toffee and chips).
Belly Bob's Boneless Lechon Belly de Cebu – Need I say more?! 😀
Betchay's Spread the Love – We're intrigued by their Bicol Express / Tinapa spreads. Mmmm!
Kool Kids – Can't wait to try their Liquid Nitrogen Ice Cream and warm ice cream sandwiches!
Chrainis Red Confectionery – Nutty Toffee Candy
Will this list be our top favorites after the 4th Rockwell Ultimate Taste Test? We'll see! 😉
If you want to be part of the Ultimate Taste Test as a purveyor, head on over to Our Awesome Planet for more details. You still have time to prepare!
For foodies, here are the details of Rockwell's 4th Ultimate Taste Test Event:
What: Rockwell's Ultimate Taste Test — Be a Food Critic for a Day!
When: September 27, 2014, Saturday, 11.00 am – 9.00 pm
Where: Rockwell Tent
Ultimate Taste Test  Fee: P600/head. Inclusive of:

Food Taste Portions from a minimum of 40+ Home-Based Food Vendors & Power Plant Mall Restaurants for the entire Saturday
A bottle of San Miguel Super Dry, Premium All-Malt or Cerveza Negra (For foodies 18 years old and above only)
Food Critic Ballot for voting your favorite food discoveries.
You can buy your tickets through Paypal or through Power Plant Mall's customer care desk and Creative Juice Office. Details here.
We're also looking forward to the Soul Card Reading sessions with Sandra Allan-Beltran of The Reading Room.
If you'll be there and you see me and Ken, please say 'hi' and let us know which of the dishes are your favorites. See yah at the 2014 Ultimate Taste Test! 🙂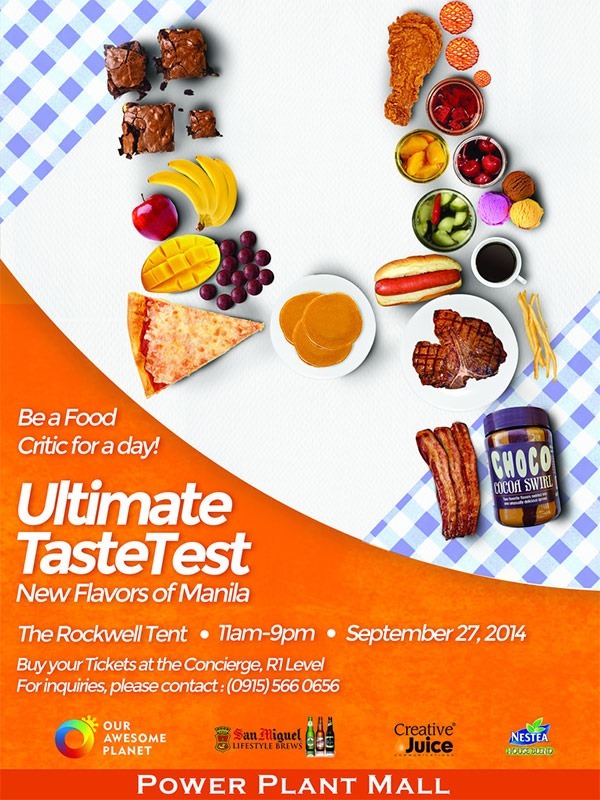 The following two tabs change content below.
Michelle (aka Mhel / blankPixels) is a social media nerd and works as a Digital Marketing Lead for one of the top online companies in the Philippines. On her free time, she travels, goes on food trip and loves to take photos. She's the main editor of this food blog.
Latest posts by Michelle Ignacio (see all)
Comments
comments