When Ken and I decided to move out of our home in Malabon and live on our own, we both agreed it's the perfect time to kick-start a healthier lifestyle by eating better at home. So when a high school batchmate asked me if we wanted to try their juice cleansing programs at Juiceria Cleanse, Ken and I immediately said yes.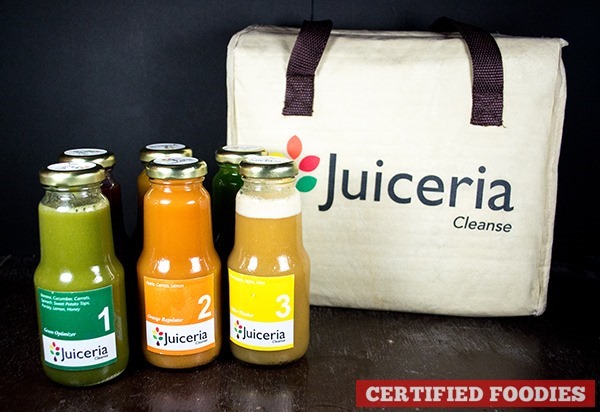 Okay, we didn't exactly say yes right away. 😀 I've been hearing so much about juice cleansing that I had all these doubts in my head. I am very much aware of the benefits and the nutrients you can get from juicing, but I wasn't prepared for fasting or not eating anything at all. I might go HANGRY (y'know, all the mood swings or you get easily angry because you're hungry 😀 ) during the 3-day program, and I might not be able to concentrate while working. Sure, I was working from home then, but it was quite an intense week since I was transitioning from online work to office girl again. Can I handle not eating anything when I'm used to eating the stress away?! 😀
Junlyn, the woman behind Juiceria Cleanse, assured me that I wouldn't have any issues during the 3-day period. She said that they have many clients who go through their programs during workdays. To play it safe, I chose Juiceria Cleanse's Reboot program since this allows me to eat at least one healthy meal a day. Ken, who went on a strict diet a few years ago and was determined he can take it, went for their 3-day Bootcamp program so it was all juice for him.
Order Your Juiceria Cleanse Programs Online!
What I love about Juiceria Cleanse is you can order your own cleansing programs straight from their website. Pretty convenient, eh? Simply visit www.juiceriacleanse.com for more details on their programs. Here are some screenshots when I ordered our Reboot and Bootcamp programs from their website. You can even choose the schedule of delivery you prefer.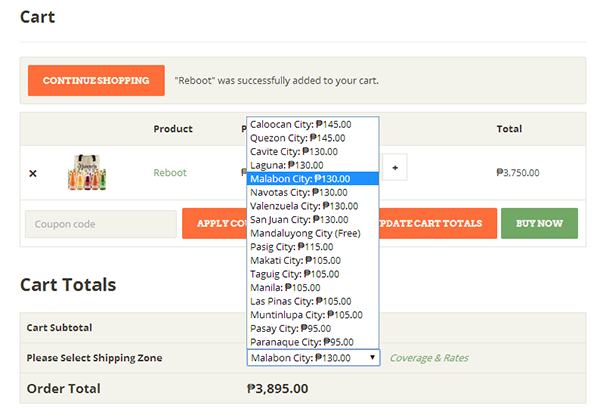 Before D-day, Ken and I weighed ourselves to see how much we'll lose after the program. We also prepped our bodies by not eating too much so our system won't be shocked by the lack of food come day 1 of our Juiceria Cleanse programs. I was setting myself up for the mood swings and the dizziness I'll feel during the program, only to realize afterwards that I was way too paranoid about what my body can and cannot take. 😀
Juiceria Cleanse Day 1
Day 1 came and a courier arrived with these cute Juiceria Cleanse insulated bags, which help keep the bottled juices inside chilled for a longer period of time. I immediately placed all the bottles inside the fridge so they'll be nice and cold before we start.
The bottles are labeled with numbers so you can easily follow how they're supposed to be consumed. There's also a paper guide included with a suggested timeline. Feel free to adjust this based on your schedule. Since Ken and I were both working at night, we started our juice cleansing program right about the time we usually have dinner or our first meal of the day.
I honestly was thinking these juices will taste nasty and unappealing. 😀 I was pleasantly surprised that the first 3 bottles were quite yummy, plus the juices aren't completely liquid but had this almost smoothie texture to it, which Ken and I loved. 🙂
On the labels, you'll also see the ingredients they used to make the juice so you know exactly what you're drinking. At the back of the bottle, you'll find the Nutrition Facts for each juice. During this cleanse, of course, you'll be consuming less calories than your usual intake.
Here's a breakdown of what each bottle contains:
#1: Green Optimizer – Banana, Cucumber, Carrots, Spinach, Sweet potato tops, Parsley, Lemon, Honey – The overpowering flavor is the banana, so it's a good choice for bottle #1.
#2: Orange Regulator – Apple, Carrots, Lemon – The apple flavor was the most pronounced. It's not sweet at all and this helped with the hunger pangs we were feeling the first few hours of day 1.
#3: Yellow Flusher – Pineapple, Apple, Mint, Yellow flusher. Ken and I absolutely loved this! I actually wanted more after I finished my first bottle of this juice mix. 😀
#4: Red Detoxifier – Pineapple, Cucumber, Beets. This was the one with the damo, grassy flavor. We drank water after every sip since this was thicker than the first juices.
#5: Tangerine Neutralizer – Apple, Carrot, Celery. Thank goodness for the apple in this mix. 😀
#6: Lime Reducer – Cucumber, Celery, Lemon, Moringa, Honey. We honestly didn't look forward to drinking this juice combo. 😀 It wasn't because it was nasty or completely weird-tasting, but the flavors of the moringa and celery packed a spicy punch. 😀
I like that they prepare you for what's to come by bottle #4. It started sweet and nice, you'd easily gulp each bottle empty with ease. And then, BAM! Nahh, just kidding. 😀 I was just surprised with bottle #4 on my day 1 because of its damo flavor… not that I've ever eaten grass before to know what grass tastes like, but you know what I mean. 😛 However, I started to like this juice by day 2.
Remember that you have to drink at least 1 glass of water along with each bottle. This ensures the nutrients are quickly absorbed by your body.
On my first day, I was experiencing headaches. My lack of sleep might have something to do with that too, that's why it's important you start cleansing with enough sleep the day/night before. When my shift started, I was too busy to notice that I'm not chewing on anything substantial. I had my alarm on to remind me to drink the next juice after 2-3 hours.
We suggest that you don't drink each bottle in one go, or you'll go hungry right away. SIP! Take your time to enjoy each bottle, but not too much that you'll end up not drinking the last few bottles 'cause you didn't have enough time.
By the middle of my shift, I was starting to feel these hunger pangs. I decided to eat a banana and drink water to see if it'll help. It did and I didn't even need to eat a healthy meal on day 1.
Ken's experience was almost similar to mine, but he was more surprised that his body was able to take not eating any meat or rice on day 1 after all the binge-eating we've been doing at home and when we go out. 😀 He did experience hunger pangs, but he kept himself busy with work so he was able to get through day 1 smoothly. I guess this is why they call them 'workable programs' since you can still work while going through their juice cleansing programs.
Were there any other side effects aside from the hunger pangs? We were peeing almost every 30-45 minutes. No stomach pain at all and I didn't even feel the need to do the number 2 every now and then, which was initially my biggest fear about the juice cleansing program. I remembered how smooth my bowel movement was when we stayed at Bohol Bee Farm and we were eating all these fiber-rich dishes, so I thought that'll happen too with Juiceria Cleanse. But, no. Nature just called us more often than the usual. 😀
Juiceria Cleanse Day 2
Juiceria Cleanse delivers FRESH juices daily. You can inquire so you can choose the best time to have your juices delivered. If you're working in an office and have to leave early, best to have them all delivered there and just bring the rest of the juices when you go home.
When the juices arrived for day 2, they were still cold so we didn't have to chill them before opening bottle #1. My second day in the Juiceria Cleanse Reboot program was more smooth-sailing. No more hunger pangs or headaches since I had enough sleep. We had our nanay prepare roasted chicken for us, so that's what I had for my healthy meal for the day.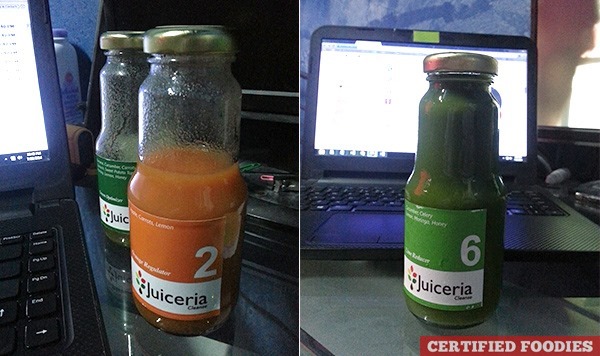 By the way, the Bootcamp program includes 8 bottles of juices per day. Each day, you get 2 extra bottles. Ken had an interview scheduled the next morning, and I told him to bring the insulated bag so he can take the last 2 bottles while he's commuting. He decided to drink the second to the last juice before he left, and he said he didn't feel any hunger at all.
Juiceria Cleanse Day 3
The night before, I asked Junlyn if we can have our juices delivered earlier on our last day. She said yes. Ken and I thought it'll be best so in case we wake up earlier than usual, we can already start with the juices instead of having to wait til dinner time for the delivery.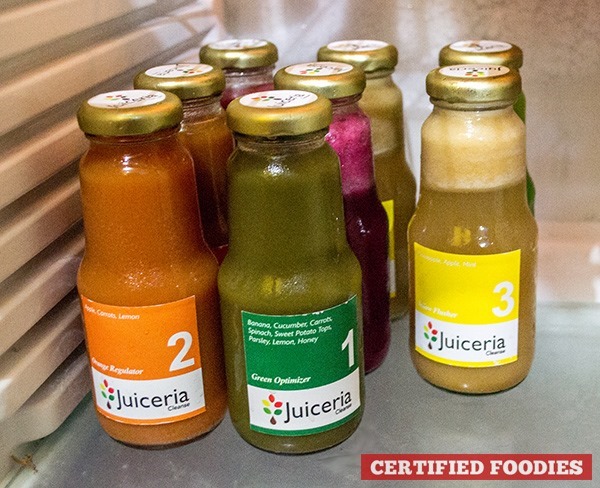 Just like on our second day, we didn't experience any uneasiness while we were juice cleansing. Ken and I both surprised ourselves when we realized we can actually stay within our daily calorie limits despite all the overindulging we've been doing the past few months. I guess this is also an effect of the juice cleanse – it'll show you that your body can function well while you're eating healthy or with lesser calories. 😀
The Day After
How much weight did we lose? Since I still had healthy meals (roasted chicken) on day 2 and 3, I only lost about 5-6 pounds. Ken lost a total of 8. Those are significant numbers for a 3-day period. 🙂
After the 3-day juice cleanse, Ken and I weren't craving for anything fatty or oily. We decided to get the most out of the effects of the juice cleanse, so we're now eating red rice at our new home, and we've been keeping it at one cup per meal, even when I go for lunch with my new officemates.
When we had our cheat day last Friday night, we had this sick feeling after we overindulged on liempo and barbecue from Andok's. 😀 Don't get me wrong, we're not going on a diet. We love to eat, and we don't believe in a restrictive diet. For us now, it's all about proportions. 🙂
Juice Cleansing Tips:
We'd like to sum up some of the tips we mentioned above. Remember that all these are based on what we experienced, and some were taken from the Do's and Don'ts list included in the Juiceria Cleanse package.
Who should go on a juice cleansing program? We think this program will be perfect if you want to lose 5-8 pounds for a special day, or you simply want to detoxify your body from all the unhealthy eating you've been doing. 🙂
Prepare yourself a few days before you start the program by not eating too much.
Make sure you've had enough sleep before you start your day 1 just to avoid any additional anxiety while your body adjusts to not eating anything.
Store the juices in the refrigerator right away and shake well before sipping.
Avoid rigid exercise/workout routines while you're cleansing since you'll end up low in energy.
Skip your coffee, avoid alcohol and don't smoke during your cleansing program.
If you're going for the Reboot program, stick to eating healthy food. Avoid anything oily. In my experience, a banana did me well on day 1. 🙂 Junlyn strongly recommended to not eat anything that's been processed. Go for all natural food like fruits and veggies.
Don't drink the juice in one go. Just sip 'til the bottle is empty. It usually takes me 15-30 minutes to finish a bottle.
Recycle the bottles!! I'll use these pretty bottles for my homemade salad dressings and smoothies too. 🙂
!! GIVEAWAY ALERT !!
Here's your chance to try Juiceria Cleanse's programs. We partnered for a giveaway and this is perfect for those who want to begin a healthier lifestyle through a quick detox.
PRIZES:
First prize: One (1) Reboot cleanse program (3 days)
Second prize: One (1) One-Day cleanse program
Consolation prizes: Special discount coupons for participants whose answers we liked the most (see mechanics)
GIVEAWAY RULES:
Giveaway will run from August 10th to August 24th. Any entries past 11.59pm on the 24th will not be counted.
Open to Metro Manila residents only.
You must follow all the mechanics in the Rafflecopter below. Take note that your answer to the question must be on their Facebook post.
Prizes are not convertible to cash.
Winners will be announced on Juiceria Cleanse's Facebook page and on this blog post. Details on the prizes will be sent through a Facebook message or email.
Winners' juice cleanse kits will be delivered to their preferred location.
GOOD LUCK! 🙂
Juiceria Cleanse
The following two tabs change content below.
Michelle (aka Mhel / blankPixels) is a social media nerd and works as a Digital Marketing Lead for one of the top online companies in the Philippines. On her free time, she travels, goes on food trip and loves to take photos. She's the main editor of this food blog.
Latest posts by Michelle Ignacio (see all)
Comments
comments