I'm not a big fan of flowers. So, when I think of Valentine's day, the first thing that comes to mind when we talk about the perfect romantic gift is a box of exquisite chocolates. 😉 And if you're thinking of sending some AMORE (Italian for "love") to your special someone this Heart's day, here's a sure-fire hit: a box of Villa del Conte's chocolates.
Villa del Conte is an Italian artisanal chocolate shop well-known for their expertise in the creation of the finest cioccolato (Italian for chocolate) using handpicked cacao beans and premium quality ingredients. You might have heard of them already as they have shops all over Metro Manila. They've been in the art of making chocolates for 81 years, and so our expectations were high when we received this gorgeous box of their chocolates.
Villa del Conte offers a variety of Italian artisanal chocolates in sumptuous flavors. The box of chocolates they sent us were filled with their Praline Balls and Praline Sticks that are more than enough to melt anyone's heart. 🙂
Disclaimer: The photos you'll see here no longer reflect the actual contents of the box. You're probably aware that we're HUGE chocolate lovers, so it's impossible for us to resist the temptation to devour them before we take photos for this review. 😀
The pralines were carefully enveloped by these colorful foil wrappers, which made us more eager to find out what each color represents. Good thing they included a catalog which tells us more about their brand and what they stand for, and the flavors we're about to experience.
We first tried Villa del Conte's Praline Balls. Once unwrapped, we found these perfectly shaped balls of chocolates. Mad skills, expertise and the right equipment are needed to create such flawlessness. 😉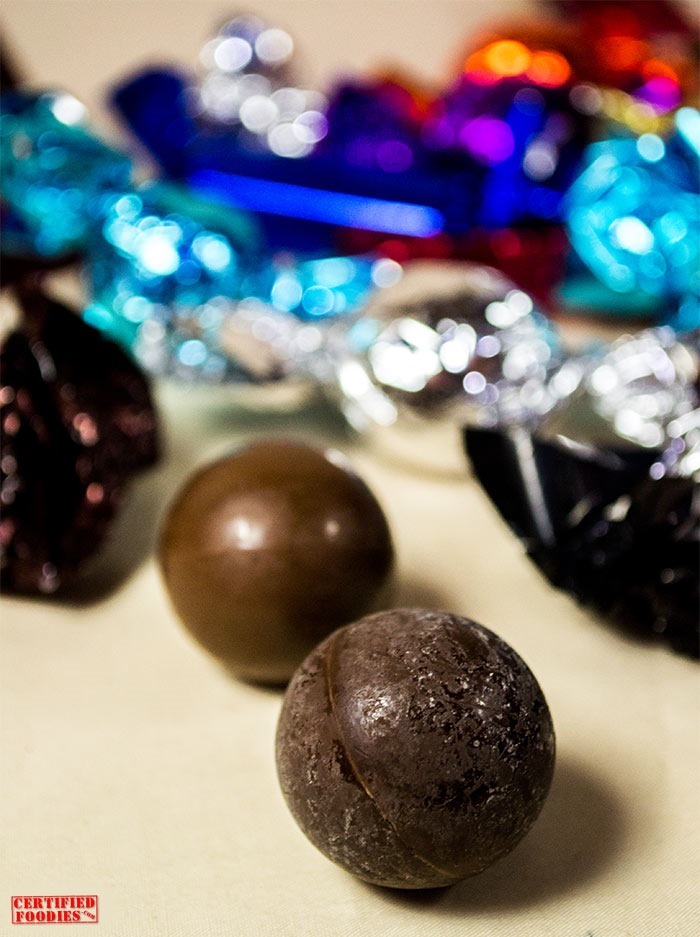 The shells of the Praline Balls are made with either milk or dark chocolate.  A big bite revealed the creamy and luscious chocolate inside. There's no doubt they use premium ingredients in making these. There are various decadent fillings inside, and we tasted the following: White Chocolate and cereals, Hazelnut Cream and Cereals, Macadamia, Caramel Cream, Cacao, Hazelnut Cream and Coffee.
We particularly enjoyed the ones with cereals because of the contrast of textures. The creamy and rich chocolate blends well with the delicate crisp of the bits of cereals. Aahhh, such an indulgence! 🙂
Now, on to the Praline Sticks. Each mini-praline bar contains a velvety chocolate filling. We were amused by their flavors: orange, strawberry, banana, watermelon and mint cream. Each one had a very distinctive taste and aroma. Our favorites were the orange and mint cream-filled praline sticks.
If your loved one is an adventurous foodie, we're sure he or she will be quite happy with this box of chocolates from Villa del Conte. Take note that this box – Amore – was conceptualized specially for Valentine's day, and we highly recommend this gift idea for your special someone. And, don't forget, chocolates are known aphrodisiacs too, in case you need to spark some romance for Valentine's day.. if you know what I mean. *wink* *wink* 😉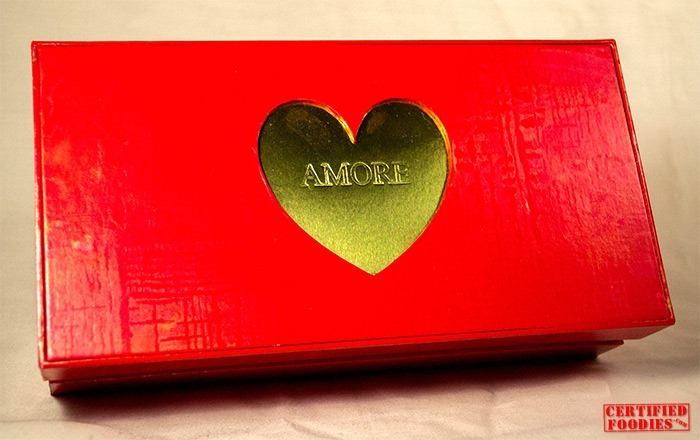 You can find this box of chocolates when you visit Villa Del Conte stores at Greenbelt 5, Shangri-la Mall, Resorts World, Alabang Town Center, and Robinson's Magnolia. For bulk orders, you can contact these numbers: 893-2575 or 621-6101.
Happy Valentine's day, foodies! 🙂
Villa Del Conte
The following two tabs change content below.
Michelle (aka Mhel / blankPixels) is a social media nerd and works as a Digital Marketing Lead for one of the top online companies in the Philippines. On her free time, she travels, goes on food trip and loves to take photos. She's the main editor of this food blog.
Latest posts by Michelle Ignacio (see all)
Comments
comments