Over a week ago, we were invited by Koko Buri in Bonifacio Global City to come and give their food a try. I don't know what gave me the idea that they exclusively offer Korean food, but I was right to some degree. Their first branch was in Clark, Pampanga so "Koko Buri" roughly translates to "I like chicken," a name so appropriate for it is their best-selling Korean-style fried chicken that skyrocketed them to fame.
A quick chat with their Branch Manager dismisses my first impressions. Koko Buri is not a Korean restaurant at all, but they do highlight a carefully planned Asian fusion menu, featuring only a select few of the BEST dishes from Asia and around the world.
When we got there, we saw what looks like a bar under construction. We were right. They're putting finishing touches on their bar scheduled to open by mid-December, just in time for the holidays.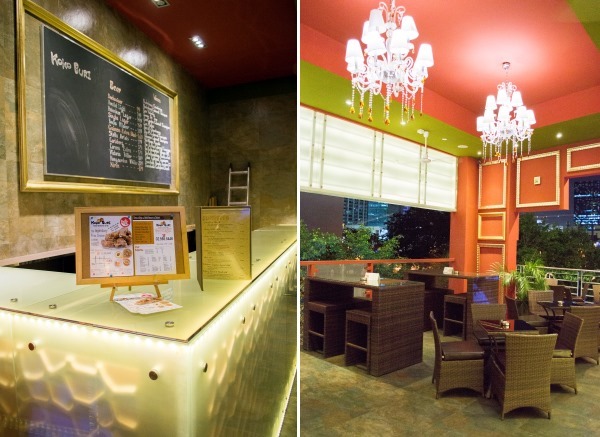 Upon entering through the glass doors, the restaurant gives off a sophisticated yet fun appeal. It's also surprising to find out that one of the co-owners designed the whole place, even making, from scratch, the Christmas tree that stands at the heart of their dining hall.
Koko Buri is not a final concept yet. In fact, it's still growing. They have their eyes set on the goal of becoming a one-stop restaurant, like an upscale sari-sari store, where people can have everything they want from appetizers and entrees, down to desserts and alcoholic drinks.
For our drinks, my sister ordered their Natural Grapes Slush (Php 140). It was okay, with just the right amount of sweetness. If you're a follower of our blog, you'll notice that I love lemonade. Without second thoughts, I went for their Pink Lemonade (Php 70). They were honest to say that their lemonade is made from powdered juice, which I was perfectly fine with.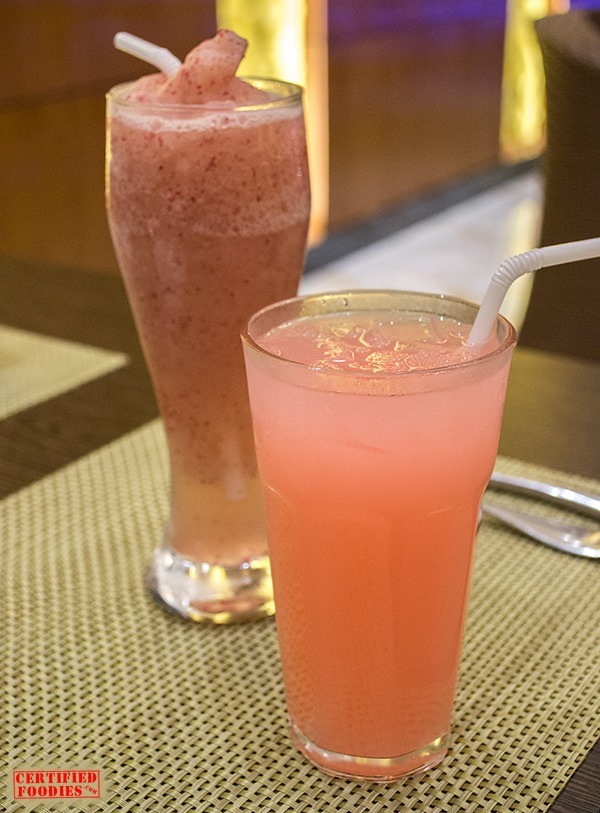 My sister and I thought we've reached our seafood quota when we were in Palawan just a few weeks ago. We've been trying to avoid seafood ever since, but seeing how good the Dori Dori (Php 260) that landed on the table across ours, we knew we'd be stupid to let it pass. And we were right. It was so good that it didn't last 5 minutes. The breading was crispy and herby, while the fish it conceals was soft and juicy. The tartar sauce that came with the dish may not be the best I've had, but it did the job in complementing the flavor of the fish.
We don't usually order salads. You'll even hear me saying, "Salad is for the weak!" So congratulate us for ordering Koko Buri's Oriental Express salad (Php 290), which consisted of fresh greens topped with chicken fillet and served with Asian vinaigrette! The salad was refreshing and their Asian vinaigrette goes right down my alley for being a perfect mix of being sweet and tangy.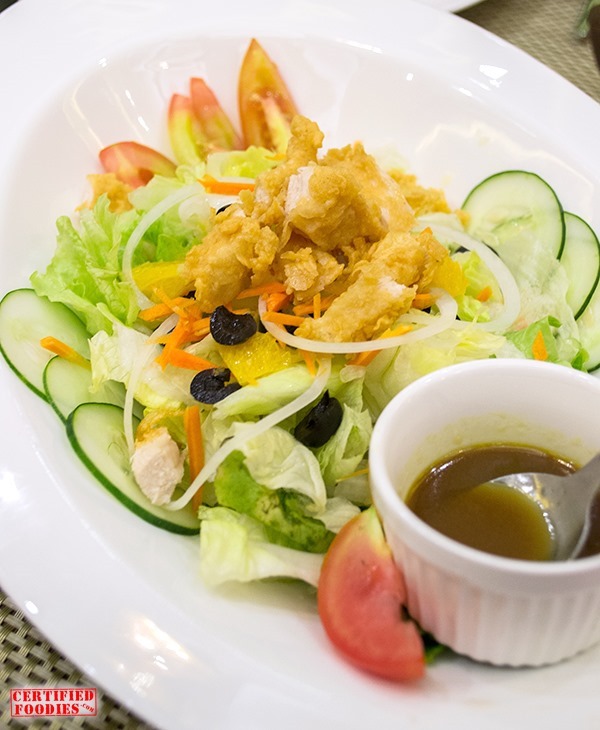 When we're trying out a new restaurant, we always ask our servers what their best-selling dishes are. I lost count how many times our server suggested their Nagasaki Champon (Php 595), so we gave her our trust on this one. The original recipe is really spicy, so she advised us to opt for the milder version. We agreed.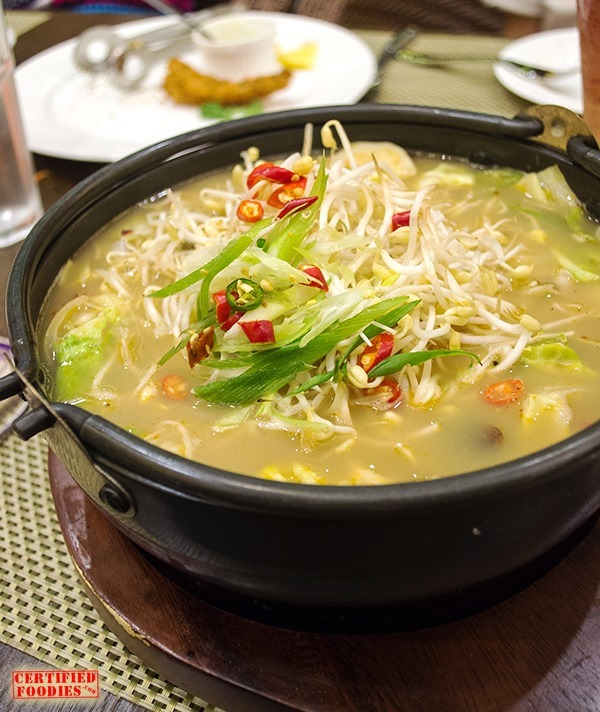 A few minutes in, our server arrived with a huge pot of soup good enough for 6-8 persons. One sip of the broth had one of us exclaim, "Mild na 'to? (This is already mild?)." It was the kind of spicy that runs down your throat and lingers. We don't recommend this when you're with kids. Our friend's daughter spent 5 minutes drinking water just to rid herself of the spiciness. But the soup's good, nonetheless. The broth was well-seasoned; the seafood, very fresh; and the udon noodles were thick and chewy. It's quite comforting, really.
We ordered a serving of their Fettuccini Carbonara (Php 365) for the daughter of my sister's friend, since they don't offer any kids' meals on their menu, and that is something they're currently working on, since majority of their patrons are families with children. Initially intended for the child in our group, I ended up eating most of the carbonara. The sauce was very creamy that it sticks to the fettuccini pasta well, making you crave for another forkful.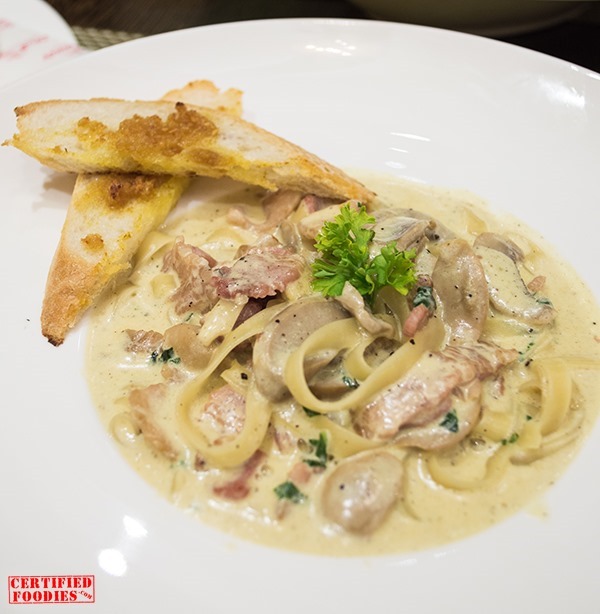 Take our word for this — Koko Buri's Pizza Primavera (Php 455) is the BEST PIZZA you will ever have! I'm even willing to stand in court for that statement. Seriously!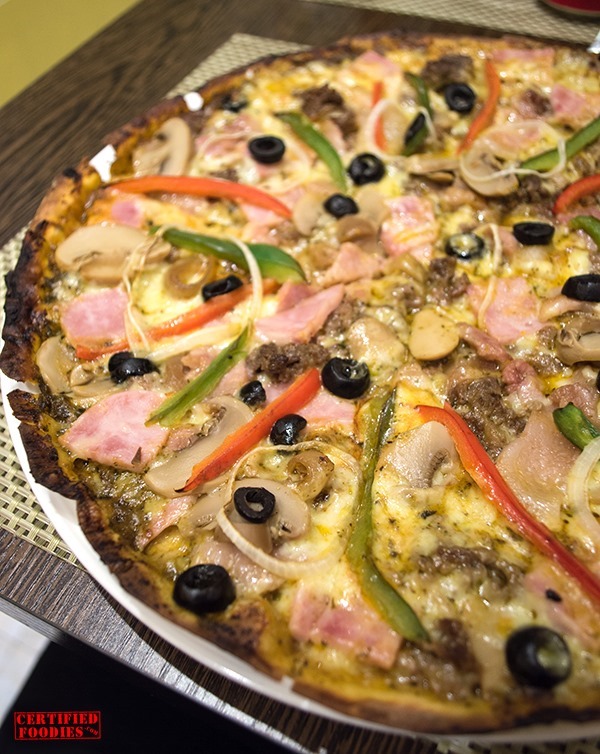 I would always prefer thin-crust over thick-crust pizzas. I've tried a number of pizza joints who offer thin-crust versions of this Italian staple, but none has really impressed me as much as this Pizza Primavera. Koko Buri ticks all the boxes on my thin-crust pizza checklist. It's the thinnest pizza crust I've ever seen, yet it was crispy on the sides, but chewy and soft in the middle. The toppings were phenomenal, too. You take a bite and you won't even take notice of the individual ingredients. That's what a good pizza should be — all the flavors melding into perfect harmony.
It's inevitable that Koko Buri's Korean-style fried chicken will be compared to competitions like BonChon and 4Fingers, but their Soy Garlic Chicken Meal (Lunch Php 175 | Dinner Php 245) won't surrender without putting up a fight. Its crunchiness is addicting. The soy garlic sauce that coats each piece of chicken is quite tasty, too! I'm pretty sure their fried chicken can blow any competition out of the water if they used boneless chicken thighs instead of random parts of chicken. That's just my opinion, but I do know a few people who would choose breast part over chicken thighs any day, so it's not a big issue at all.
Seeing the word "spicy" is like reading my own name. It becomes my instinct to respond to anything with the word spicy, and this Spicy Garlic Chicken Meal (Lunch Php 175 | Dinner Php 245) was no different. In flavor and crunchiness, it is similar to their Soy Garlic flavor but spicier. I really enjoyed it that I "unconsciously" stole a piece from my sister's plate. I'm not even sorry. 😀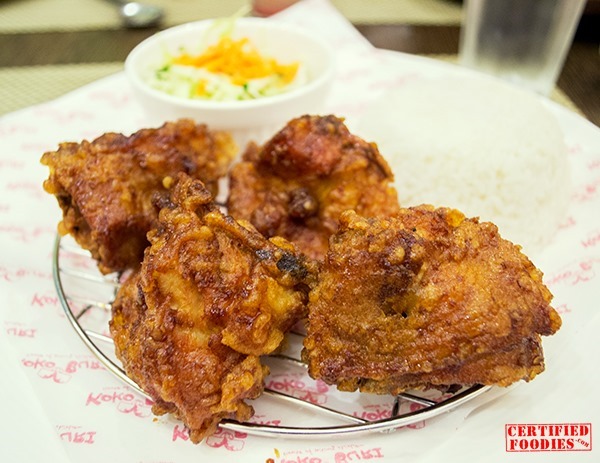 Koko Buri Chicken Meal (Lunch Php 155 | Dinner Php 225) is the fried chicken that made the restaurant famous. It's the only chicken meal that comes with a serving of gravy, because unlike the two previous chicken meals, this one doesn't have a coating of soy garlic sauce. And again, it's super crunchy and perfectly seasoned. We actually regret not ordering some for take-out.
Our group really enjoyed dining at Koko Buri, and we're looking forward to coming back. We'd love to see the new bar and try the line-up of desserts they're currently working on.
Koko Buri Restaurant
The following two tabs change content below.
Kenneth is the chef in the family (he studied Culinary Arts and Baking & Pastry Art in GCHA). He's responsible for most of the more complicated recipes featured here, and loves preparing pastries and desserts. Aside from being a chef, he's also a Registered Nurse and Midwife. His love for cooking led him to pursue a culinary career.
Latest posts by Ken Ignacio (see all)
Comments
comments