Dining at Tokyo Tokyo has been one of our guilty pleasures, even though we haven't written much about it on the blog. I just can't count the number of times my favorite Fried Chicken Karaage has comforted me during the toughest of days. And I still remember being sorely heartbroken when I found out that they no longer offer the Chicken Yakitori that I always ordered when I was still in college. Now we've found another reason to frequent Tokyo Tokyo for their Ramen, which comes in three flavors: Braised Pork, Spicy Chicken, and Tempura Miso.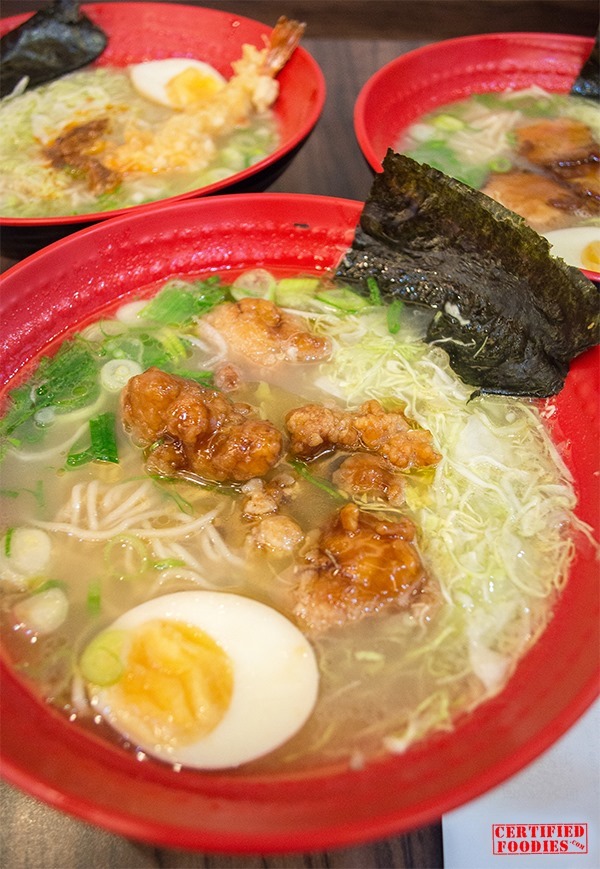 As the saying goes, "You are what you eat." Tokyo Tokyo took that to heart and came up with a short quiz to determine which flavor of Ramen best fits your personality. I took the personality test and the result I got was really spot on!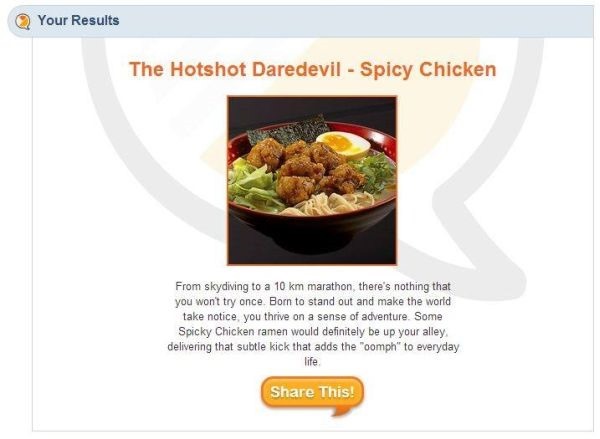 The Spicy Chicken Ramen really lives up to its name. It was hot and spicy, but not too overwhelming that even people who don't like spicy food will come to enjoy it. The spicy breaded chicken pieces added a good texture and crunch. This ramen is best eaten upon landing on your table, when the chicken is still at its crispiest because after a while, the breading gets soggy and it feels like you're eating flour diluted in broth. If you want this ramen for take-out, we suggest asking the staff to separate the breaded chicken from the soup, so it wouldn't get soggy. The broth was flavorful and spicy, a perfect way to warm you up when it's raining and cold outside. I really, really love spicy food, so this Spicy Chicken Ramen takes the number one spot among the three flavors that Tokyo Tokyo is currently offering.
Taking second place is their Braised Pork Ramen. If it was served spicy, it would definitely have been my favorite among the three. The slices of braised pork had a nice natural marbling that made it very tender and juicy. The sweet sauce really complemented the pork that you'd wish to have more than 3 slices of pork in your ramen. The broth was on the verge of being salty, but it was really beefy and flavorful. The noodles were soft, but not soggy, just the way I like them. This was my sister's favorite because she's not too fond of overly spicy dishes and seafood.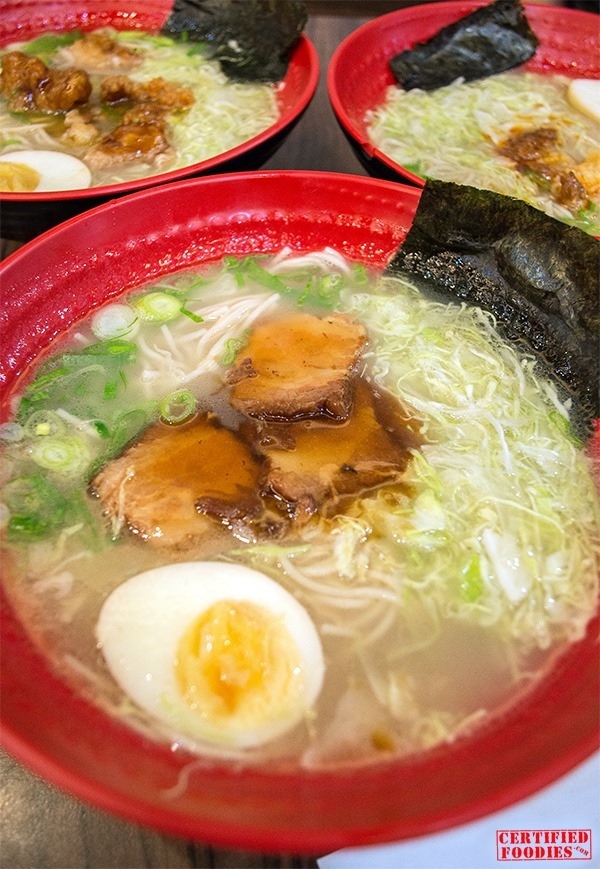 I'm on the same boat with my sister about seafood, that's why Tokyo Tokyo's Tempura Miso Ramen came third on my list. However, I do love tempura as it is, and Tokyo Tokyo's move to add it in their ramen was a good choice. This ramen had a denser and thicker broth compared to the other two. Every spoonful of the broth had a unique seafood flavor that I'm sure our Nanay would really love. Similar to the Spicy Chicken one, this ramen is best enjoyed when the tempura is still very crispy.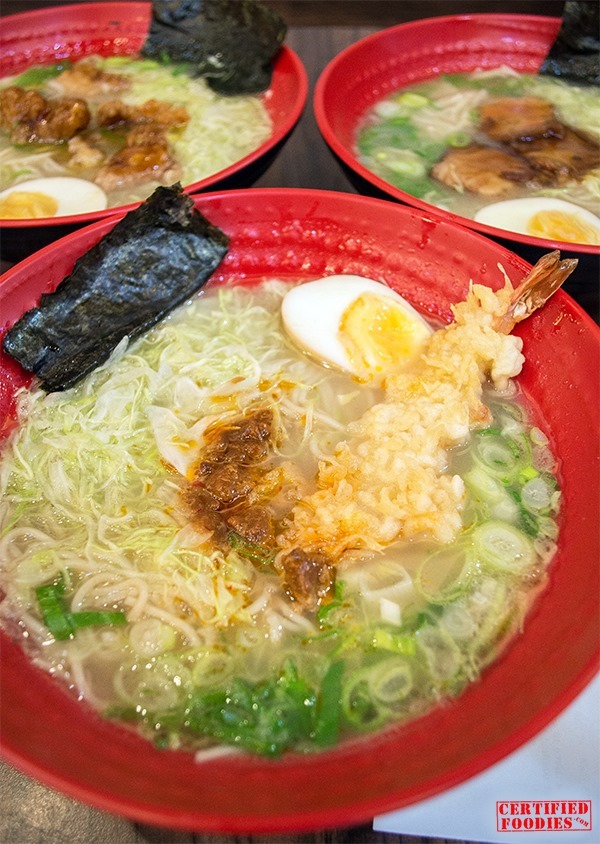 We went to see, Catching Fire, before we even had lunch, so we were really hungry by the time the movie was over. We went straight to Tokyo Tokyo to try their latest ramen flavors, but we were pretty sure our appetite can't be satiated by three bowls of ramen, so we ordered some of their other dishes. Their poster said that their Gyoza goes well with their ramen, so we went ahead and ordered that.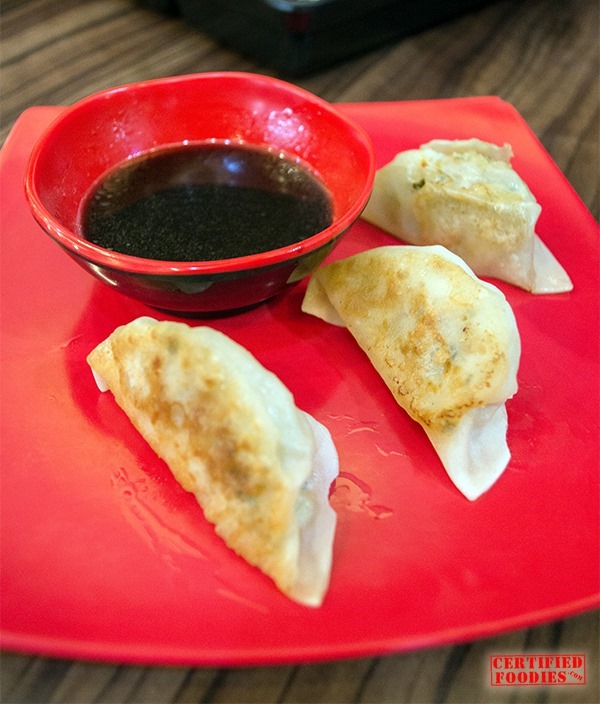 It's definitely not the best gyoza I've ever had, but it was still okay. The sauce didn't give the gyoza justice though. I tried eating it with the ramen and that's when I got to really appreciate it. Finally, some truth in advertisement. 😉
We also ordered a Sumo Meal of Pork Tonkatsu and our favorite Chicken Karaage. Their Pork Tonkatsu can't really compete with the standards that Yabu has set. But taking into consideration that their pork tonkatsu is way cheaper than Yabu's and that Tokyo Tokyo is more of a budget Japanese restaurant, then it's perfectly understandable. We might actually end up at Tokyo Tokyo more often because it's less painful in the pocket. 😀
We've always wanted to write about their Chicken Karaage, but haven't really found the time to do it. We did feature it as one of our guilty pleasures. The first time I had it, I knew I've found a new guilty pleasure. I just love its flavor and crispiness. Until now I still get excited every time my bento box of Chicken Karaage arrives at our table. 😀
I'm actually planning to blog about restaurants that offer the best Pork Katsudon in the Metro. Tokyo Tokyo will definitely make the list, since I've tried katsudon from a handful of restaurants and Tokyo Tokyo's version is definitely above par from the others.
Go ahead and call us gluttons, but we don't regret having a serving of their Best Chicken Teriyaki as well, which a slab of grilled chicken thigh basted with an irresistible teriyaki sauce. It has hints of smokiness and it was very tender to the bite that it reminds me of my favorite Chicken Yakitori that I hope to see on their menu again. *fingers crossed*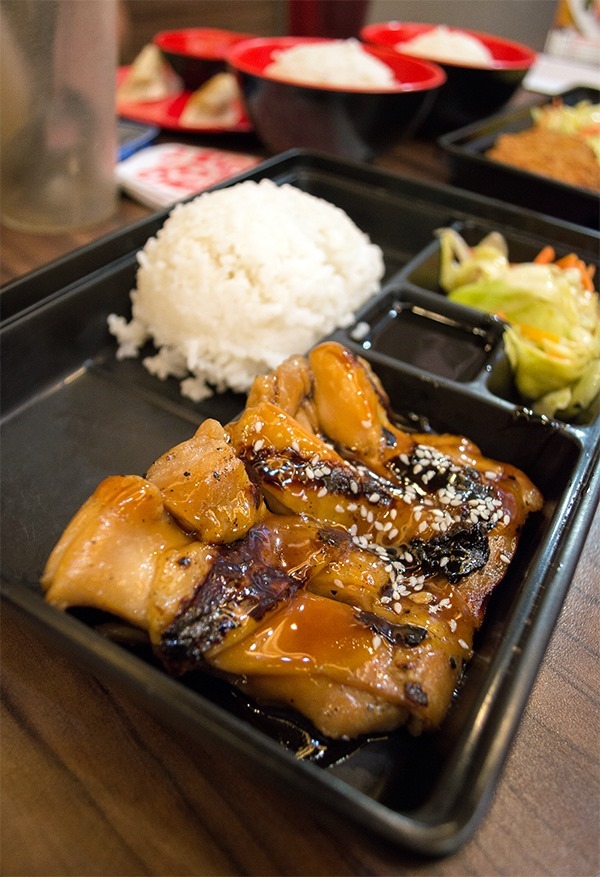 Needless to say, we were STUFFED. 😀 Everything amounted to just a little over Php 1,000. So, we're sure the winner of our giveaway, who gets Php 1,500 worth of gift certificates, can share a big meal at Tokyo Tokyo with his/her family and friends. 🙂
GIVEAWAY HAS ENDED
The following two tabs change content below.
Kenneth is the chef in the family (he studied Culinary Arts and Baking & Pastry Art in GCHA). He's responsible for most of the more complicated recipes featured here, and loves preparing pastries and desserts. Aside from being a chef, he's also a Registered Nurse and Midwife. His love for cooking led him to pursue a culinary career.
Latest posts by Ken Ignacio (see all)
Comments
comments