I recently got myself a new Nikon D3200 DSLR. I have been very envious of my sister Mhel ever since she got her D3100. On the weekend that I got my camera, I had no idea what to take pictures of, so I decided to bake something to put our food photography skills to the test. I remembered we bought a packet of Hershey's semi-sweet chocolate chips the last time we were at the supermarket. From then I knew just what to make with it — Moist Chocolate Torte.
This is probably the simplest yet the yummiest cake that was taught to me by my pastry chef at the hotel where I previously worked. I recall eating all the leftovers by the kitchen sink, so I can easily pretend that I'm washing our kitchen tools because our executive chef is very sneaky. 😀 He'll just pop out from nowhere the moment you've already put something in your mouth. I've been caught a couple of times, but never really got scolded for it. He knew I was always hungry. 😀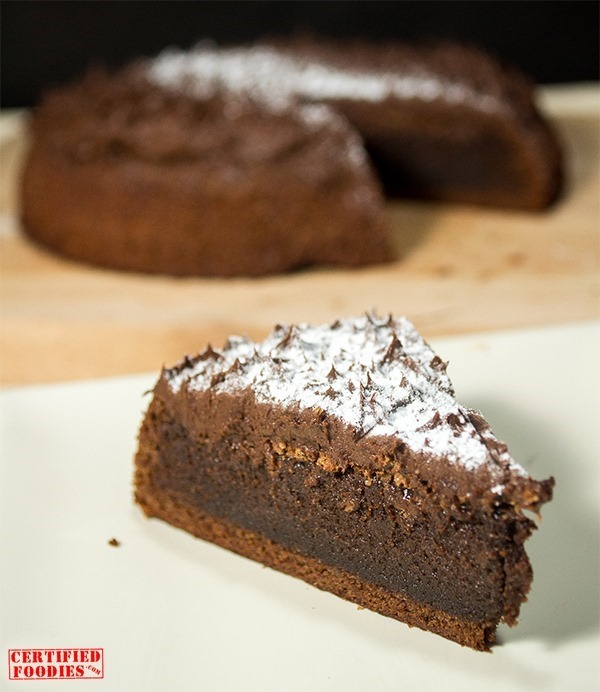 This Moist Chocolate Torte is really easy to make, and it's the perfect recipe that chocolate lovers would really enjoy! I mean the cake literally melts in your mouth. The balance of the bitterness of the chocolate, the nutty flavor of the butter, and the mild touch of saltiness meld into this one irresistibly good cake that it's hard not to take a second slice. 😉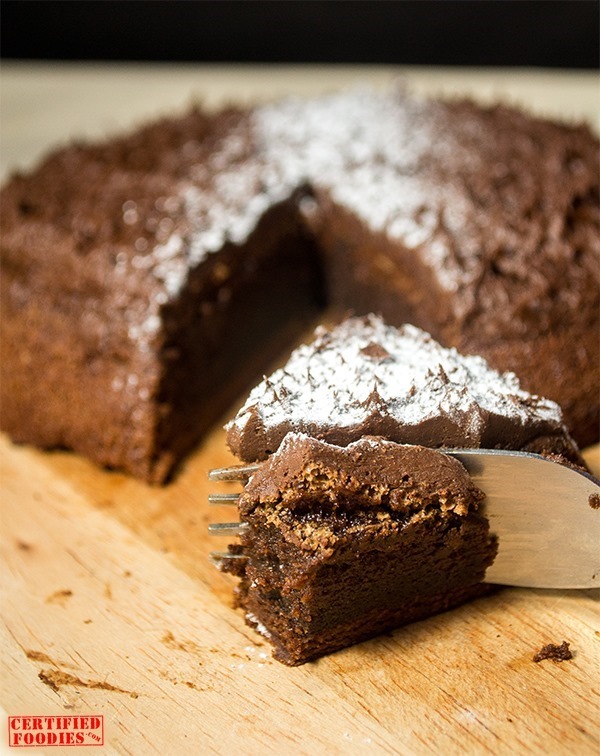 INGREDIENTS:
For the Chocolate Torte:
150 grams dark chocolate chips
90 grams unsalted butter
75 grams white sugar
2 pieces whole eggs
3 pieces egg yolks
Note: Please ignore the excess egg yolks you see in the photos of the ingredients below, which were all taken during the first try. This recipe has been adjusted so there won't be any excess batter. 😉
5 grams iodized salt
25 grams all-purpose flour, sifted
For the Whipped Ganache:
150 grams dark chocolate chips
55 grams whipping cream
PROCEDURE:
1. Pre-heat oven to 350-degrees Fahrenheit. Always preheat your oven for at least 15 minutes at the proper temperature, so you'll lessen the chance of your cake not rising or not cooking well enough because the oven's heat is not high enough. I also suggest getting an oven thermometer since the knobs on your oven are not a single bit accurate.
2. Brush some butter on the sides and bottom of a 7-inch ring or cake mold. If you are using a ring mold, wrap the bottom with aluminum foil. I used a 7-inch ring mold that I got from Chocolate Lover. Wrap the bottom of the mold with some foil. Make sure you put it tight, so the cake batter wouldn't spill out. You can also use a cake pan or mold if you want. Buttering the sides and bottom of the pan would make it easier to unmold the cake.
3. Combine butter and dark chocolate chips in a microwave-safe bowl and put in the microwave for 20 seconds at High. Remove then stir. Repeat until chocolate and butter are completely melted. Remove from the microwave, set it aside to let it cool. We don't put the chocolate in the microwave for more than 30 seconds because it gets burnt easily.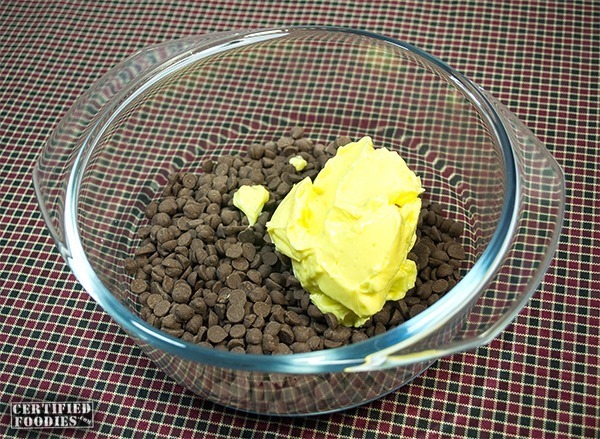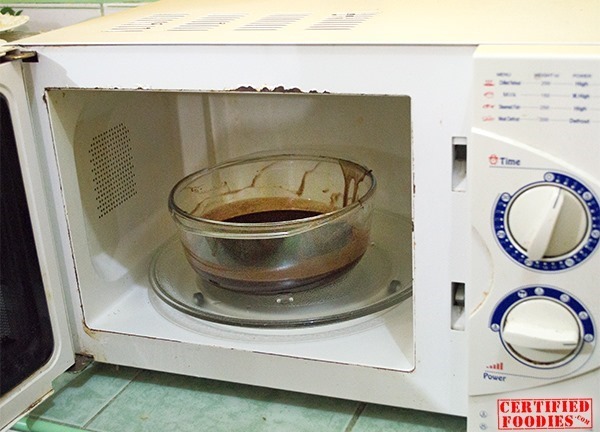 4. Combine all eggs, sugar, and salt in a mixing bowl. Using a hand-mixer beat the eggs until they're light and fluffy but not too stiff. This is probably the trickiest part. You want your egg mixture to be fluffy but not so much that it develops stiff peaks. To make things easy, set your hand-mixer to the highest speed and beat the egg mixture for 2 minutes. No more, no less.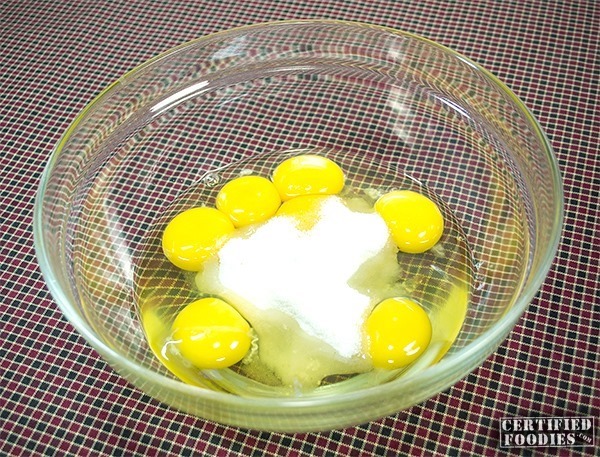 5. Pour melted chocolate and butter mixture into the mixture of beaten eggs. Using a rubber spatula, fold the mixture until completely incorporated. Not really a hard step to do, but just make sure it's well mixed.
6. Add the flour (sifted) into the mixture, then fold it until batter is smooth and no more lumps of flour. Sifting the flour beforehand will make it easier to incorporate into the mixture, since it will produce fewer lumps that can be dissolved quite easily in a few stirs.
7. Pour batter into ring or cake mold. Tap the sides lightly to remove some of the bubbles, then pop it in the oven and let it bake for 25 – 30 minutes. If you're using a ring mold, it's better to put it on top of a baking tray before pouring the batter. Make sure your oven is at the right temperature!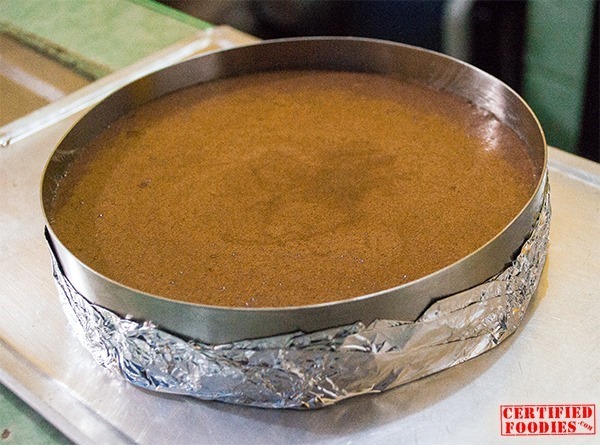 8. When it's done, pull it out from the oven and put on top of a wire rack to let it cool completely. Remove from the mold. Pull it out of the oven immediately after 30 minutes; that is if your oven temperature is at exactly what it should be.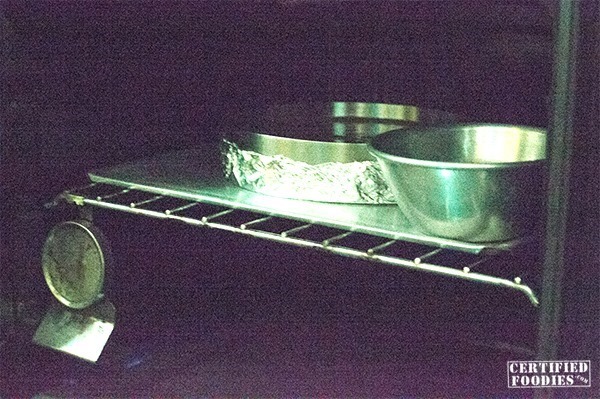 You can check if it's cooked well by sticking a toothpick in the middle of the cake. It shouldn't come out clean, but a little wet. Yeah, it's different from other cakes that require the toothpick to come out clean to be considered well cooked. Take note that this is a chocolate torte. It's very dense, and with that amount of chocolate, it will eventually set and become firm by itself. That is the secret behind the melt-in-your-mouth feel that you get once you take a bite. 😉
Making the Whipped Ganache
For the whipped ganache, you can use this YouTube video as your guide. Don't mind her ganache recipe. Follow mine because it's the adequate amount to use as frosting for our Moist Chocolate Torte.
1. Put whipping cream in a microwave-safe bowl and heat in the microwave for 30-40 seconds. It should be really hot, but should not reach a full boil. It should be hot enough to melt the chocolate.
2. Pour the whipping cream onto the chocolate chips then set aside for 5 minutes. We do this so that the heat from the whipping cream will spread evenly into the chocolate.
3. After 5 minutes, stir the mixture until chocolate is completely melted. Set aside and let it cool to room temperature. You can refrigerate it for a maximum of 20 minutes.
4. When the chocolate is cool to touch, using a hand-mixer, beat the chocolate until it forms soft to medium peaks. It should be lighter in color as well. Be certain that the chocolate has completely cooled all throughout or else you'll end up mixing the chocolate the whole day. The first time I did this, it took me 30 minutes to whip it. My chocolate was still warm, so it took longer for it to crystallize and become "whipped".
Assembling the Chocolate Torte and Ganache
Now assembling the cake is pretty simple as well. You can actually opt out from frosting the torte with whipped ganache. Just dust it with powdered sugar and it's good to go. But since we want to be fancy and all, we'll settle with frosting it with the ganache. 😉
1. When the chocolate torte reaches room temperature, you can put in the refrigerator to cool completely, so the whipped ganache will not melt once we frost it on top.
2. The top of the cake will be brittle. You can remove it to reveal a smoother surface beneath. Don't worry if you see the top cracking. It's just the way it is. You can actually remove and eat it. It tastes like brownie brittle. 😀
3. Put a dollop of whipped ganache on top of the torte. Use a rubber or offset spatula to smoothen the frosting. Pipe the ganache with your desired design. I made two versions. One with a piped design, which looks chic and perfect for displays.
The second time I made it, I just plopped the ganache on top and made some spikes using the tip of the rubber spatula. I dub it the "rustic-style" Moist Chocolate Torte. In truth, it's my "too-lazy-to-design" approach on the torte. 😀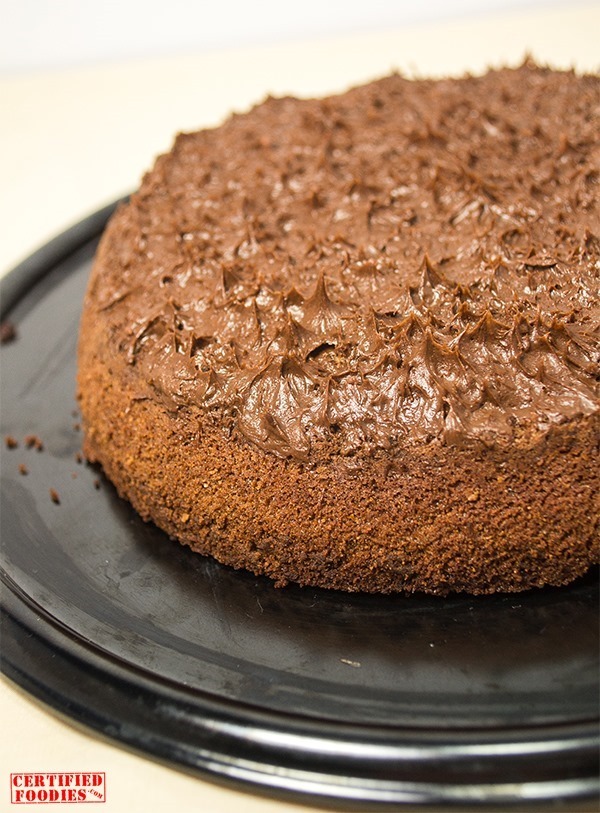 4. Put the finished cake in the refrigerator to let the ganache set. Enjoy! You can eat it once you're done frosting the cake. It's good to go. But if you plan to box it up and take it somewhere else, I suggest refrigerating it so the ganache will become firm and will not easily melt.
So that's my recipe for Moist Chocolate Torte. It is best served with a scoop of vanilla ice cream. You can pop the torte in the microwave oven for 30 seconds, so that it's warm inside, giving a nice contrast in temperature. We hope you like it! 🙂
The following two tabs change content below.
Kenneth is the chef in the family (he studied Culinary Arts and Baking & Pastry Art in GCHA). He's responsible for most of the more complicated recipes featured here, and loves preparing pastries and desserts. Aside from being a chef, he's also a Registered Nurse and Midwife. His love for cooking led him to pursue a culinary career.
Latest posts by Ken Ignacio (see all)
Comments
comments