Ever since we started this blog, we've had this insatiable thirst for a one-of-a-kind dining experience. I can count with one hand the number of restaurants that left me speechless, but they're mostly just because of the flavors and the food. None of them had a significant effect on me both gastronomically and emotionally. I've never had that experience yet.  Not until last June during The Burp Society's dinner meetup at Van Gogh is Bipolar by Jetro Rafael. I left that night with my heart filled with glee. 🙂
You most probably have heard of this place. The owner, Jetro, is an artist and has long been struggling with bipolar disorder. He discovered that changing his diet may play a big role in his healing. He cooked dishes with ingredients that made him happy, or at least improved his mood. It was his friends who encouraged him to share his mood-altering diet – he calls it the "Cuckoo Diet" – by opening up his own restaurant at Maginhawa Street. Here, he wants to continue celebrating his imperfections and embracing his flaws… something we should all learn to do. 🙂
When I was planning The Burp Society's second meetup after our first successful get-together last year, I was determined to set it up at Van Gogh is Bipolar. I was dead set after I checked online reviews of the place upon a friend's recommendation. I wanted the second meetup to be an unforgettable dining experience for TBS, and it was… in so many ways. Let me tell you all about it. 🙂
It was June 22nd, a Saturday. We had a reservation for 10, but only 9 were able to join because of the heavy rains. Everyone was paid in advance – Php 999 for a 5-course Cuckoo meal. Pricey, you might think, but for everyone of us who came to the dinner, the unforgettable dining experience was worth every penny.
When I was reading reviews of Van Gogh is Bipolar (VGIB), many people were saying that you only come here for the experience and not the food. The truth is, after that night, I was pleasantly surprised that Jetro actually serves good food that I'm sure many would appreciate, like we all did.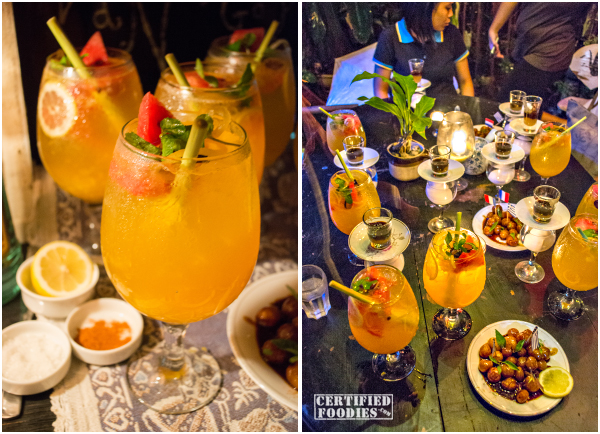 The place isn't as easy to find as I initially thought. All I can tell you is if you can find Roasterrific along Maginhawa Street, Van Gogh is Bipolar is located inside the small compound behind that building. When you enter, there's not even a sign where VGIB is. It's at the right side.
If you just walk towards the building, you'll instantly see the shoe garden, which was reserved for us that night. 🙂 It was raining, but it was uncomfortably humid, so I was glad we had that area all to ourselves.
Some of The Burp Society peeps were already there when we arrived. I came with my close friend Badeth who I knew would enjoy this experience too. Right away, we were welcomed by Jetro. He quickly realized I'm Michelle, the one who reserved for a group of 10. He introduced himself and gave us a few tips on how everything goes at his resto.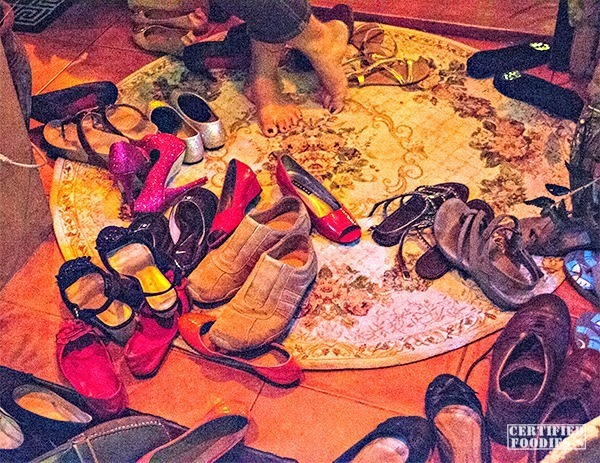 You leave your shoes at the door, and along with them, your cares and stressful thoughts. You'll walk barefoot inside his home, including at the loo. I'm a little OC when it comes to walking with no shoes or slippers on, but somehow, I felt comfortable.
Jetro mentioned during one of the many short conversations we had that night that aside from his love for art, he loves to travel. And while he satiates his wanderlust, he collected an assortment of trinkets, souvenirs and other stuff you wouldn't even think to bring back home with you after your trips.
There are also many that were given to him as gifts from friends and diners. You'll find them all neatly arranged on the shelves by the kitchen window and all around you, really. Aside from all the artworks of Jetro that are displayed everywhere, there are also visuals care of other artists that he invites to exhibit their work at his restaurant. The artworks change whenever Jetro feels the need to alter his surroundings, so the whole place may look completely different during your visit.
I took a ton of photos during that night. I decided to put them all into our travel blog – Travelsilog – instead of here since I want this blog post to focus more on the dining experience. Or at least I'll try. 😉
The mainstays among Jetro's collectibles are these cute little teapots that you can use to make your own tea.
You'll also find instructions on how to make your own. All the ingredients are there for whatever tea concoction you feel like preparing.
There's a window where we would get our food. They run in a self-service system, though many times during that night, they approached our table, serving us some of the food 'cause we got too busy talking about the food, about each other and about the place.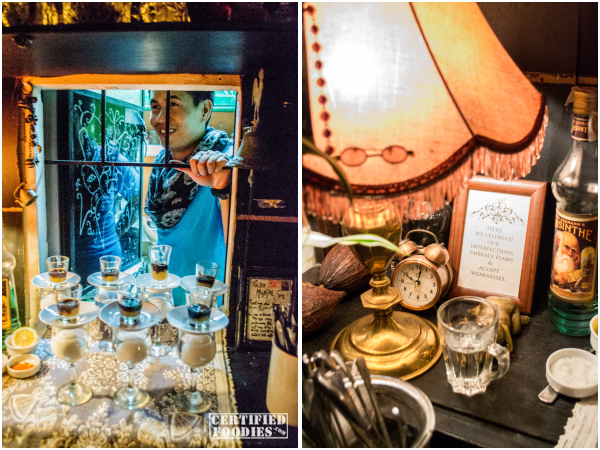 And, of course, the hats. They hang behind the door. You can choose who you want to be that night. A princess or a king maybe?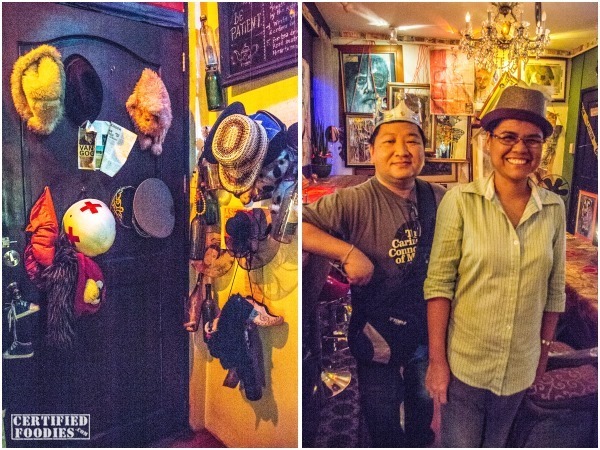 Or a glowing Minnie Mouse even. 😀 My blogger friend Ruth enjoyed her headband so much, she wanted to keep it with her. 😀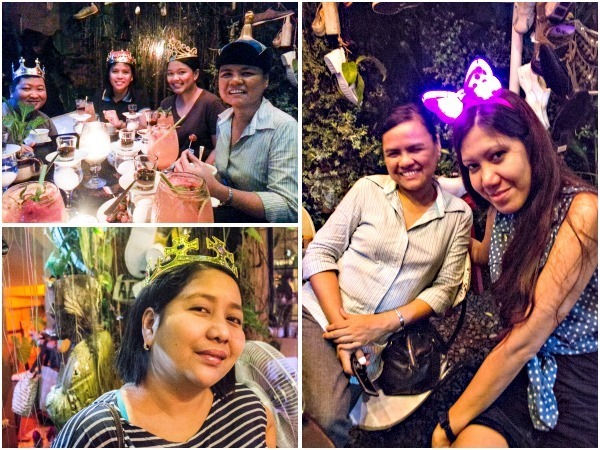 Here's the board with their house rules that you'll find just above the door.
How do you pay? Before, there's a red box for payments and they follow an honesty system – you decide how much you pay, and you also get your own change if needed. But they had to cancel it because there were inconsiderate people who stole money from the box.
Jetro said there has always been an issue with people stealing from the box, but it's been happening all too frequently the past few weeks so he decided to cancel the honesty system for now, which is completely understandable. I find it downright disrespectful and evil. How else would you describe someone who steals from you after you fed them and treated them well?!
Anyway, they still maintain their honesty policy. At the end of the night, you wrap your payment using the paper you used to order and hand it over to Jetro or his servers that night. When I gave them the payment for all 9 of us for The Burp Society, they didn't even count how much money I rolled up in that piece of paper. I paid them in full of course.
Going back to our dinner, there's no menu available to you. Expect the food to change every visit. It's the beauty, and the mystery, of Van Gogh is Bipolar. It's refreshing. If you're like us who are used to the usual setup at restaurants, one night at Van Gogh is Bipolar will blow you away.
All throughout the night, one thing I am certain of is this: Jetro is a gracious person, a welcoming soul. He may not be like this every day, but I can feel that's his innate nature. He's sincere. He's someone I would've loved to have long conversations with. And in just one night, I saw how much this restaurant has affected him.
If you've read this post up to this point, THANK YOU. 😀 This post took awhile to finish because there's so much to say about Jetro, about the place, the food and all these factors and their impact on me. And since this is primarily a personal blog, my only wish is at least someone out there would bear to read this from top to bottom.
I thought that the restaurant can only handle 12 guests at a time, but I found out they have different areas inside and outside (al fresco) for diners.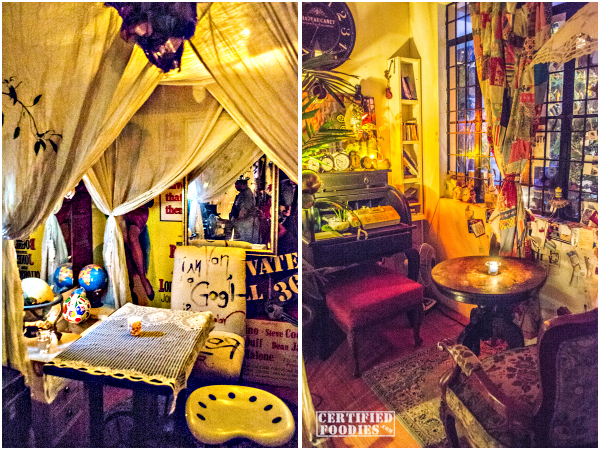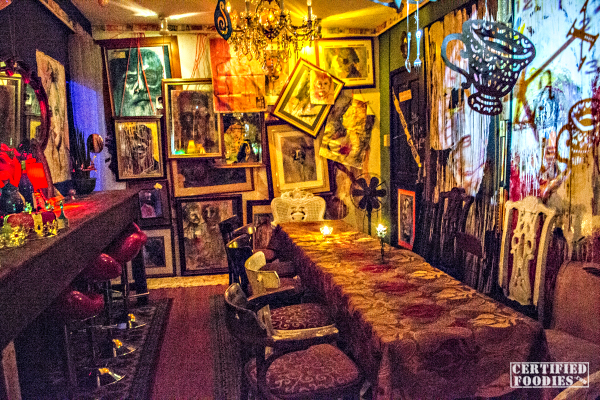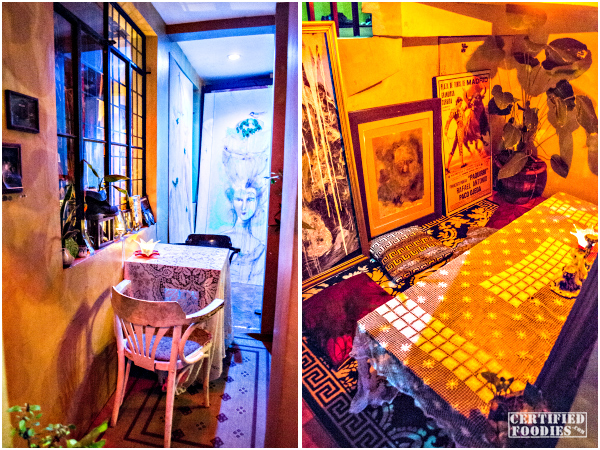 Now, let's go back to our dining area for that night. We were at the shoe garden where possibly a hundred shoes were hanging and displayed all over the place.
My friend Badeth noticed there were many signature shoes that were part of the artwork. We asked Jetro about it, and he said some were from sponsors and donations for his art installation. He decided to move them all to VGIB.
With how busy his restaurant has been over the past years, you'd wonder how he gets by without an official wait staff. Even though they're mostly a self-service place, it's touching to know that his wonderful friends are more than happy to help him out.
Recently, I learned Piolo Pascual and Angel Aquino joined Jetro as his gigolo and mistress servers – endearing titles he bestows on his friends who volunteer to help him out in serving food and entertaining the guests. His mistress when we were there, a dear friend of Jetro, just recently came back home to Manila. She was glad to guide us on how we can enjoy the dishes Jetro was preparing that night.
How do you order? They'll give you a paper where you'll write any special needs or allergies they need to know about. Since Jetro doesn't have a fixed list of dishes for their 5-course menu on weekends and he changes his mind about the dishes without warning, he wants to make sure he's not putting anything into your food that may harm or discomfort you. Good thing none of us had any real issues, so Jetro was free to whip up anything he was in the mood for that night.
So, now, the much-awaited part of this blog post – the food. 😀 This is a food blog after all. 😀
For our beverage that night, we were served these gigantic glasses of some sort of fruit punch. They call it Courtney Love's Potion. We took turns guessing the ingredients in there – watermelon, melon, mint, lemon, grapes, and a celery stalk some of us initially thought was straw. 😀 It was simply refreshing, and this one lasted til the end of the night.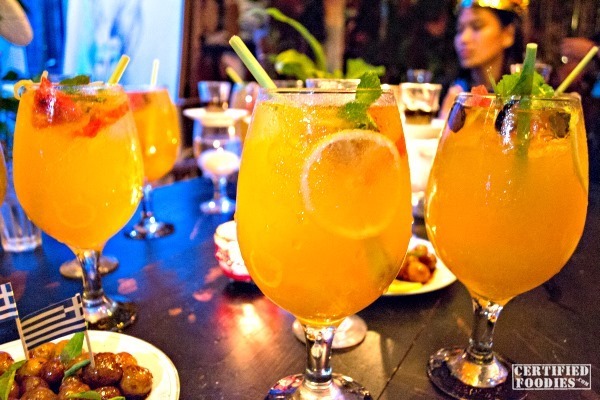 For appetizers, we had these sweet baby potatoes. They're cooked in molasses, which Jetro told us actually helps control anxiety. Further reading revealed that this dark syrup made from sugar cane also helps cure depression and fatigue.
I like these potatoes very much, especially because they were cooked just right – with that nice crunch and bite to it. 🙂 Perfect to whet our appetite.
Up next was the much-awaited egg shot. Jetro calls this AXL Rose Egg Shot. Even after reading various reviews of VGIB, I wasn't mentally ready for this. My OCD sometimes gets the best of me. But I brushed off my prejudice and decided to let myself sink into the complete Van Gogh is Bipolar experience.
You might be thinking it's so dramatic of me to feel this way, but I wasn't a fan of the idea of eating an egg that wasn't completely cooked. I shrugged off that thought and said, life's too short to be a wimp. 😀
The egg is soft-boiled and it's served in warm water in a medium-sized wine glass. On top of it is the fruit puree in a shot glass, and it's a balancing act getting this from the service window of the kitchen to your table. I was able to carry 2 while lugging my DSLR around. 😉 (In my head, I just said, "eh di ikaw na!")
Jetro approached our table to show us how to enjoy this concoction. He lightly tapped onto the top of the egg, just enough to break the shell to let out the egg into the shot glass with the puree. You then squeeze a li'l bit of the lemon and add a pinch of paprika, then you down the whole thing in one shot.
It was fun to watch all The Burp Society peeps getting busy with their own egg shots. We planned to take a shot all at the same time.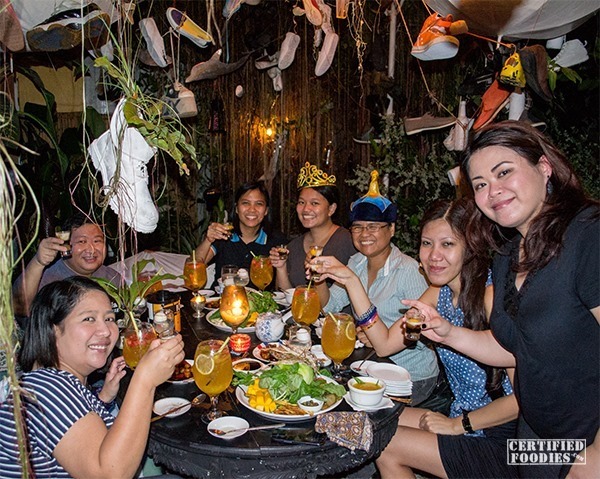 Jetro said the eggs he uses for this dish are all organic, from a farm in Batangas. He goes on to mention that all his ingredients are organic and sourced locally.
How was the AXL Rose Egg Shot?! It was like fireworks of pleasing flavors in my mouth. Mmmmmmm! It was funny how I was telling myself how ridiculous I was for having all these inhibitions about this egg shot. 😀
By the way, the theme that night was Italian so we were listening to unfamiliar Italian tunes and we hollered, "Salute!" during the egg shot.
Jetro also served us soup. I can't remember if he mentioned what this is called, but I'm sure it's a turkey and fish soup with cashews, and edible flowers (rose).
This soup reminds me of this one time when Ken and an ex-boyfriend of mine cooked up this practical joke of a soup (wait, hear me first before you conclude anything). They used chicken broth I think, and they both added all sorts of ingredients to it, including peanuts, just for the fun of it. I was foolish enough to taste it and I even thought it was good. 😀 I wanted to smack Ken afterwards when they told me (he was just a kid – probably around 10 or 12 years old; he was such a naughty kid) if only it wasn't too fricking hilarious. We still laugh about it when I bring it up. 😀
Okay, the only reason I even brought that up was because I don't like dishes with whole nuts in it. It was because of him and that soup!! 😀 However, this soup from Van Gogh is Bipolar, I actually enjoyed. It's hard to describe the flavors, but I know everyone at our table continued to sip their soup, unbeknownst of how many dishes we're still having that night.
By the way, Jetro told us that turkey is good for anger management – it helps suppress your strong emotions. So if you know anyone who has a bad temper, eating more turkey might help. The problem is, it's not as readily available and as affordable as chicken.
Next up, is the Larry Flynt's Cabbage Experience. It's basically a salad, but you assemble your preferred ingredients into a roll or cabbage wrap.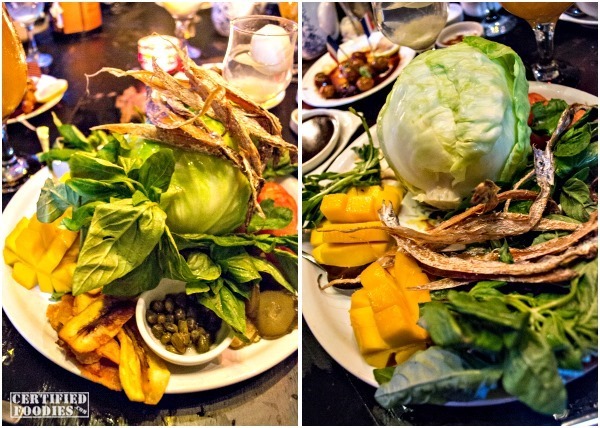 The ingredients, aside from the cabbage (steamed or boiled, I think), are banana chips, mangoes, capers, dried fish, pickles, cucumber, tomatoes, basil and salted egg. When combined together, it will bring you a delightful mix and contrasts of flavors and textures.
Jetro informed us that cabbage is a natural antidepressant. It was an interesting piece of trivia and I swear, I'll never look at cabbage the same way again. 😀
We all had fun 'composing' our own cabbage wraps. I didn't skip any of the ingredients, and I finished off that cabbage wrap in no time. I think I spent more time preparing than eating it. 😀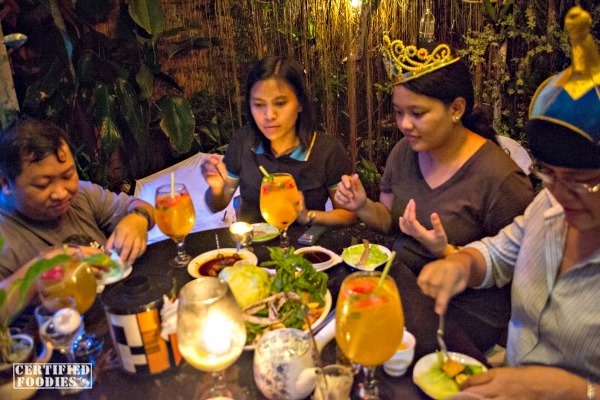 For our main dish, Jetro and her mistress came over and asked if we prefer the 'chill' dish (meat-based) or the 'happy' dish (fish-based). All of us but one picked 'Chill', which turned out to be this hearty plate of pasta with all sorts of good stuff. Jetro said it was his first time to cook up this dish, and it would probably be the last.
There's turkey, cherry tomatoes, olives, cranberries, almonds and capers – too many components, if you ask me. I would've never thought of putting all these ingredients together for a pasta dish, but somehow, Jetro made it happen quite successfully. It was creamy, with a hint of sweetness here and there. Again, the varying texture was just amazing. This was too filling that I didn't get to finish the whole plate. I tried, but I just couldn't anymore. 😀 So busog, grabeh!
The "happy" dish was made with cream dory, I think. I didn't get to taste this, but I heard this was good too.
Let's move on to dessert, shall we? The mistress came over with this rack of test tubes filled with absinthe (liqueur), and shot glasses with dark chocolate. They call this Mel Gibson's Darkest Sin. I wouldn't even dare ask why. 😀
Trivia: I was a Chemical Engineering student at UP Diliman before I decided I wanted to tinker with computers than chemicals. 😀 So I was completely amused by the test tubes. I want my alcohol served to me in test tubes from now on. 😀
The mistress then wondered if we'd like to kick it up a notch by playing with fire and flambéing the absinthe before pouring it into the shot glass. Of course, we said yes. 😉
She went in and came back with a big chunk of (organic) sugar. Then she took one of the spoons, placed a pinch of sugar on it then poured a little of the absinthe. She then lighted it up and waited til the sugar was melted.
She proceeded to pour the warm liqueur into a different shot glass. She then told us to take that shot, and follow it up with a spoonful of the chocolate mixture on the other shot glass. It's a mix of dark chocolate (made with real coco, wild honey, soya milk) and topped with a walnut. Everyone followed suit.
The burning sensation you get on your throat from the absinthe was met with the warmth and thickness of the dark chocolate. It was a mesmerizing feeling, which is why this is my favorite part of the meal after the egg shot. I'm sure everyone at our table would agree with me that it was just THE perfect way to end the night. 🙂
After our 5-course meal, it was a consensus – we had an absolutely amazing dining experience at Van Gogh is Bipolar. It was interactive, super fun and we were all smiling at the end of the meal. 🙂
Hopefully, you've read this post from the start. Those of you who have visited Van Gogh is Bipolar already would most probably agree with everything I said. For me though, I believe every one of us should experience Van Gogh is Bipolar at least once in our lives. This is why I want Ken to experience this with me soon.
If you are planning to come to Van Gogh is Bipolar, here are a few key things you have to keep in mind before you decide to finally go:
If you are picky or a control freak and you want to know exactly what's in your food, VGIB might not be the place for you.
If you don't like waiting too long for your food, you might be disappointed.
Van Gogh is Bipolar is an experience, not just a place where you get nourishment or you order food you can dissect and criticize. Each dish is prepared with passion and love, exactly how slow-cooked food should be.
If you're in a hurry and you can't spend 2 to 5 hours to completely immerse yourself into the experience, then you might want to schedule some other time to visit the place.
If you're too fussy about how and where you eat, you might not be ready yet.
But you know what, I strongly believe, even if you have all the quirks and limits mentioned above, a visit to Van Gogh is Bipolar might change you.. or it might be exactly what you need. Just leave your troubles and cares at the door, and be prepared to be transported to Jetro's world. 🙂
I know for a fact that every single one of us at the table that night experienced something different since I believe the effects of the food, Jetro and the ambiance to each person are unique… personal. Definitely, my visit to Van Gogh is Bipolar tops the list of my most memorable dining experiences. And for that, I thank Jetro, with all my heart, for sharing a big part of himself with us. 🙂
Van Gogh is Bipolar
The following two tabs change content below.
Michelle (aka Mhel / blankPixels) is a social media nerd and works as a Digital Marketing Lead for one of the top online companies in the Philippines. On her free time, she travels, goes on food trip and loves to take photos. She's the main editor of this food blog.
Latest posts by Michelle Ignacio (see all)
Comments
comments