When Yabu opened last year at Robinsons Magnolia, we initially weren't that excited. We thought it'll just be another hyped, overrated restaurant. We couldn't be far more wrong. We were invited to the opening, but couldn't come because of work. The anticipation started to build up when fellow foodies started raving about them. So, one weekend, we trouped to Robinsons Magnolia (which isn't really accessible to us) to finally feed our curiosity (pun intended). 😉
Since they haven't opened any other branches yet that's closer to us (we're looking forward to their SM North Edsa branch!!), we couldn't dine in as much as we'd love to because their nearest branch is at SM Megamall. Commuting from Malabon to Ortigas is such a hassle because of the traffic, so it took us awhile before we had a chance to dine in again, finally, at their SM Mall of Asia branch about a week ago. They now have 4 branches and from the looks of it, they're not slowing down.
Anyway, back to our Yabu katsu experience. If there's one similarity I've noticed from restaurants that didn't wow us, it's the number of dishes on their menu. When I see that there are too many items on it, I somehow expect to be disappointed. I prefer to see a smaller menu because that means the restaurant gets to focus more on the quality and flavors of the dishes they serve rather than coming up with mediocre dishes while trying to please everyone.
And this is exactly why we fell in love with Yabu. Though they have other items on their menu, you know that they're focused on one thing: to give you the best Katsu experience – consistently. With every slice and every bite, you'll sense the technique and passion put in every katsu they serve. It's no wonder people are coming back for more, hence the Katsu craze.
"Delicious is in the details. At Yabu, everything is prepared meticulously, and nothing is left to chance: from using Koshihikari, the finest japanese rice, to knowing the exact second of lifting the pork from the bubbling oil. Discover what makes our katsu better than the rest." It's no wonder since they claim to have learned the art of making the perfect katsu from Chef Kazuya Takeda, the head chef of a renowned tonkatsu restaurant in Tokyo.
The first time we went to Yabu, we had to wait for a table. The second time, it was mid-afternoon and a weekday, so we had no trouble getting two tables for us (because Ken decided to order too many things, we had to use another table. :D).
Their staff are remarkably accommodating, almost to a fault (still friendly though). They'd ask you if it's your first time, and if so, they'll tell you how to enjoy your Yabu experience. Though we were familiar, we had to let them continue to listen to their spiel. To quench our thirst, we ordered their bottomless lemonade on both occasions – first they had slices of lime, and next, lemon. Simply refreshing.
You start off with the Yabu ritual, grinding sesame seeds for your katsu sauce. The aroma of the roasted sesame seeds is appetizing enough. You'll definitely work up an appetite, and I find it relaxing too. 😉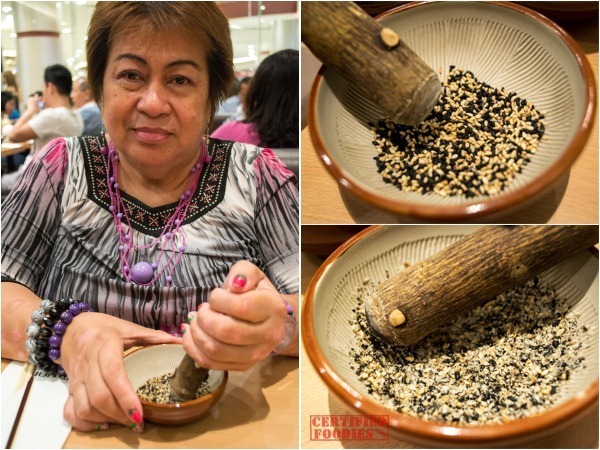 You can choose to ground them to powder (well, you can try 😉 ), or keep some seeds intact.
Then, you pour some of the katsu sauce onto the ground sesame seeds.
The sauce is not at all overpowering, but complemented all our tonkatsu very well, taking them up a notch in terms of flavor.
Yabu's katsu sets come with unlimited Japanese Koshihikari rice and shredded cabbage. You can opt for their brown rice too, and you also get miso soup on the side.
Yabu offers various dressings you can pour on your cabbage: roasted sesame (Goma), wasabi and vinaigrette. We love, love, love the sesame dressing that we couldn't have enough and had to be reminded we still have our katsu and rice to finish off. 😀 Ken liked the wasabi dressing for its kick of spice and heat (he said, "kasi may suntok" 😀 ).
Now, let's get to what we've enjoyed at Yabu so far, shall we? I'm already hungry from writing this post. Sheesh. 😀
First, let me comment on how they present each katsu set. Everything seemed to be well-thought out, including the bowl that we used for crushing the sesame seeds! The fried katsu sits on top of a small grill, letting the excess oil to freely drip away. Your tonkatsu is proudly displayed with all its might on top of the grill, showing off their crisp, perfectly golden exterior, waiting for you to devour them. The side dishes of miso soup, rice, fruits and pickled veggies are on the side.
Their appetizers are served in these lovely boxes (Php 195 for 2 apps). We've tried 4 out of 6 of Yabu's appetizers, starting with Wakame, seaweed salad topped with ebiko and their Hiyayakko Tofu, cold silken tofu cubes in ponzu sauce, sprinkled with bonito flakes, which we ordered during our first visit.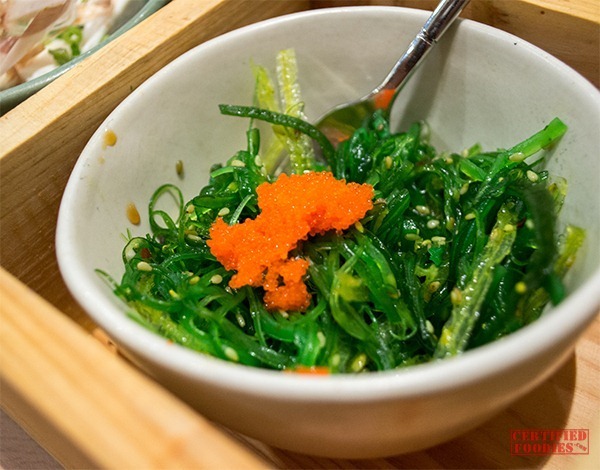 On our second visit at their MOA branch, we tried their Spinach Salad with Goma Sauce, made with Japanese spinach mixed with sweet goma/sesame seed sauce, and their Iidako Salad (right), baby octopus marinated in a sweet-savory sauce, and tossed with crisp slices of cucumber. This one was absolutely our favorite! The octopus is cooked enough to give you a nice bite, and the flavors were perfect for a starter.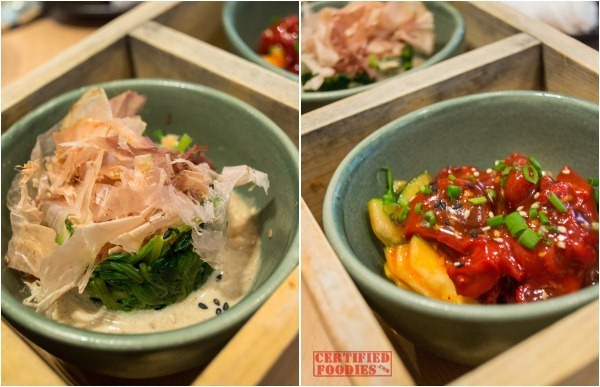 The highlight of our meals were, of course, our tonkatsu. Yabu prides itself on using fresh panko out of Japanese breadcrumbs, all natural canola oil and the best of the best of meats. Their katsu is wrapped in a thin layer of their panko breading. The skill behind coating them just enough for you to get that gorgeous crisp and deliver an authentic tonkatsu experience with that thick, generous cut of meat is, simply put, outstanding. And though they're fried, all of the tonkatsu we ordered weren't greasy at all.
Yabu uses premium quality of proteins – from their pork and chicken, up to their seafood dishes. They're well known for using Kurobuta pork from Black Berkshire pigs. People from all around the world consider this as the 'kobe beef' of pork because of its beautiful marbling which renders the softness, juiciness and flavor we all fell in love with.
Let me tell you what we ordered when we first ate at Yabu. Ken picked their regular Rosu Tonkatsu Set (180g, Php 405) – 3/4 inch-thick, juicy certified US pork cutlet with a trimming of fat (not the photo above – that's their premium set).
I ordered their original Rosu Katsudon set (Php 315) – US pork cutlets dipped in egg and dredged in fresh panko, and then served over Japanese rice, then topped with sauce and egg. This is one heck of a complete meal for me! Creamy and oh-so hearty. 😀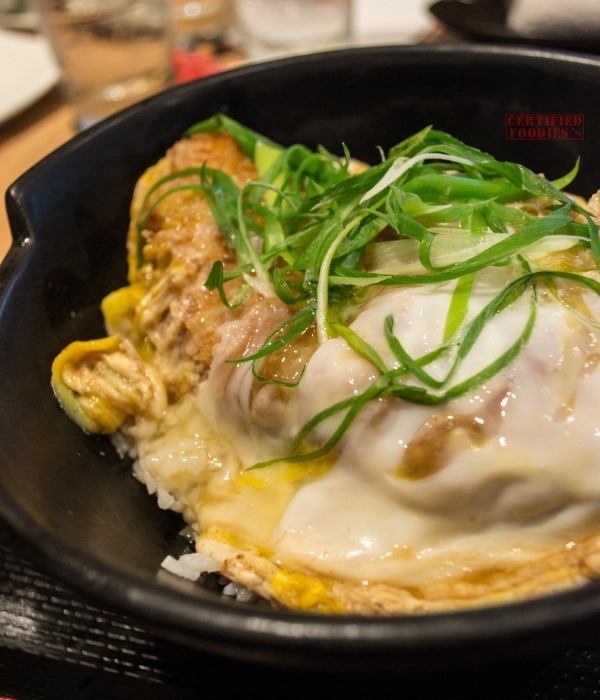 Ken is a sucker for tempura, so I knew he wanted to order Yabu's Jumbo Prawn Set (Php 485) where you'd get 4 pieces of Japanese Black Tiger Prawns.
Our nanay took awhile in ordering, so we decided to pick the Hire and Seafood Katsu Set (Php 485), which includes a pork tenderloin cutlet, Black Tiger Prawn, cream dory, scallop, eggplant and pepper. This way, she got to taste a variety of katsu.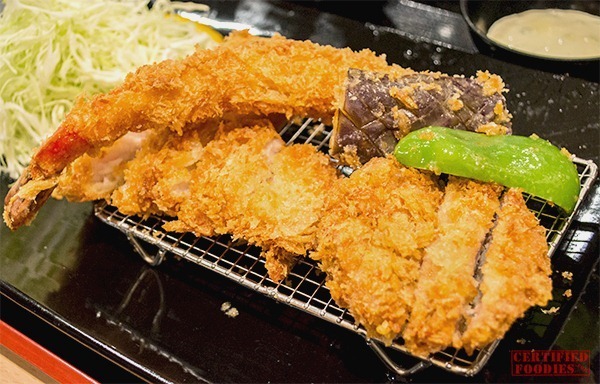 We also ordered a la carte of their Chicken Breast tonkatsu (Php 105). In the photo below, you'd see the thin layer of breading embracing the meat.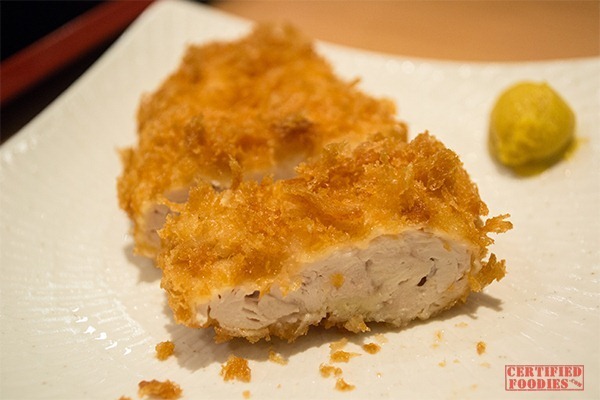 On our second and most recent visit, we just had to order these dishes again: Rosu Katsudon Set and their Jumbo Prawn Set.
We wanted to try their Kurobuta Miso Katsu Set (Php 580), so we ordered that for nanay. It's packed with flavors from the sweet miso sauce, and the spring onions and ground sesame seeds. They serve this on a Japanese hot plate.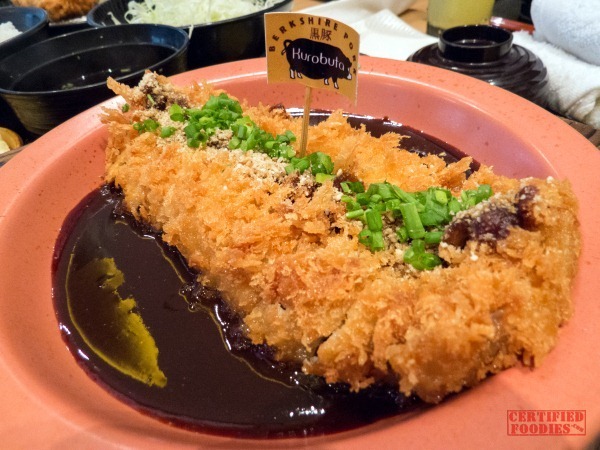 Ken and I both ordered their Premium Kurobuta Pork Tonkatsu Set (120g, Php 575). We were supposed to each pick something different off their menu, but we just couldn't resist. 😀 I mean, how could you?! Yabu's Kurobuta pork tonkatsu has this melt-in-your-mouth quality that's to die for. At every bite, you'd think, "How can tonkatsu be THIS good?!?" Seriously. Comfort food at its best. 🙂
Their tonkatsu, the friendly service, the generous servings – really, the whole experience is memorable every visit. We can't wait for their SM North Edsa branch to finally open so we can have more meals at Yabu. I heard it's happening this July, so I'm crossing my fingers. We have yet to try their curry and other seafood katsu. 🙂
What's your favorite katsu at Yabu? Tell us about it! 🙂
Yabu : House of Katsu
Yabu's Menu
Disclosure: We paid for both meals.
The following two tabs change content below.
Michelle (aka Mhel / blankPixels) is a social media nerd and works as a Digital Marketing Lead for one of the top online companies in the Philippines. On her free time, she travels, goes on food trip and loves to take photos. She's the main editor of this food blog.
Latest posts by Michelle Ignacio (see all)
Comments
comments