Here's another sale event organized by Malibu Enterprise, the same people behind The Big Outlet Sales – The Malibu Lifestyle Bazaar 2011 – happening on the same dates as The Big Holiday Outlet Sale 2011 (win free tickets here too!).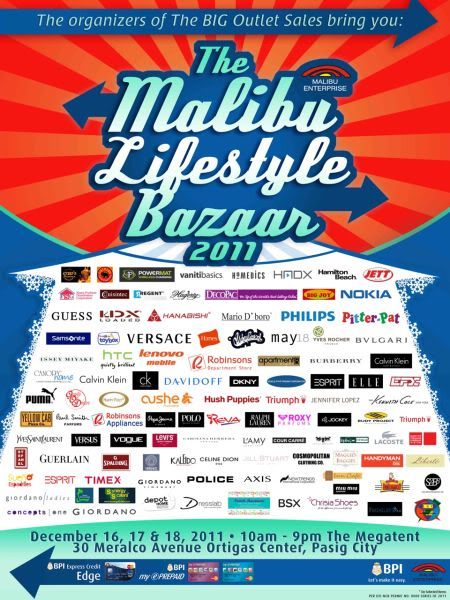 This is a one of a kind bazaar as big brands like Robinson's Department Stores, Robinsons Appliances, Hanabishi, Philips, Homedics, Powermat, Hamilton Beach, Samsonite, Canopy Home, Jockey, Giordano, Reva's, Rudy Project, Triumph, etc, along with specialty merchants, offer you great deals in time for your gift-shopping this holiday.
Details on this bazaar are below:
What: The Malibu Bazaar
When: December 16-18, 2011, 10am to 9pm
Where: The Megatent, 30 Meralco Ave., Ortigas Center, Pasig City
Take note that BPI Edge and My E-Prepaid cardholders get FREE entrance with a Valid ID.
We are also giving away FREE tickets to this event. All you have to do are the following:
1. Like these Facebook pages:
2. Help us spread the word about this by posting this as a status on YOUR FB wall:
Here's another sale event you wouldn't want to miss – The Malibu Lifestyle Bazaar happening on December 16-18 at the Megatent. Get as much as FIVE free tickets from Certified Foodies. Join here: http://bit.ly/siVdFj
Make sure you TAG The Malibu Bazaar's FB page and ours, and it's set to PUBLIC view. It should look like this: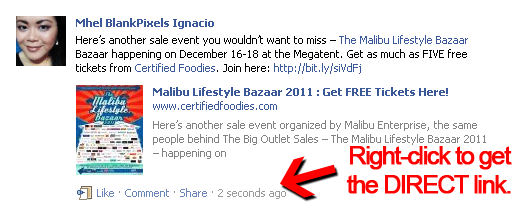 3. Leave a comment below with your complete name and the names of your friends who you'd be tagging along (no need to give their full names).
My name:

Names of Friends:
You can get as many as FIVE (5) tickets! Hurry! As soon as our guest list is full, we'll close this giveaway. But, end date is December 14, 2011 at 11:59pm.
The following two tabs change content below.
Michelle (aka Mhel / blankPixels) is a social media nerd and works as a Digital Marketing Lead for one of the top online companies in the Philippines. On her free time, she travels, goes on food trip and loves to take photos. She's the main editor of this food blog.
Latest posts by Michelle Ignacio (see all)
Comments
comments