I know this post has been delayed for weeks, but this is just in time because we've got a lot to be thankful for today, including our home in Dampalit, Malabon being spared from complete destruction from Pedring.
When we joined the run for the Top 10 Emerging Influential Blogs for 2011, Ken and I did not expect the amount of support we got from our fellow bloggers, foodies and friends. So, when we found out we got a record-breaking 100+ votes, we were in shock. We landed in #1 after the votes were tallied.
Thank you to the Pinay Mommies Community for the love and support, especially from Mommy Rubz who welcomed me to the group even in my single-blessedness.
Thank you to everyone who voted for us. I haven't collated your names and links yet, but as soon as I do, we'll give you a link back on this post.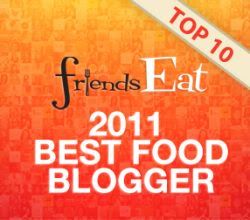 As Cielo of Brown Pinay, a dear blogger friend, commented, "Taon nyo talaga ang 2011.", and we couldn't agree more. I mean, we are overwhelmed by the fact that right after emerging as #1 in the Top 10 Emerging Influential Blogs for 2011, we also got in the Top 10 of FriendsEat.com's 2011 Best Food Blogger. Ken and I can think of a hundred and million reasons why people voted for us, most of them are pretty funny, but we still appreciate the love and support so much.
There were hundreds of food blogs that were nominated, but our fellow Pinoys and friends rallied to keep us in the Top 10! We're the only Pinoy food blog on the list so we are so grateful for the love and support. *BIG HUGS*