The sexiest ice cream bar is at it again, with a new luscious flavor to tickle our senses: Magnum Gold. Have you tried it yet? 😉
As you rip the wrapper open, the brightly colored Magnum Gold ice cream bar inside is revealed. It's coated with thick Belgian chocolate – 2 layers to be exact. The outer layer is in this luxurious color of yellowish gold.
A nice crunch welcomes you as you take your first bite off the ice cream bar, the Belgian chocolate coating gently crumbling in your mouth. The lusciously creamy vanilla ice cream inside, with swirls of salted caramel to boot, will melt your heart. Mmmmmm so good. It's definitely one indulgence you need to take time to enjoy. 🙂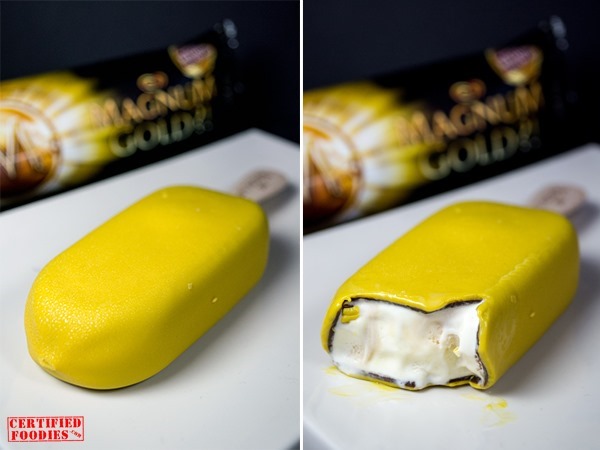 If you haven't tasted the delectable goodness of the all-new Magnum Gold, you are in luck! SM Supermarket, SM Hypermarket and SaveMore Markets nationwide are offering an exclusive promo – you get TWO (2) Magnum Gold ice cream bars for Php 100!