If there's one thing we love about the widespread use of social media in the country today, it's got to be how the hottest, latest and yummiest trends from all over the world quickly become all the craze here in the Philippines. The most recent fad has to do with the sweet, flaky goodness of Cronuts™. And if you're yearning to know where to buy cronuts here in the Philippines, read on.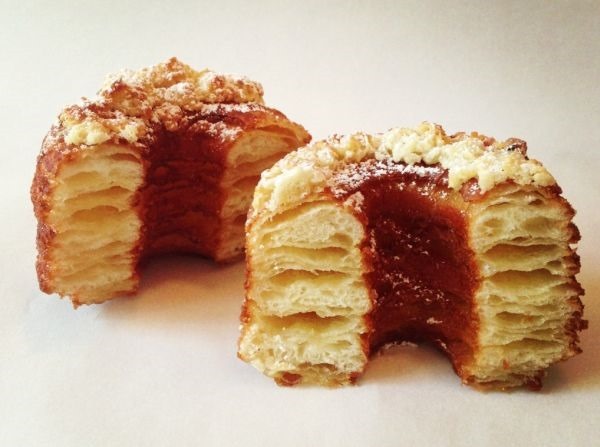 Photo from Dominique Ansel Bakery
If you haven't heard of these delightful pastries yet (have you been living under a rock? :D), Cronuts are made with a special laminated dough closely similar to croissant dough, and fried like donuts (originally in grapeseed oil), filled in with cream, then rolled in sugar and glazed or topped with frosting. The original cronut is a creation of Chef Dominique Ansel who owns a bakery in New York and if you check their website, his cronut recipe requires a more complex method, which is why it took him 2 months and 10 tries to finally perfect the recipe that will enable him to fry the laminated / croissant dough without it breaking apart.
Photo from Crains New York
Since he launched the cronuts in May this year, everyone seemed to be clamoring for a taste and this quickly spread all over the world (with people lining up for hours and some even paying as much as $100 for one cronut), and has finally reached the Philippines last month through Wildflour Cafe + Bakery. Thankfully, I haven't seen anyone who's too obsessed with these pastries yet here in Manila.
I first heard about the cronuts when I saw all the tweets about it on my work Twitter account (I have social media clients based in NYC). I asked Ken if he can make them at home. He said it's not an easy task to make such an intricate pastry. But, he said he'll try to make his own version at home. We'll see. 😉
Anyway, between the two of us, Ken's the only one who has tried Wildflour's cronut. He loved it, but he's not as enamored as everyone seems to be. Still, he said, there's no doubt it's a beautiful creation, which is why I cannot wait to have a taste. We're now on a quest to find out which cronuts are the best, so I listed down all the restaurants and pastry shops here in the Philippines that are serving these croissant-doughnut hybrids. If you know of other places we haven't added yet, let us know. 🙂
Where to Buy Cronuts in Metro Manila
Note: The photos in this post are not ours. See the photo credit links at the bottom of each photo. Those without labels were taken from the resto/store's Facebook pages.
UPDATE: So far, we've tried the cronut versions of Dolcelatte and Le Coeur de France. We'll post our reviews of them soon.