Growing up in Navotas and then moving to Malabon almost a decade ago, my bro and I have always had easy access to really good food. This has shaped our lives, which is why we now have this unconditional love for food and cooking.
Malabon, in particular, is known for hearty and flavorful dishes, so it's no wonder that there are many hole-in-the-wall places here that would surprise you with their straightforwardly delicious food.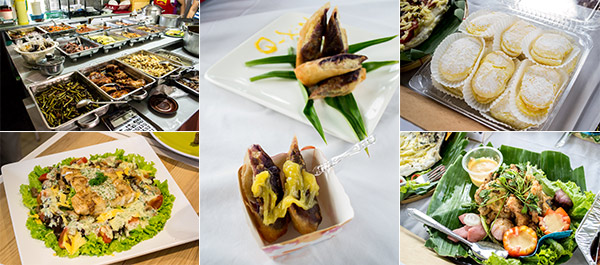 I'm sure many of you are already familiar with Dolors Kakanin (a staple in parties here), Pancit Malabon and Arny-Dading's Peachy-Peachy. To be honest, we've been busy scouring the Metro for new restaurants that we haven't finished discovering all the local and must-visit food places here in Malabon (we've already started since we were planning on a The Burp Society Malabon food tour).
After the successful Malabon Kulinarya Festival that we attended in 2012, we were more than glad to help out when we were contacted by Cleah (from the Office of the Mayor) about organizing a bloggers food tour in time for the 400th anniversary of San Bartolome Church, one of the oldest churches here in the Philippines.
Early Sunday on Mother's Day, we met our fellow bloggers at the city hall. Ken and I didn't have breakfast since we knew we were going to be stuffed by the end of the tour. Well, 'stuffed' is an understatement. Let me just say that we all underestimated what Cleah and the participating food places had planned for us. 😀 Read on.
Update: We know there are many other places here in Malabon that we weren't able to cover because we had limited time to go to all of them during the food tour. We'll have a separate post to feature the rest of the ones that have been around for ages and other scrumptious dishes you can find here in Malabon. 🙂