One might wonder why Italian food thrives in the Philippines when most of our cuisine's influences resulted from years of colonization or inter-country trades, neither of which the Italians were ever involved. However, there's one possible answer: Filipinos and Italians are both innately family-oriented. Cooking and eating are always a family affair, and the servings are, more often than not, geared to accommodating big families. And that was exactly what the Chef's Table of Finestra Italian Restaurant in Solaire Resort and Casino aimed to do – to submerge an intimate group into a one-of-a-kind culinary experience.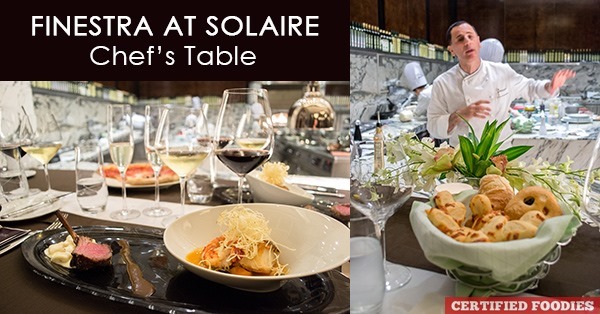 Finestra Italian Restaurant
Solaire Resort and Casino brings the authentic colors and flavors of Italy closer to home at Finestra Restaurant. Among the four world-class food establishments that are housed in Solaire, only Finestra has a breathtaking panoramic view of Manila Bay – the best place to enjoy a sumptuous meal while watching the sunset.
Aside from the big smiles and courteous greetings, the bar welcomes you like an old friend, egging you on to try their imported wines and special drinks that are not available anywhere else in Manila.
But the real center of attraction in Finestra is their show kitchen, where you can see your chefs hard at work in preparing exquisite Italian dishes.