After a long and exhausting day at work, most people combat stress by stuffing their mouths full of delicious and filling food. We are guilty as charged! My sister and I are big stress eaters, and it's  a crime we're more than happy to repeatedly commit at restaurants that serve straightforward comfort food like Highway Ribbery Grille in Quezon City—the latest brainchild of Chef Niño Runas, who is the same chef behind El Cangrejo in Tomas Morato.
Highway Ribbery Grille
Highway Ribbery Grille first opened its doors May of 2015 and has become one of the newest and hippest hangout place to hit La Loma, Quezon City. Its industrial-themed interior design, together with the wooden tables and chairs, delivered a rustic yet modern appeal. The restaurant is not air-conditioned, but don't worry; they have enough cooling fans to keep the area at a tolerable and comfortable temperature. They also have more tables on the second floor, including a rentable function room that can accommodate up to 35 people.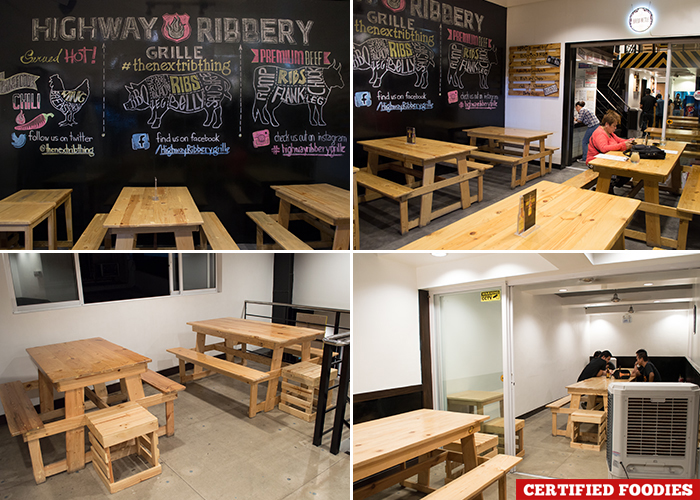 For our refreshments, my Nanay and I ordered two glasses of their House Blend Iced Tea (PHP 125), which arrived ice-cold and had this super refreshing citrusy flavor. Mhel, on the other hand, asked for a bottle of the Belgian craft beer, Brew Kettle (PHP 55), that turned out to be incredibly light and tasty. Highway Ribbery Grille has a limited line-up of alcoholic beverages, since they want the restaurant to become more of a dining joint than an inuman spot. Aside from Brew Kettle, the other beer they offer is San Miguel Light for PHP 50 a bottle.