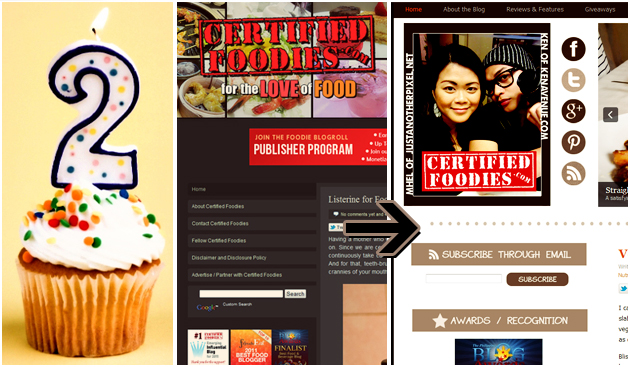 This month of May, our food blog, Certified Foodies, is celebrating its SECOND anniversary. And we can't be more excited about the future.
Back in 2010, after months of conceptualizing on how we can make our food blog unique, we threw in the towel and decided that our passion and love for food will get our message across – that food should be enjoyed and shouldn't just be for nourishment.
The past two years have been CRAZY… in a VERY good way. Here are some of our achievements so far:
We are so thankful for all the blessings and recognition we've received through this food blog. Who would've thought that the food (mis)adventures of 2 siblings would take us this far?

Thank you to all our fellow foodies and friends who have visited, left a comment or even lurked on our food blog to look at our food photos and articles. It means so much to us that you all find the time to drop by here, "like" our posts on Facebook or tweet with us.
New Design
Because of everything that has happened in the past 2 years, we believe this blog deserved a major makeover. After almost 2 years of slow loading time and unorganized, less personalized theme…
…this food blog is now sporting a brand spanking new theme, designed to our own personal tastes.
The theme was mainly designed by me (Mhel), but all the design elements and additional contents were from a collaboration of both  our ideas (me and Ken). We wanted a less cluttered look, almost minimalistic design, to bring more focus on the photos.
Now, the blog loads much faster after we moved to a new server. Even with the slideshow above and gallery below, feedback has been positive about our blog's loading time (If you have violent reactions to this, let us know at the comments section!).