Ever since I started eating healthy and hitting the gym, my mind has been overly preoccupied with food. And even in my sleep, all I see is food, just like this one recurring dream I have of me binging on Japanese fare like sushi, katsudon, or yakitori. 😀 I always wake up disoriented, salivating, and craving for anything Japanese. This torture has to stop! And I have always believed that the only way to get rid of temptation is to yield to it. Needless to say, I gave in. So one afternoon, I decided to prepare Japanese Chicken Yakitori for dinner.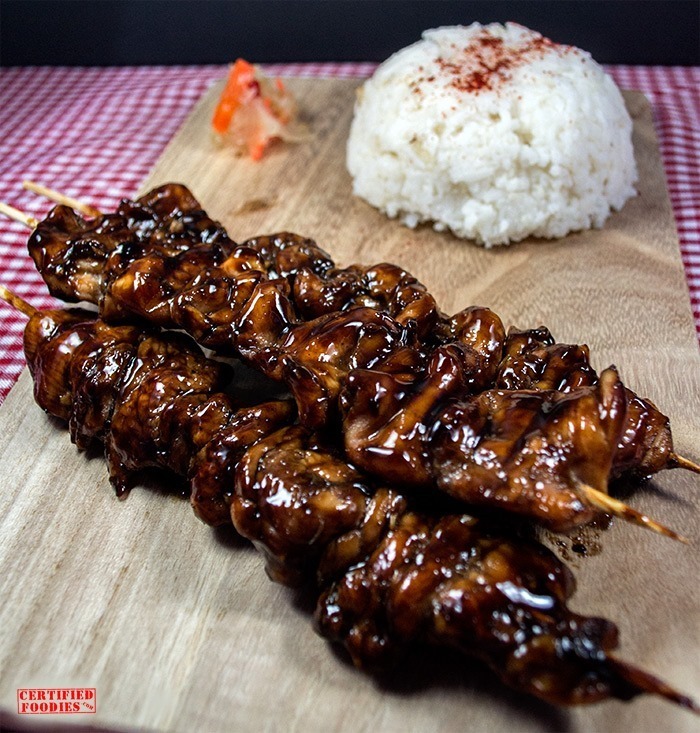 I used to have an obsessive addiction with Tokyo Tokyo's Chicken Yakitori, until they decided to take it off their menu and replace it with Chicken Karaage, which I did NOT find hard to love as well. But it was truly overwhelming when I came across my long lost love, the Chicken Yakitori, once again at my previous work. They had a mean recipe for yakitori, so I made sure I learn it any way I could. So with that recipe at hand, I charged at our kitchen, only to be disappointed to find out that we're missing most of the ingredients I need. But like any good chef, one must learn how to improvise and be resourceful.
The original recipe calls for mirin (Japanese rice wine) and rice wine vinegar. I boldly substituted the mirin with red wine, and the rice wine vinegar with the regular distilled vinegar. But I suggest that if you plan to substitute the mirin, use white wine instead, since it's milder and sweeter.