After a long and exhausting day at work, most people combat stress by stuffing their mouths full of delicious and filling food. We are guilty as charged! My sister and I are big stress eaters, and it's  a crime we're more than happy to repeatedly commit at restaurants that serve straightforward comfort food like Highway Ribbery Grille in Quezon City—the latest brainchild of Chef Niño Runas, who is the same chef behind El Cangrejo in Tomas Morato.
Highway Ribbery Grille
Highway Ribbery Grille first opened its doors May of 2015 and has become one of the newest and hippest hangout place to hit La Loma, Quezon City. Its industrial-themed interior design, together with the wooden tables and chairs, delivered a rustic yet modern appeal. The restaurant is not air-conditioned, but don't worry; they have enough cooling fans to keep the area at a tolerable and comfortable temperature. They also have more tables on the second floor, including a rentable function room that can accommodate up to 35 people.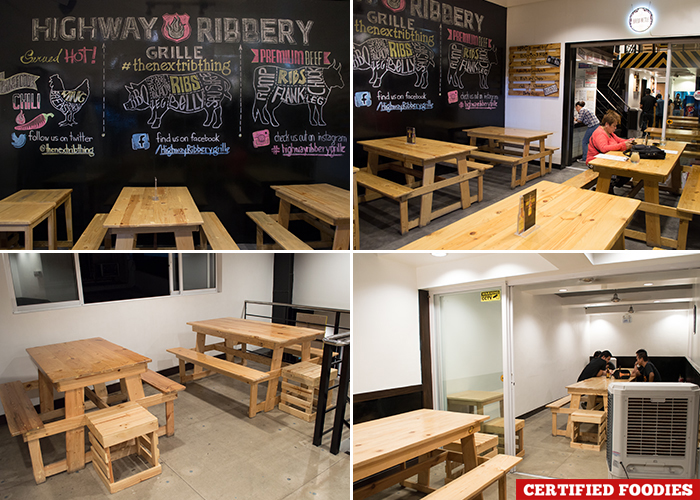 For our refreshments, my Nanay and I ordered two glasses of their House Blend Iced Tea (PHP 125), which arrived ice-cold and had this super refreshing citrusy flavor. Mhel, on the other hand, asked for a bottle of the Belgian craft beer, Brew Kettle (PHP 55), that turned out to be incredibly light and tasty. Highway Ribbery Grille has a limited line-up of alcoholic beverages, since they want the restaurant to become more of a dining joint than an inuman spot. Aside from Brew Kettle, the other beer they offer is San Miguel Light for PHP 50 a bottle.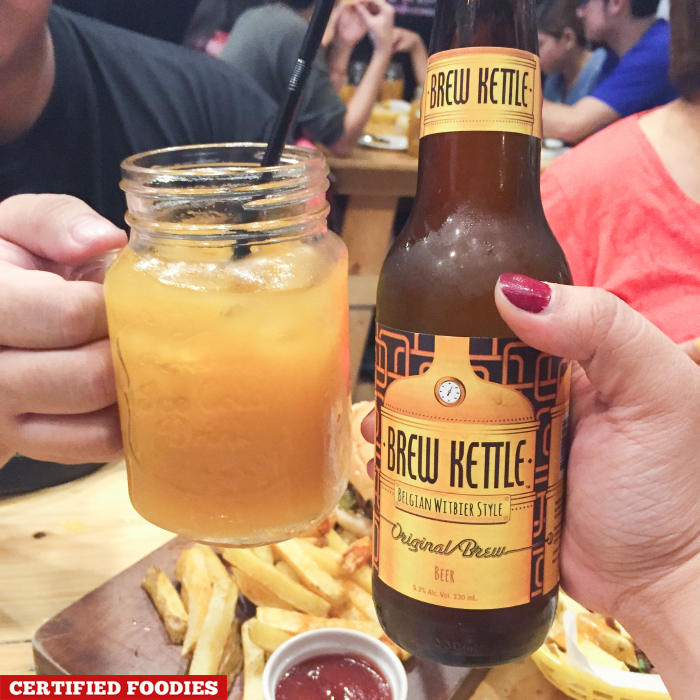 We started our meal with a serving of their Taco Salad (PHP 175). It's a salad made with nacho chips, pulled pork, salsa, and cheese sauce. Initially, we ate it like how one would usually eat nachos. You know, like, you get a piece of nacho and you scoop up some toppings before popping it into your mouth. And then we realized that it's a salad, so we decided to crush the nacho chips and toss the ingredients together to distribute the dressing evenly. Well, it turned out amazing. The crushed nacho chips delivered a crunch that truly complemented the texture and flavors of the pulled pork and the salsa.
We also tried their Fish and Chips (PHP 250), which was a bucket of deep-fried beer-battered fish, served with fries and tartar sauce. The fish was perfectly cooked, well-seasoned, and was not oily at all.
One of our favorites was definitely their Poutine (PHP 195) that was French fries, topped with pulled pork, bacon bits, cheese sauce, and gravy. It's the perfect "pulutan" dish because it goes well with a glass of ice-cold beer and it can be enjoyed by a group of 3-4 people.
If you like your burgers packing a punch of spiciness, then Highway Ribbery Grille's Texas Bomb Burger (PHP 265) would surely please your palate. A sirloin burger patty with a soft-boiled egg inside is cooked perfectly medium and topped with bacon, jalapenos, cheese sauce, and sandwiched between toasted bun.
We had no idea that there was an egg inside, so imagine our surprise and delight when we sliced the burger in half and saw the moist and gooey yolk. They were not joking when they named their burger "Texas Bomb" for it was undeniably a delicious explosion of spiciness and flavor.
And then they presented us their pride and glory—Highway Ribbery's Pork Ribs (Full Rack PHP 500 | Half Rack PHP 255). It's a beautiful rack of soft, fall-off-the-bone pork ribs, slathered in classic barbecue sauce and served with rice, corn and coleslaw. You may request to upgrade your plain rice with their dirty rice for only PHP 50.
I'm already warning you. A single serving of their Dirty Rice would not be enough. Good thing you can order another for PHP 65. It's actually a classic Louisiana Cajun dish made by cooking rice with liver, cayenne and black pepper, giving it its iconic "dirty" color.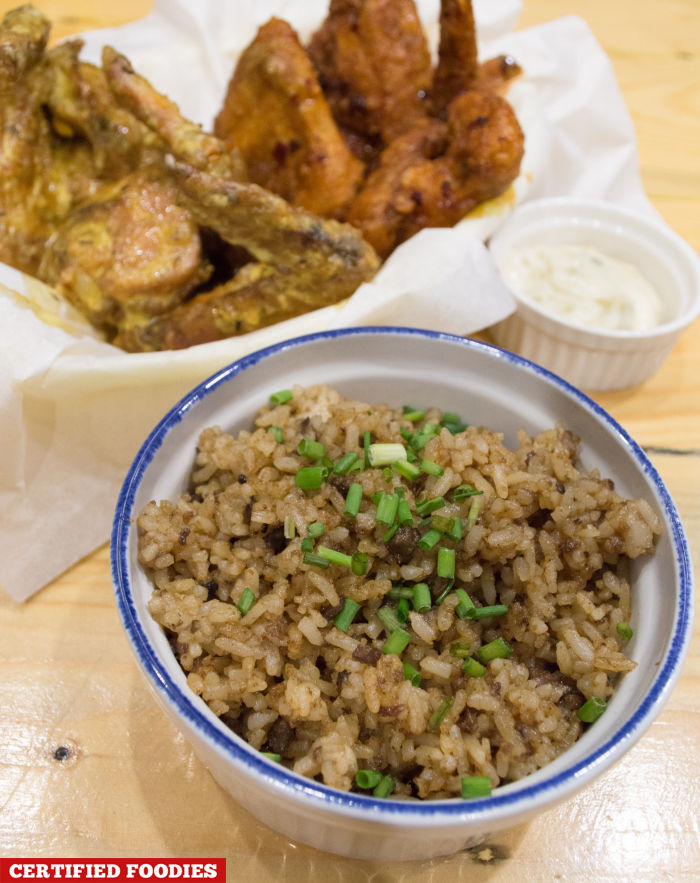 And last but definitely not the least from the savory items that we've tried was Highway Ribbery's Chicken Wings (Half Dozen PHP 250 | Dozen PHP 475). These are juicy, deep-fried chicken wings, tossed in the sauce of your choice. We asked half of our wings to be slathered in Red Devil sauce, which was super spicy but the wings turned out so good that I can't get enough of it. The other half we requested to be covered with their new Parmesan Butter sauce. Of course, they were scrumptious. How can you go wrong with Parmesan cheese and butter, right?
UNLIMITED Buffalo Wings Promo
Highway Ribbery Grille has an ongoing promo every Monday through Wednesday from 6:00 to 9:00 PM, where diners can enjoy UNLIMITED Buffalo wings for only PHP 350, and that already includes unlimited servings of rice and iced tea. This promo will until December 21, 2015. Are you up for the challenge?
Now it's time for some dessert! Upon checking their menu, the first thing that really caught our eyes was their Ice Cream Sandwich (PHP 125)—a scoop of creamy vanilla ice cream in between two cookies with addictively crunchy crusts and chewy cores. It was surely the best way to end our incredibly satisfying dinner at Highway Ribbery Grille.
Highway Ribbery Grille
Unit 105 R Place Building 225 N. S. Amoranto Street, Quezon City
The following two tabs change content below.
Kenneth is the chef in the family (he studied Culinary Arts and Baking & Pastry Art in GCHA). He's responsible for most of the more complicated recipes featured here, and loves preparing pastries and desserts. Aside from being a chef, he's also a Registered Nurse and Midwife. His love for cooking led him to pursue a culinary career.
Latest posts by Ken Ignacio (see all)
Comments
comments