In culinary school, we were taught that great food begins and ends with the ingredients. The dishes that you prepare will only be as good as the quality of the ingredients you put in them. Using fresh meat and produce is ideal in cooking excellent meals, but most of us simply do not have the time to do supermarket runs daily and cook from scratch. Thankfully, there are high-quality food products out there made with premium ingredients which can cut cooking time in half but do not jeopardize flavor and nutritional value. One prime example of that is Contadina.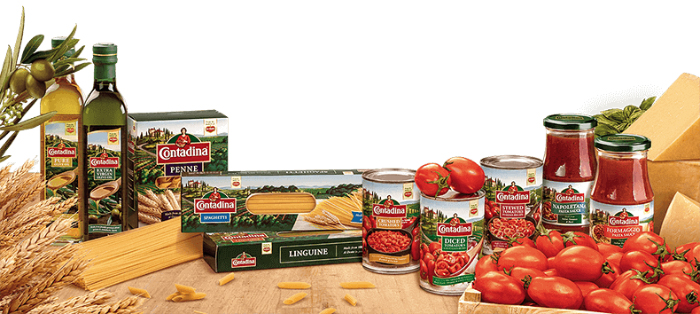 Contadina came from the same makers of Del Monte, one of the most trusted brands for high-quality culinary products. Contadina is an Italian word which means "woman of the fields." It symbolizes the care and compassion that these women pour into making flavorful and authentic dishes. They adopt the Mediterranean philosophy of cooking meals with passion by using only the finest and freshest ingredients which are harvested from the world's most abundant regions.
The new Contadina product line consists of basic Mediterranean cuisine essentials:
Olive Oil
Sourced from Andalucia, Spain, Contadina's Olive Oils are extracted from freshly-pressed Hojiblanca olives, hand-picked from 100-year old trees cultivated under the Mediterranean sun.
Pasta
Their beautiful pastas are made from premium-grade 100% Durum Wheat Semolina, straight from the Western Prairie provinces of Canada. Firm and bouncy, each piece is a delectable bite worth savoring for a truly authentic Mediterranean pasta experience.
Pasta Sauces
Made in Italy, Contadina's pasta sauces use fresh tomatoes, herbs, and authentic cheeses. Each pasta sauce is thoughtfully prepared, following a traditional recipe to reward you with authentic flavors that are undeniably Italian.
Tomatoes
Grown in California, their Roma Tomatoes are made with love and an abundant supply of sun and nutrient-rich soil resulting in firm cuts that aren't lost after cooking and a delectable, fresh tomato flavor that enriches your recipes.
Today, I'm sharing with you my easy recipe for Spaghetti with Meatballs. For the sauce base, I used the Contadina Napoletana Pasta Sauce, made from authentic Italian tomatoes and basil. The only adjustments I did were to season the sauce with salt and pepper, and add some grated cheese. That's it! My pasta sauce was ready in just a few minutes. I also included a can of Contadina Diced Tomatoes to give the pasta sauce more texture and tartness. You can use the Contadina Pesto alla Genovese as a pasta sauce but I chose to slather it on a piece of toast to accompany my pasta dish.
INGREDIENTS:
Meatballs
1/2 kilo Ground Beef
30 grams Garlic Powder (around 3 tbsp)
2 tsp Salt
1 tsp Ground Black Pepper
1 tbsp Cornstarch
1 piece Medium Egg
Pasta Sauce
1 bottle Contadina Napoletana Pasta Sauce (420 grams)
1 can Contadina Diced Tomatoes (include the liquid)
1 tbsp Chopped Garlic
1/2 bar Cheese
Pasta
500 grams Contadina Spaghetti
Pesto Toast
2 slices Bread
2 tbsp Contadina Pesto alla Genovese
INSTRUCTIONS:
To make the meatballs, combine all meatball ingredients in one bowl.
Shape meatballs to your desired size.
Fry meatballs on a frying pan until well cooked. Set aside.
Cook spaghetti according to packaging instructions. (Around 7 minutes)
Drain the water and drizzle spaghetti with oil to prevent them from sticking together. Set aside.
To make the pasta sauce, start by sautéing the chopped garlic.
Stir in the diced tomatoes and the Napoletana pasta sauce. Mix well and allow to simmer for 10 minutes.
Drop the cooked meatballs in and add the grated cheese to the pasta sauce. Simmer for another 10 minutes. Mix the sauce with the cooked spaghetti then serve with pesto bread slices.
For the pesto bread, trim off the edges of the bread slices. Cut into two rectangular pieces and toast them until crisp.
Slather each toast with a generous amount of the pesto sauce. Serve with the spaghetti. Enjoy!
!!! GIVEAWAY ALERT: CONTADINA HOLIDAY PACKAGE !!!
We're giving away one (1) Contadina Holiday Package to one of our lucky blog readers that they can use for their Christmas feast at home. The mechanics of the contest are as follows:
Share this blog post on your Facebook account. Don't forget to tag the Certified Foodies and Contadina Philippines Facebook pages in your caption.
Tag the person or people you want to cook the holiday dish with/for. Note:  Set your Facebook post to public so we can see it.
Post your Facebook post's link on our Contadina Facebook post.
Winner will be chosen at random.
Giveaway is open to all Metro Manila residents only.
This giveaway will run from December 18 to 23, 2016 (11:59pm).
Contadina Philippines
The following two tabs change content below.
Kenneth is the chef in the family (he studied Culinary Arts and Baking & Pastry Art in GCHA). He's responsible for most of the more complicated recipes featured here, and loves preparing pastries and desserts. Aside from being a chef, he's also a Registered Nurse and Midwife. His love for cooking led him to pursue a culinary career.
Latest posts by Ken Ignacio (see all)
Comments
comments