Summer is finally over in the Philippines, but being a tropical country means that we can still get perfectly sunny days even during the rainy season. Add the fact that there are a number of pristine beach resorts just a short drive from Manila, like Matabungkay Beach Hotel in Lian, Batangas, which will also be hosting the Batangas Food Festival (BFF) from October through December 2016, featuring traditional fare picked from a sea of dishes that have culinary roots in Batangas.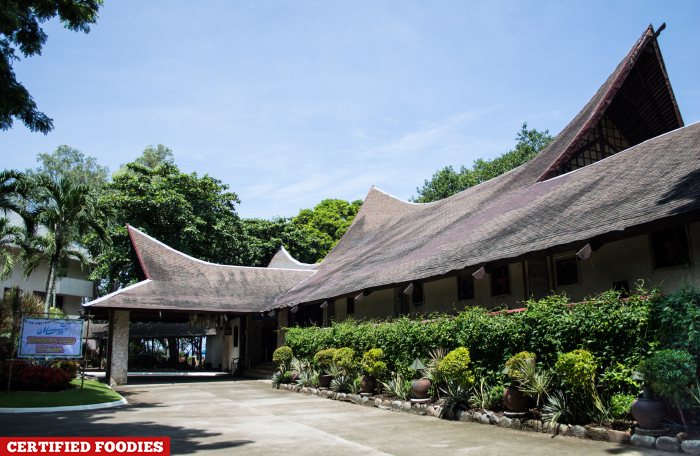 Matabungkay Beach Hotel
If you're a 90s kid like me, you have probably spent a few summers at Matabungkay Beach Hotel with your family. You will be shocked to find out that nothing much have changed, especially in the main lobby.
The only thing that have obviously changed in this area was the now tiled floor. Previously, it had pebble wash floors. The wooden interior from the tables up to the ceiling is the same since it was built in the 1980s. And it's kind of nostalgic and comforting for me to know that a part of my childhood has remained the same.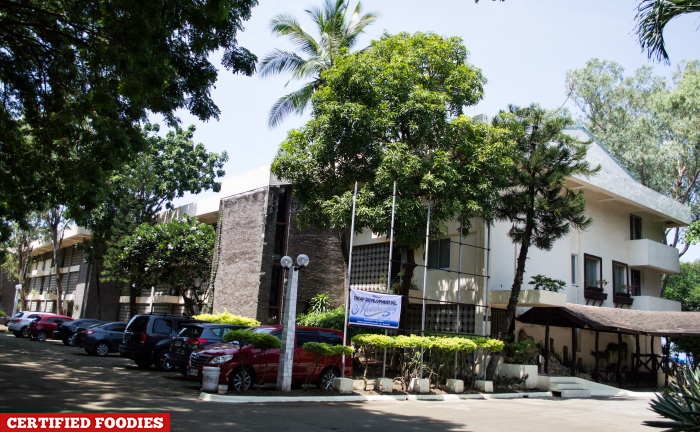 The main building that houses the hotel's spacious rooms looks the same as it was decades ago.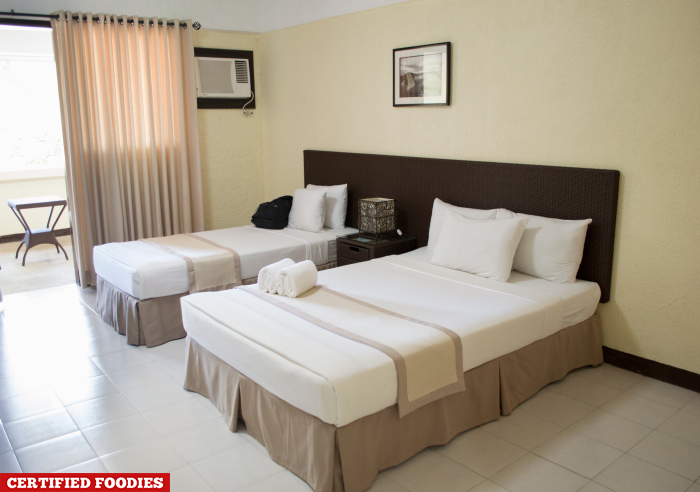 What surprises me most is how well-kept and clean the rooms are after all these years.
The last time I was in Matabungkay Beach Hotel was in 2013, so I immediately noticed the newly built pool at one side of the resort. And it has a bar!
At the end of the pool stands the new octagon-shaped Beach Side Villas with a common garden area in the middle. The rooms all have different views. A room could have a view of the garden, of the pool, or of the beach.
Batangas Food Festival at Matabungkay Beach Hotel
Matabungkay Beach Hotel and Managing Director, Ms. Charley Leviste-Antonio, have invited celebrity chef and adobo queen, Nancy Reyes-Lumen, to spearhead the food festival. Chef Nancy has collaborated with true-blood Batangueños, Chef Jaja Andal and the executive chef of Matabungkay Beach Hotel, Chef Popit De Leon, to help her come up with a delectable spread of sweet and savory dishes that truly represent the rich culinary heritage of Batangas.
When we arrived at Matabungkay Beach Hotel for the media launch of the Batangas Food Festival, we were welcomed with a glass of cold Camote Tops Juice. The juice is light green in color at first, but once you squeezed in the juice of calamansi, an awesome chemical reaction takes place and the juice turns to purple. It's such an amazing sight! Another non-alcoholic drink they've prepared was the super refreshing Kamias Smoothie. They also have two alcohol-infused drinks – the Dayap Pa More and Si Labuyo Eh. The Dayap Pa More is like a mojito but is citrus-based, while the highlight of the Si Labuyo Eh is the huge piece of chili that delivers a strong but irresistible kick of spice at every sip.
My favorite appetizer was the heart-shaped Pistang Pate with each stripe representing a different flavor: salted duck egg white pate, salted duck egg yolk pate, atsuete paprika pate, kalabasa pate, and malunggay pate.
Another appetizer was the Suam Mushi, which was a Japanese-inspired custard dish with corn bits. They also had delicious side dishes like ligaw na ampalaya, pickled shallots, and kimchi tagalog. These are made with locally sourced ingredients, like the ligaw na ampalaya, a wild plant which you can find almost anywhere in Batangas.
They served three different salads: mixed greens, ampalaya salad, inihaw na pakbet salad, and steamed kalabasa leaves and flowers. The salad came with three dressing choices: creamy bagoong balayan, langka dressing, patis-kalamansi, and kamias dressing.
The Pancit Batangas with Longganiza Balayan is made with sotanghon noodles, flavored with atsuete and other seasonings, and then topped with the garlicky longganiza balayan.
Of course, a Filipino meal will never be complete without rice. At the Batangas Food Festival, they are offering two rice dishes. One of it is their super flavor Binagoong Rice, topped with cut up egg omelet and crushed peanuts.
The other rice dish is the Paella Ala Eh, which is a cross between the Spanish paella and the famous kaldereta of Batangas. This paella is so flavor that you can enjoy on its own.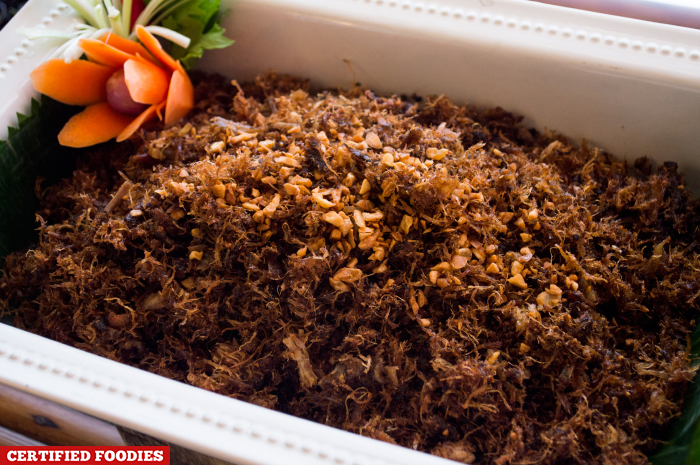 To make the Native Chicken Adobo, they braised the native chicken in a barako table broth then flaked the meat and cooked to a crisp. The barako tablea broth is ingeniously presented in a coffee cup.
The Sinaing na Bangus Belly uses a traditional method of cooking where pieces of fish meat are stacked on top of each other inside a clay pot. They usually use tulingan fish, but for the Batangas Food Festival, they opted to swap it with bangus belly.
The star of the Batangas Food Festival definitely is the Rodrigo's Roast. It's a big slab of pork meat with perfect marbling, cooked in an adobo-based broth. It's so good that I went in for another three or four servings.
Now onto the desserts! The Galapong Puti looks simple but it took hours of stirring and steaming to make them. But the income is totally worth it.
The same technique was used in creating the Bikong Batangas, but this dessert used whole rice grains instead of having them ground up.
The Bibingkang Galapong Batangas is like bread pudding but a lot denser. It is also topped with hard, caramelized sugar that truly complements the bibingka's flavor.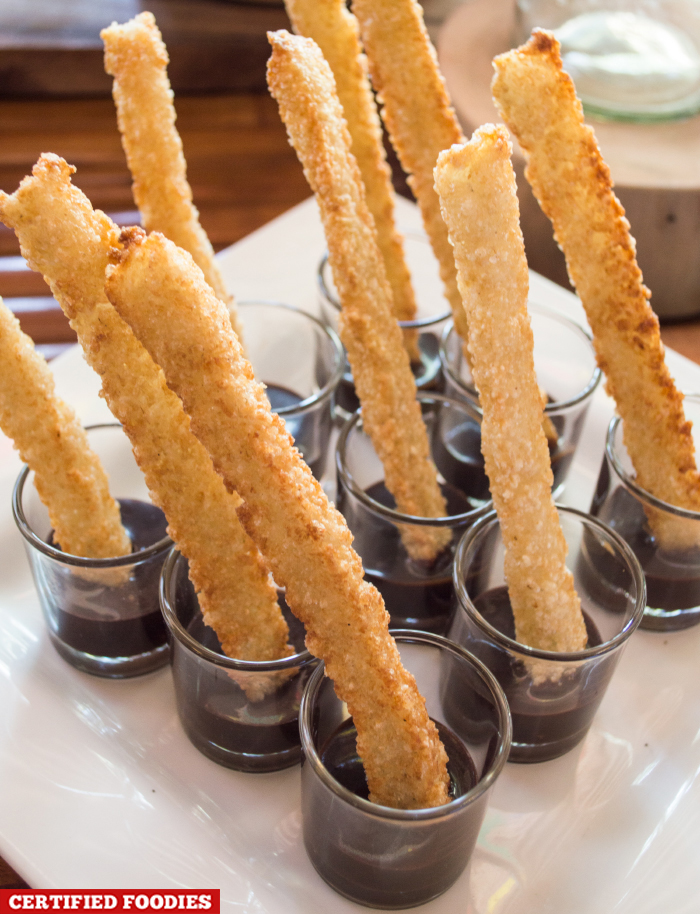 My favorite dessert was definitely the Suman Churros con Tsokolate. They fried homemade suman and then served with them with sweet and bitter table chocolate.
Batangas Food Festival Package
For only PHP 4,300 net, two persons can already savor the best local dishes that Batangas can offer and enjoy and relax at the pristine beach resort of Matabungkay Beach Hotel.
Inclusions:
Deluxe room for 2
Breakfast for 2
Set BFF lunch or dinner for 2
Gift bag of Batangas food products
Batangas Food Festival Menu:
Salads (choice of 1)
Inihaw na pinakbet w/ creamy bagoong dressing
Talbos ng kalabasa w/ sesame seeds
Mixed greens w/ langka or kalamansi & patis dressing
Soup (choice of 1)
Bulalo Suam na mais
Cream of malunggay
Main (choice of 1)
Rodrigo's Roast
Barakong Adobo
Kinamatisang Baka
Paella Ala Eh
Dessert
Suman churros con tsokolate
Leche flan w/ orange sauce
Saba flambe
This offer is valid from October 01 to December 31, 2016 only.
Matabungkay Beach Hotel
Barangay Matabungkay, Lian, Batangas, Philippines
Mobile Number: (63) 917-834-1269
Matabungkay Beach Hotel Office
LPL Towers, 112 Legazpi St., Legaspi Village 1200 Makati City, Philippines
Mobile: (63) 920-950-7032
Tel. Nos.: (02) 752-5252 / (02) 819-3080 / (02) 751-6683 to 85
For more information and updates, visit Matabungkay Beach Hotel's official website, Facebook page, and Twitter account.
The following two tabs change content below.
Kenneth is the chef in the family (he studied Culinary Arts and Baking & Pastry Art in GCHA). He's responsible for most of the more complicated recipes featured here, and loves preparing pastries and desserts. Aside from being a chef, he's also a Registered Nurse and Midwife. His love for cooking led him to pursue a culinary career.
Latest posts by Ken Ignacio (see all)
Comments
comments