Thank God it's Friday! This expression was coined because Fridays signal the start of the weekend—the time when we can finally take our well-deserved rest from a stressful week at work. What do we do to welcome the weekend? We hang out with our friends and co-workers either going to bars or having dinner at a restaurant. Well, you can hit two birds with one stone at Richmonde Hotel in Ortigas, where you can stuff yourselves full during their Feast on Friday Dinner Buffet at Richmonde Café and then enjoy a few drinks at The Exchange afterwards.
Feast on Friday Dinner Buffet at Richmonde Café 
Spend your Friday evening at Richmonde Café for their Feast on Friday Dinner Buffet and indulge in a wide array of international dishes, action stations for a la minute cooking, and refreshing drinks available from 6PM to 9PM for only PHP 750 nett per person. On top of that, you also get a 50% discount on wine bottle orders!
Executive Chef, Jesse Factor, together with her team, has prepared a sumptuous buffet spread for their Friday dinner buffet. For starters, you can enjoy a bowl of their piping hot Shrimp Bisque soup or their Vietnamese Shrimp and Pomelo Salad, which a chef will assemble fresh and on-the-spot for you. They also have a platter with a variety of cheese, which I highly recommend that you pair with some wine. A good choice is their Moscato, since it can go with anything from savory items to desserts.
Salad)Awaken your appetite with their Japanese sushi and sashimi, Spanish sardines with pickled onions, and their seafood-rich Grecian Tomato and Calamari salad.
Of course, no Filipino meal is ever complete without rice! But if you want to skip on the rice, then go the aromatic and tasty Rosemary Baked Chateau Potatoes.
One of my favorite dishes was the Asian Marinated Grilled Pork for they were so tender and full of flavor. A good contrast to this dish was the Sauteed Mixed Vegetables, which I tried to stuff myself more just to fool myself to thinking I'm eating healthier. Haha.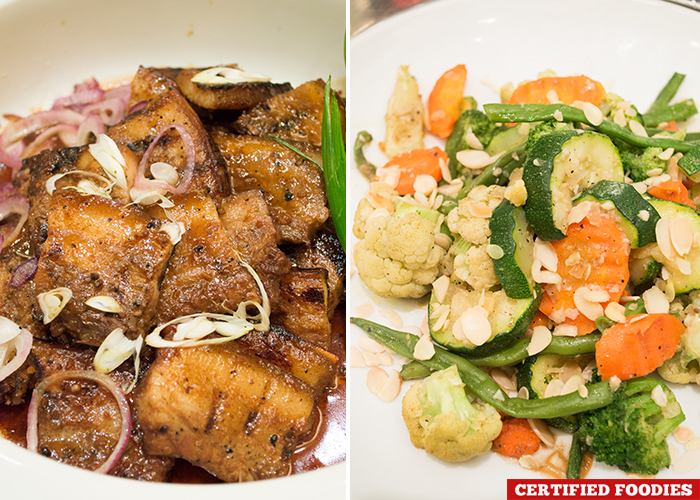 Another stellar dish was the Cardamom Chicken. It had apples on top, which you wouldn't normally see being paired with chicken. It usually goes with pork dishes. The combination of the apples and the herbed chicken was truly a welcome surprise. They also have a tasty Mixed Seafood Paella. You can enjoy it as it is because it's well-seasoned and it had a generous amount of toppings, too!
I also enjoyed their Mahi-Mahi with Seafood Sauce. The fish was delicately cooked so they were addictively soft to the bite. Their Beef Rouladine in Mushroom Sauce was delicious, too. I actually ended up piling my plate full of it on my second round. Haha.
Richmonde Café also has pasta station, where a chef can cook some fresh pasta dishes for you. I tried their pesto with tortellini pasta and it was amazing.
And, of course, the last but the not the least on the savory items was their show-stopping Jerked Spiced Barbecue Ribs at their carving station, next to the pasta cooking station. It's a big slab of high-quality beef with a fall-off-the-bone goodness. You can also choose to dip it into their barbecue or chimichuri sauces.
You can end your delightful meal with their assorted desserts. They had halo-halo, which is perfect for the weather here in Manila. They also had fresh fruits and a variety of cakes and pastries you can enjoy.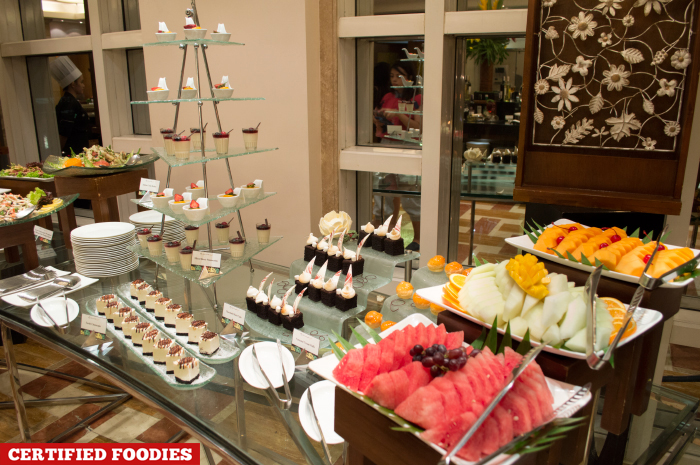 PROMOS
Birthday Promo: For a minimum of four (4) diners paying the regular rate, the birthday boy/girl eats for free. They'll even get a special cake so they can blow the candle and make a wish.
Company Promo: If you're one of the lucky companies featured for the month, you can treat your team to dinner and get 30% off on the buffet rate for a minimum of six (6) persons.
The Exchange at Richmonde Hotel
After stuffing yourselves full at Richmonde Café's Feast on Friday Dinner Buffet, you and your friends or colleagues can take a few steps towards The Exchange, where you can continue and party while listening to your favorite tunes from the 70s and 80s, performed by their resident band, Big Bash.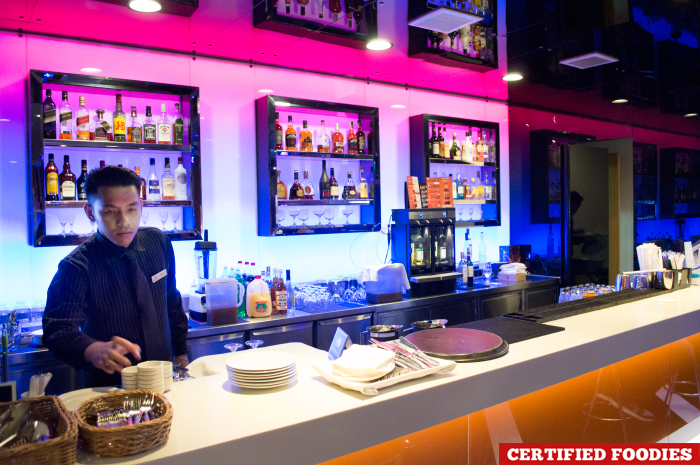 Their cocktail specials feature drinks like Gin and Juice, Currant Vodka and Sprite, Whiskey and Cola, which you can get for PHP 180++ per glass or order during Happy Hour to drink all you can.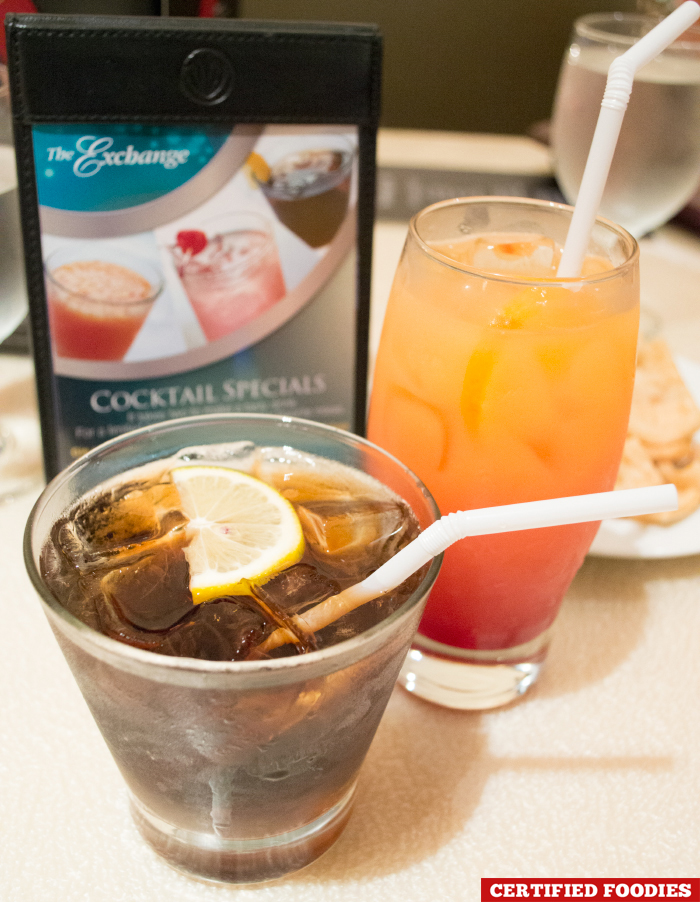 Richmonde Cafe
2F Richmonde Hotel Ortigas, 21 San Miguel Avenue, Ortigas Center, Pasig City
The following two tabs change content below.
Kenneth is the chef in the family (he studied Culinary Arts and Baking & Pastry Art in GCHA). He's responsible for most of the more complicated recipes featured here, and loves preparing pastries and desserts. Aside from being a chef, he's also a Registered Nurse and Midwife. His love for cooking led him to pursue a culinary career.
Latest posts by Ken Ignacio (see all)
Comments
comments