It started a couple of years ago when Ken and I made a pact that on our birthdays, we have to celebrate by traveling some place we've never been. Our 2014 birthday celebration was not as spectacular as we wanted so we vowed to make up for it in 2015. And, boy, that we did… in an island paradise in Coron, Palawan – Club Paradise Resort. 🙂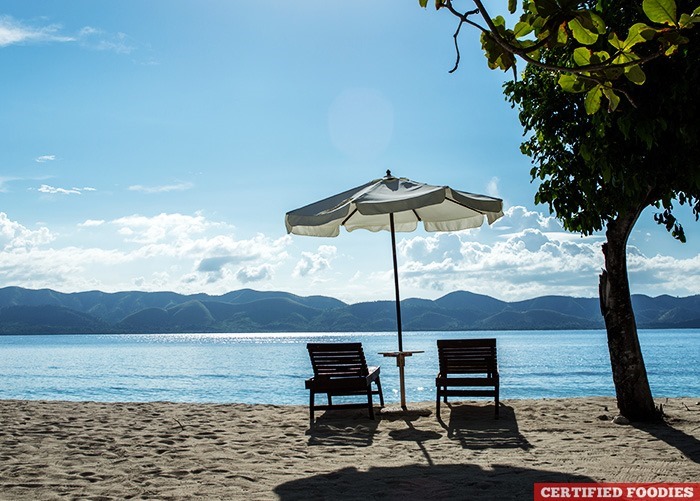 Club Paradise is under The Discovery Leisure Co. (TDLCI) We planned a 4D3N vacation in Coron, but due to unforeseen circumstances – my flight with nanay got cancelled, so we had to fly out early on our supposedly Day 2 – it was cut short by a day. Ken's flight had no issues so he was there already. Thankfully, our stay in Coron and in Club Paradise made us forget all that happened on Day 1. They gladly made adjustments to our accommodation, and we had an absolutely amazing time. Nanay was particularly amused by the VIP treatment we got from the moment they picked us up until the time they dropped us off the airport to fly back to Manila.
We were picked up from the hotel where Ken stayed on his first day and we were taken to Club Paradise's own private port where a speed boat is waiting to take us to Dimakya Island. The speed boat ride was exciting, and we had the whole boat to ourselves. They offered us some snacks – bottled water and a sandwich. It's a 30-minute boat ride, I think. I can't remember 'cause we were busy taking photos and enjoying the windy ride. 😀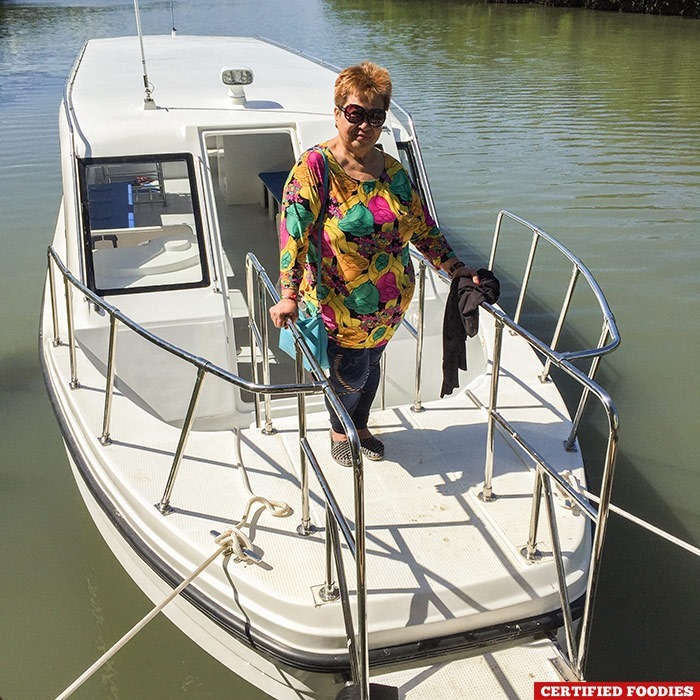 As soon as we arrived at the island, we were met by CJ from Club Paradise. We were welcomed with a glass of calamansi and cucumber juice. It was so refreshing, exactly what we needed on a hot day. And the view – Club Paradise's pristine white sand beaches, the trees, the rustic design of the resort – was breathtaking! No wonder Club Paradise is recognized as the best resort in Coron.
Their resort manager Joegil also met us while we were enjoying our drink and the welcoming music by their staff singing their own Club Paradise song. I honestly can't remember the song now, but back then, na-LSS kami ni Ken. 😀
We proceeded to go on a quick tour of Club Paradise and CJ told us more about their amenities on our way to our room. The first thing you'll see is Ocean Restaurant, which we'll get back to later and on a separate post. One post is not enough to feature all the scrumptious dishes that were served to us. 🙂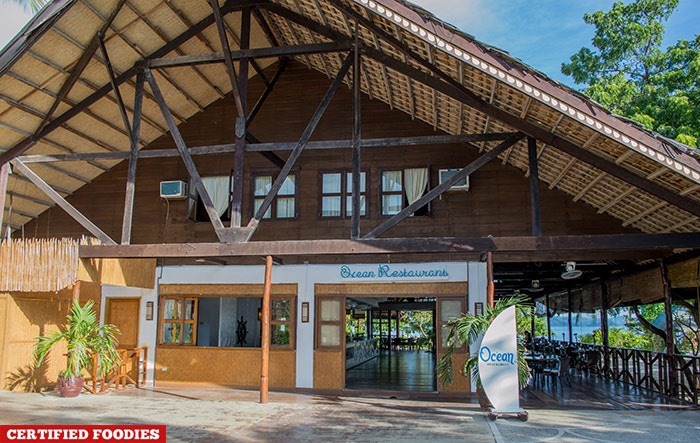 Club Paradise not only boasts of their pristine white sand beach, but the resort surrounds a tropical forest, so you'll see big trees all around the resort. CJ even pointed out the fruit bats hanging from the trees. I noticed throughout our stay that the place is well-kept. We were told that their staff live on the island, so they treat Club Paradise like their home.
All of their staff – from the gardeners up to the chefs – they were all very courteous. You couldn't help but smile when they greet you with a big smile on their faces, right hand on their chest. It was charming. 🙂
When we finally arrived at our cabin, we were delightfully treated to a complimentary foot wash with calamansi. Nanay especially enjoyed this. 🙂
Our eyes all we got inside our cabin/room, it's HUGE! They even served us a complimentary cake with tocino, probably knowing Ken is obsessed with this dish. 😀 We thought it would be really interesting if the tocino was real, but they're all yummy frosting and fondant. 😀
I love how they prepared for our arrival, to make us feel right at home. They had this photo frame with us 3, which is one of my favorite photos of us ever! 😀
The bathroom is spacious and well-maintained, which I'm very particular with. Oh, I just had to mention this, their towel origami is on point. We didn't even want to touch or use them. 😀
Oh, and the beds! I've never slept as soundly and comfortably while on vacation as I did in Club Paradise. I want this bed at my condo! 😀
Outside our room, you'll find a hammock where you can just relax while you enjoy the warm sea breeze.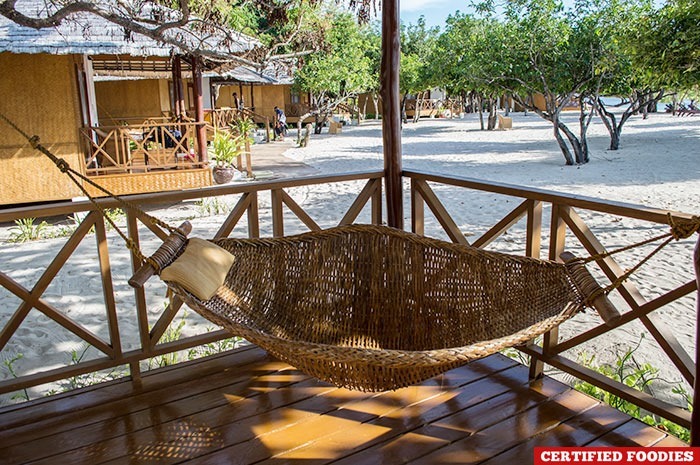 We got a beachfront cabin, so we can frolick or just walk around there whenever we want. It's a little rocky at our beach, but that didn't stop us from enjoying some water fun. 😀 There are also diving and snorkeling spots around the island. We saw a couple snorkeling a few feet away from us, so we just had to jump in. 😀
We highly recommend you stay out there to watch the sunset or the sunrise. The view is GORGEOUS! The image below is instilled in my mind till now. 🙂
By the way, we found out late afternoon that the cabin beside us is where Ruffa Gutierrez was spending her vacation with her beau. We saw them hanging out by the beach just beside us, and I thought the voice sounded familiar. It was only the next day when I realized it was Ruffa. 😀
We wanted to walk or bike to the other side of the island, but we wanted to make the most out of our 2 1/2 days there (remember, our flight got delayed). So we just walked around a bit to check out the rest of Club Paradise. We passed by Glow Spa (more on this later), the Dugong Bar, and the Sand Bar before we proceeded to have late lunch at Ocean Restaurant.
Food from Ocean Restaurant at Club Paradise
Here's a preview of what we had for lunch. Watch out for our full feature next. 🙂
There's so much to see and experience in Club Paradise Resort, which is why we decided to just stay in on our first day so we can take in all the beauty of the island. We were supposed to join the Sunset Cruise, but we weren't done with our delicious lunch yet so we said we'll join the next day. We didn't make it to that as well because of our island tour, but please don't miss it!
Since we were all exhausted from our stressful cancelled flight, we requested dinner to be served at our room. The sous chef joined the wait staff to tell us what we'll be having that night. Here's a teaser of our first dinner at Club Paradise.
The next day, we woke up early for our Coron Island tour with Calamianes Expeditions Ecotours. We fueled up at Ocean Restaurant's breakfast buffet with eggs, crispy bacon, rice, beef tapa, bangus, dessert, fruits, tocino and more.
After our tour (Ken will be writing about this separately), we came back to 3 glasses of white wine, cheese and crackers. We were then told that we'll be having our dinner by the beach – a Moonlight Dinner. If you're planning on proposing or you just want to treat your special someone to a romantic dinner, this is it! 🙂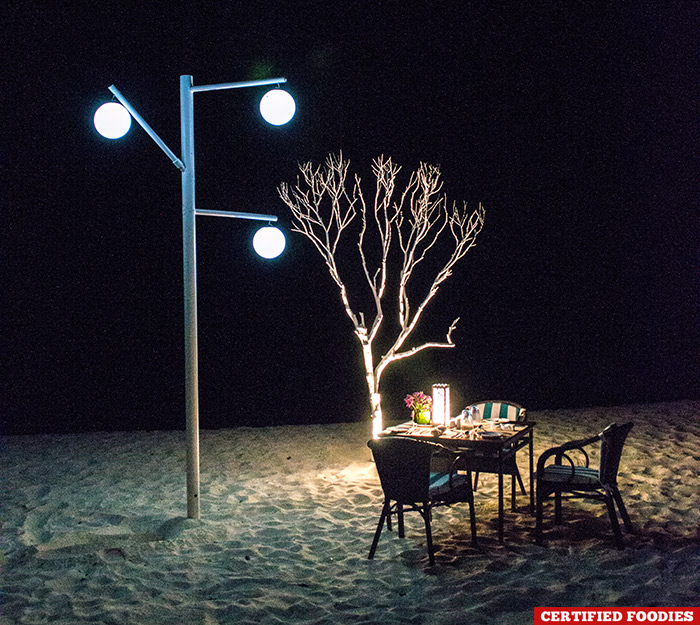 Glow Spa at Club Paradise
We rested for a li'l while after dinner in preparation for an hour of pampering at Club Paradise's Glow Spa.  Thankfully, they were able to accommodate us even when we arrived late. Make sure to call to schedule your appointment beforehand because they're pretty booked.
It was a much-needed hour of pampering after our exhausting yet fun tour of the islands in Coron, Palawan. They started with washing my feet first. We all got their Anti-Stress massage, which was so relaxing that my nanay didn't realize she already fell asleep while we were talking. 😀 You simply must try their massages at Glow Spa, especially after your island tours in Coron. 🙂
After our massage, they served us ginger tea. I usually don't like this kind of tea (I prefer green tea), but I had like 3 cups. 😀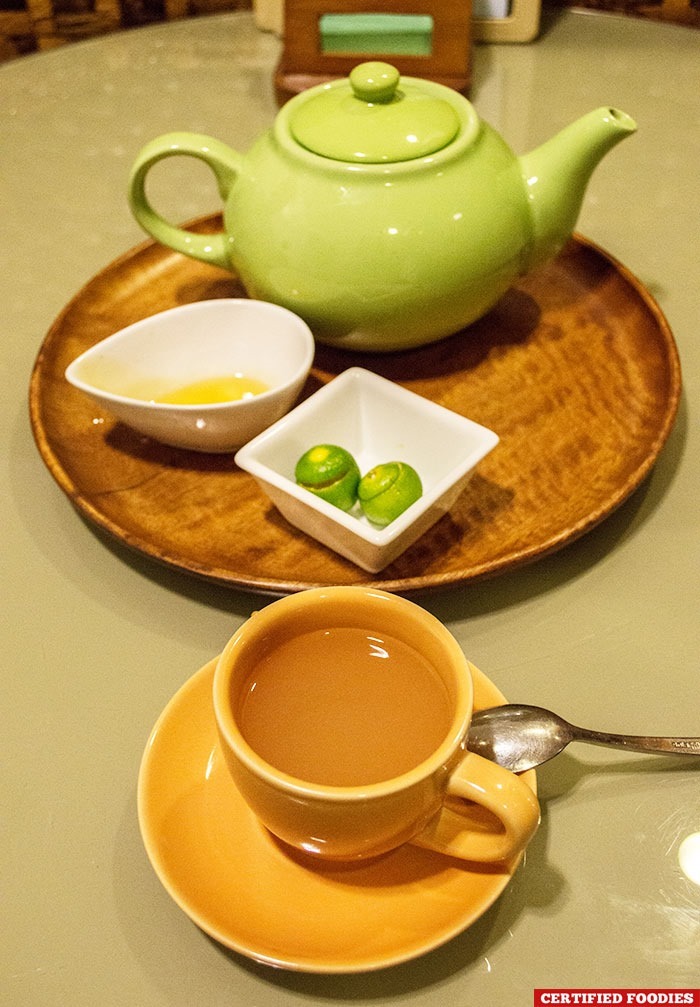 Club Paradise Amenities
The next day, after breakfast, we proceeded to tour the island. Club Paradise's Aquasports provides you with accessories that you can use for your island-hopping tours. They provided us with life vests, snorkeling goggles and flappers (for Ken) for our island tour with Calamianes Ecotours.
We were supposed to drink at the Sand Bar or Dugong Bar on our last night, but after our relaxing massage at Glow Spa, our bodies went straight to slumber mode as soon as we returned at our cabin. We decided to just sleep in so we can wake up early the next day and enjoy the rest of the island. We went to Dugong Bar where I played billiards solo while Ken and nanay played table tennis. We had so much fun, and I didn't know how good nanay was at ping pong! 😀 You'll see her in action in the video I shared earlier.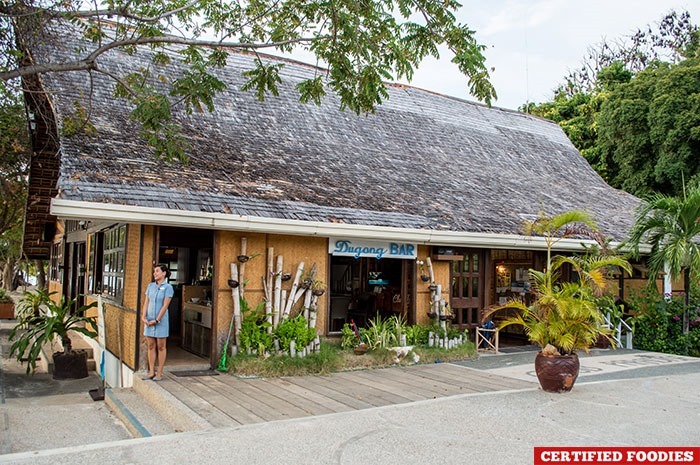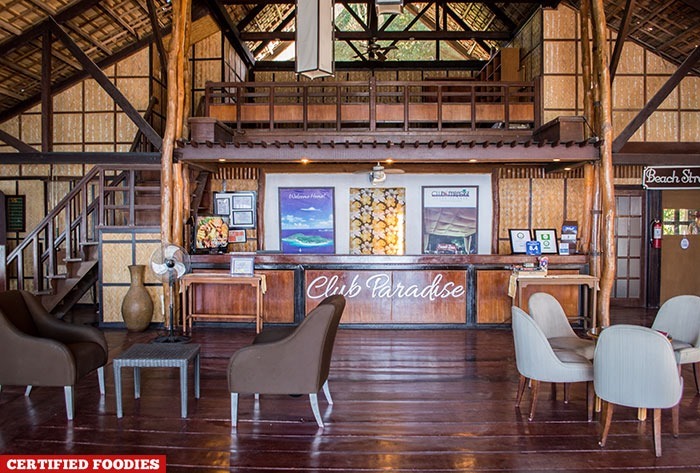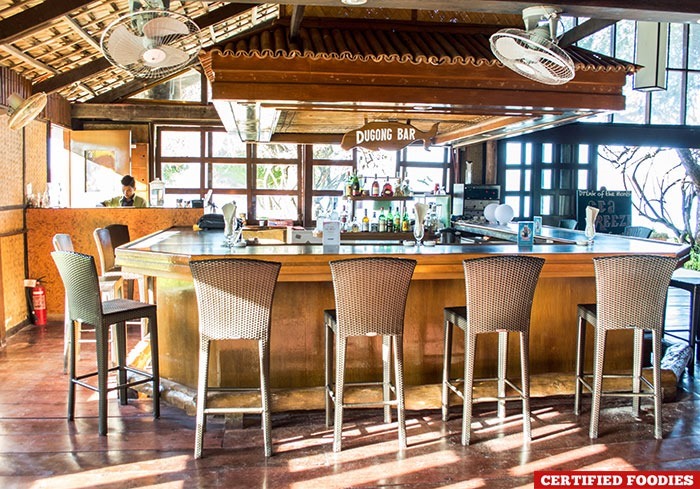 We proceeded to the beach in front of Ocean Restaurant so we can get one last swim before we get ready for our flight back in the afternoon. After our final lunch at Club Paradise, we waited by the beach in front of the restaurant for the boat to pick us up. Their staff sang "Leaving on a Jet Plane" as we were waiting to say goodbye to the island. *sigh* We wanted to stay for one more day in this paradise in Palawan, but we had to go back to our regular lives the next day. 😀
We had an absolutely amazing time at Club Paradise Resort. You just have to experience the best island resort in Palawan to understand why you wouldn't want to leave this paradise. 😀 If you're looking for a lovely, relaxing time in Coron, Club Paradise is your best choice. The tranquility, the white sand beaches, the charm of the island and the people in it made us fall in love, and we can't wait to come back again to this beautiful island. 🙂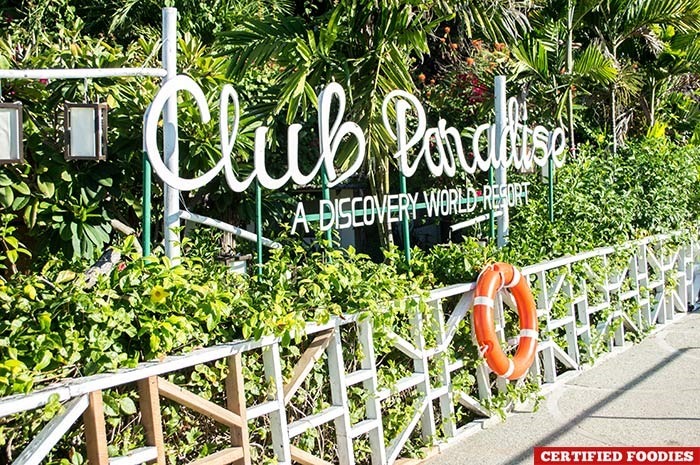 The following two tabs change content below.
Michelle (aka Mhel / blankPixels) is a social media nerd and works as a Digital Marketing Lead for one of the top online companies in the Philippines. On her free time, she travels, goes on food trip and loves to take photos. She's the main editor of this food blog.
Latest posts by Michelle Ignacio (see all)
Comments
comments