When you think of summer in the Philippines, you would immediately imagine white sand beaches and crystal blue seas. But did you know that the place that racks up the most local vacationers every year—even beating El Nido and Boracay—is actually high up the mountains and boasts of a year-round cool and breezy climate, making it the perfect escape from Manila's scorching heat? It is no other than the City of Pines itself, Baguio City! And we're so elated that we were able to cap off our summer in this lovely city, all thanks to Azalea Baguio!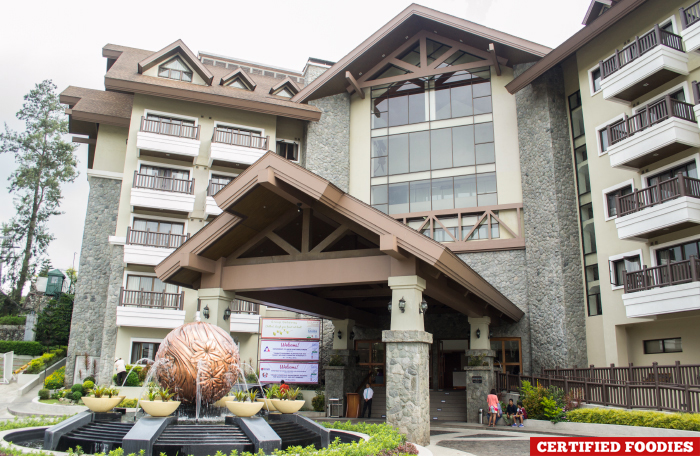 One wonderful Tuesday in May, top fashion, food, and lifestyle bloggers were all hurled into three different vans for a long, butt-numbing 5-hour drive! Our destination? Azalea Hotels and Residences Baguio! Our mission? To visit the Summer Capital of the Philippines and enjoy one last summer getaway before we officially welcome the rainy season!
Azalea Hotels & Residences Baguio
Azalea Baguio is the first and only 4-star serviced apartment hotel in Baguio City. They have luxury suites that each come complete with their own kitchen, living, and bedroom areas. What I love most about Azalea Baguio is its proximity to the city's top tourist attractions BUT, because it is far from the busyness of the city and not located directly along a major road, it is the best place you can book if you're searching for some peace and quiet.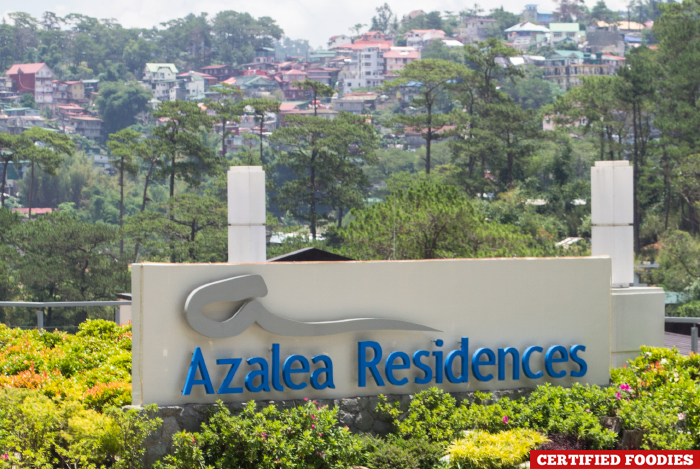 The front desk welcomes you as you enter the main door into the hotel lobby. Behind it are their incredibly friendly staff who would be more than happy to assist you with your inquiries and requests.
Taking a quick left from the front desk, you will see the 8 Degrees Bar Lounge and some comfy seats where you can sit and enjoy your welcome drinks while waiting for your check-in time. It's also the best spot if you wish to have a few boozy drinks before going to bed.
Tradisyon: Pinoy Comfort Food Restaurant
One more thing that will make you feel right at home in Azalea Baguio is the Tradisyon Restaurant, where they serve delicious and authentic Filipino all-time favorite dishes.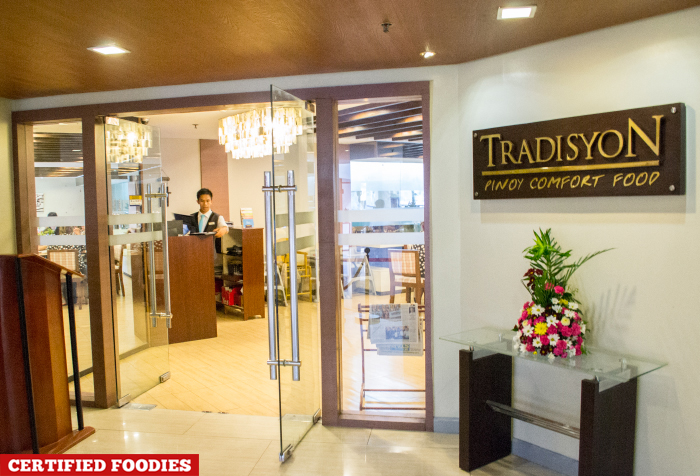 We were able to eat at their restaurant a total of seven times, and not one time did their food and service disappoint us.
We will be talking about Tradisyon in more detail on a separate blog post, so please, watch out for that.
Two Bedroom Apartment Suite
Now let's talk about our room!
We stayed at one of Azalea Baguio's two-bedroom apartment suites. The operative word here is "apartment," because these rooms are not your typical bed and bath. It comes complete with kitchen and living areas. The kitchen is definitely heaven for someone who loves cooking like me! They have induction cooktops, induction pots and pans, microwave oven, rice cooker, refrigerator, electric water kettle, dinnerware, and silverware. With a fully capable kitchen like that, you might as well just buy ingredients from the local market and cook your own food in your rooms!
The living area is quite spacious! It has a convertible sofa bed. You can ask the front desk to set it up before checking in. They'll put on a comfy mattress and dress it up with fresh bed linens and pillow cases. I actually slept on that bed the two nights we stayed there and I found it surprisingly comfy. There's also an LCD TV, hooked up to a DVD player and has a cable subscription. I've hardly used the TV because just 5 minutes after lying down on the bed, I'm already off to dreamland. Haha!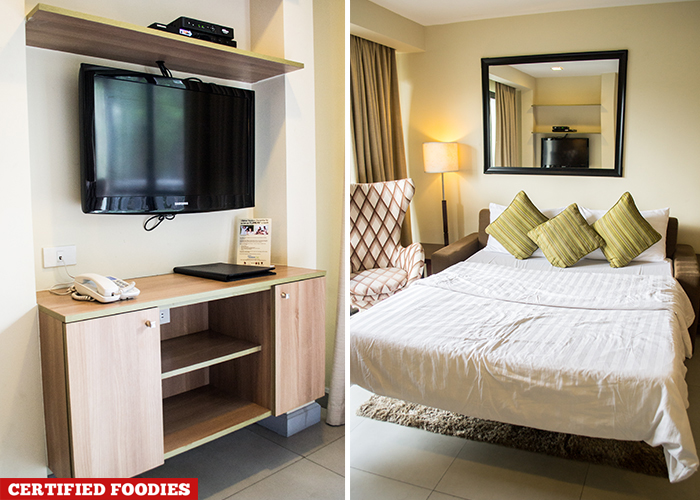 Our suite has two bedrooms. The guest room, which was adjacent to the kitchen, has one double-size bed, a wardrobe, and its own LCD TV, but it has no windows and its own private bath. However, there's a bathroom at the living area, which you can share with the person/s sleeping on the sofa bed.
The master bedroom has a queen-size bed, its own bathroom, and a window with a gorgeous view of the mountains. Imagine waking up to that, right?
Their master bedroom also has an LCD TV with cable and a spacious wardrobe where you can find the ironing board, flat iron, and the in-room electronic safe.
There are two bathrooms. One is at the living area as I've mentioned before. The other one is in the master bedroom. The toilet has a bidet, which is extremely important to Filipinos since we can't make do with just cleaning ourselves with toilet paper. These two bathrooms are also equipped with the most important feature a bathroom in Baguio should have—hot and cold shower! There's no way you can tolerate taking a bath with cold water in Baguio!
At the living area, you'll see the floor-to-ceiling glass doors that leads you the balcony.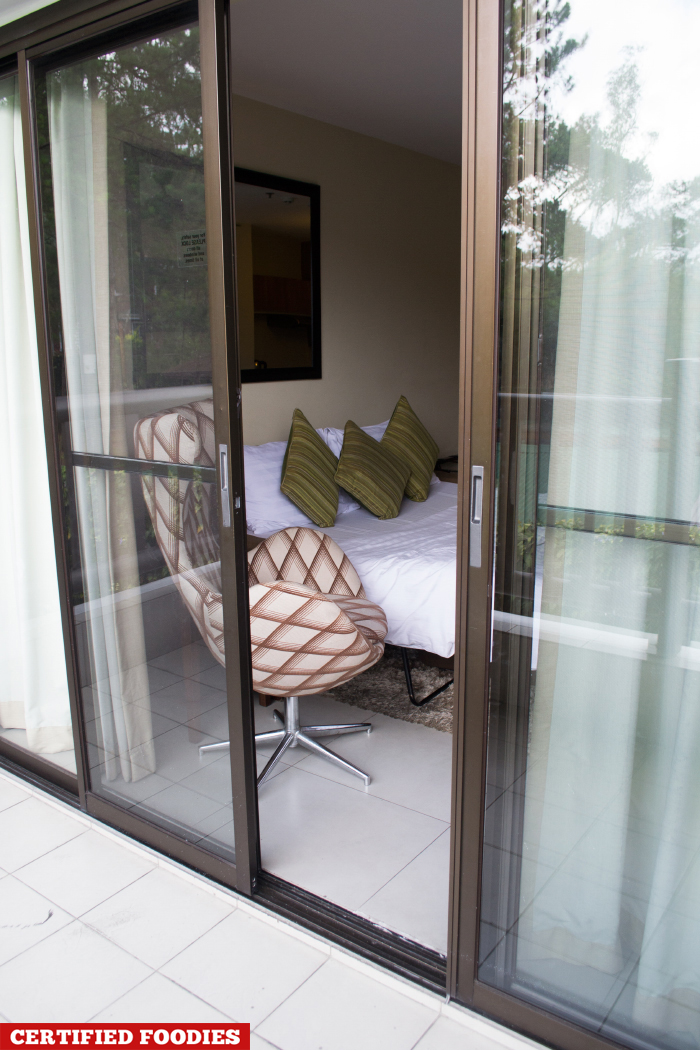 The room we were checked in is at the back side of the hotel so we had a good view of lush trees and multicolored roofs.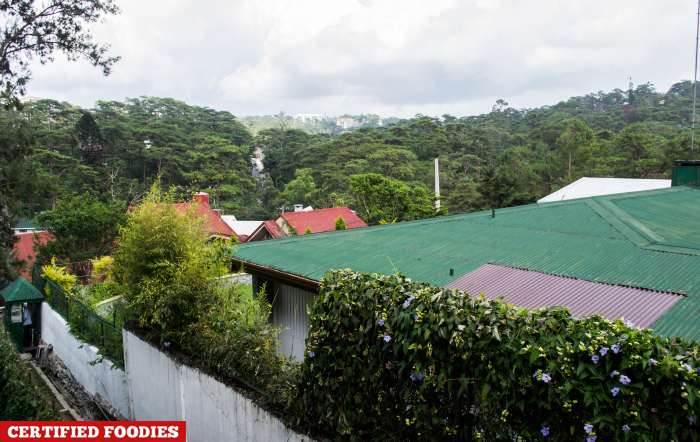 You can also spot a guard house at one corner of the hotel who has people monitoring the perimeter 24/7, so we felt pretty secured inside our rooms. These guards will also calmly tell you to lower down your voices when you're being too loud, just like what happened to Ruth and my sister, Mhel. Haha! 😂
Here's a quick video tour of our two-bedroom apartment suite at Azalea Baguio:
Room Rates at Azalea Baguio
*Note: Peak Season includes Panagbenga Festival, Holyweek, Christmas & New Year Holiday and Special Long Weekends.
Check out the rates for their other available rooms here: http://www.azaleabaguio.com/rooms-rates/
Azalea Hotel and Residences Baguio—the only hotel with full services and amenities of an upscale serviced apartment in the city—it's surely a place you can call your home away from home!
Thank you so much, Azalea Baguio, for having us. We truly had a wonderful time, and we're already looking forward to the next time we'll get to stay there!
Azalea Residences Baguio
No. 7 Leonard Wood Loop, Brgy. Manuel Roxas, Baguio City 2600
The following two tabs change content below.
Kenneth is the chef in the family (he studied Culinary Arts and Baking & Pastry Art in GCHA). He's responsible for most of the more complicated recipes featured here, and loves preparing pastries and desserts. Aside from being a chef, he's also a Registered Nurse and Midwife. His love for cooking led him to pursue a culinary career.
Latest posts by Ken Ignacio (see all)
Comments
comments