Aircon on full-blast and electric fans on their maximum speed, yet here we are still soaking wet in a pool of our own sweat. It is days like this that a quick getaway to some place colder like Tagaytay is more than a welcome respite from the scorching heat in Manila. And that is exactly what we did last March when we packed our bags and fled to spend a weekend at one of the oldest and quintessential hotels in Tagaytay City, Taal Vista Hotel.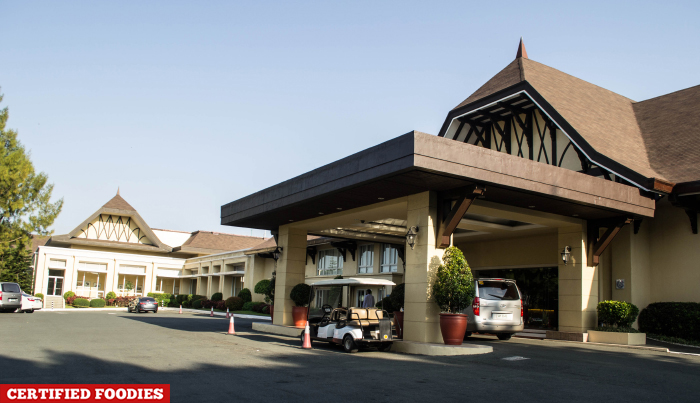 Taal Vista Hotel, Tagaytay City
From the year it was established in 1939, Taal Vista Hotel has been recognized for having the best vantage point to enjoy a mesmerizing view of the Taal Volcano—famous for being the world's smallest active volcano within a lake, which is within a volcano in the middle of a larger lake. It's truly a breathtaking sight that has never failed to amaze foreign and local tourists alike.
The English Tudor Mansion-style hotel perfectly marries timeless architecture and design with modern amenities. The spectacular view of the Taal Lake and the crisp, cool climate of Tagaytay just add to the magical appeal of Taal Vista Hotel, making it the top choice for a quick escape from the hustle and bustle of Manila.
Rooms at Taal Vista Hotel
The rooms of Taal Vista Hotel are divided into two areas – the Lake View and the Mountain View wings. The Lake View Wing, the older between the two buildings, boasts of rooms with a gorgeous view of the Taal Lake.  The Mountain View Wing may not have a view of the lake from its windows, but it makes up for being located closest to the hotel's amenities like the outdoor swimming pool, gym, playroom, spa, game room, the view deck, and it's only a short walk away from Taza Fresh Table Restaurant.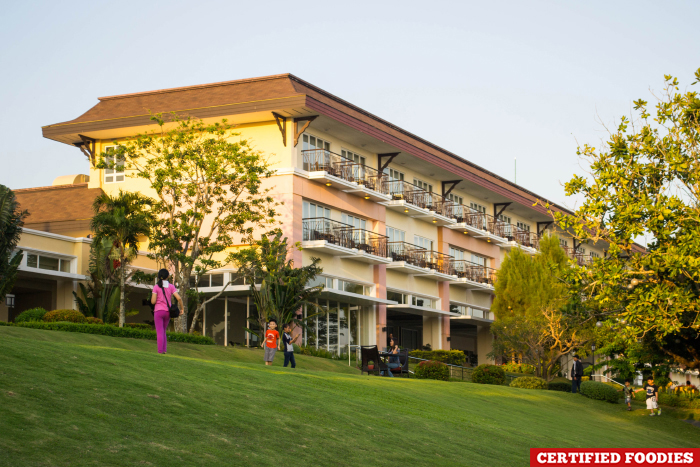 We stayed at the Deluxe Queen room in their Lake View Wing. Our room had one single bed and one queen-size bed with clean linens and plush pillows.
Standing on the other side of the room was the fully-stocked minibar and a flat-screen TV, equipped with cable service for our 24/7 entertainment.
Our room also featured a super spacious bathroom with a hot and cold shower and a sink with some essential toiletries. The toilet had no bidet and you know fully well that Filipinos can't make do with just toilet paper. We called the front desk and requested for a bucket we can fill with water. 😀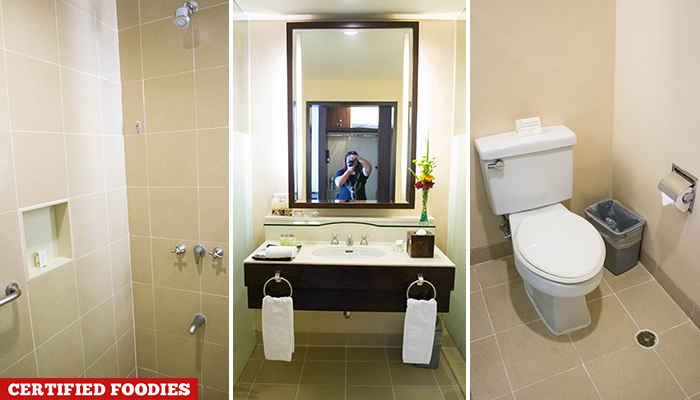 Of course, our favorite feature of the room was what lies behind the floor-to-ceiling windows—a balcony with a view of the Taal Lake that will leave you truly breathless.
Amenities at Taal Vista Hotel
It was already around two in the afternoon when we arrived at Taal Vista Hotel so we decided to grab a quick bite at the Lobby Lounge.
We checked out their menu and it was not really a tough choice to make when we chose the Pampanga Pizza, which was topped with TOCINO, longganisa, salted egg, kesong puti, and mozzarella cheese. Mhel also ordered an ice-cold café latte since she didn't have enough sleep the previous night.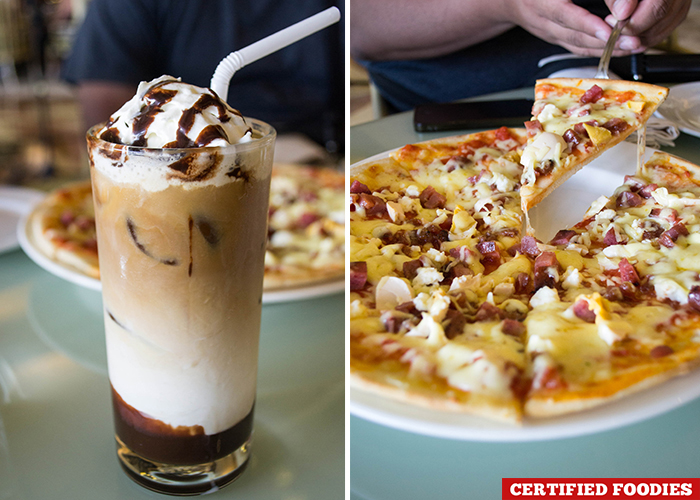 When you think of swimming, the last place you would think of is Tagaytay City because it could get pretty cold up there during the rainy season. We came in during the peak of the summer in March so the pool area was surprisingly jam-packed with people when the weather is just a few degrees colder than Manila but warm enough that you can still enjoy a quick dip with your family and friends.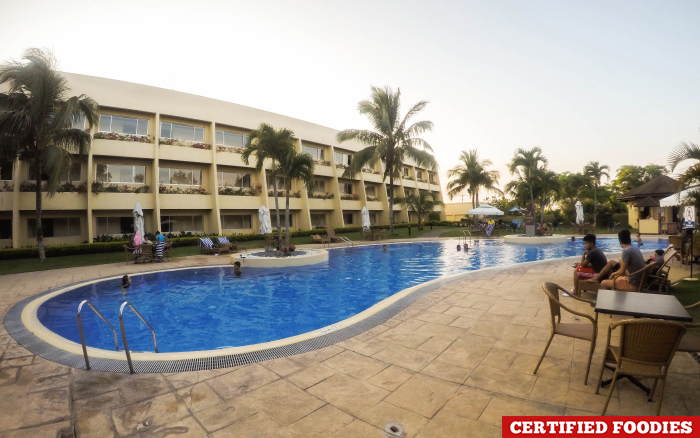 For those people who don't let a vacation get in the way of their fitness regimen, you can visit the indoor gym at Taal Vista, which is equipped with some basic exercise machines like treadmills, stationary bikes, a few weight-lifting equipment, and dumbbells.
They also have a game room where guests can play billiards. I asked my Nanay to pretend like she's playing while I video-recorded her and I was surprised that she was able to pocket a ball at her first try. No second takes, seriously! You can see it on the YouTube video we've embedded at the upper part of this post.
After checking out the amenities, we hung out at the viewing deck of the hotel until sundown—the time when it starts to get chilly and you can really appreciate Tagaytay's climate.
Of course, we took a bunch of pictures! It's simply relaxing to just sit on the grass and spend quality time with your family.
Taza Fresh Table Restaurant at Taal Vista Hotel
Our stay at Taal Vista Hotel was not complete without trying out the uber-delicious dishes at Taza Fresh Table Restaurant.
We ate there two times—dinner on our first night and breakfast the next day before checking out.
We'll be talking about our amazing Taza experience in full detail on a separate post because food this good deserves its own space on our blog! 🙂
Related Read: Taza Fresh Table Restaurant at Taal Vista Hotel
Room Rates at Taal Vista Hotel
Mountain Wing:
Superior Room – P7,245
Deluxe Room – P7,860
Premier Room – P8,470
1-bedroom Deluxe Suite – P12,275
1-bedroom Taal Suite – P14,730
2-bedroom Taal Suite – P22,100
2-bedroom Tagaytay Suite – P30,700
Lake Wing:
Deluxe Room – P7,860
Premier Room – P9,085
2-bedroom Deluxe Suite – P14,730
1-bedroom Batangas Suite – P14,730
2-bedroom Batangas Suite – P22,100
All rates with buffet breakfast for 2 except for all 2-bedroom suite rooms, which include buffet breakfast for 4.
Taal Vista Hotel
Kilometer 60 Aguinaldo Highway, Tagaytay City, Cavite, 4120, Philippines
The following two tabs change content below.
Kenneth is the chef in the family (he studied Culinary Arts and Baking & Pastry Art in GCHA). He's responsible for most of the more complicated recipes featured here, and loves preparing pastries and desserts. Aside from being a chef, he's also a Registered Nurse and Midwife. His love for cooking led him to pursue a culinary career.
Latest posts by Ken Ignacio (see all)
Comments
comments