Last year, the Philippines successfully hosted the first ever Madrid Fusion exhibition to be staged outside of Spain. Madrid Fusion Manila is back for its second year, and with the support of SM Supermalls, this gastronomic event has now transformed into a nationwide celebration of Filipino and Spanish flavors.

Madrid Fusion Manila 2016
Madrid Fusion Manila is back this year to celebrate the shared 300-year history between Spain and the Philippines with the theme, "The Manila Galleon: East Meets West" from April 7-9, 2016 at the SMX Convention Center in SM Mall of Asia. The 3-day culinary event will bring together renowned chefs from Europe and Asia to showcase their cooking prowess in a Gastronomy Congress. A simultaneous exhibition of fine food, gourmet products, new ingredients and cooking technology will also happen at the Madrid Fusion Manila Trade Expo, so you can expect that it's going to be a fun and food-filled weekend for your family and friends.
Fusion Flavors at SM Supermalls
SM Supermalls is bringing the Madrid Fusion Manila experience closer to their customers with the launch of "Fusion Flavors," which will hold a series of Madrid Fusion-inspired events happening from March 28 to April 15 at 24 participating SM malls nationwide.
Local chefs from Salon de The, Vikings, Todd English, Ogetsu Hime, and Café Laguna will be participating at the "Epicurious: Culinary Demonstrations by Gourmet Chefs" to be held at SM Aura Premier (March 29), SM Megamall (March 31), and SM Cebu (April 7). SM Supermalls will be also hosting a weekend market showcasing regional specialties and desserts from Asia and Europe at SM Southmall (April 2-3) and SM Mall of Asia (April 8-10).
In support of the DOT's "Flavors of the Philippines" Festival, SM's "Fusion Flavors" will also have activities that will feature cooking demonstrations, culinary school face-off contests, food fairs, and workshops – making SM Supermalls a destination not only for the Madrid Fusion Manila exhibit, but for families and the entire community as well.

We were invited to get a taste of what SM mall patrons will get to enjoy at Fusion Flavors with separate cooking demonstrations by two famous Pinoy chefs who have made their mark in the Philippine culinary industry, Chef JP Anglo of Sarsa Kitchen + Bar and Chef Edward Bugia of Pino Kitchem Studio.

Chef JP Filipino gave a Filipino twist on Spain's Paella Negra with his Adobong Pusit Arroz Caldo. He started by sautéing the squid with garlic, onions, ginger and lemongrass. He then developed the sauce by adding vinegar and white rum. Chef JP skipped on the soy sauce and added squid ink for color and flavor in its stead.

He mixed the adobong pusit sauce with crab broth to cook the black and sticky rice. The result is a bowl of arroz caldo with a clear Spanish influence but the flavor is genuinely Filipino. It's definitely one of the best arroz caldos I've ever had in my life.

Chef Edward Bugia, on the other hand, gave his take on the Spanish fideos, which is a paella-like pasta dish. He swapped the pasta with another Pinoy kitchen staple – the pansit noodles. He began by rendering the fat out from a few sliced pieces of Vigan longganisa, then he stirred in the pansit noodles to let them soak in all the flavor. He diluted the saffron with beer and used it to cook and hydrate the noodles.

Chef Ed's version of pansit is a true testament that marrying Spanish spices and cooking technique with fresh Filipino ingredients results to a dish that is a sure hit to the Filipino palate.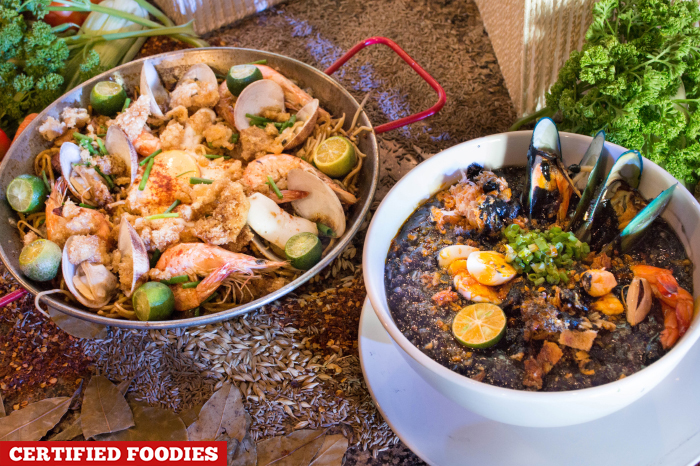 This summer, bring your family and friends at SM Supermalls for the "Fusion Flavors" series of event, where you can get to experience and enjoy the best of Philippine gastronomy.
Visit https://www.smsupermalls.com/features/fusion-flavors-at-sm/ for the complete schedule of activities or follow SM Supermalls on Facebook, Instagram, and Twitter to get real-time updates. #FusionFlavorsatSM #MadridFusionManila
To learn more about Madrid Fusion Manila, head over to their official website at http://madridfusionmanila.com/
The following two tabs change content below.
Kenneth is the chef in the family (he studied Culinary Arts and Baking & Pastry Art in GCHA). He's responsible for most of the more complicated recipes featured here, and loves preparing pastries and desserts. Aside from being a chef, he's also a Registered Nurse and Midwife. His love for cooking led him to pursue a culinary career.
Latest posts by Ken Ignacio (see all)
Comments
comments