I was invited December of 2015 to participate in the US Potato Board's (USPB) Potato Safari 3 in Davao City. Their aim was to promote the high-quality frozen potatoes from the U.S., showcasing how they can be best used in a hotel or professional kitchen setting without compromising the quality and flavor of the dishes. One of the popular food establishments they have partnered with was the Polo Bistro Lounge of Marco Polo Davao Hotel in Davao City.
Standing on a carpet of city lights and embracing the cool winds while serving signature inter-continental Ala Carte, the glistening Polo Bistro Pool Lounge leaves customers coming back for more. Its menus change with the seasons as the restaurant is committed to using only the best and freshest ingredients.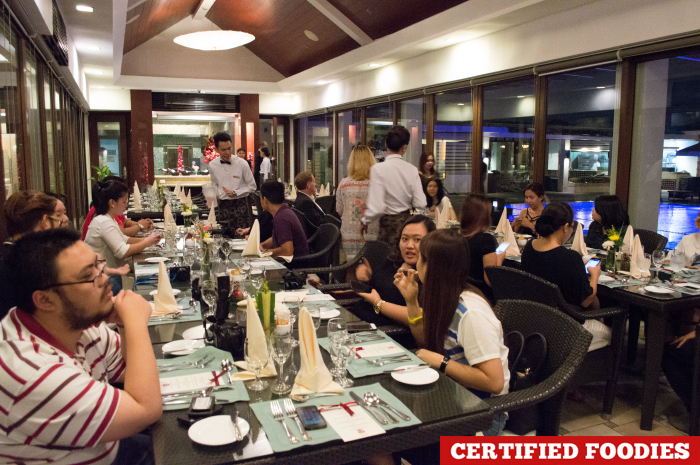 Chef Alex Destriza, executive sous chef of Polo Bistro Lounge, have prepared a sumptuous four-course meal for our second and last night in Davao City.
For our appetizers, they served us the US Potato Crisscut and Shrimp Cake with pomelo and jicama salad tossed with an asian dressing. The shrimp cake was very dense, so the tart and sweet salad was an excellent counter balance to its flavor.
We were then served a bowl of their US Mashed Potato Soup Infused with Turmeric Potato Croutons, which had slow-baked diced salmon with orange fruit and cilantro cream. Don't be fooled by its simplicity for it was super thick and perfectly seasoned. I finished mine even before they were done serving everyone in the room.
Our main entree was the US Potato Wedges and Honey Glazed Pork Ribs, which was served with spiced chili onion rings, cherry tomato with cucumber-mint dressing confit, and balsamic glaze. This dish had a lot of components going on, but the flavors and textures harmonized at every bite.
And for dessert, we enjoyed their US Hash Brown Potato Strawberry Cheese Cake with crumbled potato twister, soft meringue, white chocolate cream sauce with vanilla ice cream. This sweet and tasteful dessert was the perfect ending for the second night of our Potato Safari 3 adventure.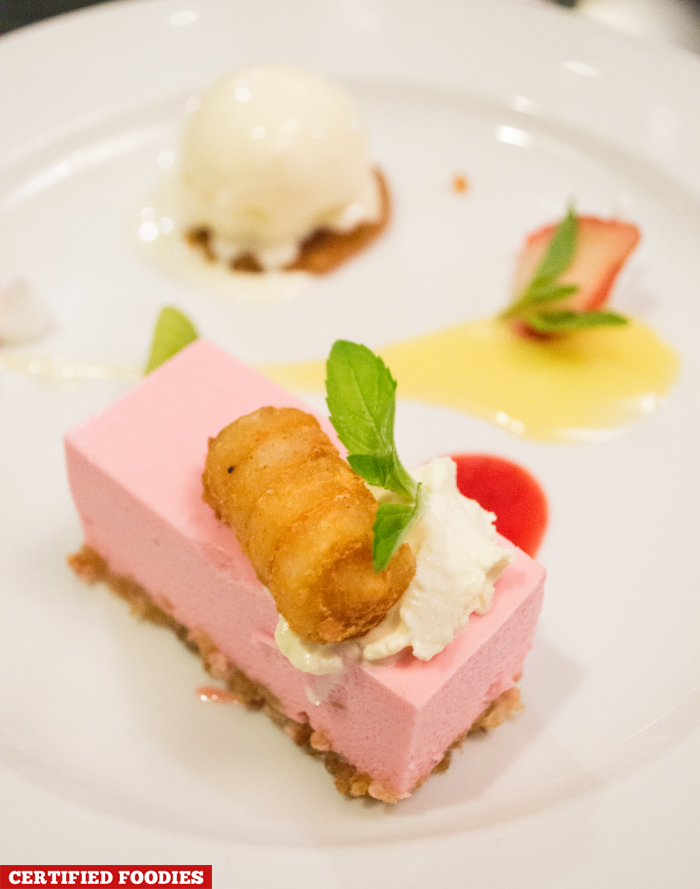 Polo Bistro Lounge at Marco Polo Davao Hotel
C.M. Recto Street Corner M. Roxas Avenue 8000 Davao City, Philippines
The following two tabs change content below.
Kenneth is the chef in the family (he studied Culinary Arts and Baking & Pastry Art in GCHA). He's responsible for most of the more complicated recipes featured here, and loves preparing pastries and desserts. Aside from being a chef, he's also a Registered Nurse and Midwife. His love for cooking led him to pursue a culinary career.
Latest posts by Ken Ignacio (see all)
Comments
comments