Since I moved out of our home in Malabon and started living alone, I always look forward to the days when I pack up my things and go back home to spend long weekends or the holidays with my nanay and bro. It's not only because I miss spending time with them, but also because I long for my nanay's cooking. In the past year, I actually found a way to satisfy my craving for her cooking — recreating her dishes in my own little kitchen. One of my all-time favorites is her Chicken Curry, which is one of the dishes she usually serves for Noche Buena.
My nanay uses fresh coconut milk to prepare her Chicken Curry. When I tried cooking this dish (with Ken's help), I found out that Carnation Evap actually works well too! It gives my version of nanay's Chicken Curry a rich yet unique taste and flavor, and I also noticed that Carnation Evap made the dish even creamier. I'm sharing the recipe below for you to try it yourself and taste the difference. My nanay already had a taste of this dish (she let me cook it this year for Noche Buena!), and she gave me a thumbs up. 🙂
By the way, we used chicken thighs for this recipe because they absorb the curry and milk broth very well, giving the chicken a nice, juicy, spicy flavor.
Chicken Curry with Carnation Evap Recipe
INGREDIENTS:
1/2 kilo chicken thighs, deboned / boneless
1 medium size potato, cubed
1 medium size carrot, cubed
3 cloves garlic, minced
1 small onion, chopped
1 medium red bell pepper, cubed
1 tbsp fish sauce (patis)
1 cup of Carnation Evap
30 grams curry powder
1 small ginger, sliced into strips (see photo below)
1 cup water
4 tbsp oil
PROCEDURE:
1. Pour cooking oil in a pot, then brown chicken thighs. Set aside.
2. Saute onion, garlic, and ginger.
3. Return chicken thighs into the pot, add the curry powder and 1 tbsp of fish sauce, then mix evenly.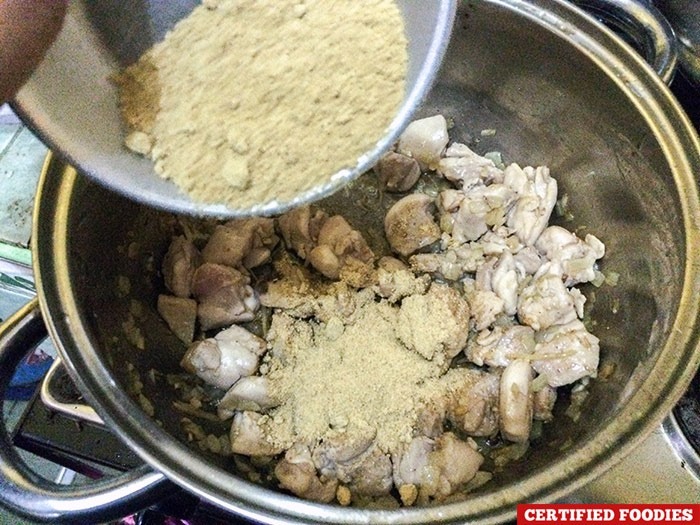 4. Pour in 1 cup of water then add the potatoes, carrots, and bell pepper. Allow to simmer for 5 minutes.
5. Add 1 cup of Carnation Evap and simmer for another 5 minutes.
6. Season with salt and pepper to taste, and then serve.
Let us know in the comments below if you've tried this recipe or other dishes using Carnation Evap. Hope you like it. Enjoy! 🙂
The following two tabs change content below.
Michelle (aka Mhel / blankPixels) is a social media nerd and works as a Digital Marketing Lead for one of the top online companies in the Philippines. On her free time, she travels, goes on food trip and loves to take photos. She's the main editor of this food blog.
Latest posts by Michelle Ignacio (see all)
Comments
comments