When December comes and we all start feeling the cool breeze, I can't help but get all giddy with excitement for Christmas. Ken and I always look forward to Noche Buena because that's when our nanay prepares extra special dishes for the whole family to enjoy. In the past few years, nanay and Ken have made it a habit to prepare something new every Noche Buena. This is why we always look forward to the annual Alaska Merry Cremas Festival where we get to see what new dishes we can add to our Christmas feast.
This year's Merry Cremas Festival was held at the Trinoma Activity Center. As expected, there was quite a delicious lineup of sweet and savory dishes made using Alaska Crema All-Purpose Cream. We weren't able to taste everything, but it's fun to see how creative you can be and how one ingredient – Alaska Crema – can be incorporated in a variety of dishes to give them that extra creamy goodness. Let's start off with our top favorites from the 2015 Alaska Merry Cremas Festival.
KISS' Mille Crepe Cakes
During our first round of food sampling, KISS wasn't open yet. Good thing we came back because we would've missed their creamy tower of mille crepe cakes. From the endless stream of people crowding their booth, I can say that their cakes were on the top of the best-sellers at the Merry Cremas Festival. We bought a slice of their Salted Caramel Cake. They used Alaska Crema in their buttercream, so it was oh-so velvety! Since I don't have an oven now in my condo, this is one dessert I can't wait to recreate! 🙂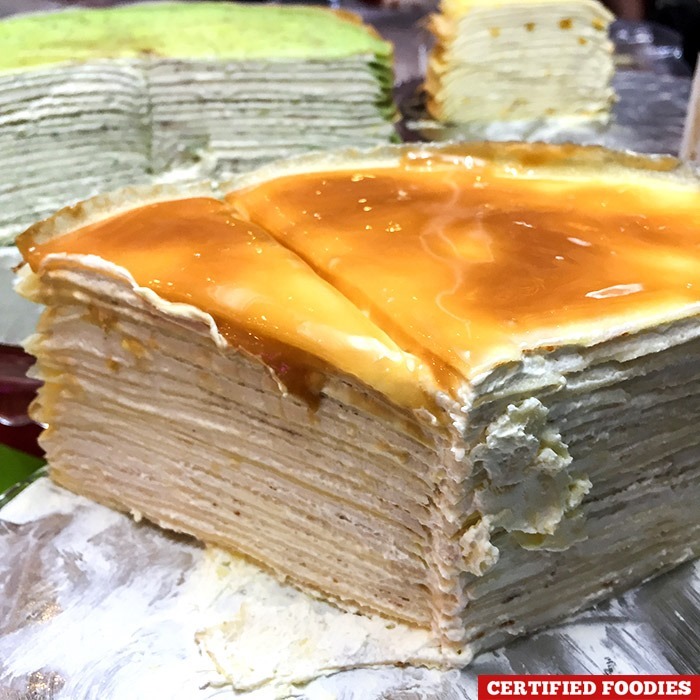 Manong's Bagnet Station's Creamy Sisig Bagnet
Manong's Bagnet Station's sisig bagnet was quite a surprise. I mean, I haven't seen sisig done like this. Alaska Crema gave the dish that extra oomph that will make you beg for more servings of rice. 😀 Sarap!
Happy Cupcakes' Vanilla Ice Cream
As expected, their vanilla ice cream was thick, creamy and sweet. I wanted another serving, but we had more food to taste. 😀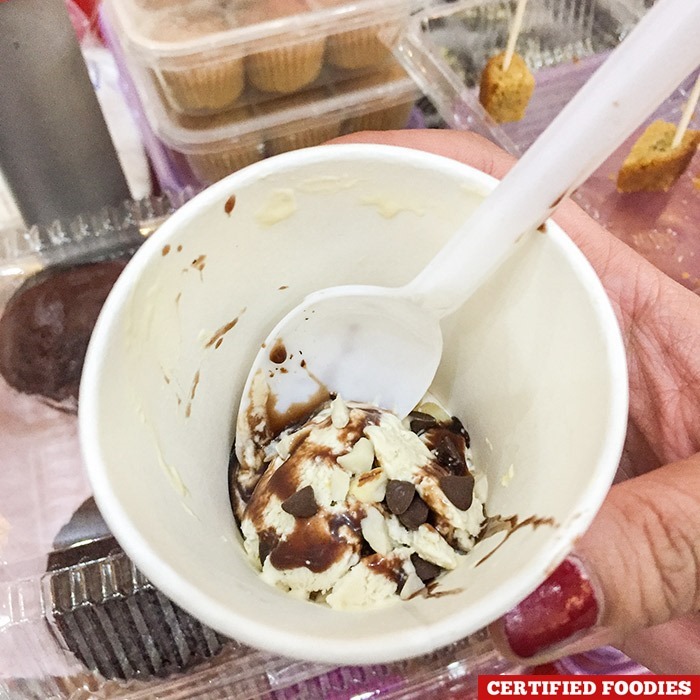 Nicomethods' Maja Blanca
I'm currently obsessed with corn, so when I saw that they were serving Maja Blanca, I just had to get a taste despite the number of people gathering at their booth at the Merry Cremas Festival. It had that texture and creaminess that I love, so thumbs up to Nicomethods, also because they had our nanay craving for more of their panna cotta. 😀
Ann Sweet Co's Yema Cake
As far as I remember, there were 3 food purveyors who were serving yema cakes at the food bazaar. Ann Sweet Co's was our favorite. It was creamy and had that right amount of sweetness. When we came back, I also bought their chocolate crinkles and I loved them too! 🙂
Here are the other dishes we saw at the 2015 Merry Cremas Festival:
Banoffee Cake in a jar from Simply Cups N Cakes, which is a pretty nifty way to gift your friends this Christmas.
Cooking Ina's Kitchen's Iloilo La Paz Batchoy and Penang Laksa or Baksa (Batchoy-Laksa)
Hotspoon's Creamy Beef Mushroom, Chicken Curry and Corned Caldereta, all were cooked using Alaska Crema.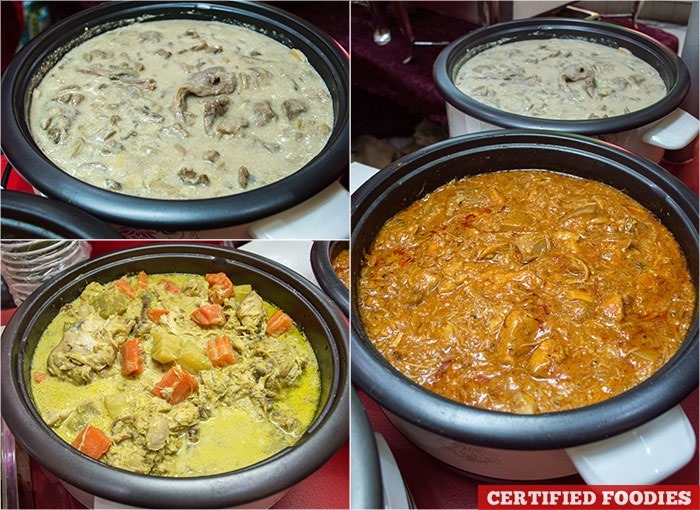 Pastillas Delights' Colorful Pastillas. If you want to give the classic pastillas a pop of color, here's an idea: wrap them in candy sprinkles. Perfect to serve this for your inaanaks during Christmas. 🙂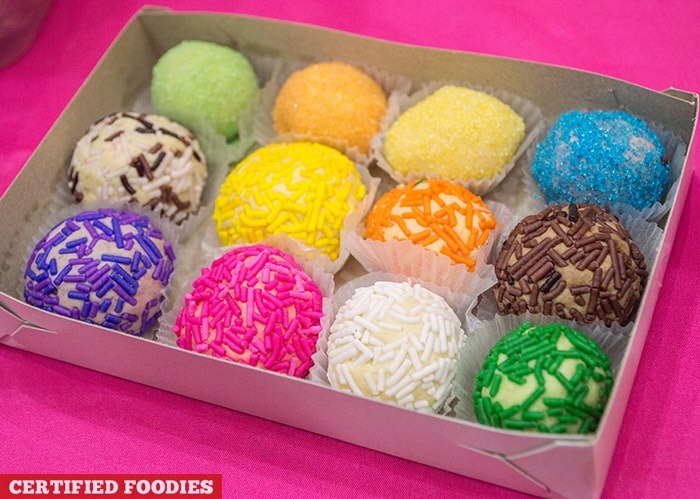 We also tried Pastillas Delights' red velvet crinkles with cream cheese filling and toasted pastillas – both were delightfully mouth-watering. I bought some for my officemates, and we can't stop eating them. 😀
Salted Caramel Panna Cotta from Cupkies by K! won the best dessert at the Alaska Merry Cremas Festival. Sayang, we didn't get a taste, but from the looks of it, we won't be disappointed. 🙂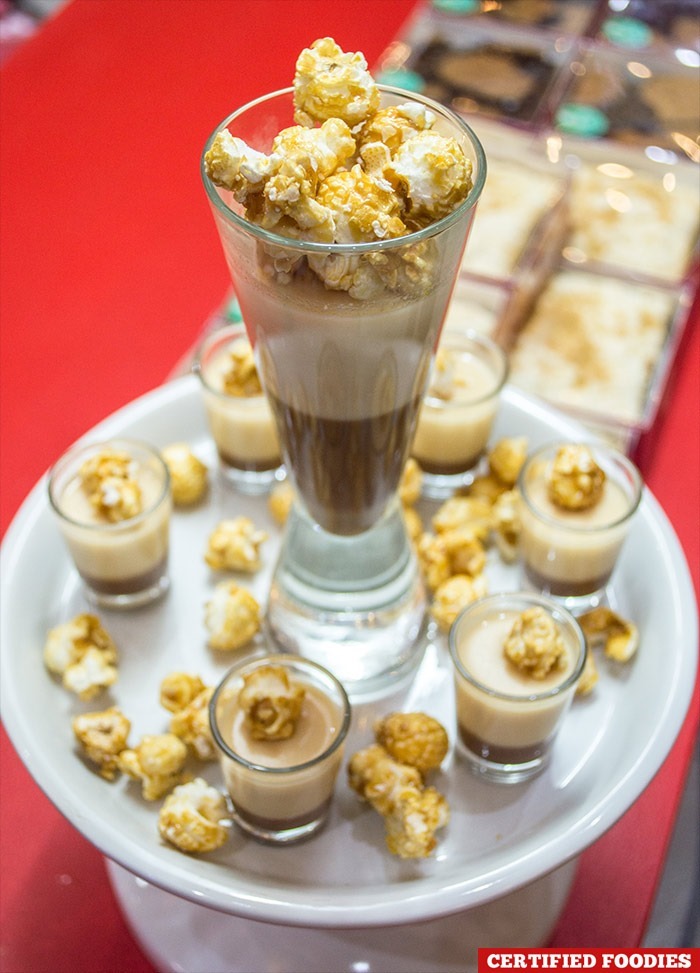 They also had a savory dish – Baked Penne Pasta with Creamy Cheese Sauce.
Chicago Pizza & Pasta's Seafood and Vegetable Alfredo Pasta was prepared using Alaska Crema.
Noel Savory and Confection presented 2 dishes with Alaska Crema – Crusted Banana Muffin and Vigan Longganisa Carbonara.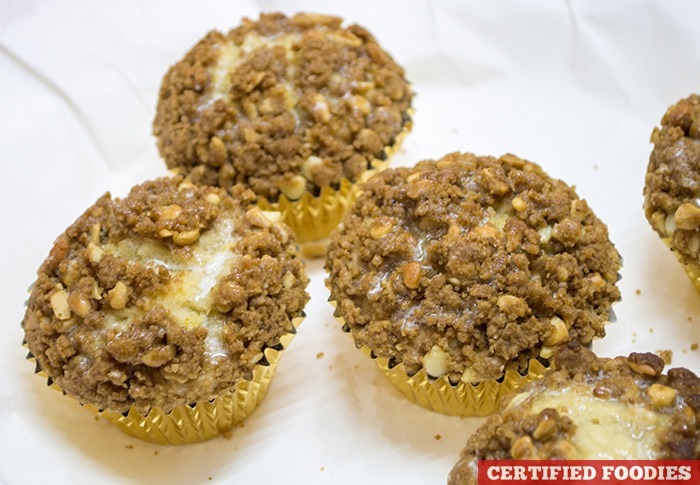 You see, Alaska Crema is truly an all-purpose cream; you can use it, not just for desserts, but to make creamy, savory dishes. Hope this list from the Alaska Merry Cremas Festival gives you an idea of what to prepare this Christmas. And, remember, like what they always say, calories don't count during the holidays, at least in our book. 😀
The following two tabs change content below.
Michelle (aka Mhel / blankPixels) is a social media nerd and works as a Digital Marketing Lead for one of the top online companies in the Philippines. On her free time, she travels, goes on food trip and loves to take photos. She's the main editor of this food blog.
Latest posts by Michelle Ignacio (see all)
Comments
comments