Being active food bloggers, it has become more important than ever to own a reliable, fast, and feature-packed smartphone that can help us create better content and connect easily with our readers. We've discovered 6 compelling reasons why the new ASUS ZenFone 2 Laser is exactly the phone foodies like us are looking for!
6 Reasons Why the ASUS ZenFone 2 Laser Is a Foodie's Best Friend
#6 – Incredible Design and Grip
When it comes to modern smartphones, the exterior is just as significant to what's inside. ASUS is one of the phone companies who were able to incorporate incredible design with powerful software and hardware into an affordable smartphone. The ASUS ZenFone 2 Laser, with its ergonomic arc design and thin edge of only 3.9mm, lets users hold the phone comfortably in their palms. Its hairline design and metallic finish give the phone a premium look and feel, without being overly priced as compared to other mid-range phones in the market.
What this means is you can comfortably hold the Zenfone 2 with one hand while you're taking photos of your food without worrying you'll accidentally drop it and ruin your shot. 😀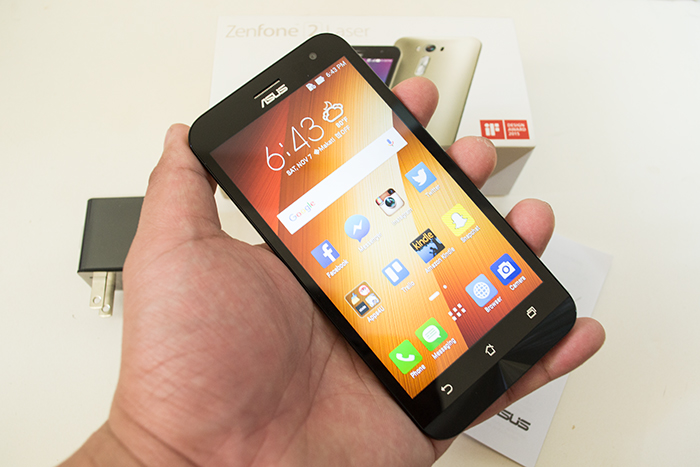 #5 – Impeccable Display
Since we're taking countless images and videos of food for our blog and social media networks, it's equally imperative that our smartphones should have clear and crisp displays. ASUS ZenFone 2 Laser has exactly that and more! It is designed with 5.0-inch HD (720 x 120p) IPS display, which is able to produce vibrant colors, good brightness levels, and up to 178 degrees of wide viewing angles. Equipped with Corning® Gorilla® Glass 4, ZenFone 2 Laser has the best screen protection for its price range, giving you a peace of mind that your phone is safe from accidental damages. It also has an Anti-Fingerprint Coating that guards your display from getting unsightly fingerprints from every day use. The screen is also easy to clean, which, I tell you, is a plus for foodies, especially when what you're eating is finger-licking good. 😉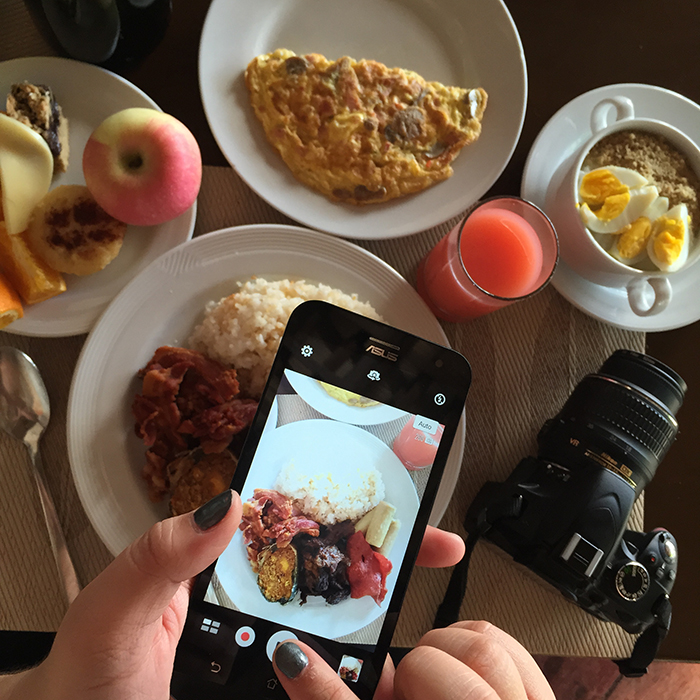 #4 – ZenMotion
What I missed most from using phones running the Android platform are their subtle but incredibly useful features that you can never get from an iPhone. A perfect example is the ZenMotion touch gesture feature of the ASUS ZenFone 2 Laser, which enables users to execute functions and launch applications by simply tapping or swiping corresponding letters on the display while the phone is on suspend mode. Double tapping on the screen will wake up the phone without having to reach for the power button, while swiping the letter "C" on the screen will launch the camera application in a snap! You have to experience it firsthand to see how amazing and useful this feature really is! You can now quickly launch the camera to take photos of your food before they get cold. 😀
Other Useful ZenMotion Touch Gestures:
C – will launch the camera
W – open the browser
O – launch calendar
e – launch e-mail
Z – launch ASUS Booster
V – launch dialer 
#3 – Video Recording
We have recently launched the Certified Foodies YouTube Channel, and most of our videos uploaded there were taken using only our smartphones because they're portable and, with the right skill and technique, you can actually shoot mouth-watering food videos with them. The ASUS ZenFone 2 Laser makes us feel more in control with the outcome of our videos since it has a manual setting, where we can manually adjust the depth of field, ISO, exposure adjustment, and the white balance. You can never get that level of control with the iPhone's native camera application.
#2 – Long Battery Life
The ASUS ZenFone 2 Laser runs with a 3,000 mAhLi-Polymer removable battery, which was enough to last us a whole day of usage with both 3G and WiFi turned on. It eliminates the need to bring bulky powerbanks and long charging cables. We found this very useful when we tested it out during our Coron vacation.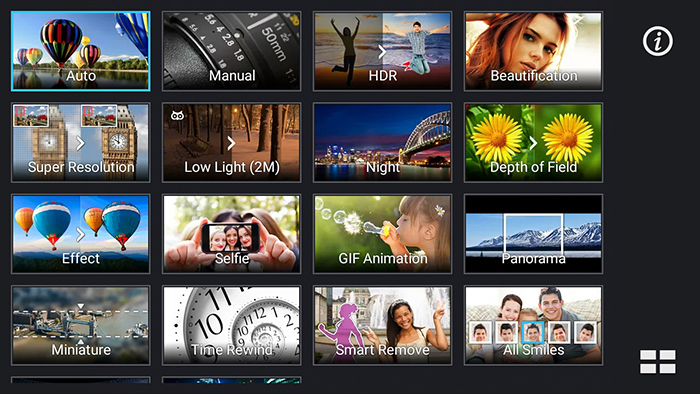 #1 – PixelMaster 2.0 Camera
The most important feature that foodies look for in a smartphone is the camera! It's a good thing that ASUS spared no expense in turning the camera on the ASUS ZenFone 2 Laser a truly exceptional one! In front, it has a 5-megapixel camera, perfect for taking selfies. At the back, you can find an 8-Megapixel PixelMaster 2.0 Camera with laser auto-focus and dual color real-tone flash. The infrared laser auto-focus measures the distance of the subject from the camera at lightning speed, delivering instant focus as fast as 0.3 seconds. It has a number of settings that can push the camera to reach its utmost potential like Auto, Manual, HDR, Beautification, Super Resolution, Low Light, Night, Selfie, GIF Animation, Panorama, Miniature, Time Rewind, Smart Remove, and many more.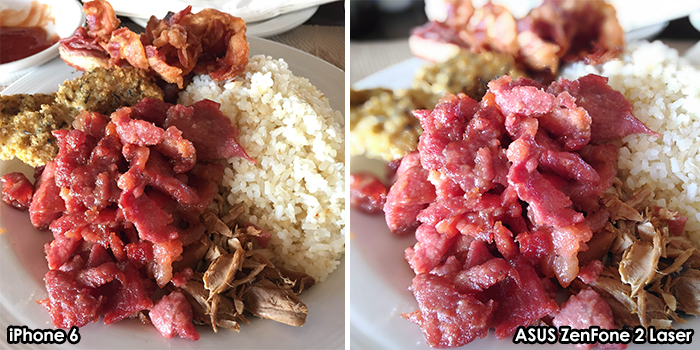 The ZenFone 2 Laser packs an f/2.0 aperture Toshiba lens, which comes in handy when taking macro shots. Take full advantage of this feature with the Depth of Field camera setting that gives the users freedom in manually adjusting the level of focus and the amount of background blur after taking a shot. We compared two shots—one using the iPhone 6 and another using the Depth of Field function of the ZenFone 2 Laser. You can clearly notice how depth of field feature highlighted the foreground while blurring the background, creating a more dramatic and mouth-watering effect on our food shots. This effect, you can only typically get from DSLRs, which, let's admit, can be really bulky to lug around especially when you're traveling.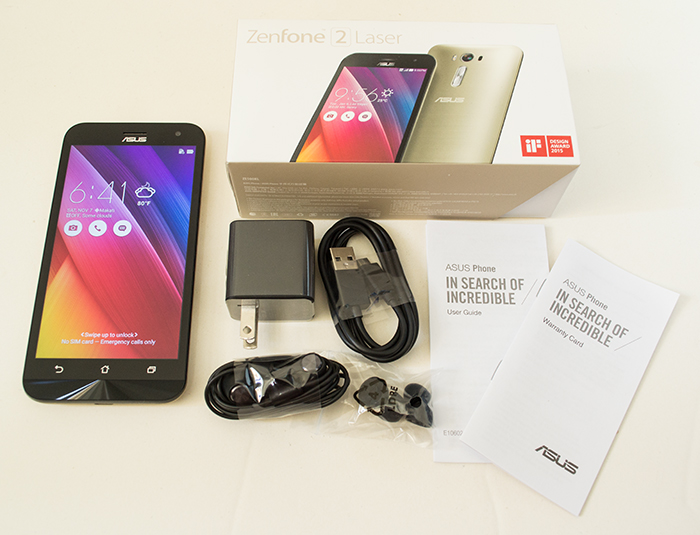 Technical Specifications
Platform: Android 5.0 (Lollipop)
Colors: Black/Ceramic White/Silver/Purple/Aqua Blue/Sheer Gold/Glamour Red
Dimensions: 143.7 x 71.5 x 3.5 ~ 10.5 mm (LxWxH)
Weight: 140g (with battery)
CPU: Qualcomm MSM8916 QuadCore 1.2GHz
Memory: 2GB LPDD3 RAM
Storage: 16GB eMMC Flash
5GB free lifetime ASUS WebStorage
Memory Slot: MicroSD card (up to 128 GB)
Display: 5-inch HD 1280 x 720 with Corning® Gorilla® Glass 4
Camera: Front 5 megapixels with flash, PixelMaster
Rear 8 megapixels with LED Flash, wide view, PixelMaster
Audio Slot: 3.5mm
Connectivity Technology: WLAN 802.11 b/g/n
USB 2.0
Bluetooth V4.0 + EDR + A2DP
Dual Micro SIM card
SIM1 Support 2G/3G/4G
SIM2 Support 2G/3G/4G
Dual SIM Dual Stand By
For ASUS ZenFone 2 Laser's full technical specifications, visit the official ASUS Philippines Website.
Conclusion
The ASUS ZenFone 2 Laser ZE500KL retails for only PHP 7,695.00. For that price, you get an Android Lollipop smartphone with premium-quality design and build, long battery life, and a powerful camera with laser auto-focus! That's definitely an awesome deal!
The following two tabs change content below.
Kenneth is the chef in the family (he studied Culinary Arts and Baking & Pastry Art in GCHA). He's responsible for most of the more complicated recipes featured here, and loves preparing pastries and desserts. Aside from being a chef, he's also a Registered Nurse and Midwife. His love for cooking led him to pursue a culinary career.
Latest posts by Ken Ignacio (see all)
Comments
comments