Kuya J Restaurant, formerly known as 'Ang Kan-anan ni Kuya J,' has started as a modest family business in Cebu, which quickly blossomed to becoming the Cebuano's favorite restaurant. And now they're finally taking over Metro Manila with the help of the new 'Blockbuster Bida ni Kuya J,' Mr. Jericho Rosales!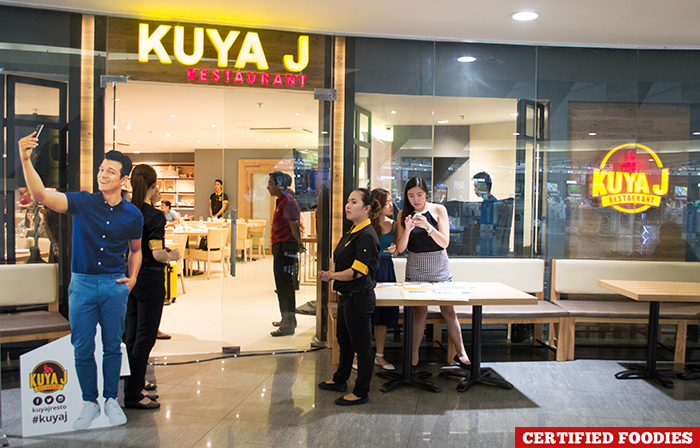 Blockbuster Bida ni Kuya J
When I arrived at Kuya J Restaurant in SM Megamall for their event and saw a standee of Jericho Rosales outside, I initially thought the restaurant was owned by Echo. That assumption was put to rest when our host, Sam Oh, called in Mr. Winglip K. Chang, the President of Kuya J Restaurant, and Chef Sheena Koseki, their Executive Chef, to present us Kuya J Restaurant's newest celebrity endorser.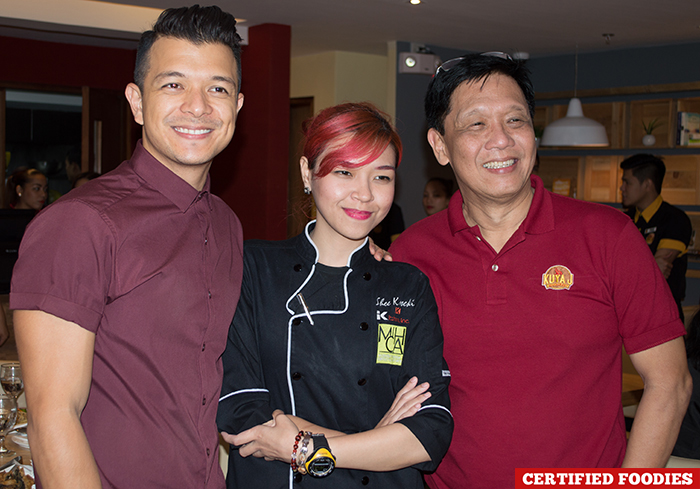 Jericho Rosales, Chef Sheena Koseki, and Winglip K. Chang
Putting a face on Kuya J has two main criteria: one, his first name should start with the letter J (obviously hehe); and two, he must be someone people can consider as the "kuya ng bayan" for his good track record and his irresistible charm. With those two things in mind, Jericho Rosales was definitely the perfect choice!
Kuya J Restaurant proves that they know the recipe for the next viral TV commercial by putting Jericho Rosales together with some pretty girls, catchy music, and Kuya J's mouth-watering dishes! By the time you're reading this, you might have already seen their new TVC, but if you haven't, well, you can watch it below:
Kuya J Restaurant
Kuya J Restaurant is definitely one of the fastest rising Filipino restaurants in the country that offers delicious and authentic Filipino food in a simple yet relaxing locale that will surely make you feel right at home!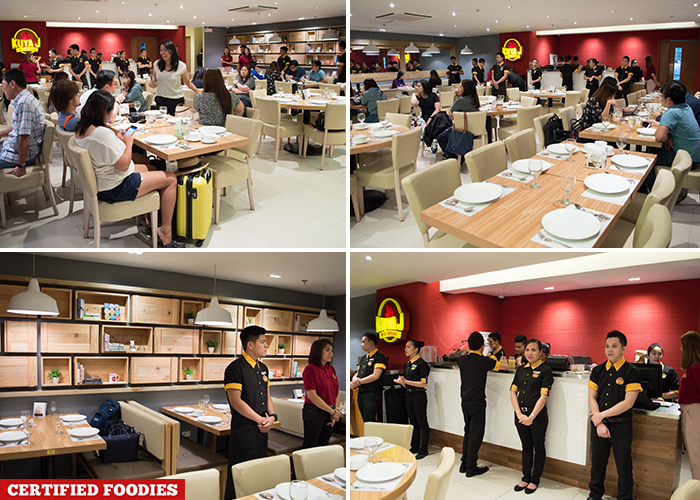 Their SM Megamall branch has just recently opened in June. And as if their 18 branches in operation are not testament enough on how successful the Kuya J Restaurant is, they surprise us by announcing that they are opening 50 additional stores nationwide before 2015 ends!
Kuya J Restaurant: Filipino Food Haven
The food at Kuya J Restaurant, with the aid of Chef Sheena Koseki, have undergone a major overhaul, transforming them from humble Pinoy dishes into 5-star restaurant-quality food that are fresh, superb in flavor, and always Instagram-ready.
I just came from a long walk from the MRT to Kuya J Restaurant, so I asked for a glass of their coldest drink. The server suggested the Fruit Shake Special (Php 85), which turned out as refreshing as I had imagined it would be.
Kuya J Restaurant clearly wanted to leave a good first impression when the first dish that landed on our tables was their Grilled Scallops (Php 230). Each scallop was coated with a rich cheese and butter sauce that I had a hard time stopping myself from popping one piece after another into my mouth.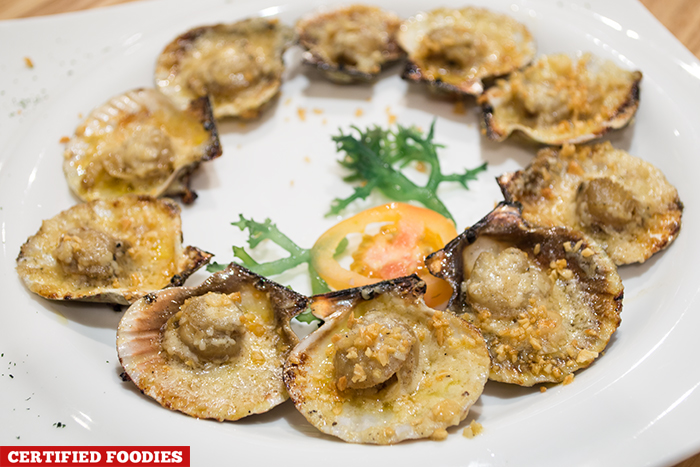 Their Mangga Tuna Salad (Php 180) is a plate of crisp lettuce leaves, ripe mango slices, and tuna flakes. It's definitely the perfect buffer in between eating Crispy Pata and Kare-Kare!
Another healthy dish that we've tried was their Lumpia Presko (Php 95), which was Kuya J's interpretation of the lumpiang sariwa. It had sautéed crab meat and bamboo shoots, all rolled into a malunggay-infused crepe wrapper and served with a sweet garlic sauce.
Kuya J did a twist on another inuman staple, the dynamite sticks, with their Chorizo Dinamitas (Php 170). Jalapenos were stuffed with Cebu chorizo and cheddar cheese, rolled into a pastry, and then deep-fried to a crisp. It also comes with a yummy garlic-mayo dip.
When it's too late for lunch or too early for dinner, you can still drop by Kuya J Restaurant and enjoy their merienda dishes. One of our favorites was their Pancit Canton (Php 165), which had a generous serving of vegetables and meat, making it a light but filling meal.
Who says you need to fly to Cebu to get a taste of authentic danggit? Kuya J Restaurant plays homage to their roots with their uber delicious Danggit Rice (Php 175). It's a plate of stir-fried rice with danggit bits, chives, and topped with 3 pieces of crunchy danggit.
The Humbinagoongan Rice (Php 175) is a platter of stir-fried rice with bagoong alamang, topped with pork humba, green mangoes, bell peppers, and red onions. It's so good that I'm quite sure I can order this without any viand and still walk out of the restaurant full and satisfied!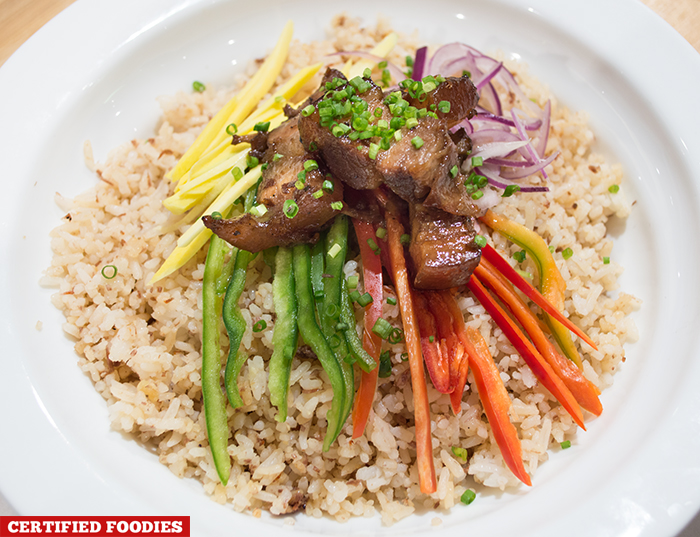 I rarely eat pinakbet because I hate vegetables, but if all Pinakbet (Php 170) are as good as the ones served in Kuya J Restaurant, then I'll definitely have a change of heart!
The Grilled Tuna Belly (Php 350) was originally served already slathered in chili sauce, but Kuya J listened when their patrons requested the chili sauce to be served on the side since it's really, really spicy. The sauce in small servings, however, does wonders in complementing the flavors of the grilled tuna.
A plate of battered deep-fried catfish served with chili tuba sauce and bagoong mayo, the Crispy Catfish (Php 295) from Kuya J was a sure hit! It's the dish that I was seriously wishing I could pair with some ice-cold beer!
Pochero or bulalo? Why choose when you can enjoy both with the Pochero Bulalo Tagalog (Php 375)? Beef shank is slow-cooked in a rich savory broth, served with corn, saging na saba, camote, and Baguio beans. And feel free to scoop out the buttery marrow inside the bone. Yum!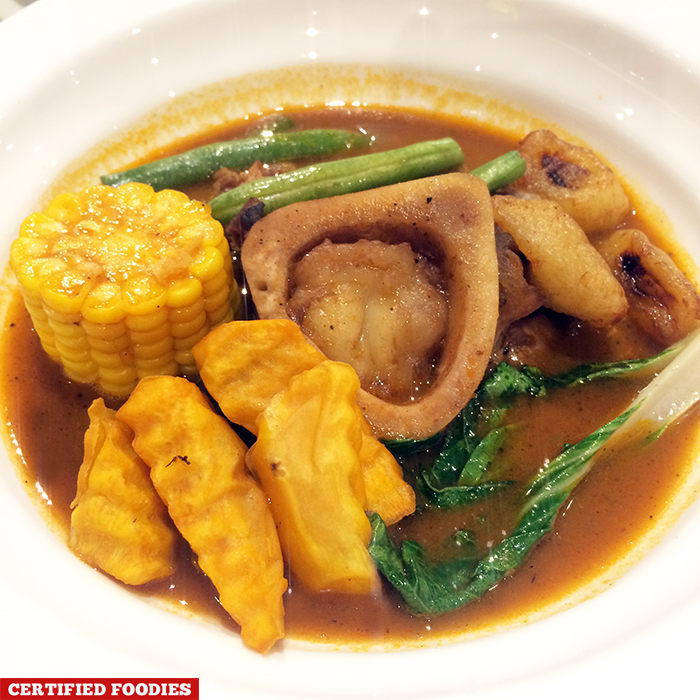 What twist did Kuya J do with their Sizzling Sisig with Egg (Php 190)? Well, instead of the usual pig ears, they used pork belly! Mapapa-extra rice ka talaga… or beer! Hehe!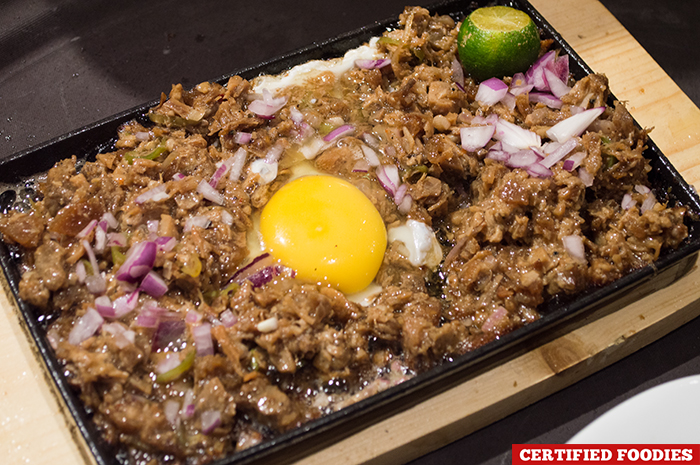 I'm not bragging or anything, but our Nanay's kare-kare is the best, and it's very rare that we find a restaurant that can match up or even surpass our expectations. That's the very reason why I was quite surprised with Kuya J's Kare-Kare (Php 399)! With its reinvented peanut sauce and crispy bagnet pieces, it's the version that gives our Nanay's kare-kare a run for its money.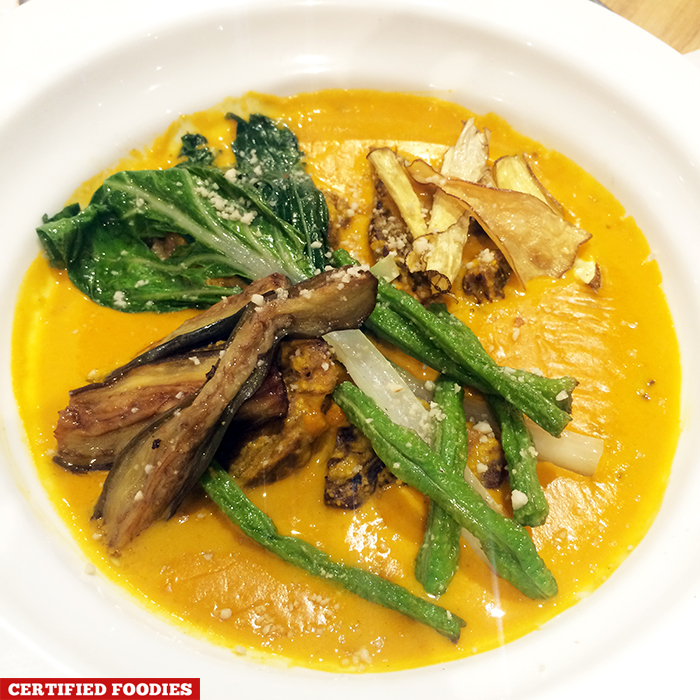 The real star of Kuya J Restaurant is their Crispy Pata (Php 490 regular, Php 695 for family). It's quite a bold move from Kuya J since there are innumerable restaurants in the Metro that are offering the very same dish. But Kuya J Restaurant is truly confident that their Crispy Pata can easily blow all competition out the water! One bite of their super crunchy and flavorful crispy pata, I realized where all that confidence is coming from!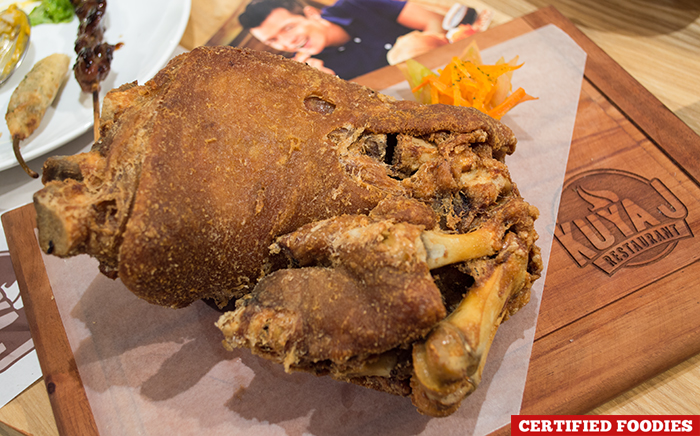 Now onto desserts. My photo doesn't do it justice, but their Tablea Coffee Flan (Php 85), made with Batangas tablea, is the bomb! It's not overly sweet, and I believe it will appeal to people who like dark chocolate because it has this subtle bitterness, which gives a nice balance to the flan's creaminess.
When it comes to presentation, the Mango Pandan (Php 80) is the sure winner, with its towering web of spun caramel. It's a fairly light dessert, making it the apt ending for a heavy dinner. The Cebuano Mangga Cheesecake (Php 130), on the other hand, looks meek in presentation but this dessert is layers upon layers of ultimate goodness. This is the dessert you'd want to enjoy while sipping on some coffee.
Kuya J Restaurant chose the perfect timing in venturing into the Manila crowd when Filipino cuisine is finally getting the attention of the international food community. Finally, here's a restaurant that did our all-time favorite Pinoy dishes justice. I can't wait to bring my foreigner friends here!
Kuya J Restaurant
The following two tabs change content below.
Kenneth is the chef in the family (he studied Culinary Arts and Baking & Pastry Art in GCHA). He's responsible for most of the more complicated recipes featured here, and loves preparing pastries and desserts. Aside from being a chef, he's also a Registered Nurse and Midwife. His love for cooking led him to pursue a culinary career.
Latest posts by Ken Ignacio (see all)
Comments
comments