Whenever Mhel and I are badly craving for some quality Japanese food, Malabon City has never been the first place that comes to our minds. But all that has changed when we've finally discovered the newly opened Sushi Master right at our hometown.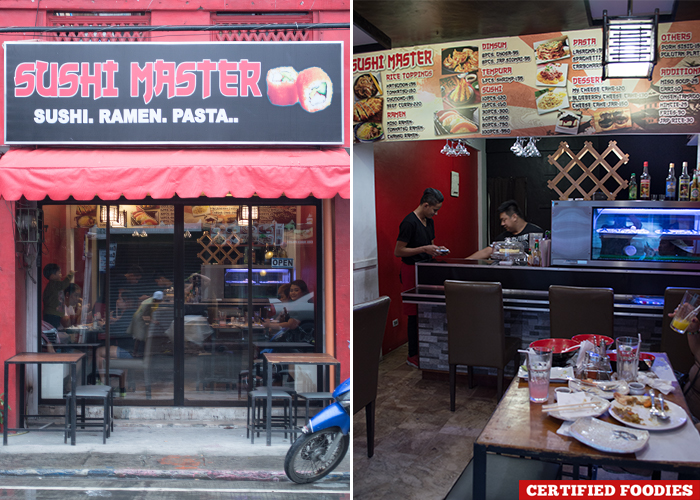 Sushi Master, which opened June of 2015, stands along what I call the "foodie avenue" of Malabon City, where big-name food businesses like Nanay's Pancit Malabon and Dolor's Kakanin are also strategically located. The restaurant is jointly owned by the foodie couple Nolenz Evanglista and Emily Panganiban. Nolenz has worked in Japan for a few years, so he has first-hand knowledge of the flair and flavor of authentic Japanese cuisine.
They have been inviting us to visit their restaurant even before they have first opened their doors. One long weekend in August, we finally gave in to their request, and now we'll tell you how our dining experience went.
For our drinks, we ordered a glass each of their Iced Tea, Pink Lemonade, and Mango Shake. Their Pink Lemonade (Php 50) has the right balance of sour and sweet that I particularly loved, while the Iced Tea (Php 30) was not too sweet or bland. It was a cold day but it didn't stop our Nanay from enjoying their perfectly refreshing Mango Shake (Php 75).

I've heard only good things about Sushi Master's Gyoza (Php 95) when my friends visited a few weeks earlier, so I was really curious to get a taste of it. The wrapper was a little thicker than most gyozas from other Japanese restaurants, but the filling was one of the most flavorful we've had.
There's a restaurant in Malabon that offers Japanese Siomai (Php 95, 8 pieces) other than Sushi Master. It's hard not to compare even though their versions are quite different in presentation, flavor, and price. It's a tight competition, but Sushi Master wins our vote for their Japanese Siomai is a lot cheaper, yet it packs a lot of flavor and you'll clearly notice that they only use good quality crab sticks.
We're seriously not exaggerating when we say that their Shrimp Tempura trumps all the ones we've tasted from other Japanese restaurants in Manila. It's a little bit pricey at PHP 195 for 6 pieces, but you're definitely getting your money's worth with these fresh shrimps covered in an uber tasty frying batter. You'll have to try it yourself to believe us.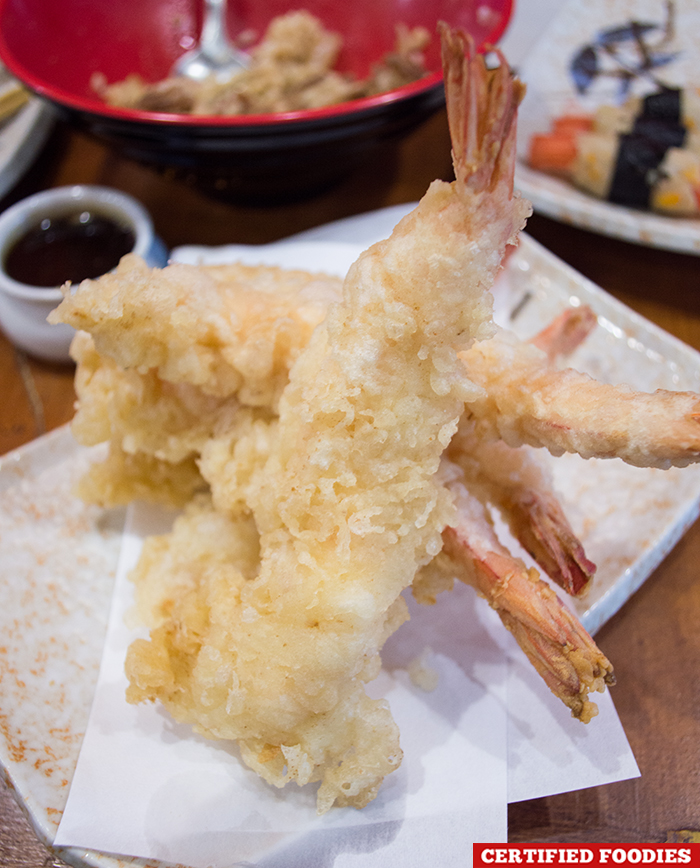 Sushi Master began as a modest home-based business, where they accommodate bulk orders of Japanese sushi, before putting up their own restaurant business.  When dining in, you can order appetizer-size servings of their assorted Sushi at PHP 120 for 10 pcs or PHP 160 for 16. Their sushi platter or bulk order makes for a perfect potluck party contribution—30 pcs (PHP 300), 60 pcs (PHP 550), 80 pcs (PHP 750), and 100 pcs (PHP 950). You may reach them at their contact details listed below this post if you're interested in ordering more than 100 pieces of sushi.
For my main entree, I asked for their Chashu Ramen. We were quite shocked when a huge bowl of ramen landed on our table. The serving was so big that it was more than enough to feed up to 3-4 persons. But because of my family's big appetite, we were left craving for some more. Haha!  For PHP 250, we were not expecting to get a delicious bowl of ramen with a broth that was dense and well-seasoned; noodles, thick and chewy; and big and flavorful slices of pork.
My sister got herself a serving of their Katsu Curry (Php 220). It was a huge plate of rice with a huge pork katsu, slathered with a very toothsome curry sauce. It's the kind of dish that will compel you to beg for an extra serving of Japanese rice, which you can get for PHP 30.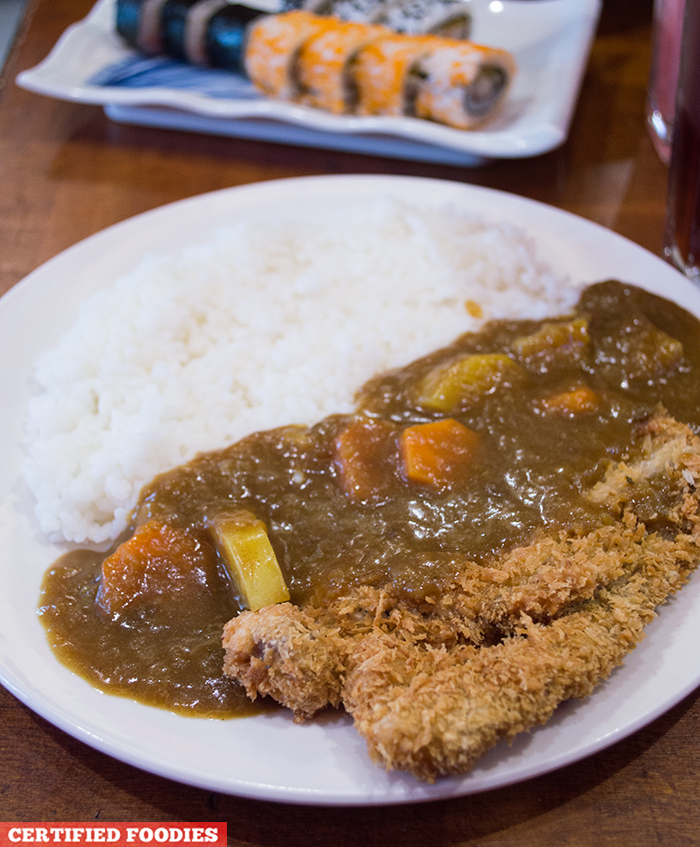 Our Nanay went for their Beef Gyudon (Php 195), which was a big bowl of Japanese rice, topped with thin slices of beef cooked to perfection. I actually ended up nabbing the bowl from my mom and finishing it all to myself. Hehe!
For families who have kids that are not familiar with Japanese food, Sushi Master also offers pasta dishes like Lasagna, Spaghetti, and Carbonara. It's a little bit off from the Japanese theme of their restaurant, but you cannot argue with the logic that kids can be quite picky eaters at times.
And to make sure you wouldn't go anywhere else, they also offer various cheesecakes for dessert and pulutan like Pork Sisig (PHP 150) and their Pulutan Platter (PHP 590) that go excellently well with their alcoholic drinks.
Sushi Master Promos
Sushi Master has recently launched budget meal promos, making sure you get more bang from your buck.
Their Family Meal Promo, which is good for 2-3 people, will get you a big bowl of their ramen and 8 pieces of Gyoza for only PHP 345.
With their Party Meal Promo, you'll receive two bowls of ramen, 16 pieces of maki, 8 pieces of Japanese siomai, and 8 pieces of gyoza for PHP 850, enough to feed up to 6 persons.
Sushi Master
Governor Pascual Avenue, Barangay Concepcion, Malabon City
Hours of Operation: Tuesdays – Sundays 03:00PM – 12:00AM (Closed on Mondays)
Contact No.: 09328864744
E-mail: [email protected]
Website: http://www.yoursushimaster.blogspot.com/
Facebook: https://www.facebook.com/yoursushimaster
Instagram: https://instagram.com/yoursushimaster/
The following two tabs change content below.
Kenneth is the chef in the family (he studied Culinary Arts and Baking & Pastry Art in GCHA). He's responsible for most of the more complicated recipes featured here, and loves preparing pastries and desserts. Aside from being a chef, he's also a Registered Nurse and Midwife. His love for cooking led him to pursue a culinary career.
Latest posts by Ken Ignacio (see all)
Comments
comments