A few weeks ago, I reached a major milestone in my life – I have successfully survived a challenging year at my new office job and living independently in my Makati condo. When I moved in here, I promised myself to cook more and not resort to food delivery. In celebration of this important milestone, Ken decided to whip up a fancy meal for the two us despite the limited kitchen space and equipment at my place. With the help of Clara Ole products, he showed me you don't have to spend a lot to come up with a restaurant-quality dish that you can make any time, starting with these mouth-watering Barbecue Baby Back Ribs. 🙂
If you've been following our blog, you know we are meat lovers. It was easy to decide which dish we want him to cook for this night. He made our meal extra special by also preparing Beef Steak Rice, with Caesar salad on the side. This recipe is easy to cook and budget-friendly, but the flavors and texture are on point; smoky, sweet with that subtle tangy taste. The meat? Falls off the bone. To fully enjoy the meal, we suggest you eat the ribs with your hands so you can lick off the sauce from your fingers afterwards. 😉
Clara Ole Baby Back Ribs with Beef Steak Rice and Caesar Salad
INGREDIENTS:
FOR THE SALAD:
FOR THE RICE:
PROCEDURE:
FOR THE BBQ BABY BACK RIBS:
1. Wash the slab of ribs with water. Pat dry with paper towel.
2. Using a knife or kitchen scissors, trim off the excess fat and connective tissues on the ribs. The ribs I got had 2 layers of meat, so I removed the top part, which I will be using in a different dish.
3. Cut the slab of ribs into 3 pieces and place into a container. Pour and rub in a pack of Clara Ole Hickory BBQ Marinade on the ribs. Keep in the fridge for a minimum of 30 minutes up to 6 hours.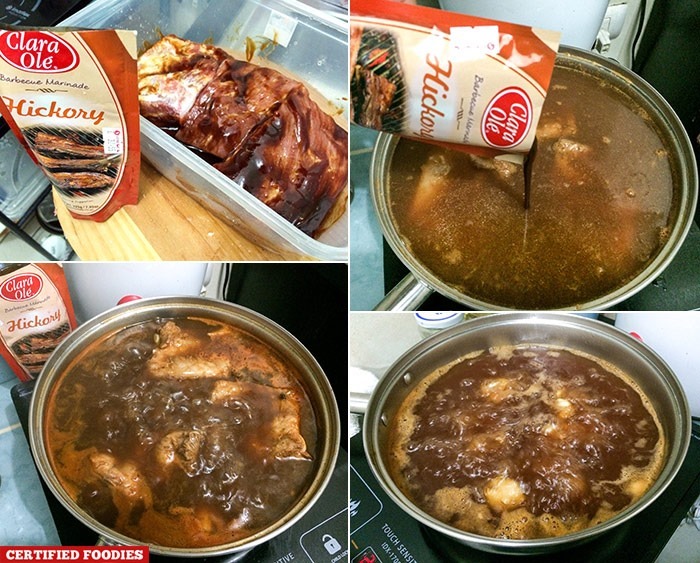 4. In a pot, boil water that are enough to completely submerge the ribs. Pour one pack of Clara Ole Hickory BBQ Marinade and mix evenly.
5. Add 8 pieces of crushed garlic. Don't chop or mince the garlic, so you can easily remove them later.
6. Lower the heat into a simmer and submerge the ribs in the water. Simmer the ribs for 2-3 hours or until the meat is soft enough for you. Add more water when you see the ribs are not completely submerged.
7. Remove the ribs from the water and allow to air dry or pat dry using a paper towel.
8. Open another pack of Clara Ole Hickory BBQ Marinade and brush or slather it onto the pieces of ribs. Pop them into the microwave oven for 1-2 minutes before serving to make they are warm. If you have a baking oven or an oven toaster, you can bake the ribs slathered with BBQ sauce for 20-30 minutes. This will make the ribs a lot softer.
9. Serve with a side of salad and a heaping cup of rice.
FOR THE SALAD:
1. Wash all your ingredients with water and strain.
2. Cut up the lettuce into bite-size pieces.
3. Cut the tomato into thin slices.
4. Open the can of corn and drain the water.
5. Combine all ingredients.
6. Place salad onto your serving plate and drizzle with your Clara Ole Caesar Dips 'N Dressing.
FOR THE RICE:
1. Put 2-3 cups of rice into a bowl. Separate the grains until there are no big lumps of rice left.
2. Pour 1 sachet of Clara Ole Ora Mix Mo Beef Steak into the rice and mix evenly.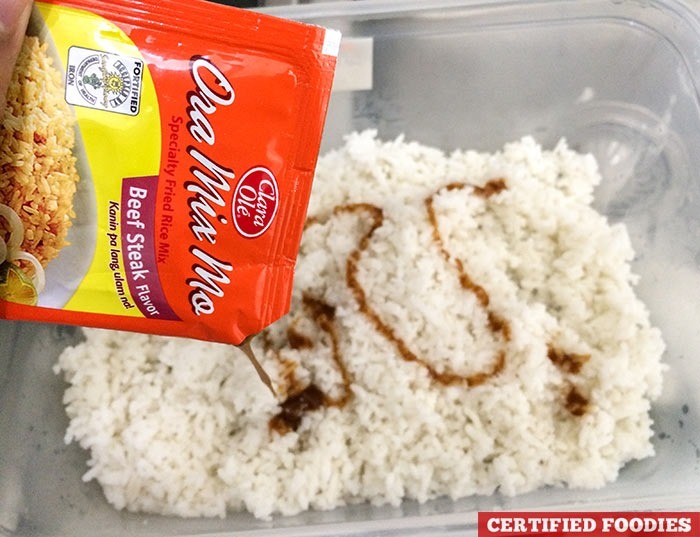 3. Press the rice into a cup or mold and drop onto the serving plate.
This recipe using Clara Ole products is perfect for a romantic night, too. Impress your special someone with these BBQ Baby Back Ribs that taste like something you can order from a high-end restaurant. Of course, this goes incredibly well with a glass of red wine. 🙂
The following two tabs change content below.
Michelle (aka Mhel / blankPixels) is a social media nerd and works as a Digital Marketing Lead for one of the top online companies in the Philippines. On her free time, she travels, goes on food trip and loves to take photos. She's the main editor of this food blog.
Latest posts by Michelle Ignacio (see all)
Comments
comments