We're from Malabon, and if you know anyone from there or you've attended at least one fiesta or party hosted by someone who lives in our hometown, you know how festive our celebrations could be. And if you've been to one of our parties at home, you've seen how lavish we are when it comes to preparing food for our guests. We did just that when we hosted our own Clara Ole Potluck Fiesta party a couple of weeks ago.
The party took almost a month to prepare. The Clara Ole team gave us one task – to prepare a menu showcasing the wide variety of dishes you can make using their products, and how convenient and easy it is for anyone to serve delicious dishes, whatever level your cooking skills are and however small your kitchen is. We personally use Clara Ole products in my little kitchen in my Makati condo, and I tell you, everything I cook with their products come out perfect. 🙂 My favorites would be their pasta sauces and marinades.
Going back to our party, Ken and I thought of hosting a boodle fight, and we all agreed on the Pinoy Fiesta theme for our friends. Since it'll be a boodle fight, Ken knew serving a couple of dishes won't be enough. So, he came up with a menu composed of 14 dishes + the punch, which serves as my only contribution. 😀 All of the dishes were made using Clara Ole products, as listed below.
Certified Foodies Clara Ole Potluck Fiesta Menu
Grilled Chicken Inasal – Inasal Barbecue Marinade
Beef Tapa – Tapa Marinade
Pork BBQ – Hickory BBQ Marinade
Chicken Lumpia – Dips n' Dressings
Pork Asado – Pineapple Jelly
Grilled Squid – Original Barbecue Marinade
Sauteed Garlic Crabs – Filipino Style Pasta Sauce
Camaron Rebosado – Dips n' Dressings
Sinigang na Bangus sa Bayabas – Guava Jelly
Butterflied Tilapia – Dips n' Dressings
Pinoy Salad – Dips n' Dressings
Paella Rice – Ora Mix Mo Paella (with seafood)
Mango Sago – Mango Jam
Buko Pandan – Maraschino Cherries
Berry Fruity Punch – Truly Fruity Blueberry and Maraschino Cherries
The venue was the function room at my Makati condo building. We invited our closest friends and fellow foodies, including members of The Burp Society. We told them to be prepared for all the food we're serving and the fun activities we've got in store for them.
July 12th came. The party started out a little late because of all the prepping (the guests waited at the pool area of our condo building), but we were all ready to have fun, and share the festive spread of dishes that Ken and our nanay lovingly prepared for us that day.
I was the main host of the event, given that Ken did all the cooking. It was my first time to host such a big event. Our special guest is Clara Ole celebrity influencer, Amy Perez, who graced our potluck party with her son. She also personally uses Clara Ole products. We hope she appreciated the variety of dishes Ken and nanay prepared for everyone. 🙂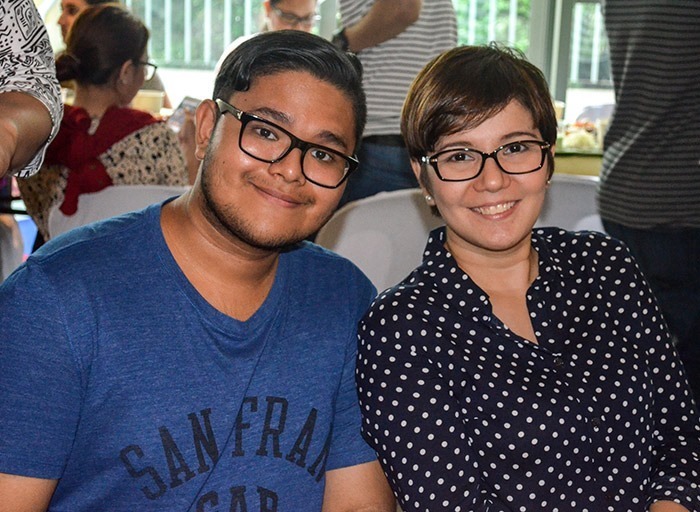 Before anything else, of course, everyone took photos of the boodle fight setup. We announced that there's an Instagram contest, and Clara Ole will be giving away prizes at the end of the event. Ken made sure the styling was Instagram-worthy. 🙂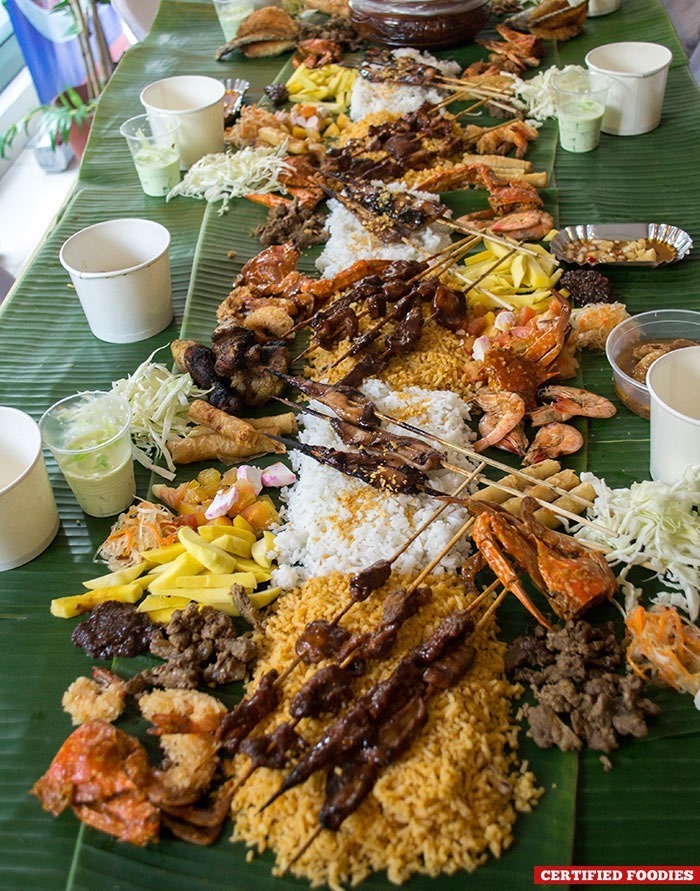 Our friends were also given a chance to share their own #DiskarTips with us on how to prepare for a big event or party, like our Clara Ole Potluck Fiesta.
Clara Ole Chef Kat shared her tips on cooking and food styling for a boodle fight.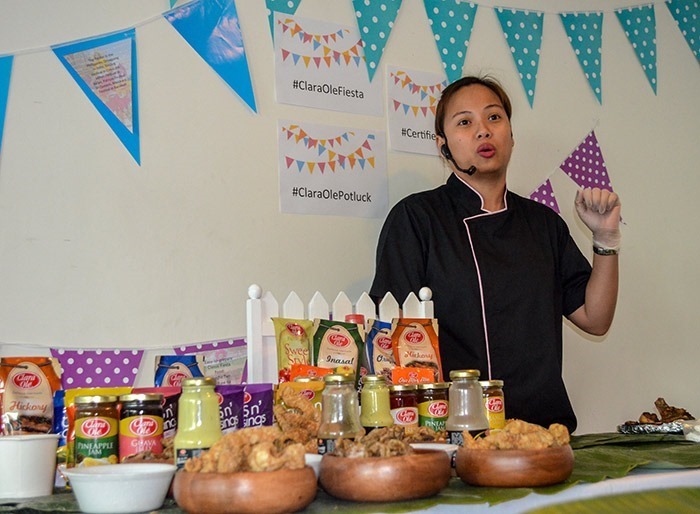 Before we digged in, Ken and I also talked about the dishes he and nanay prepared, and what Clara Ole products we used.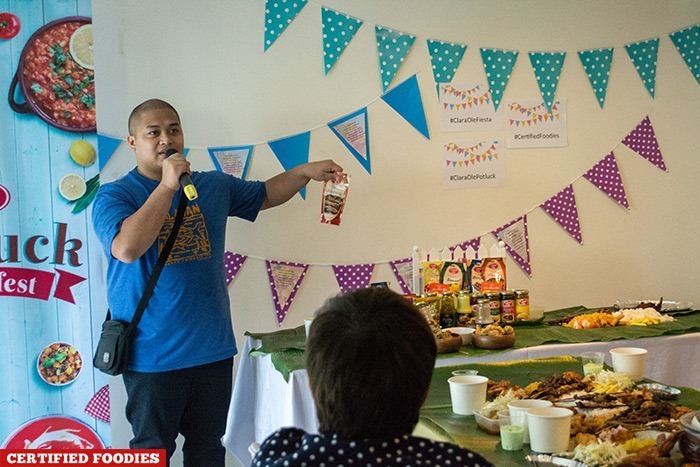 Afterwards… KAINAN NA!! We had an area outside the function room where our guests can wash their hands so they can eat with their hands, but we also had gloves ready.
There were a LOT of food on our tables. I couldn't believe Ken and nanay prepared all that food themselves. Many of the dishes were quite surprising, especially when I saw that he went ahead with the Butterflied Tilapia. 😀 We both agreed that they couldn't have done it without the help of the Clara Ole products that they used, which cut their cooking time in half. 🙂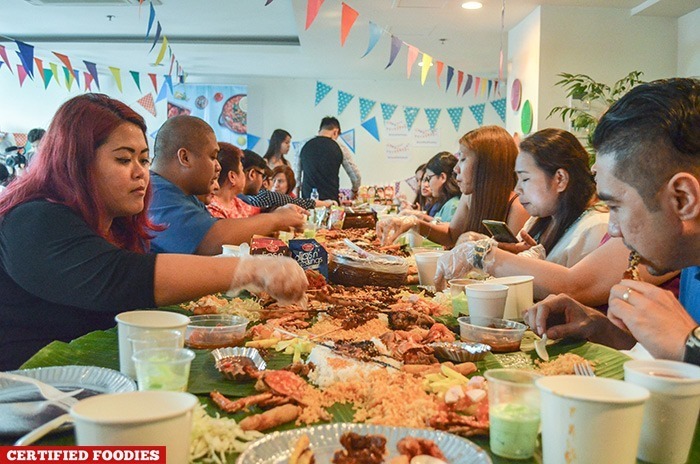 The Clara Ole team brought some chicharon to the party, and we all tried them with the different Dips 'n Dressings flavors, and their salad dressings such as the My, My, Parmesan!. I said, "Beer na lang kulang!" Trust me, you have to try these new combinations next time when you're serving chicharon as pulutan. 🙂
The top favorite dish was Ken's Sautéed Garlic Crabs, in which he used Clara Ole's Filipino Style Pasta Sauce and lotsa garlic. 🙂
The Clara Ole team also brought their own dish to our Potluck party – Balut steak, using Clara Ole Ora Mix Mo Beef Steak. This was also a favorite among our guests.
Another well-loved dish was nanay's Sinigang na Bangus sa Bayabas, using Clara Ole's Guava Jelly. Our nanay was so happy to be introduced to this product because now, she doesn't have to do so much just to get the right amount of guava flavor to her sinigang. I LOVE, love, love her Sinigang na Bangus, which she prepares using boneless bangus. She said she'll prepare the same dish for me when I come home this month. 🙂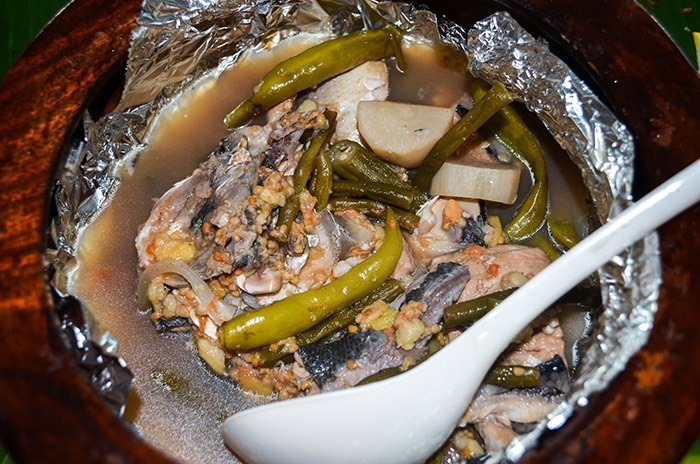 Our friends also liked the punch I prepared, which we served in samalamig containers in line with our Pinoy fiesta-themed party. 🙂 I prepared it with Clara Ole Truly Fruity Blueberry, Maraschino Cherries, plus fruit soda and fruit cocktail.
Each table had their own packs of all the Dips 'n Dressing flavors so they can choose which one they want on their Pinoy salad, and as dips for the other grilled and fried dishes.
Fiesta Fun!
A fiesta won't be complete without the palaro! After our late lunch, it's time for the fun games we prepared for everyone. First, a crowd favorite, Pinoy Henyo. Ken and Amy Perez were the guessers, and each of them had a team of 3. Amy was as funny as I remember. 😀
Ken's team won in the end after the tie-breaker
Next game was the Agawan sa Dahon. It's like Trip to Jerusalem, but the participants are supposed to get one item from the dahon in the center. Each round, one person is eliminated. I chose our nanay to participate. At first, I was afraid she'll get hurt. But after the game, we all realized, we should've feared for the other participants' lives. HAHAHAH 😀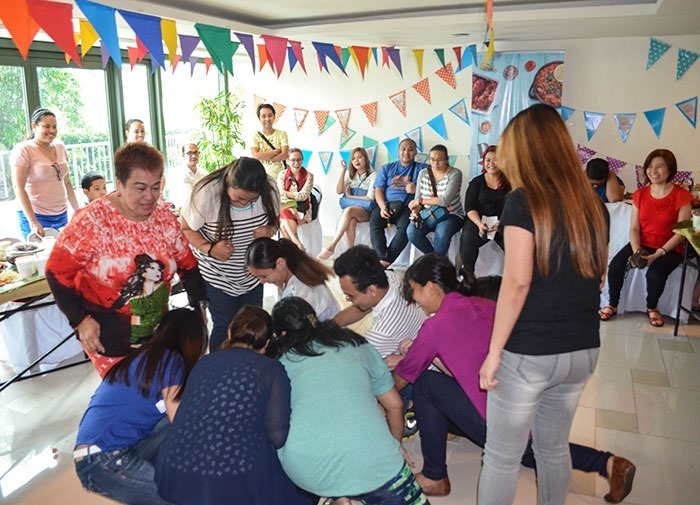 We didn't set any rules, so our nanay ended up making up her own. 😀
We all had a good laugh, and it was actually the first time Ken and I saw that competitive side of our nanay. Later that evening, she also said she didn't know she had that part of her too. What a revelation! 😀
The final activity was a relay game where the participants need to dress up, go around the base at the other side of the room and grab an item, while making sure nothing in their basket is dropped. It was fun to see everyone was competitive. 😀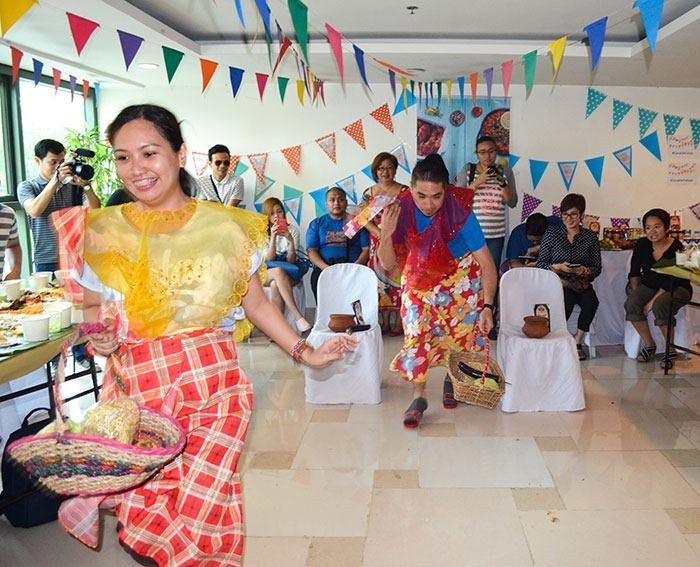 In the end, my best friend's team won. The other team was saying they lost because they all were too thin, so they had to wrap the saya 3 times around each of their waists, so it took them longer to dress up. Told them they should've eaten more earlier para bondat. 😀 Hahaha
Finally, we awarded the winners of the #DiskarTip and Instagram contest, as selected by Amy Perez and the Clara Ole team.
And, the mandatory group photos. 🙂
Ken and I took the time to answer a couple of questions that the Clara Ole followers sent through their social media pages. You can watch the videos on their Facebook page here, here, here and here.
Everyone who attended our party was given a Clara Ole gift pack, so they can all try preparing dishes at home with some of the products we used for our party.
We sure hope all of our friends and fellow foodies had a great time at our #ClaraOlePotluck Fiesta. We're so happy to have been given a chance to share a piece of Malabon and our family with them. Thank you for joining us! 🙂
Finally, of course, thank you so much, Clara Ole, for helping make our party a huge success. 🙂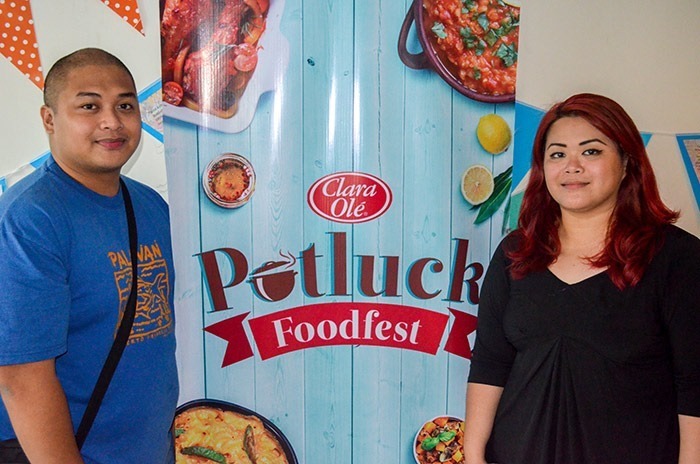 Clara Ole
The following two tabs change content below.
Michelle (aka Mhel / blankPixels) is a social media nerd and works as a Digital Marketing Lead for one of the top online companies in the Philippines. On her free time, she travels, goes on food trip and loves to take photos. She's the main editor of this food blog.
Latest posts by Michelle Ignacio (see all)
Comments
comments