A few weeks ago, we were invited by Sambo Kojin to try their authentic Japanese and Korean dishes at their newest (also the biggest) branch in SM Megamall. Unfortunately, Mhel was unavailable that day because of work, so I asked my longtime foodie friend, Innah, who just came back from Dubai, to join me instead.
Sambo Kojin at SM Megamall
The façade of Sambo Kojin's branch in SM Megamall leaves little clue how spacious and well-lighted it is inside. Once you come in, you'll be pleasantly surprised at how many tables and seats there are. I honestly got lost a few times, trying to get back to our table. That's how big the place is!
All tables are also equipped with smokeless yakiniku grills. How are they smokeless? These grills have special exhausts located at the sides of the grills, which suck the smoke out before its smell sticks to your clothes.
It's also important to note that Sambo Kojin is open the whole day from Friday to Sunday and during Holidays. This means there will be NO breaks in between their lunch and dinner services, making it the perfect venue to celebrate a birthday, a graduation, or an anniversary (or any occasion, really) with your friends and family.
Here you can see the chefs busy at work to make sure all the food on display are replenished in real time.
When we got settled into our seats, a server approached us to ask for our choice of drinks. We were informed that we are free to change our drinks for a different one if we ever feel the need to. (Hooray for that!) After handing us our drinks, the same server proceeded to introduce us to the various condiments and sauces on our table. He eagerly lectured us on what sauce goes best with different kinds of grilled meats and seafood.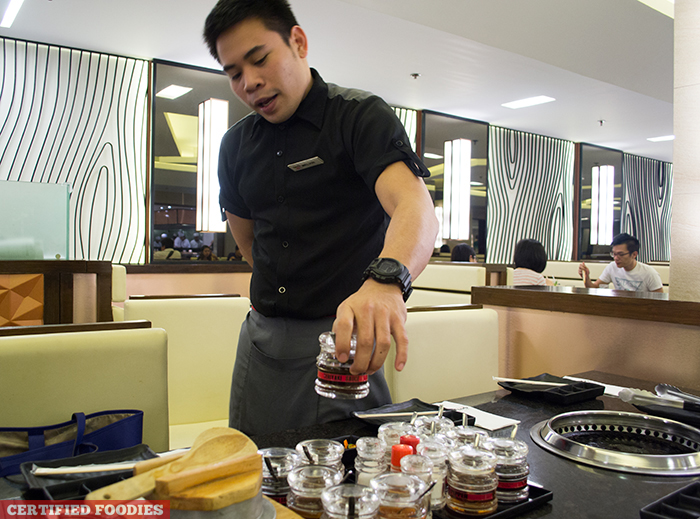 Japanese Sushi and Sashimi Bar
The first section we visited was their sushi and sashimi bar. Sambo Kojin has, by far, the most colorful sushi display among all the buffet places we've been to. And they were even bold enough to try weird flavor combinations like pairing salmon with oranges and kani with kiwi fruit.
They also offer the freshest tuna, salmon, octopus, shrimp, and squid sashimi. The salmon, in particular, had this melt-in-your-mouth feel that was truly irresistible.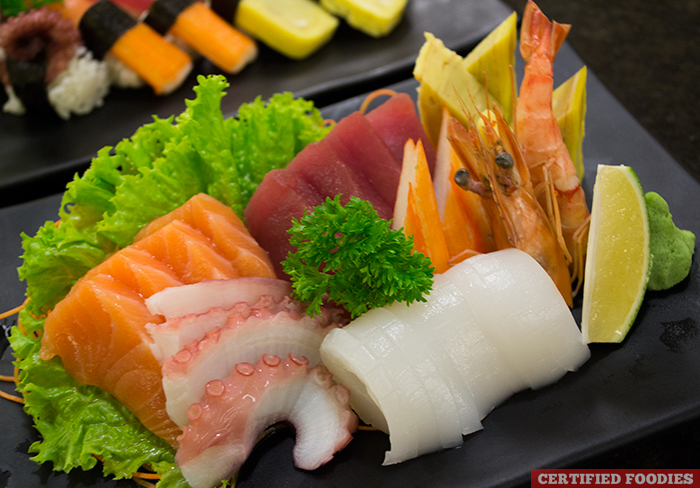 Grilling Section
Sambo Kojin's crowning glory is their expansive display of fresh and seasoned meats, seafood, and vegetables ready for grilling. Here you can find top grade US beef with impeccable marbling. Also at this section, I was able to reach the conclusion that anything wrapped in bacon is bound to be good!
If you're really hungry and you can't wait around for your food to finish cooking on the grill, Sambo Kojin has a special station where a chef will do the grilling for you. I can't count how many times I came here to get some of their bacon-wrapped kani!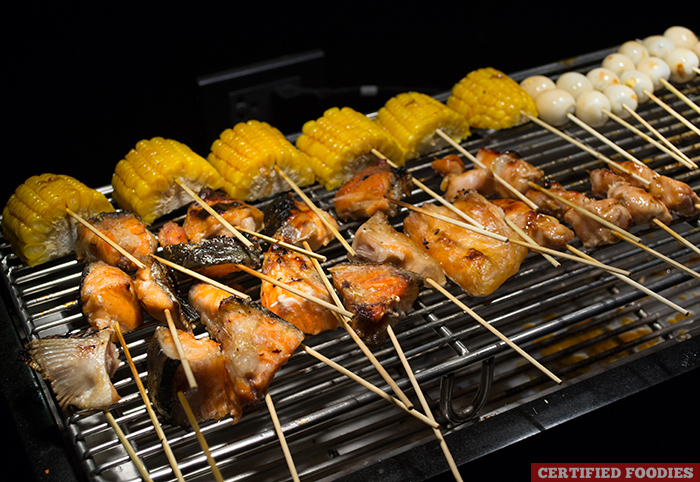 Yakiniku (Smokeless Grill)
After we were done piling our plates with meats and seafood, we went back to our seats to start grilling. Our server came and assisted us with turning on our grill. She placed a big chunk of beef fat on the middle of the hot plate. Once the fat melts, it will serve as a lubricant to prevent our food from sticking to the grill's surface.
We didn't put much thought on placing our food properly on the hot plate until we saw the lady serving the table next to us making a picture perfect arrangement of meats and seafood on the grill. I was so amazed that I just had to come over and take a picture of it.
Authentic Japanese Dishes
Sambo Kojin offers a number of authentic Japanese dishes you can try. My favorite were the Tori Kuwayaki (sweet and spicy chicken) and the Teba Chili (spicy Japanese chicken wings). They were quite flavorful and have this level of spiciness that was quite up my alley.
Another Japanese dish that truly caught our attention was the Takoyaki. It's like a savory cake, stuffed with octopus and topped with bonito flakes, Japanese mayo, and seaweed powder. My sister and I had this phase when we were so addicted with the takoyaki from Ozen Japanese Food in Malabon, so I felt compelled to give Sambo Kojin's version a try. Their version is not cooked all throughout, leaving raw batter inside, but it's exactly how Japanese people do it. It's so good that I believe my friend was able to finish 8 pieces by herself.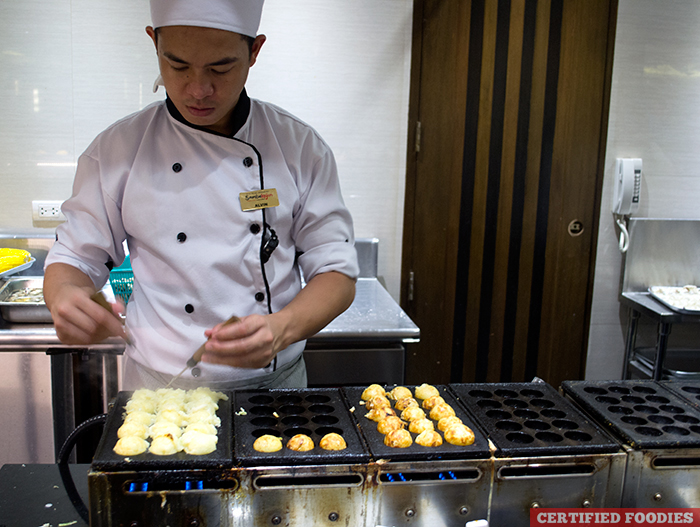 Sambo Kojin also has a Japanese Sukiyaki station if you want something hot to slurp on. They're quite generous with the ingredients they put in the bowls and the broth they use was well-seasoned, too.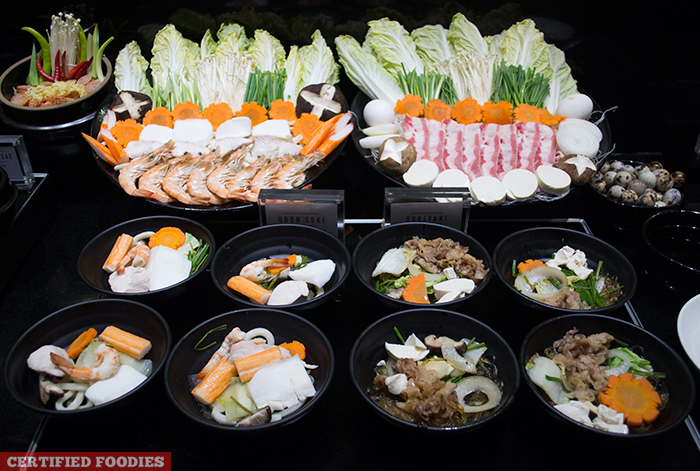 For a buffet place, I was shocked to discover that they serve good tonkatsu here. The pork cutlets were of premium quality, so they were very soft and juicy.
One of the bestselling food items in buffets is the ebi tempura, so people tend to hoard as much as they can whenever they see a new batch on the display. It's a good thing that we came in before noon, so we had the tempura section all to ourselves. Haha! Their ebi tempura is very crispy and not oily at all.
Authentic Korean Dishes
My fascination with Kpop and Korean dramas has led me to develop a keen interest to Korean food. I was surely glad to find some of my favorites at Sambo Kojin. I will never forget the Kanpunggi (chicken) because it was so spicy that I finished a full glass of soda to rid my tongue of its spiciness. Call me a masochist for going back to get a second serving of it. Haha! I can't count how many times I stuffed my mouth full with their beef bulgogi. It was very flavorful and the beef strips were so addictively tender.
Korea has been gaining a lot of buzz in the food industry because of their fried chicken. It's no surprise because their version of fried chicken is very crispy and flavorful. Also, it's not too oily because it gets fried twice – first to cook the chicken and second to render the fat out. At Sambo Kojin, they offer Korean fried chicken in 3 levels of spiciness. I've reached already reach my limit of spicy food that time, so I went for the mildest one, which I really enjoyed.
Dessert Section
Of course, no meal will ever be complete without some dessert! Fortunately, Sambo Kojin has a wide selection of desserts you can try, like halo-halo, ice cream, whole cakes, fresh fruits, and chocolate fondues.
Our top three favorites were their banoffee pie, freshly cooked crepe, and homemade beer ice cream. Yes, you heard me right – beer ice cream!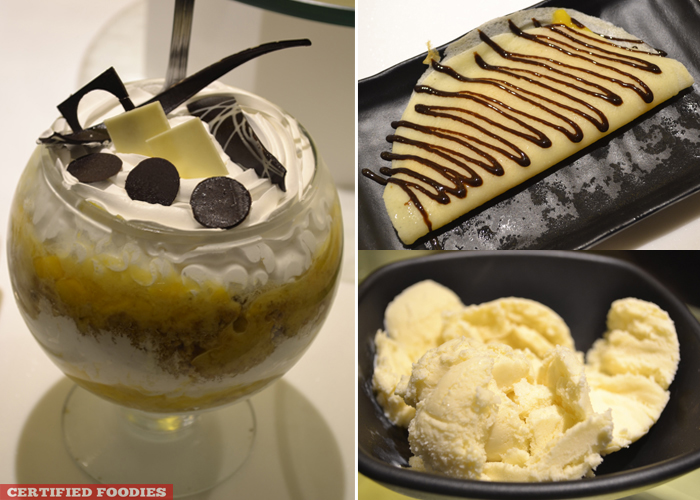 Sambo Kojin Rates
ADULTS
Monday to Friday LUNCH – PHP 649 per head (Special Price)
Monday to Friday DINNER – PHP 749 per head
Saturday – Sunday & Holidays LUNCH and DINNDER – PHP 749 per head
CHILDREN
4 feet to 4'6″ – PHP 330 per head
3 feet to below 4 feet – PHP 280 per head
Below 3 feet – FREE
SENIOR CITIZEN
70 years old and above – 50% off (based on regular adult price)
Sambo Kojin Promos and Discounts
Beat the Clock
From Monday to Friday, pay only PHP 549 for lunch and PHP 659 for dinner when you finish your Sambo Kojin feast before 12:15PM for lunch and 07:00PM for dinner.
Senior Discount
Diners aged 60-69 get 20% discount, while those aged 70 and above enjoy 50% discount when they dine at Sambo Kojin.
Frequent Diner Card
Frequent Diner Card owners are entitled to one (1) Free Welcome Back buffet upon presentation of his card after he procures ten (10) validated dine-ins.
One Free Buffet for a Group of 6
A group of six diners (with 5 full paying adult guests) gets one (1) free buffet upon presentation of the promo card or flyer.
Free Birthday Buffet (of Megamall branch)
Birthday celebrants gets a free birthday buffet if he dines with one (1) full paying adult on actual birthday OR dine in with two (2) full paying adults three (3) days before and three (3) days after his/her birthday.
Sambo Kojin SM Megamall
!! GIVEAWAY ALERT !!
We are giving away THREE (3) Buffet for Two (2) at Sambo Kojin – YES, 3 WINNERS!! (Thanks, Sambo Kojin!) This is an Instagram giveaway, so make sure to follow the mechanics below:
Take a photo with that one person who you'd like to treat to Sambo Kojin's scrumptious buffet spread.
Post it on Instagram and in the caption, tell us why you'd like to treat your loved one.
Make sure to FOLLOW and TAG us – @CertifiedFoodies – and @SamboKojin.
Use the hashtag #certifiedfoodies at the end (see sample entry below).
Giveaway ends on June 28th, Sunday. We'll announce the winners the following week. 🙂
That's it! Here's an example entry to guide you. Good luck!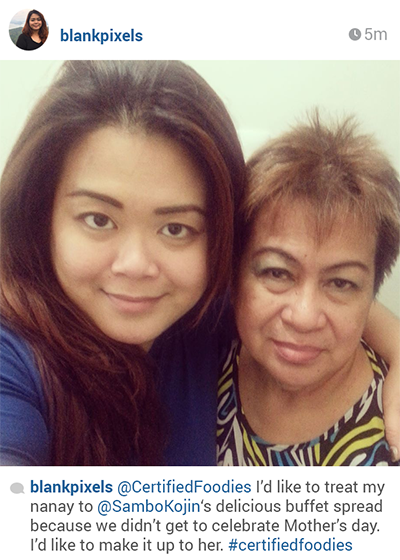 The following two tabs change content below.
Kenneth is the chef in the family (he studied Culinary Arts and Baking & Pastry Art in GCHA). He's responsible for most of the more complicated recipes featured here, and loves preparing pastries and desserts. Aside from being a chef, he's also a Registered Nurse and Midwife. His love for cooking led him to pursue a culinary career.
Latest posts by Ken Ignacio (see all)
Comments
comments