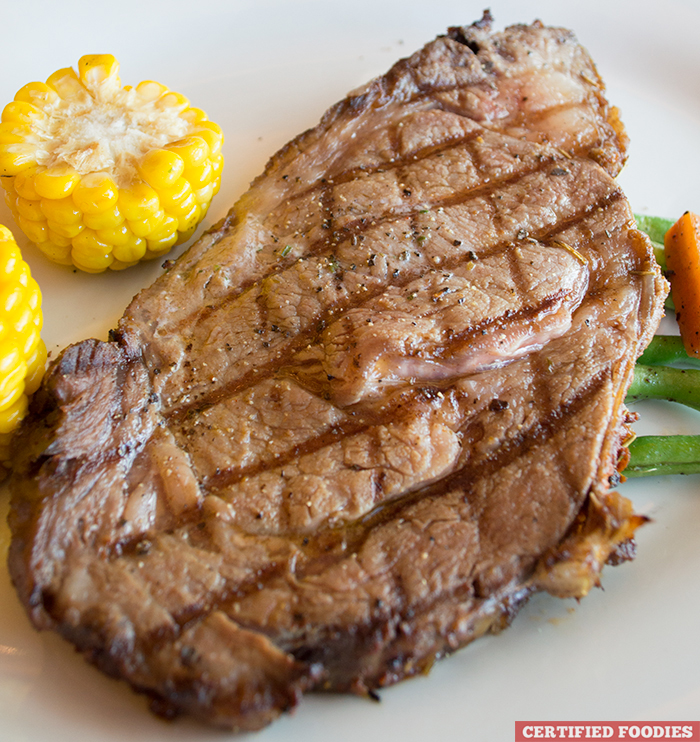 "Is this the same Highlands as the one in MOA?" asked one of the four undecided women who walked into the restaurant while I was busy taking pictures for the blog. After the server who opened the door said yes, the ladies promptly requested for a table for four. – Well, that's the kind of marketing no money could ever buy!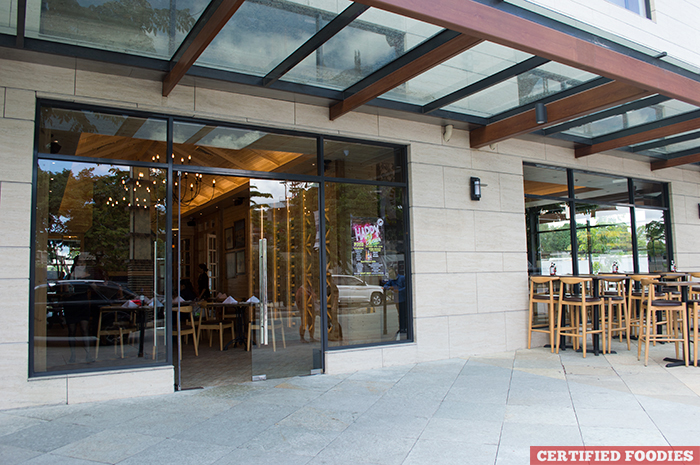 Highlands Prime Steakhouse at SM Mall of Asia has already established its name as one of the best steakhouses in the Metro, so it's no surprise that expectations were ridiculously high when they decided to put up a second branch. Fortunately, their newest branch at Estancia Mall in Capitol Commons, Pasig City did NOT disappoint.
Highlands Prime Steakhouse at Estancia Mall, Capitol Commons
The new place is not as spacious as their MOA branch, but they both sport a laidback country house vibe. It has no direct entrance from inside the mall, so you have to brave the heat outside to get to their restaurant – a minor inconvenience easily compensated by their great food and service.
Their dining area is divided into 4 sections. Coming in from the main entrance, you will be welcomed by tables with cushioned seats on the left and a big display of imported wines on the right. At the far end of the room, stands a fireplace that adds to the modern cabin theme of the restaurant. If you take a left turn from the main entrance, you'll find a small dining area where the restroom and the kitchen are located. The wall leading to the kitchen is made of glass, which gives you a good view to leisurely watch the chefs in action.
We chose to sit at the bar area for it had the best lighting in the restaurant – the perfect spot for taking food photos! At daytime, the place looks like a regular family restaurant, but from dinner until 01:00 in the morning, the place transforms into a hip hangout place with darker lights and even louder music.
Highlands Prime Steakhouse has 3 function rooms, which all can be combined to accommodate up to 80 persons. (For inquiries, you can reach them through the contact details you'll find at the bottom of this post)
The Bestsellers at Highlands Prime Steakhouse
We munched on some homemade complimentary bread with herb butter while waiting for our food and drinks to arrive.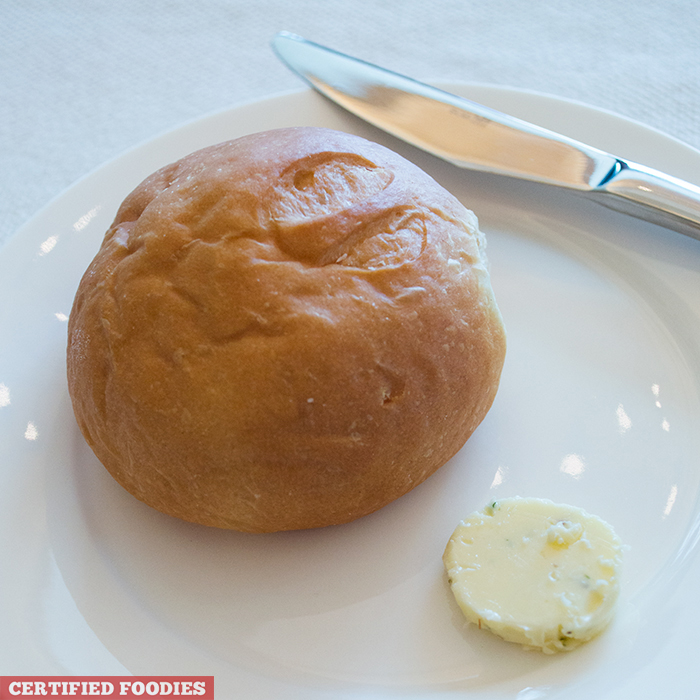 Mhel didn't get enough sleep the night before our lunch at Highlands Prime Steakhouse, so she ordered their Frozen Cafe Mocha (PHP 140). It was surprisingly refreshing and the coffee had a mellow bitterness that will compel you to take another sip. My Nanay made the right choice when she asked for their Fresh Ripe Mango Shake (PHP 140). One sip and it was obvious that they use only fresh mangoes for their shakes instead of taking a shortcut by mixing in mango concentrate. Without looking at their menu, I tried my luck of ordering some Freshly Squeezed Lemonade (PHP 140). Imagine my delight when I found out that they offer it. I even got to choose if I wanted it mixed with plain water or soda. Of course, I went with the soda and it was perfection.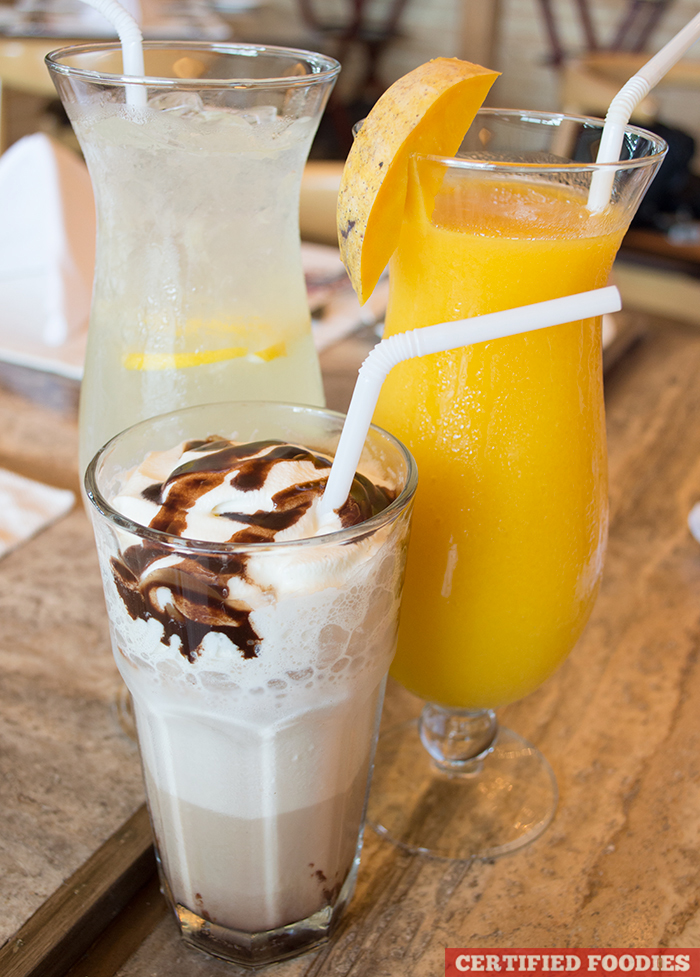 One popular non-steak menu item is the Mushroom Soup with Puff Pastry (PHP 180). It's a bowl of thick and flavorful puree of mushrooms, enclosed in a dome of flaky puff pastry. I took comfort in watching and smelling the steam that escaped the dome after I punctured it with a spoon.
Finally, my month-long craving for spicy wings have been satiated with Highlands' chili and tangy Cowboy Buffalo Wings (PHP 400). It came with a small plate of fries and bleu cheese sauce that did nothing but complement the spiciness of the wings.
We initially wanted to order their Roast Beef Salad, but we decided to settle for the Arizona Summer Salad (PHP 350) when we realized we'll be eating big slabs of meat as our entrée. We needed, at least, one healthy dish on our table. Haha! The salad was a mix of crisp greens and citrus fruit, all tossed with a sweet and delightfully sour strawberry vinaigrette.
When time came for us to select a pasta dish, all intent of limiting our meat dishes failed when we saw that they have Roast Beef Pasta (PHP 400) on the menu. We simply had to try it! Slices of US prime roast beef, mushrooms, oven-dried tomatoes, and al dente pasta, all slathered with Highland's special barbecue sauce made up this dish. It, honestly, needed a little more seasoning, but the doneness of the pasta and the flavor of the beef were both on point.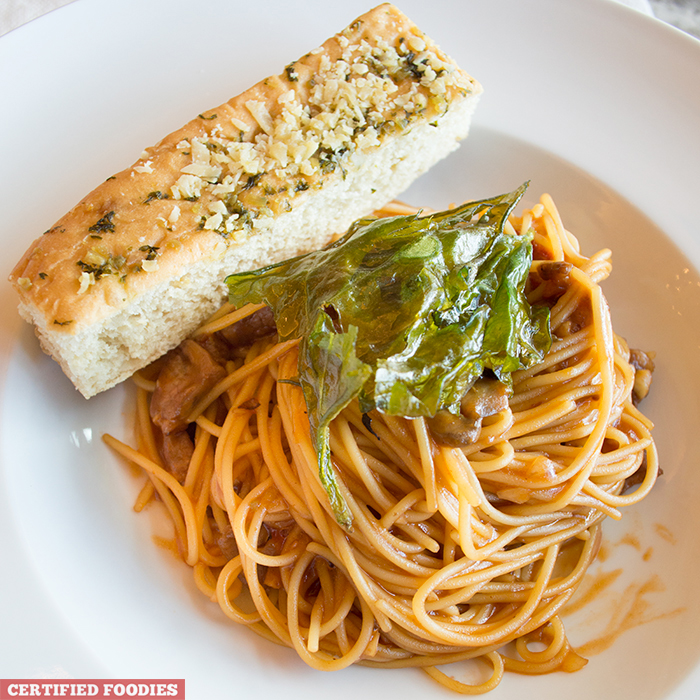 I accepted defeat when Mhel and my Nanay both decided that they will order the Prime Rib. I had no choice but to settle for the 14-ounce US-certified Angus Ribeye Steak (PHP 1,930 or PHP 1,480 for the 10oz), served with a sauceboat of black peppercorn gravy. I can't consider it a loss, really, because the thick slab of meat that landed in front of me was equally flavorful and tender as the slabs of prime rib that my mom and sister have received. I paired my steak with a serving of Rice Pilaf (PHP 100), which was a little too buttery for my taste but was exceptionally well-seasoned.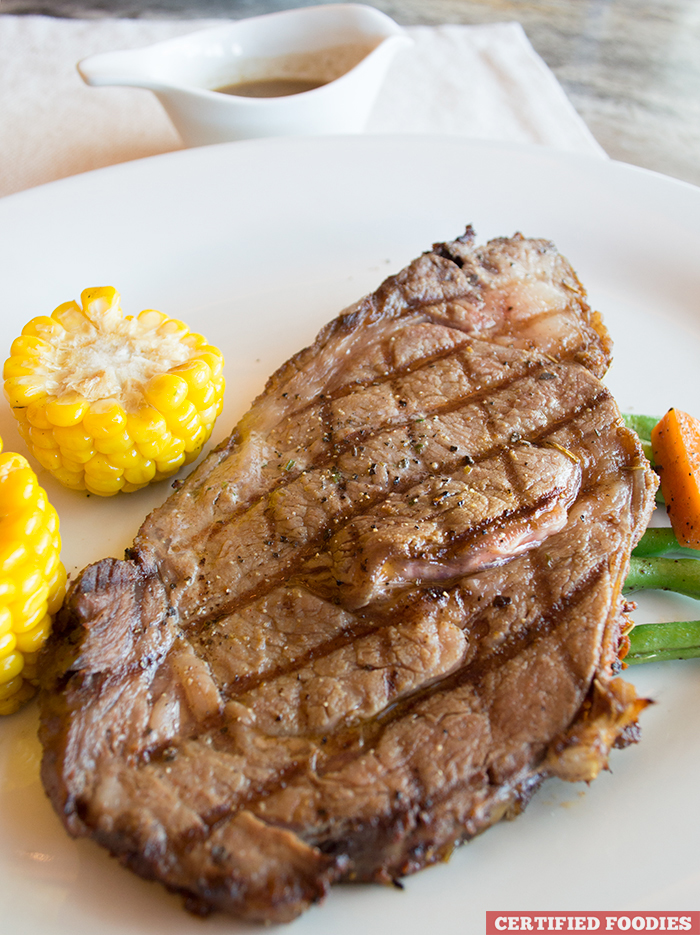 The pride and joy of Highlands Prime Steakhouse is their US-certified Angus Prime Rib Steak (10oz – PHP 1,630 | 14oz – PHP 2,200), also served with black peppercorn gravy by default, but you can easily swap it with mushroom gravy if you want something less spicy. My sister coupled her steak with Steamed Rice (PHP 80), while my Nanay opted for some Garlic Rice (PHP 90) and Garlic Mashed Potato (PHP 100).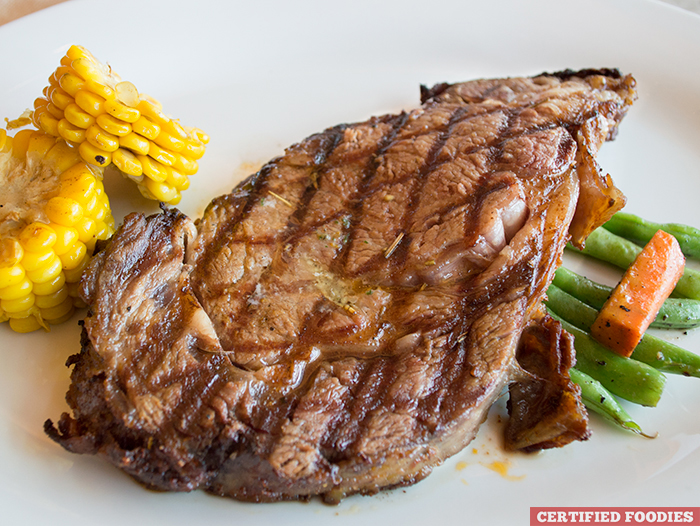 Each prime rib is part of a whole rib that has been slow baked in low temperature, portioned, and then grilled to perfection. There's nothing much you can say about the plating of the steak. It was simply laid on a bed of sautéed vegetables and, on its side, two pieces of corn. But why would you need an intricate plating with a piece of meat this beautiful? Even if it was served solo on a plate, without any garnishing or side dishes, I would love it no less.
We were already full after devouring our steaks and had little room for dessert, so we just decided to share a slice of Cheesecake (PHP 220/slice). We were asked if we wanted it to be flavored with mango, blueberry, or strawberry sauce. We chose the mango sauce. It was exactly how we liked our cheesecake – thick, creamy, and has that irresistible melt-in-your-mouth feel.
I was expecting their Chocolate Lava (PHP 200) to come with a scoop of vanilla ice cream. To be honest, I was a little saddened when I saw that it only came with crème anglaise and a swirl of whipped cream. A simple scoop of ice cream would have provided a good contrast in temperature to an already warm and flavorful chocolate lava cake.
We ended our meal with a tall glass of Iced Coffee (PHP 90). Actually, it was Mhel's order, but it was so good that the three of us ended up taking turns in sipping. It came to no surprise when we learned that coffee bean they use is Douwe Egberts coffee, the same coffee beans being served at KFC and Sofitel Hotel.
Celebrate Father's Day at Highlands Prime Steakhouse
Come celebrate Father's Day on June 21, 2015 (Sunday) at Highlands Prime Steakhouse. All dads will get a free glass of imported wine! Ah, steaks and free wine, it makes me wish I were a dad, too! Haha!
Highlands Prime Steakhouse
The following two tabs change content below.
Kenneth is the chef in the family (he studied Culinary Arts and Baking & Pastry Art in GCHA). He's responsible for most of the more complicated recipes featured here, and loves preparing pastries and desserts. Aside from being a chef, he's also a Registered Nurse and Midwife. His love for cooking led him to pursue a culinary career.
Latest posts by Ken Ignacio (see all)
Comments
comments