It's about time Filipino food got its well-deserved spotlight in the international culinary scene. More and more countries and word-famous chefs are getting interested with our diverse and rich cuisine. Fresh Restaurant at Solaire Resort & Casino has decided to grab this golden opportunity to highlight our culinary heritage by launching their month-long Filipino Food Festival with Chef Sau del Rosario.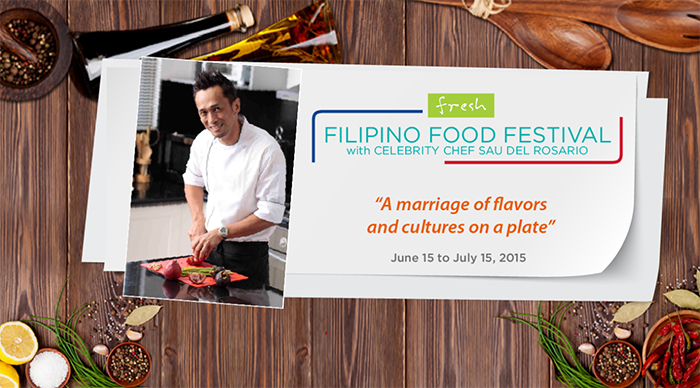 Chef Sau del Rosario x 20 Years of Love & Cooking Book
You're not a true Filipino foodie if you are not familiar with Chef Sau del Rosario. He's practically everywhere – from TV shows, magazine covers, newspapers, and even online. Coming from four generations of native Kapampangan chefs, it's no surprise Chef Sau pursued a culinary career as well. And by 'pursued,' we mean fattening his resume with local and international stints and working with Michelin star chefs like Christian Plumail, Jacque Divellec, and Bruno Loubet. He delves deeper into his 20 years of culinary experience in his recently launched book, "20 Years of Love & Cooking." If you happen to visit Fresh Restaurant during Sunday brunches, they're selling copies of his book, which Chef Sau would be more than happy to sign for you!
Filipino Food Festival at Fresh Restaurant, Solaire Resort & Casino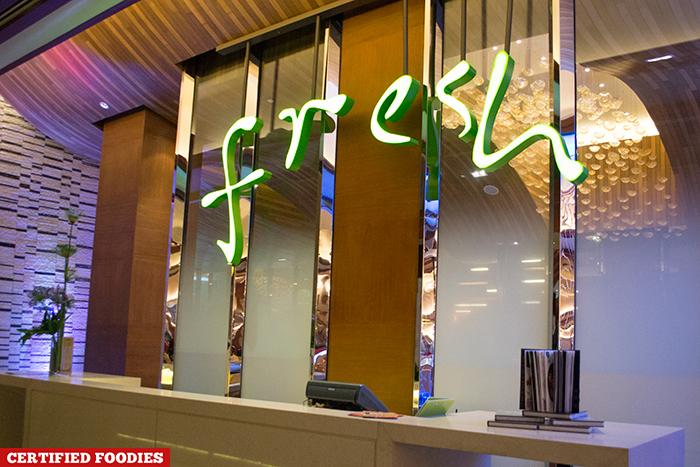 The Filipino Food Festival at Fresh Restaurant features authentic and modern Filipino dishes, prepared by Chef Sau del Rosario. Every week, they are highlighting dishes from various cities and provinces in the Philippines. When we were there, they have invited some Kapampangan ladies to cook native desserts like Barquillos and Pakto. The Barquillos is the perfect topping for ice cream with its crunchiness and sweet-salty flavor. The Pakto, which is coconut shavings rolled inside a crepe, pairs nicely with ube jam or leche flan. We wonder what native dish they will be featuring next!
For refreshments, you get three choices: fresh melon juice, sago with gulaman, or iced tea. It's been a long time since I've had melon juice, so every sip reminded me of our Sunday lunches at our home, which do not happen now as much as before.
And for those who are game enough to gulp down some alcohol, Fresh is offering free-flowing good quality champagne to their guests. How could I say no, right? Haha!
While we're celebrating Filipino cuisine during this food festival, guests can still partake on their favorite Japanese, Korean, and Chinese dishes. Actually, I've been craving for Chinese dumplings that after I was done taking pictures for the blog, I stuffed my first plate with hakaw and siomai.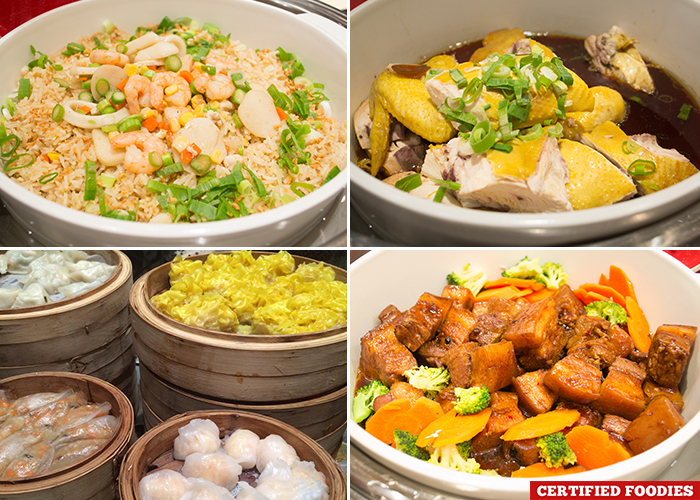 Chef Sau is famous for giving staple Filipino dishes new life. Filipino food are quite simple, but with Chef Sau's little tweaks and adjustments, they are transformed into dishes that can stand at par with other international cuisines.
One prime example is his Foie Gras Sisig. The sisig, a common beer companion in the Philippines, is already teeming with pig cheeks and ears, why not throw in some duck liver and quail eggs in the mix, right? The result was phenomenal and it came to no surprise that it's become his signature dish.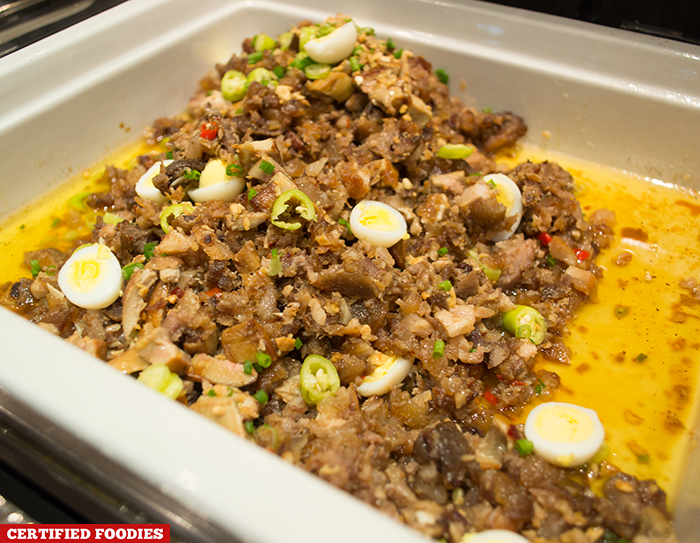 The Foie Gras Sisig may be his signature dish, but the thing that really stole the show was his Lechon Baka (Roast Beef). It's a humungous beef thigh seasoned and roasted to perfection.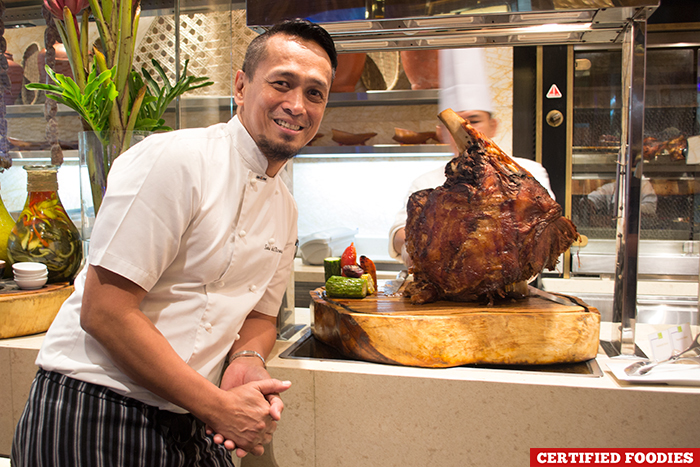 Next to it is another of my favorite—the US Ox Tongue, prepared the pinoy lengua style. Yum!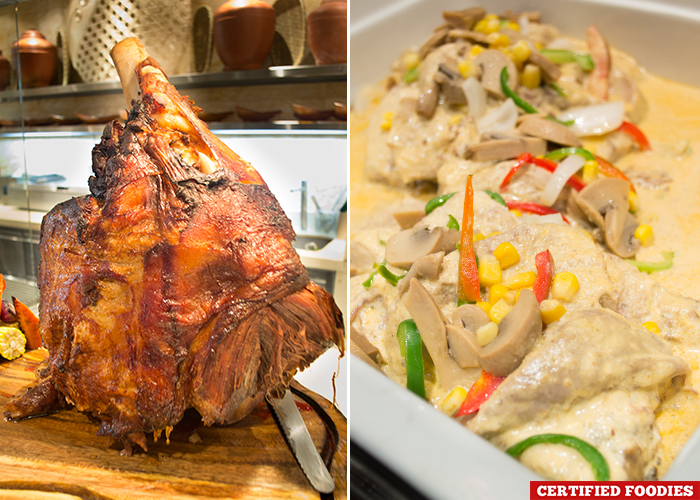 Another showstopper was his boneless Luzon Lechon (Roast Pig). It was seasoned with the simply salt, pepper, and lemongrass. The uber crispy skin was so addicting!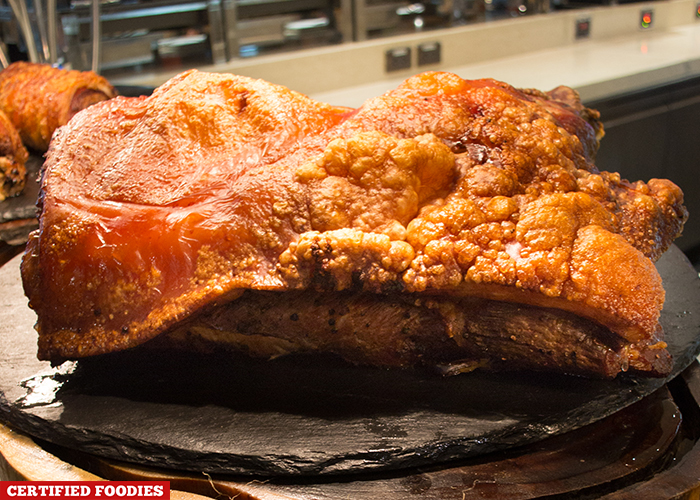 Taking the runners-up position were the Visayas and Mindanao Lechon. The Visayas Lechon was a roll of crispy, boneless pork belly stuffed with dried mangoes, while the Mindanao Lechon was stuffed with Malagos table chocolate and cheese. A weird combination—yes—but it actually worked!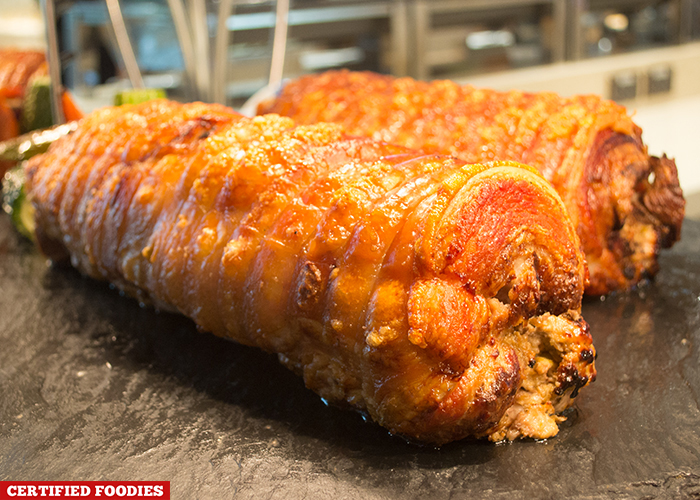 With Chef Sau's Pork Bagnet Macadamia Kare-Kare, he fused the pride of Ilocos—bagnet—with another favorite Filipino dish—the Kare-Kare—and gave it a little international flair by adding some Macadamia.
The grilling station at Fresh Restaurant is one of the busiest sections in the buffet, where they're pushing out big and succulent slipper lobsters and prawns. I actually had a hard time getting a decent pic of the lobsters, since a batch of lobsters doesn't last more than 5 minutes on display.
Filipinos have an unending love affair with sweets and the dessert station at Fresh Restaurant is a big testament to that! Enjoy a variety of desserts from homemade ice creams, whole cakes, pastries, and fresh fruits.
My favorite was the Halo-Halo station since I can customize it to my liking, which is actually a few cups of crushed ice and big dollops of ube jam and leche flan.
Filipino Food Festival at Fresh Restaurant
Sunday Brunch 12:00 – 03:30 PM
PHP 2,400++ with free-flowing champagne
Daily Dinner 05:30 PM – 11:00 PM
Sunday – Thursday: PHP 2,100++
Friday, Saturday, and Holidays: PHP 2,600++
Fresh Restaurant at Solaire Resort & Casino
G/F Solaire Resort & Casino, 1 Asean Avenue, Entertainment City, Tambo, Paranque, Metro Manila
The following two tabs change content below.
Kenneth is the chef in the family (he studied Culinary Arts and Baking & Pastry Art in GCHA). He's responsible for most of the more complicated recipes featured here, and loves preparing pastries and desserts. Aside from being a chef, he's also a Registered Nurse and Midwife. His love for cooking led him to pursue a culinary career.
Latest posts by Ken Ignacio (see all)
Comments
comments