I remember when we were still kids, our nanay wakes up really early in the morning to prepare our baon for school. Ken and I usually didn't know what she prepared for us, and we'll just be pleasantly surprised come recess time. I guess that's why we always look forward to opening our lunchboxes during our breaks. She always makes sure we have something to eat that's not just delicious, but will also energize us for the rest of our school day.
I'm sure many moms would agree that a good baon is vital during school days. I'm seeing a lot of moms getting creative with their kids' baon nowadays. If you're one of them, and you need a little inspiration, we've got a few ideas for you. We used 2 well-known products from Mondelez Philippines for these recipes.
If this is your first time hearing about Mondelez (pronounced 'mohn-dah-leez', meaning 'delicious world'), their company was formerly named Kraft Foods. The company has been around for decades and they're behind familiar brands like Oreo cookies, Tiger Energy biscuits, Tang, Eden Cheese, Cheez Whiz, Cadbury, and Toblerone. If you check their website, you'll find delightful recipes for fun baon ideas for your kids.
Ken and I love putting a twist on our favorite dishes, and we did exactly that with the recipes below using Tiger Energy Biscuits and Oreo cookies, which are already good baon as is, but we thought of other creative treats you can make with them. These snacks / baon bites will surely give you a boost of energy, so it's not just great for kids, but also fun snacks to take with you to the office or as merienda at home. Let us know once you've tried these recipes, okay? Enjoy! 🙂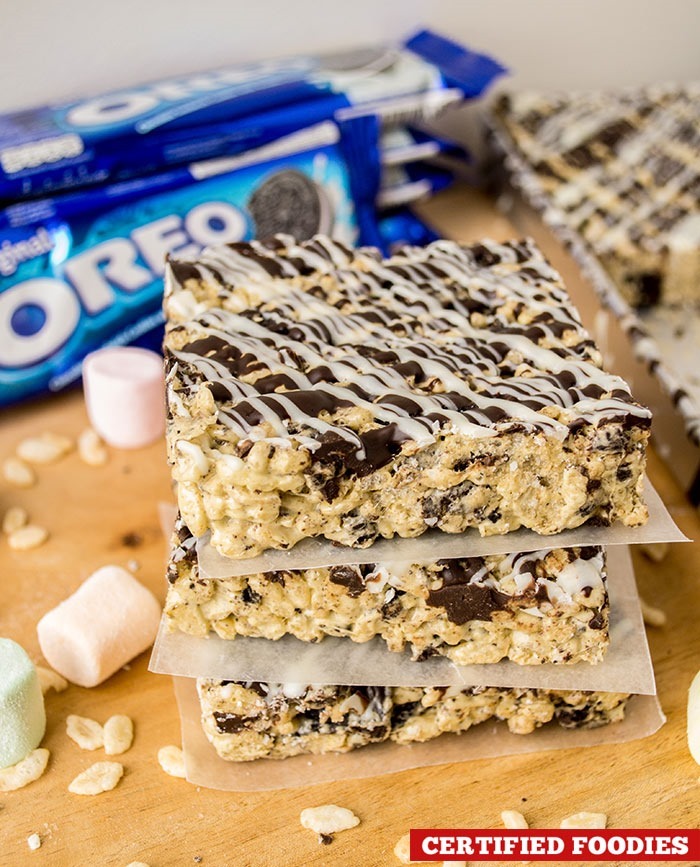 No-Bake Rice Crispies Bar with Oreo Recipe
INGREDIENTS:
12 oz. Small Marshmallows (340 grams)
3 tbsps. Butter (42 grams)
1 tsp Vanilla Extract
5 cups Rice Puffs / Rice Crispies
24 pcs Oreos (crushed)
1/3 cup Dark Chocolate (60 grams)
1/3 cup White Chocolate (60 grams)
You can use Cadbury for this recipe. 🙂
1 tbsp. Butter (for greasing pan)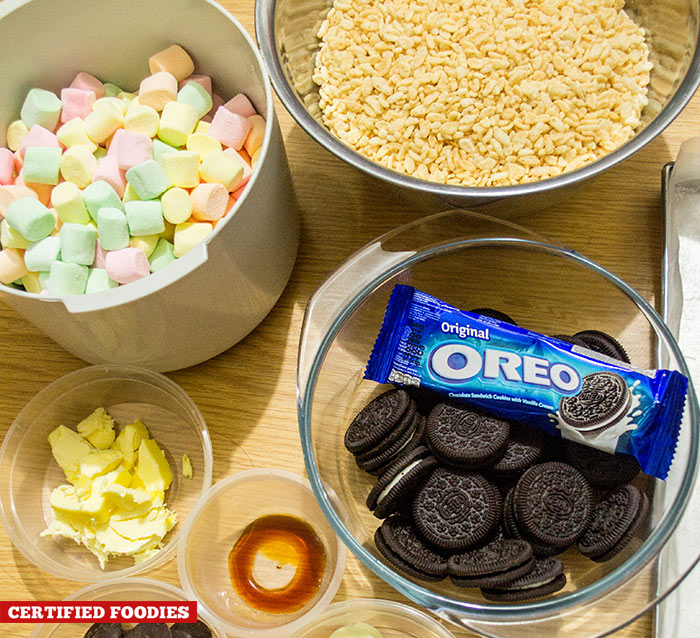 PROCEDURE:
1. Grease an 8×13-inch pan with melted butter using a pastry brush. I originally wanted to use baking paper instead of spreading butter onto the pan. I realized my mistake when I poured the mixture into the pan. The baking paper got torn when I tried to spread it evenly.
2. Put all the marshmallows and the butter (3 tbsps.) in a big microwaveable bowl. Melt them together for 1 minute, then mix well. Pop it in the microwave for another 20 seconds to make sure all the butter and marshmallows are melted and well-mixed. The butter will take more time to melt than the marshmallows, so make so to check that all the butter has already melted.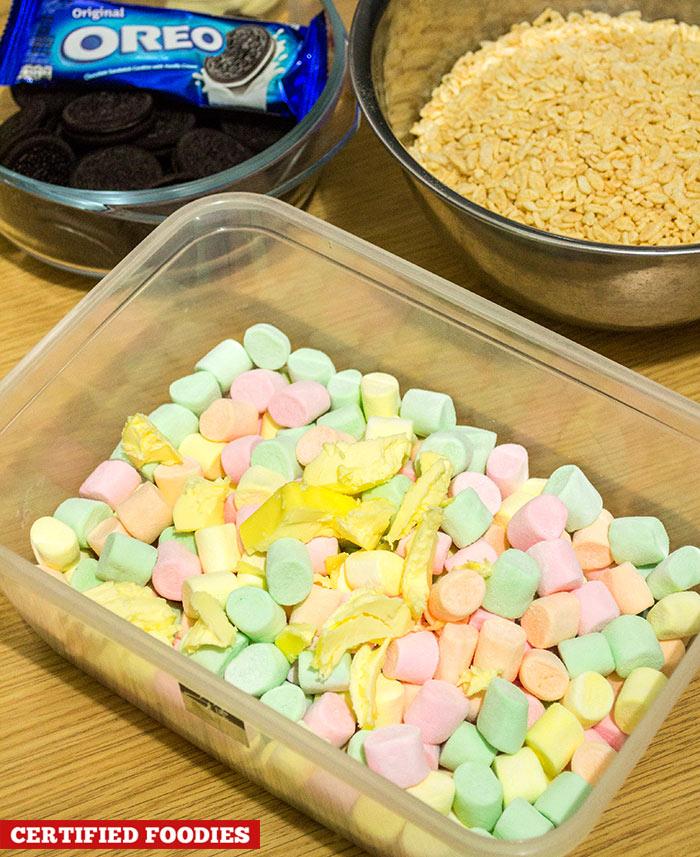 3. Mix in the vanilla extract.
4. Immediately pour and fold the rice puffs into the mixture. It's going to be a little challenging to folding the rice puffs into the mixture. Don't worry though. You can reheat them into the microwave for 15-30 seconds when the marshmallow mixture starts to harden.
5. Fold in the crushed Oreos. Again, you can pop the mixture into the microwave for a few seconds to soften it, making it easier to mix.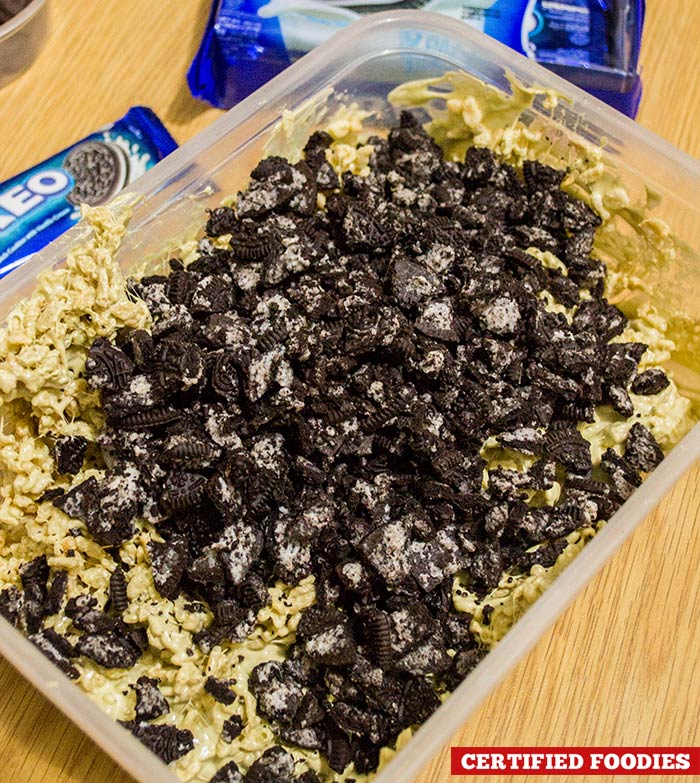 6. Pour the mixture into the greased pan and press it evenly until level. You can use an offset spatula to make sure the mixture is flat and even on the pan. I found that it's also easier to use your hands to pack the bar tighter into the mold.
7. Allow to cool in the refrigerator.
8. Melt dark chocolate in the microwave for 15 seconds. Remove and mix. Repeat until all the chocolate is melted.
9. Pour the melted chocolate into a piping bag or Ziploc bag. Cut a small hole at the tip using a pair of scissors. Drizzle the chocolate onto the cooled Oreo Rice Crispies Bar.
10. Repeat the procedure with the white chocolate.
11. Cool the Oreo Rice Crispies Bar in the fridge for 30 minutes.
12. Slice the whole bar into squares or your preferred shape and sizes. Serve and enjoy! 🙂
Tiger Energy Biscuit Smoothie
This smoothie can be prepared as baon by freezing it so you or your kid can enjoy a cool, energy-boosting drink for your break time. 🙂
INGREDIENTS:
1 cup Full-Cream Milk
1 cup Ice Cubes
2 pcs Frozen Bananas
1/2 cup or 2 packs Tiger Energy Biscuits (crushed)
2 tbsps. Sugar Syrup (1 tbsp sugar + 1 tbsp water) or Honey
1 tsp Tiger Energy Biscuits (for garnish)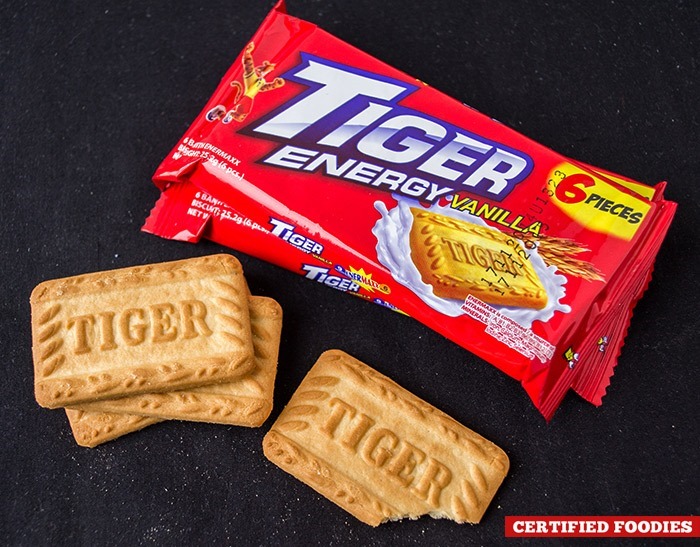 (Tiger Energy biscuits are packed with 9 vitamins and minerals too, by the way!)
PROCEDURE:
1. Mix 1 tbsp sugar and 1 tbsp water in a container until no sugar granules are left. You can swap the sugar syrup with honey if you like.
2. Combine all ingredients in a blender. Blend for 1 minute or until your desired consistency has been reached.
3. Pour the smoothie into a glass or a mason jar.
4. Sprinkle ground Tiger Biscuits on top for garnishing. Serve and enjoy!
5. If you're going to take it to school or at work, freeze the smoothie in the freezer overnight or at least 6 hours. That would be enough to keep it cold until lunch time. 🙂
The following two tabs change content below.
Michelle (aka Mhel / blankPixels) is a social media nerd and works as a Digital Marketing Lead for one of the top online companies in the Philippines. On her free time, she travels, goes on food trip and loves to take photos. She's the main editor of this food blog.
Latest posts by Michelle Ignacio (see all)
Comments
comments