Exactly a week from now, we will be celebrating the day of the most important woman in our lives. Since no amount of money can ever match how much hard work our mothers have put into raising us, one way we can repay them is by making them enjoy a truly relaxing experience they will never forget, like treating our beloved "MOMspiration" to an amazing Mother's Day weekend at Discovery Country Suites in Tagaytay City.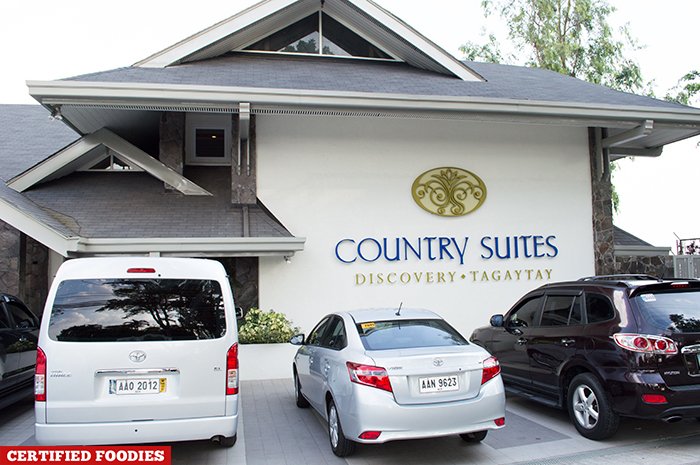 MOMspiration at Discovery Country Suites
Give your mother the ultimate royal treatment with an overnight stay at any of the Deluxe, Premiere, and Master Suites that all come with country breakfast and 60-minute massage sessions for 2 persons, wine and cheese sundown cocktails, and a 10% discount on food and beverage at Restaurant Verbena. You are also free to use their Jacuzzi with a beautiful view of the Taal Lake.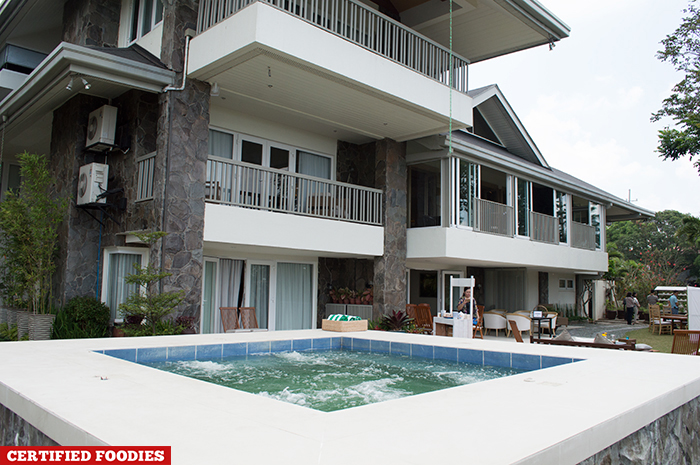 Deluxe Suites (Andalucia, Saint Tropez, and Ceylon)
We were given a tour at one of their Deluxe Suites, the French-inspired Saint Tropez Suite, which features two queen-size beds, a spacious bathroom, and an impeccable view of Discovery Country Suites' garden.
A night at any of their Deluxe Suites starts at PHP 8,838 nett, including all the services and amenities mentioned above.
Premiere Suites (Nara, Siam, and Nantucket)
Go oriental at one of their Premiere Suites, the Japanese-inspired Nara Suite, which comes with a king-size bed, an adequately spaced bathroom, and a quick access to the garden.
You can book their Premiere Suites starting at PHP 10,066 nett per night.
Master Suite (Oxford)
If you really want to impress your mom, book them a night in the best room of the house—the Master Suite.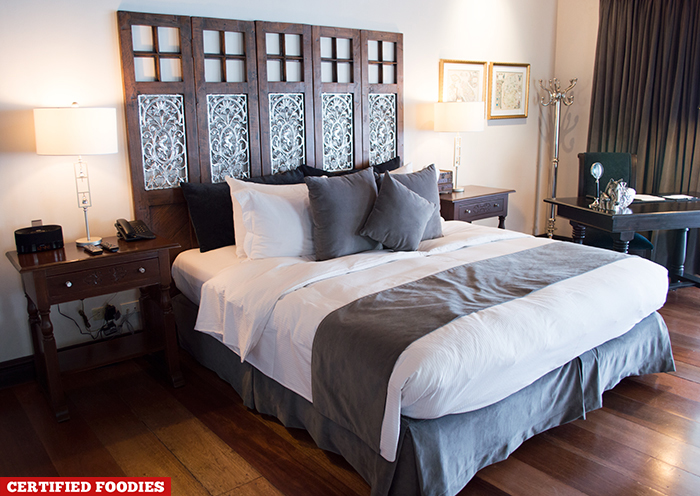 It's the most recommended room by TripAdvisor users because it's the only room with a working fireplace, an excellent view of the Taal Lake, and an uber spacious bathroom with his-and-her sinks, a bidet, and a bathtub big enough to fit 2 persons.
A night at the Master Suite starts at PHP 13,503 nett.
These rates are applicable from Sunday to Thursday with an additional charge of PHP 2,500 nett for Friday to Saturday bookings. This offer is valid from May 1 – 15, 2015.
Please, take note:
Rates are quoted in Philippine Pesos and subject to applicable government taxes and 10% service charge.
Extra person charge is PHP 1,500++
Children 12 years old and below will be free of charge when sharing room with parents (Maximum of 2 adults and 2 children in a room)
Mom at the Movies
People checking in on May 9 – 10, 2015 can join the "Mom at the Movies" event at 6:30PM at the Discovery Country Suites garden. They have set up an outdoor movie lounge, where they will screen only the best mommy-related films. Guests will also get free popcorn and refreshments!
Non-hotel guests can also join in on the fun at only PHP 250 nett per person.
Celebrate Mother's Day at Restaurant Verbena
Restaurant Verbena of Discovery Country Suites, one of Tagaytay's hottest food destinations, has cooked up a special a la carte menu for Mother's Day. The new dishes all have Western influences, but the ingredients are purely local, from Benguet's fresh strawberries to pineapples, which are abundant in Tagaytay.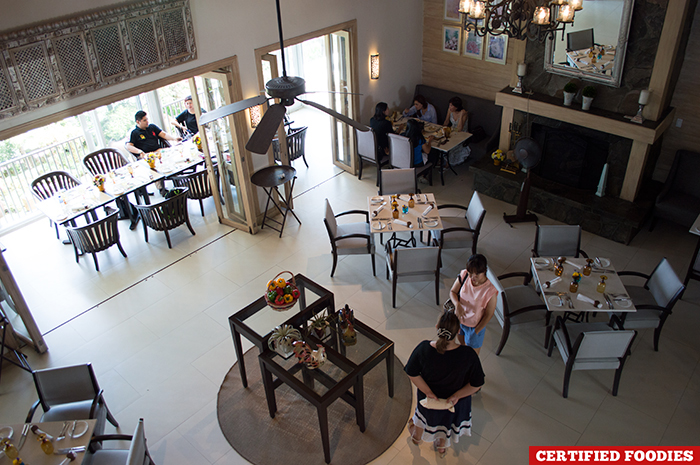 I was quite elated that we were welcomed with some refreshingly cold Calamansi-Ginger Juice, since it was obvious that Tagaytay was not spared from the summer's scorching heat. The flavor combination was something I've never tried before, and I was quite surprised how it worked perfectly.
Calamansi-Ginger Juice
Our meal at Restaurant Verbana kicked off with their complimentary bread, which is a pre-sliced loaf of baguette with peperonata rustica, herb butter, and tomato bacon jam as dips. My favorite dip, of course, was their tomato bacon jam. I really hope they would sell them in bottles soon because I would surely hoard as much as I can.
Complimentary Baguette with Herb Butter, Peperonata Rustica, and Tomato Bacon Jam Dips
We were served next with a platter of their mouth-watering Strawberry Fields Salad. It's a mix of micro greens, apples, fennels, Benguet strawberries, candied walnuts, and bleu d'auvergne cheese, drizzled with a sweet and tangy raspberry vinaigrette. With its good play in contrasting textures and flavors, it's the perfect salad to jumpstart your appetite.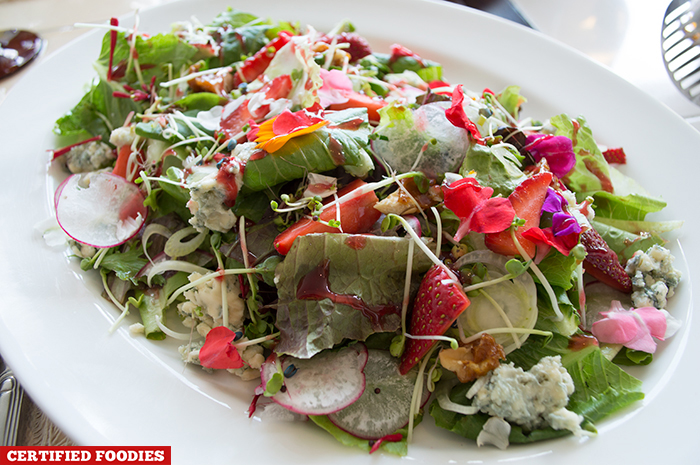 Strawberry Fields Salad
Restaurant Verbena's Herb Roasted Chicken has not landed yet on our tables but its enticing aroma seriously made my stomach grumble. The roasted chicken was served to us whole on a bed of baby carrots, marble and sweet potatoes, and red beets.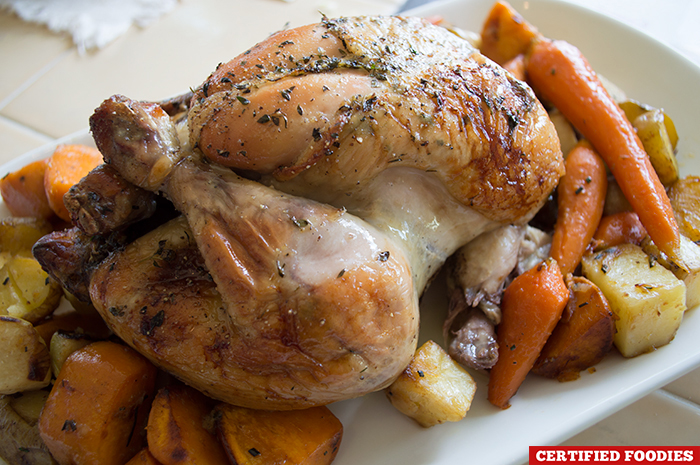 Herb Roasted Chicken
The servers gave us a big, warm plate with a generous dollop of mashed potatoes and roasted vegetables—the perfect companions for the succulent chicken we were all enjoying.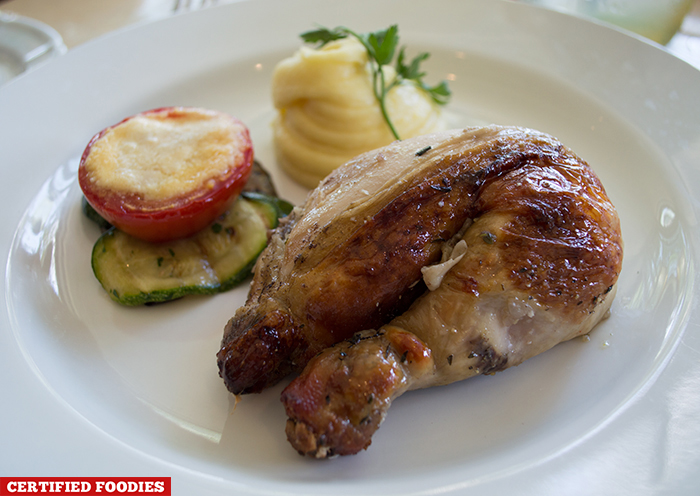 If you're craving for pasta, their Crustacean Penne Au Gratin is your best choice. Its creamy sauce is made with a combination of crab and shrimp meat, and it's topped with browned to perfection Emmenthal cheese.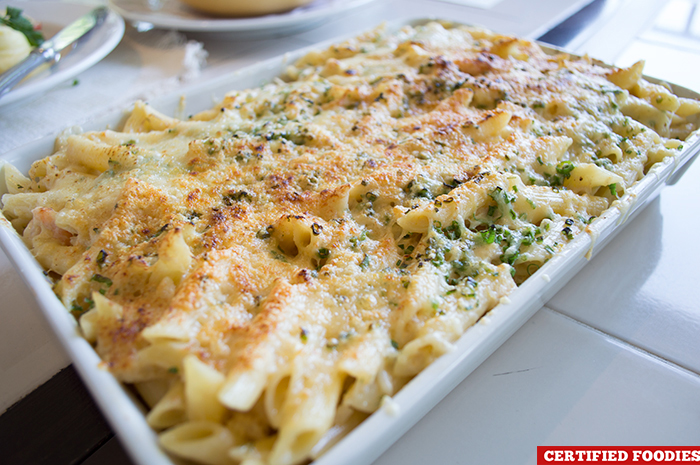 Crustacean Penne Au Gratin
Seafood lovers would surely go crazy over the Mediterranean Seafood Bouillabaisse from Restaurant Verbena. The subtle tanginess of wine is noticeable in its well-seasoned broth, and the assortment of seafood they have used are of the highest quality and flavor.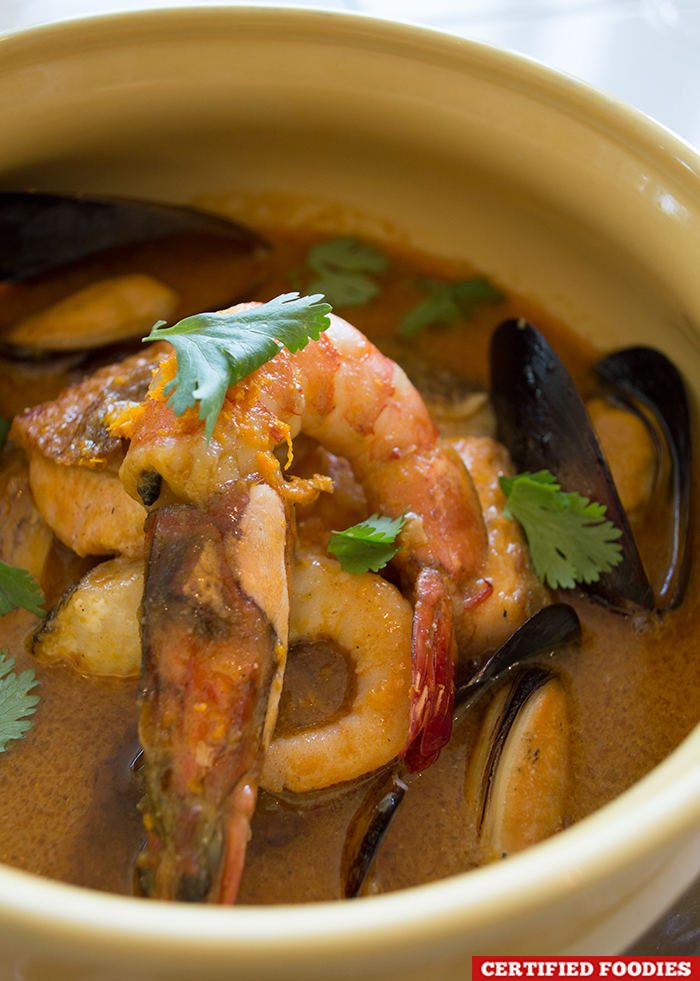 Mediterranean Seafood Bouillabaisse
It's a unanimous decision! Our favorite among all the dishes that were served to us was their Bacon-Wrapped Pork Tenderloin Stuffed with Truffle Mushrooms. I don't usually enjoy dishes with truffle oil because most other restaurants go overboard with it, overpowering what could have been some incredible dishes. It's the exact opposite with Restaurant Verbena's execution of this dish. They made the truffle oil a subtle touch that will surely make you crave for another bite. I can only say good things with the local pork tenderloin they have used. It was soft and aptly seasoned.
Bacon-Wrapped Pork Tenderloin Stuffed with Truffle Mushrooms
Of course, no meal will ever be complete without dessert. Restaurant Verbena has outdone themselves by setting up a big dessert buffet spread, where diners can savor homemade quality cakes and pastries.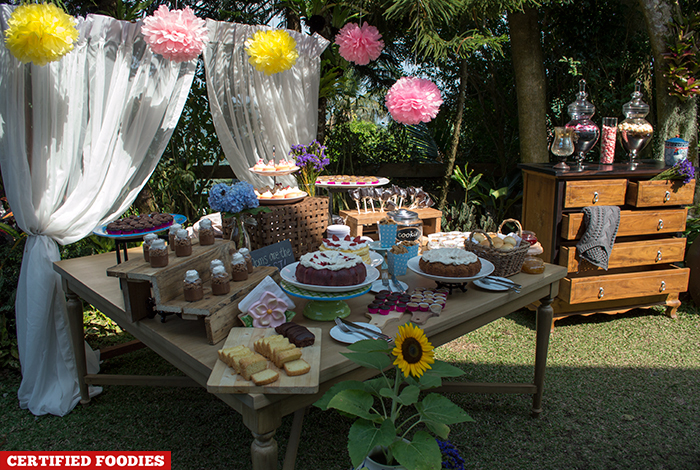 My top 3 favorite desserts were the Chocolate Crumble, Strawberry Shortcake, and Red Velvet Cake. The Chocolate Crumble is a layering of dark chocolate mousse, crumble, and whipped cream inside a small mason jar. I loved it because it was not overly sweet, making me less guilty about finishing 2 servings of it. The same is true with their Strawberry Shortcake and Red Velvet Cake. They were not too sweet at all and they were palatably moist.
If you're still on the lookout for a place where to celebrate Mother's Day, consider pampering your moms at the cool and breezy Discovery Country Suites in Tagaytay City. Not only is it 2 hours away from Metro Manila, they have also prepared exciting activities and a special menu at Restaurant Verbena that your mom and your family will surely enjoy.
Discovery Country Suites
300 Calamba, San Jose, Tagaytay City 4120 Philippines
The following two tabs change content below.
Kenneth is the chef in the family (he studied Culinary Arts and Baking & Pastry Art in GCHA). He's responsible for most of the more complicated recipes featured here, and loves preparing pastries and desserts. Aside from being a chef, he's also a Registered Nurse and Midwife. His love for cooking led him to pursue a culinary career.
Latest posts by Ken Ignacio (see all)
Comments
comments