McCormick has proved once again that they know the perfect recipe for an epic party – food, music, arts, and booze – at the first (hopefully, not the last) McCormick Flavor Nation Festival, held at the Activity Center of Bonifacio High Street in Taguig City last May 16, 2015.
McCormick Flavor Nation Festival
Dubbed as the biggest foodie event of this summer, McCormick Flavor Nation Festival was a celebration of more than a decade of the Filipinos' patronization of the reliable line of products by McCormick. It was obvious: brand recognition was not the target of this this event. McCormick is already a household name, and we're all familiar with their herbs and spices. In fact, there are usually sections in supermarkets dedicated solely to displaying McCormick products. This gastronomic festivity was actually geared to introducing loyal customers to unique and surprising ways of using McCormick products to elevate the flavors of food and (who knew?) even drinks!
For PHP 150, attendees were each given an Event Passport and a complimentary McCormick Starter Pack loot bag, containing select McCormick products worth PHP 100 and a copy of the February 2015 issue of Appetite Magazine.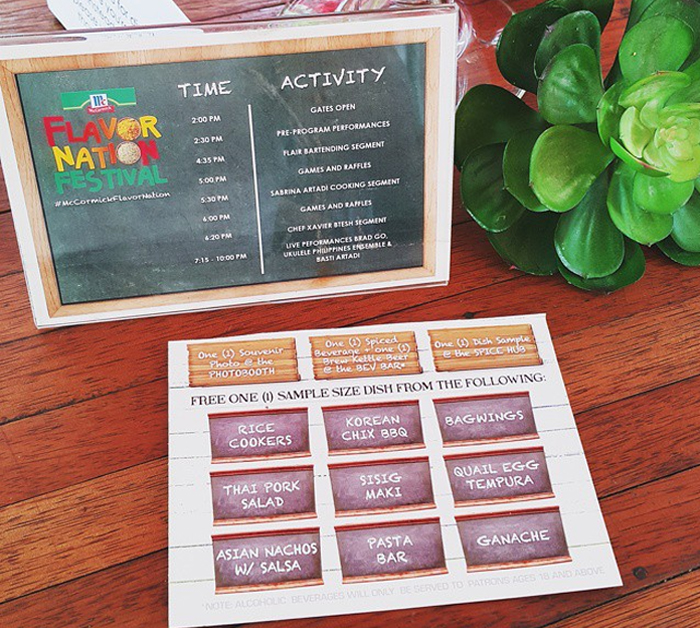 Photo grabbed from Jill of @TheFoodScout
The Event Passport gave us access to savor sample size dishes from all 10 participating concessionaires, taste drinks prepared by the resident mixologist, watch live musical performances, and get a chance to win amazing prizes from their on-site raffles and contests.
McCormick Infused Dishes
The first purveyor that I visited was Fived Rice by Chef John Reyes, featuring the chef's interpretation of the three variants of McCormick Rice Cookers – Biryani Rice, Nasi Lemak Rice, and Hainanese Rice.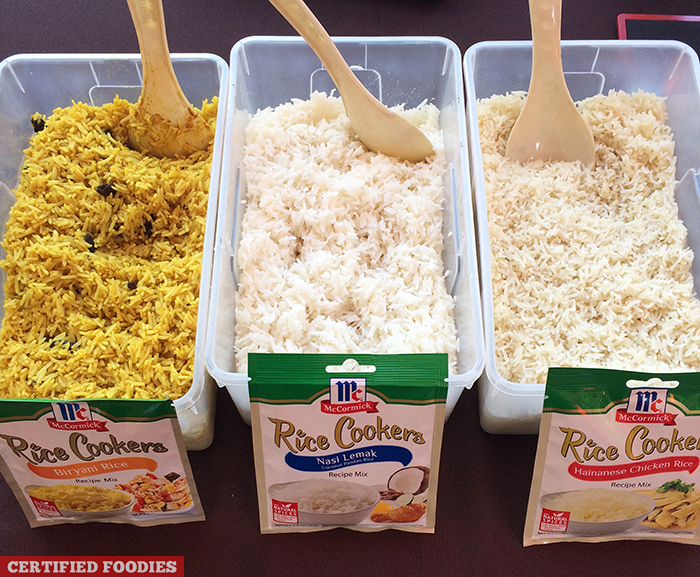 My favorite among the three was the Biryani Rice for its appetizing color and bold flavor. Plus, it was topped with raisins and cashew nuts, giving the rice dish an interesting texture.
The Korean Chicken Barbecue from The Loud Chef by Chef Jojo Violan was a welcome surprise. I had no idea that McCormick had Korean Fried Chicken (KFC) recipe mix. A single bite into the tender and saucy chicken barbecue had me convinced to bump this recipe mix up my grocery list.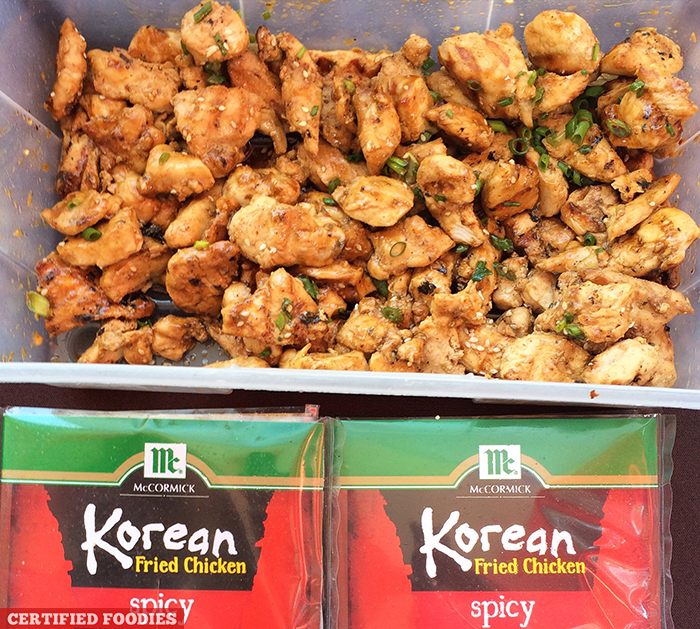 When I approached the Bagwings table, I saw who I believe is Chef Jaycee Recto. He sized me up with one look and said, "Dadagdagan ko yung sa'yo." Who am I to turn down that offer, right?
I was handed a small plate with a few slices of bagnet and a huge piece of Buffalo wing, coated with the barbecue-flavored McCormick Buffalo Wings sauce. The two other flavor options were the teriyaki and the classic screamer. I would normally pick the spicy one, but it was 40 degrees out that time and I didn't want to soak my T-shirt wet with sweat. (Well, that rhymed!)
Chef Jaycee's succulent bagnet went through a three-step process (roasting, chilling, and deep-frying), resulting to a crunchiness similar to the iconic bagnet from Ilocos and flavor comparable to Cebu's lechon.
If someone asks me how I prefer my salad, I will show them a picture of the Thai Pork Salad from Kanto Freestyle Breakfast. It's the perfect salad for meat lovers like me because it has an excellent balance between meat and vegetables.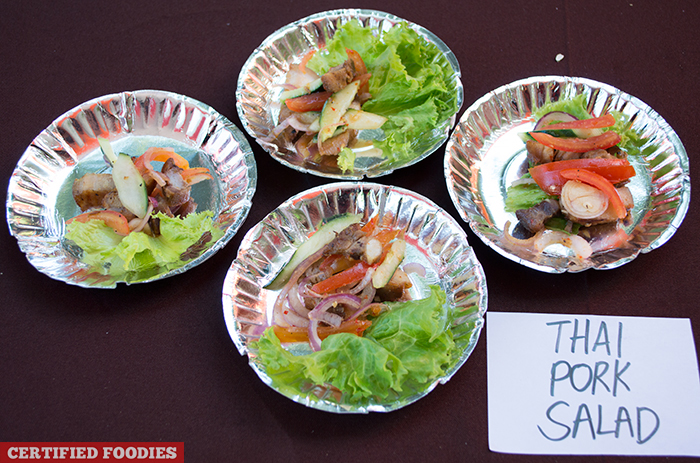 Chef Arch of Lime fuses Filipino and Japanese flavors into one with his Sisig Maki. He used McCormick Rice Cookers mix to flavor the rice rolls. Honestly, I was not a big fan of it. But you know what would have made this dish better? Rolling the maki pieces into ground pork chicaron and topping it with mayo-wasabi sauce. My heart skips a beat just thinking of it. Haha!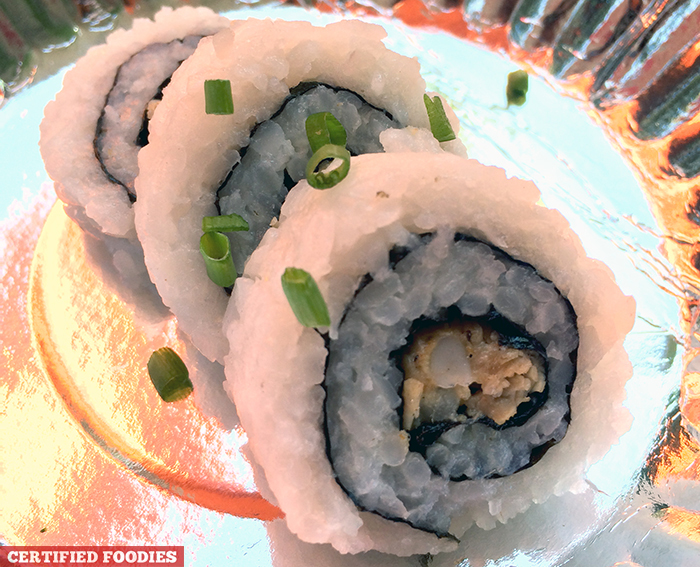 While the Sisig Maki came short of my expectations, Chef Arch's Asian Nachos with Tomato Salsa was the exact opposite. It was well-seasoned and the different flavors and textures of its components melded harmoniously.
Kwek-kwek, a favorite Filipino snack, was given an interesting twist with Chef Arch's All-Spice Quail Egg Tempura. He enrobed the egg with tempura batter, which was flavored with McCormick all-spice powder. It was then deep-fried to a crisp, resulting to a light-colored egg fritter – a stark contrast to the bright orange kwek-kwek we are used to eating on the streets.
The Pasta Bar by Chefs Obet and Morgan was supposed to serve three (3) kinds of pasta – Tomato Pesto, Tinapa Pasta, and Carbona. I was only able to try the Creamy White Sauce Carbonara with Nutmeg by Chef Morgan. He added a dash of McCormick nutmeg powder to his white sauce, giving it a nice, earthy flavor.
Dessert was served by Kanto Freestyle Breakfast with their Cinnamon Pancakes. You have two flavor choices for your ganache topping – chocnut or ube. I picked the ube ganache. Two pieces of pancakes flavored with McCormick nutmeg powder were stacked on top of each other, then they topped with a generous dollop of ube ganache and drizzled with maple syrup. My photo doesn't do it justice, but, believe me, this dessert was heavenly!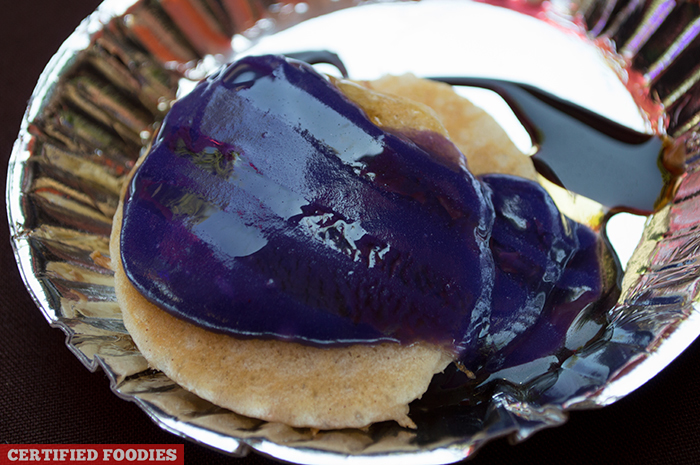 McCormick Spiced Beverage Bar
McCormick's resident mixologist prepared two flavors of mocktails (or cocktails if you're game enough to enjoy some booze at 2PM like me *winks*). His Royal Mojave Cocktail was a drink infused with dried rosemary from McCormick. I was able to sample it during the McCormick Flavor Nation Festival's official press launch, which happened a week before the main event.
The Mango Ginger Smash was the newest concoction by the resident mixologist, so I ordered myself a serving of it, together with a bottle of Brew Kettle (Belgian Witbier Beer), the official beer sponsor of the McCormick Flavor Nation Festival.
The Entertainment at McCormick Flavor Nation Festival
The McCormick Flavor Nation Festival was indeed a fun-filled day! In between tasting the amazing McCormick-infused dishes, we were kept entertained by the lively musical performances by Brad Go (THEHUSHPROJECT), Ukulele Philippines Ensemble, and Basti Artadi (Wolfgang), who also displayed several of his best art pieces at the festival. We also learned a thing or two about food and cooking during the cooking demonstrations by Chef Xavier Btesh and Sabrina Artadi. And McCormick's resident mixologist didn't fail to wow us with his jaw-dropping bartending and flaring exhibition.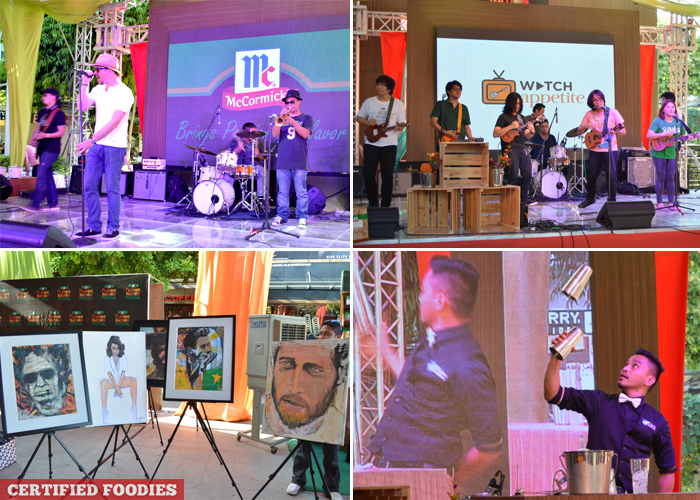 McCormick Spice Hub
Of course, our McCormick Flavor Nation Festival adventure doesn't end without paying a visit to the McCormick Spice Hub, where attendees can buy various McCormick products that they can take and use at home.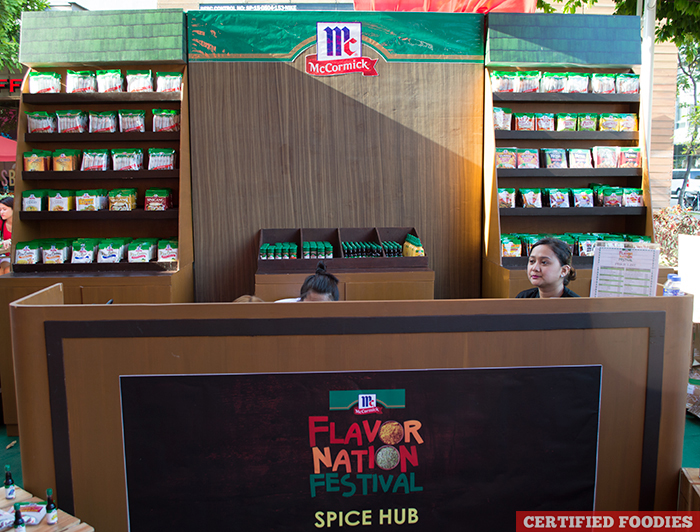 We are seriously hoping it's not the last McCormick Flavor Nation Festival. Actually, it should become an annual thing because it's a fun and entertaining foodie event anyone would not dare to miss.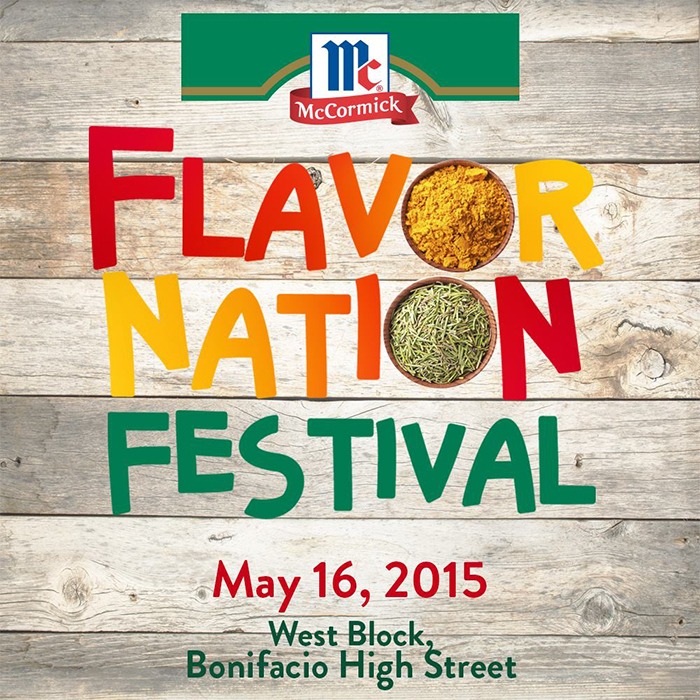 The following two tabs change content below.
Kenneth is the chef in the family (he studied Culinary Arts and Baking & Pastry Art in GCHA). He's responsible for most of the more complicated recipes featured here, and loves preparing pastries and desserts. Aside from being a chef, he's also a Registered Nurse and Midwife. His love for cooking led him to pursue a culinary career.
Latest posts by Ken Ignacio (see all)
Comments
comments