Filipinos love dining at food courts for three main reasons: variety, convenience, and affordability. However, there also exists two major drawbacks that are quite off-putting to diners. First, most food courts allow similar food concepts to compete with each other, so it's a familiar scene to see 2-3 sizzling or Filipino cuisine concepts in one food hall. Secondly, some of the food being offered are so mediocre that one would wonder how they were permitted to put up their shops in the first place. What if we tell you that there's a new food spot in Makati that has all three reasons why we love food courts, minus all the drawbacks? Yes, there is and it's Hole in the Wall at Century City Mall.
Hole in the Wall
Hole in the Wall at Century City Mall is redefining the term, "food court," by featuring a curated and hand-picked list of food purveyors in a space one would not typically associate with a food court. At first glance, the place would remind you of hawkers in Singapore, but once you've taken a good look around, you would know that food courts don't look as fancy and modern as Hole in the Wall.
The Greenhouse
The dining area is divided into 5 sections: The Greenhouse, The Den, The Barn, Al Fresco area, and the whole second floor. The Greenhouse is the first area that would greet you once you come into Hole in the Wall. The tables and seats here are a good mix of plush couches, wooden chairs, and benches.
The Den
My favorite area would definitely be The Den. It's a lot darker here compared to other dining areas, which makes it the perfect spot to stuff your face full of food without the fear of anyone judging you. Haha!
The Barn
If you're coming with a big group of friends or family, The Barn is the perfect area for you. Also, it's the area with the most lighting, so it's good for taking food photos and selfies.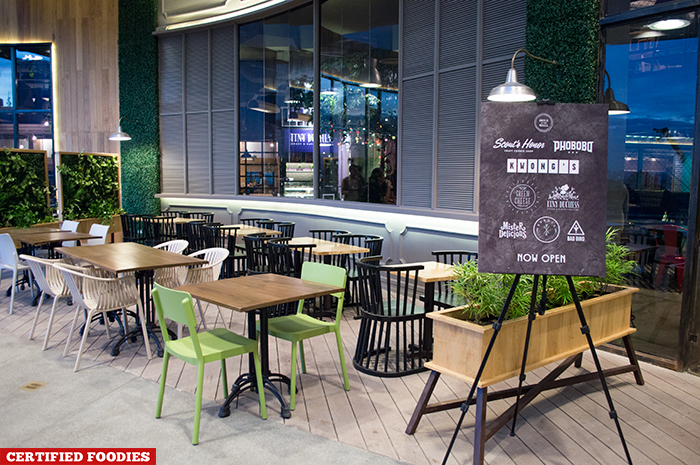 Al Fresco Area
If you're a smoker or if you just want a good view of the Makati skyline, then we suggest hanging out at the Al Fresco Area.
Hole in the Wall Food Concepts
Hole in the Wall's two main focus are quality and variety. All food purveyors went through a series of screenings and food-tastings to make sure not one concept is similar with another and to ascertain that all the dishes would meet the standards of even the most discerning palates. The management has hand-picked food concepts by established people in the food industry, like Chefs JP Anglo and Miko Aspiras.
Bad Bird: Umami Fried Chickens
Bad Bird was conceptualized and owned by the Hole in the Wall management. The dishes they serve are fusions of different Asian cuisines. You are given three choices for the spiciness level of your umami fried chicken: safe, spicy, and CHEMICAL!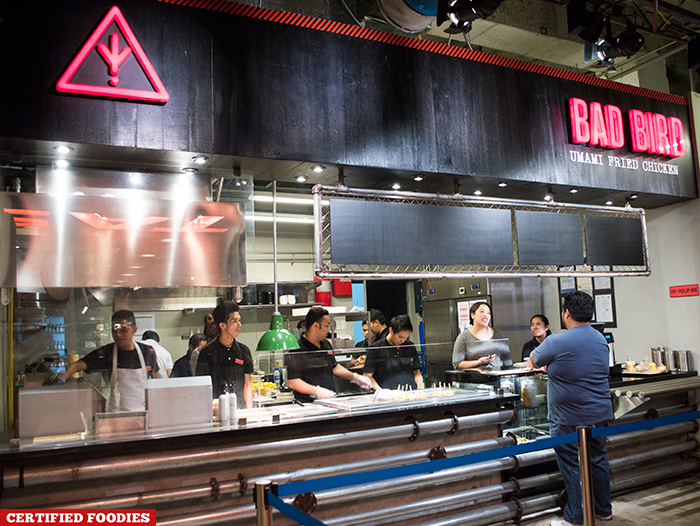 I love spicy food, but the word, "chemical," hit a nerve on me, making me back down and just settle for their "spicy" chicken. My order came with two pieces of corn on a stick and a bowl coleslaw. They have, honestly, the crispiest and the most flavorful fried chicken I've ever had. I hate to admit it, but if I was asked to choose between fastfood and Bad Bird's fried chicken, I'd seriously pick the latter.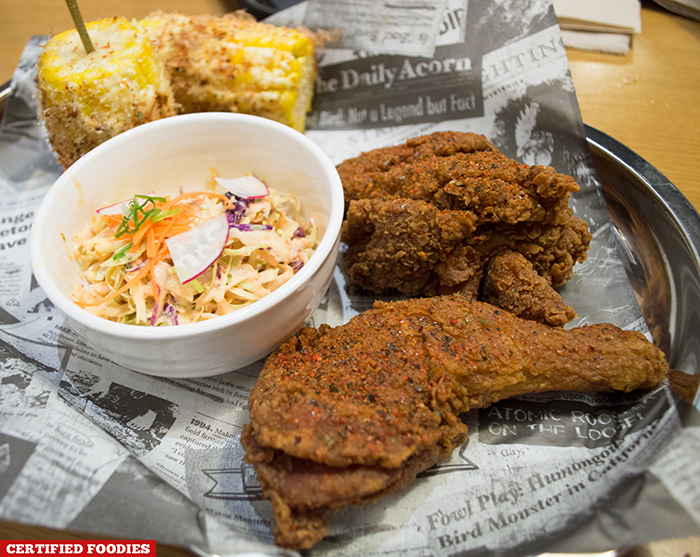 Fried Chicken with Corn & Coleslaw Plate (PHP 290)
My friend, Reish, who doesn't enjoy spicy food as much as I do, played safe and went for their regular chicken. Her order came with a serving of dirty rice and kimchi.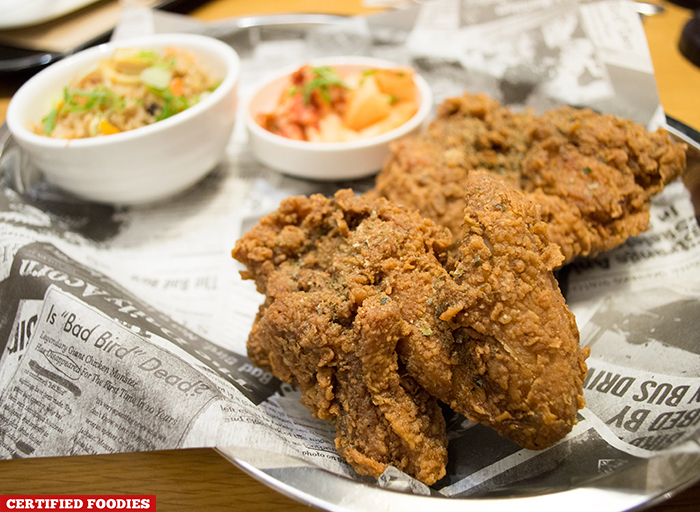 Fried Chicken with Dirty Rice Plate (PHP 300)
Green Cheese Japanese Cheesecake
While Filipinos are accustomed to having their cheesecakes thick and dense, Green Cheese shows us how Japanese people prefer theirs—soft and fluffy.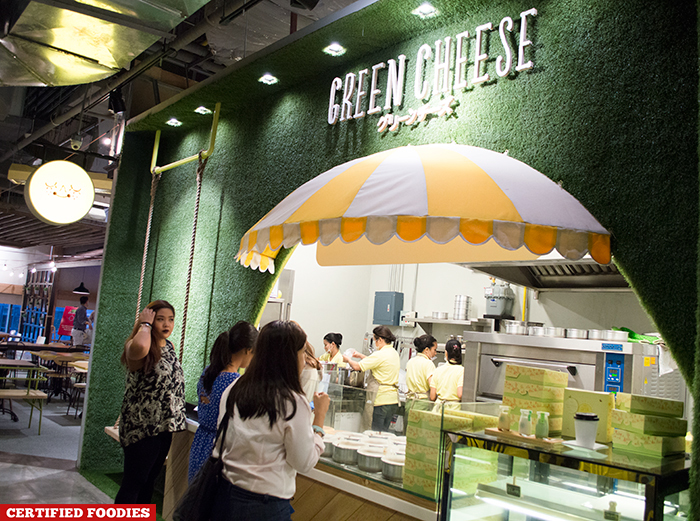 My fascination with Japanese food had taught me that the secret to making cheesecakes fluffy is by incorporating whipped egg whites into the cheesecake batter. Green Cheese offers two cheesecake flavors: matcha (green tea) and regular.
I know my Nanay would love these cheesecakes because they're not sweet at all. And they're so soft and fluffy, you wouldn't notice that you have finished a whole cake by yourself. Haha!

Matcha Green Tea Cheesecake (PHP 450)
Kwong's Provision
Food courts in the Philippines will never be complete without Chinese food. The same is true with Hole in the Wall. This time it's Kwong's Provision, with their modern interpretation of traditional Chinese fare.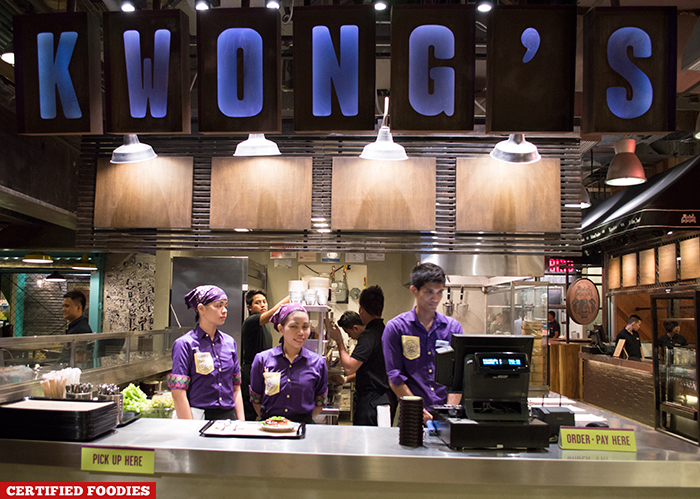 We tried two of their bestsellers. Their Salted Egg Chicken Wings was so surprisingly good that it quickly took the number one spot for the best salted egg chicken I've ever had, dropping Wee Nam Kee's version to a close second.
Salted Egg Chicken Wings (PHP 240)
It came to no shock that their Braised Short Ribs Rice Bowl is one of their bestsellers. It was well-seasoned and the pork pieces had this addicting melt-in-your-mouth texture.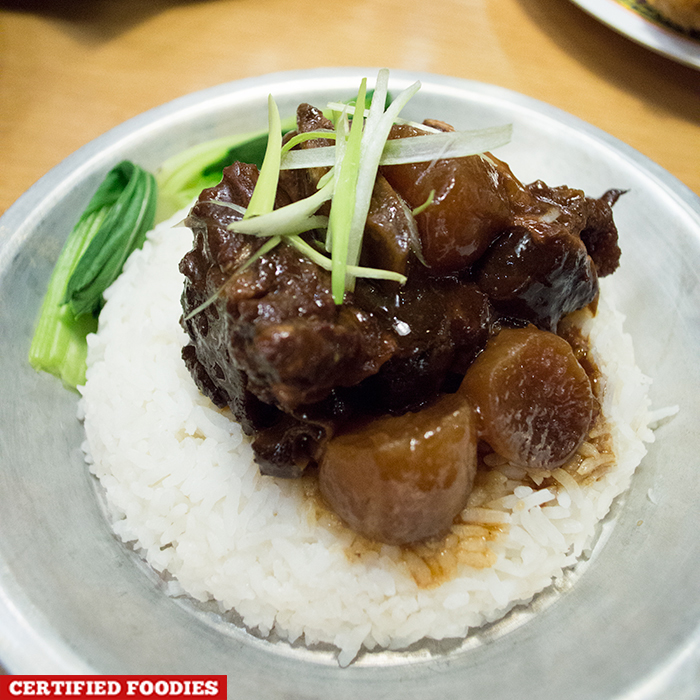 Braised Short Ribs Rice Bowl (PHP 270)
Mister Delicious
From being a regular food purveyor at Salcedo Weekend Market, Mister Delicious has finally found a new home at Hole in the Wall.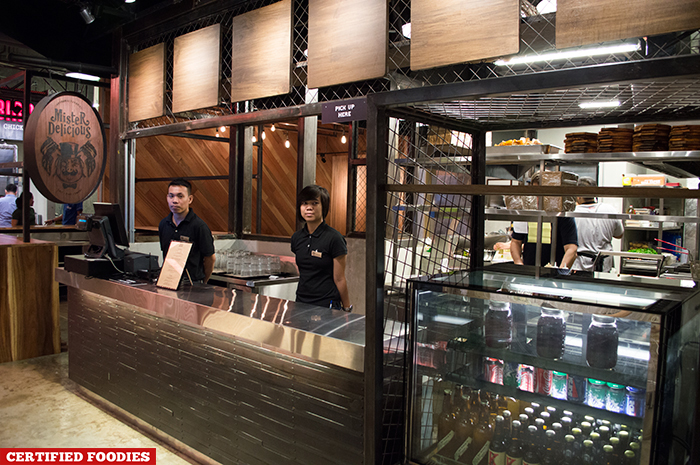 Of course, we had to order their famous Mr Delicious BLT with its thick slab of homemade bacon sandwiched between two slices of multigrain bread together with lettuce, tomato, and mayo.
Mr Delicious BLT (PHP 370)
Their Pastrami Reuben was so big that my friend, Reish, had quite a hard time finishing the sandwich by herself. And yes, I helped her eat the other half. So nice of me, right? Haha!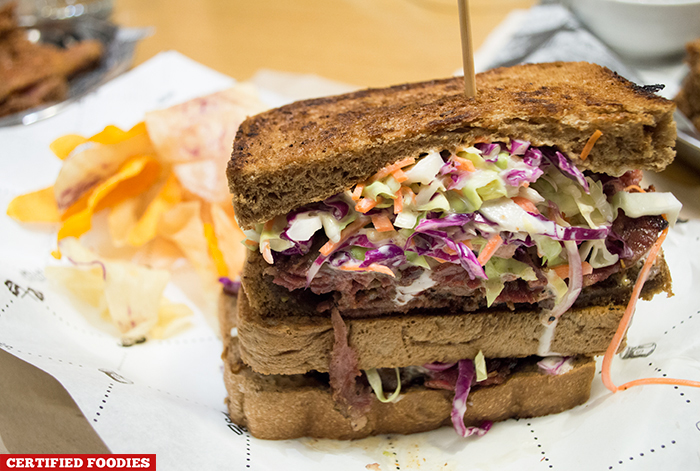 Pastrami Reuben (PHP 450)
Phobobo Vietnamese Street Food
One Asian cuisine I'm not familiar with is Vietnamese food. I think their cuisine doesn't get that much publicity in the Philippines. I seriously cannot name one Vietnamese restaurant in Manila. Well, now I can. Thanks to Phobobo.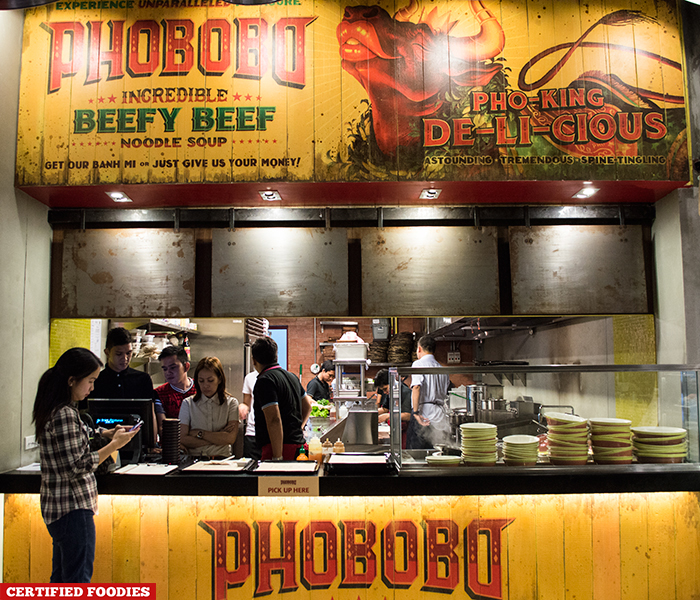 We ordered a bowl of their bestselling Pho Bo, which is beef soup with rice noodles, braised beef shank, thinly sliced rare beef, bean sprouts, chilies, fresh lime, and herbs, served with sriracha and hoisin sauce. I didn't realize that their Pho Bo had a lot of elements going on all the same time until I wrote them down. That's how you judge if a soup is good—when you cannot tell the ingredients from each other because their varying flavors and textures mend into one harmonious dish.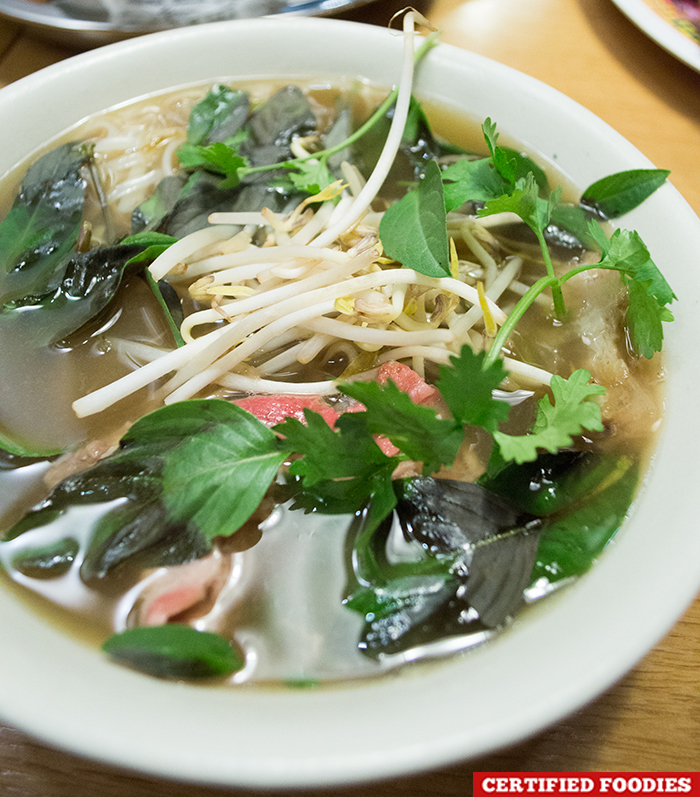 Pho Bo (PHP 360)
Similar with their Pho Bo, the Spicy Tamarind Oxtail Banh Mi had a lot going on as well. It's a sandwich made with tamarind-glazed braised oxtail meat, pate, Japanese mayo, pickled and fresh vegetables, chilies, cilantro on crispy Vietnamese baguette. It's not my cup of tea, to be honest, but I'm pretty sure some people can appreciate it more, especially those who are familiar with Vietnamese cuisine.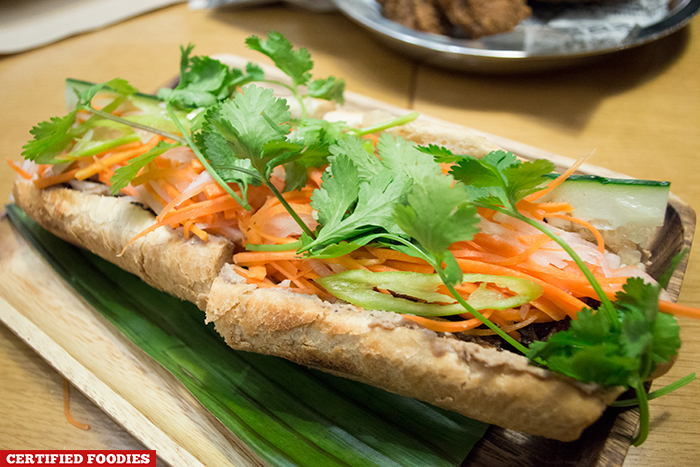 Spicy Tamarind Oxtail Banh Mi (PHP 290)
Scout's Honor Craft Cookie Shop
Chef Miko Aspiras, the brain behind the Magnum Café in the Philippines and Malaysia, introduces yet another one-of-a-kind food concept that will surely poke the interest of all foodies in the Metro. Scout's Honor is the first craft cookie shop in the Philippines, where you can create your own customized cookies.
In making your own customized cookie, their accommodating servers will first ask you to choose which cookie dough you prefer. I went for their plain cookie dough, while Reish chose the chocolate one. The server then asked us for our choice of toppings.
I asked mine to be topped with Nutella, Reese's Peanut Butter Cups, and—wait for it—cheddar cheese! Haha! It was a weird combination, but, unexpectedly, it worked! Reish wasn't being too adventurous so she stuck to just smothering her cookie with sweet toppings instead.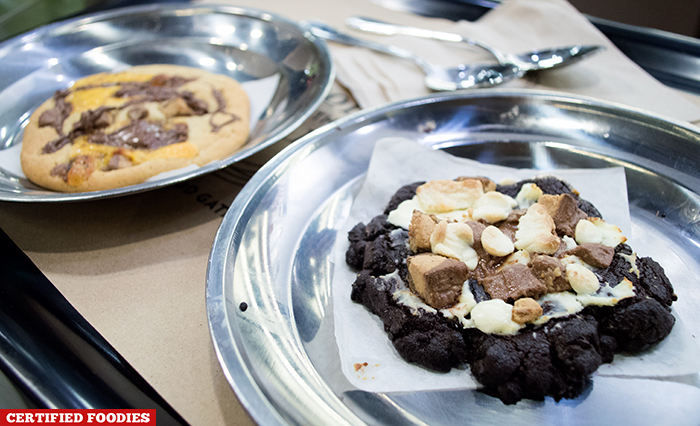 Make Your Own Craft Cookie (PHP 120)
They also sell pre-made cookies. One of their bestsellers is the Cookie Inception, which is a chocolate chip cookie with a piece of Oreo tucked inside its dough. Yum! Another must-try is their Foie Gras Cookie. I haven't tried it yet since it was unavailable that time, but that's enough reason for us to pay them a visit soon.
Spruce Cold Pressed Juices
If you follow Erwan Heussaff on Instagram, then you might be familiar with Spruce, since he's one of the chef consultants for the business. Spruce offers premium 100% cold-pressed juices that are smooth, pulp-free, and with no added sweeteners.
Spruce Cold Pressed Juices (PHP 250 / bottle)
They also sell some crispy Kale Mix Chips. It's perfect for parties or if you just want something healthy to nibble on while having a solo movie marathon at home.
Kale Mix Chips (PHP 250)
Tiny Duchess Sweet and Savory Éclairs
Hidden at the farthest corner of Hole in the Wall, nestles a modest castle that houses the most eye-catching sweet and savory éclairs we've ever seen.
It's my first time to encounter savory éclairs, so I was having second thoughts about trying their Salmon Éclair. To my shock, it was quite toothsome that it ended up as my favorite flavor among all those that they are selling.
Other Food Concepts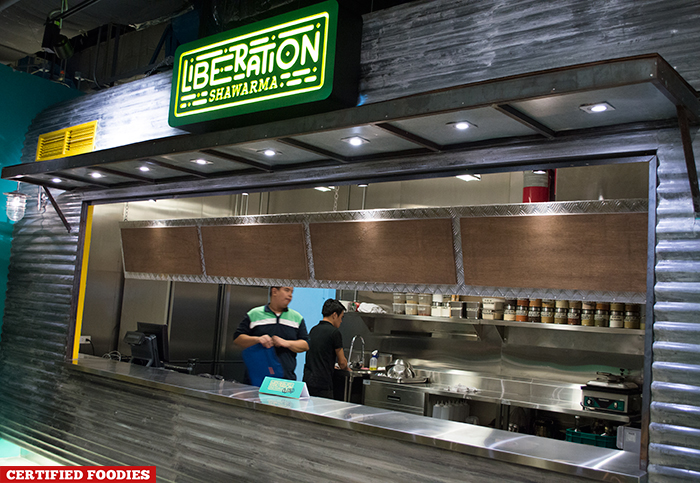 Since our stomachs do have their limits, we were not able to try a number of food purveyors, like Liberation Shawarma, The Beef, Posporo, and Smoky Bastard. We solemnly swear to return as soon as possible!
Hole in the Wall
4/F, Century City Mall, Kalayaan Avenue corner Salamanca Street, Makati City
The following two tabs change content below.
Kenneth is the chef in the family (he studied Culinary Arts and Baking & Pastry Art in GCHA). He's responsible for most of the more complicated recipes featured here, and loves preparing pastries and desserts. Aside from being a chef, he's also a Registered Nurse and Midwife. His love for cooking led him to pursue a culinary career.
Latest posts by Ken Ignacio (see all)
Comments
comments