For over 40 years, Farmers Market, a landmark at the Araneta Center, has been distinguished as an unparalleled source of fresh meat, seafood, and produce in Metro Manila.  Now they're setting the bar even higher as they officially launch the Farmers Market Day Tour, a major first in the history of the Philippine market.
Farmers Market Day Tour 
Farmers Market holds its first Farmers Market Day Tour, in participation to the gastronomic feast, "Flavors of the Philippines," by the Department of Tourism for the whole month of April. This project aims to transform our old and boring market day into a fun and interactive adventure, where you get to discover new things and experience Farmers Market anew.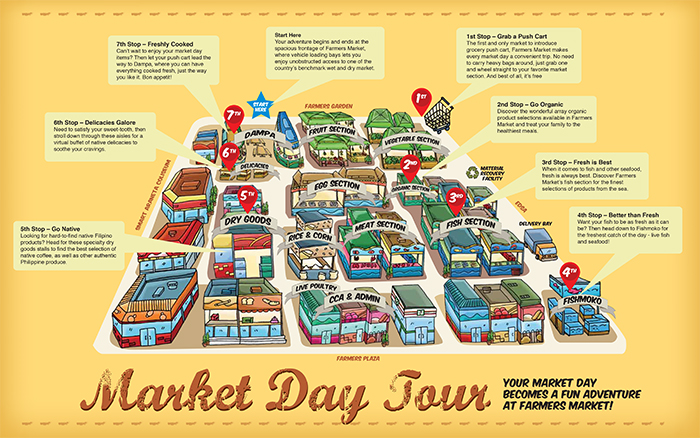 Farmers Market for Madrid Fusion
On April 23, Farmers Market will be welcoming the elite chefs featured on Madrid Fusion Manila 2015 – the most anticipated event of the year that will bring together renowned chefs from Spain and the Philippines in a single culinary stage.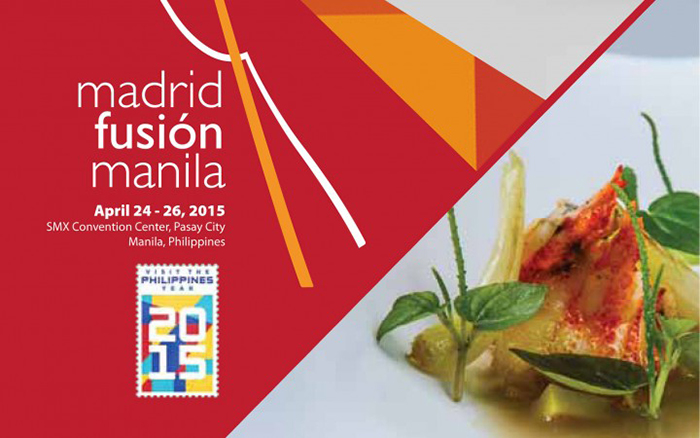 I consider myself fortunate for being invited, together with some select local bloggers, to be the very first people to experience the Farmers Market Day Tour before the arrival of the participating chefs and international press for Madrid Fusion. And as an avid fan of local beauty pageants, I was even more delighted to find out that our tour guides will be none other than Pia Alonzo Wurtzbach (Binibining Pilipinas Universe 2015) and Hannah Ruth Sison (Binibining Pilipinas First Runner-Up).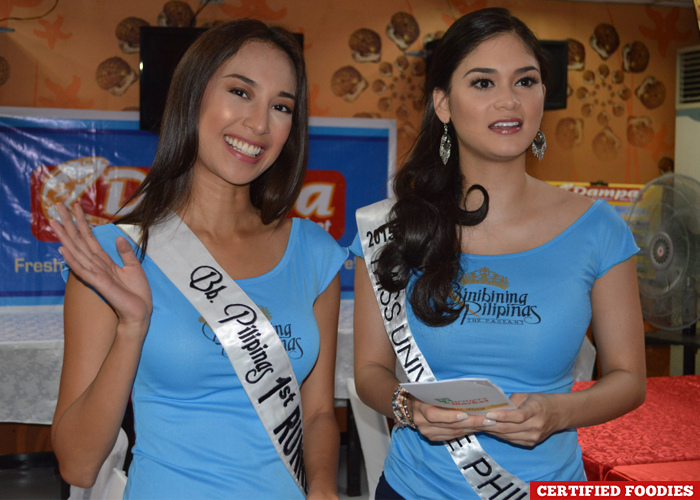 Grab a Push Cart
After Hannah and Pia gave us a brief introduction of our tour, they led us straight to our first stop, where we saw rows of push carts that market shoppers can use for free. It's important to note that Farmers Market is the only wet market in the Philippines to offer such service. You just need to surrender a valid ID for renting the carts. Now you don't have to hurt your back, carrying heavy bags while shopping.
Timbangan ng Bayan 
At Farmers Market, you can rest easy, knowing that you are getting your money's worth. At the intersection between the Fruit and Vegetable Sections stands a metal pole with a weighing scale, where you can double check the weight of the goods that you have bought from the vendors.
Fruit Section
I've visited my fair share of wet and dry markets, so I can rightfully say that Farmers Market's fruit section is one the cleanest and most organized I've ever seen. It's really hard to leave this section empty handed because of the huge variety of fresh fruits you can choose from.
Vegetable Section
A stroll through the Vegetable Section, you'll quickly notice that the vegetables they offer are seriously fresher and cheaper, too, than those offered in mall supermarkets.
Egg Section
You don't have to visit gourmet markets in Makati just to get your hands on organic eggs. They're quite abundant at Farmers Market and you can expect that they're of the highest quality. They also offers eggs in different sizes, so you can get exactly what the recipe you're trying needs, whether it calls for a small, medium, or large piece of egg.
Fish and Seafood Section
Any professional or home cook would totally lose their minds at this section because of the huge array of fresh seafood you can take home. But why settle for "fresh" when you can get seafood "live"? Head over to Fishmoko to avail of the freshest catch of the day.
This section even has live diwal, imported from Roxas City. I spotted a few of my favorites, too, like tatampal and jumbo prawns, which were the biggest I've ever seen. You might even think they were lobsters for their size.
Meat Section
Filipinos are meat lovers, so it's no surprise to see how crowded the Meat Section of Farmers Market was.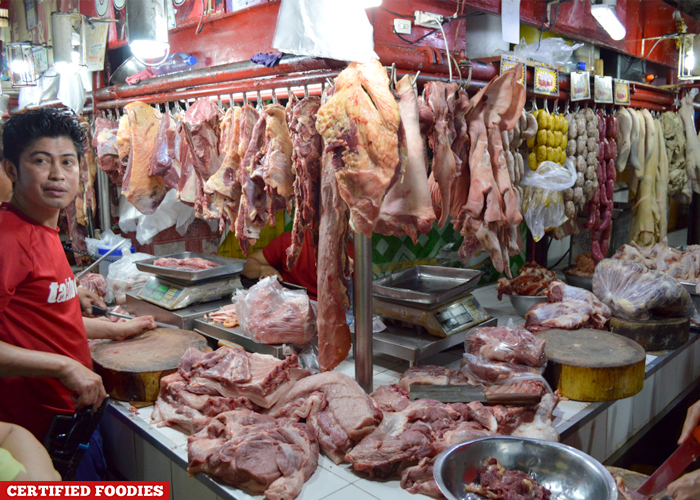 They even have a frozen meat cutter in this section, where you can ask the attending guy to assist you in getting the right thickness for your pork chop or steak.
But what truly got me excited was seeing the assorted longganisa from different provinces in the Philippines. My favorite is the Vigan longganisa, which I'm dying to try so I can know if it's as close to the authentic Vigan longganisa we had in Ilocos.
Live Poultry Section
If you want to be sure of the freshness of the chicken you're ordering, you can go straight to the Live Poultry Section, where you can get live chicken and have them cleaned and prepared in front of you.
Rice and Corn Section 
A Filipino meal will never be complete with our favorite source of carbohydrates – rice! At this section, you can get a variety of rice: from the cheap NFA rice to the expensive organic or red rice.
Delicacies Section
I have a sweet tooth and visiting the Delicacies Section of Farmers Market surely roused up the little kid inside me. I even had a hard time choosing which one I'm going to buy. They even have sapin-sapin so freshly cooked that it was still wafting with smoke.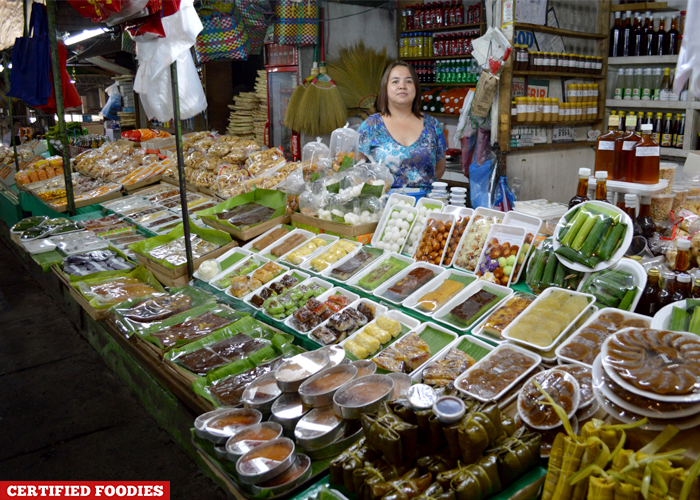 Dry Goods Section
Complete your shopping list at the Dry Goods Section, where you can buy staple grocery items and other authentic Philippine products from native coffee to homemade condiments, like bagoong and fish sauce.
Dampa at Farmers Market
If you can't wait to get home to cook the ingredients you just bought, for a price, you can ask the people at Dampa to cook them for you. For PHP 175, you can have any 1 kilo of fish to be made into Sinigang. They have a standee at Dampa that serves as your guide, so you know how much they charge for each type of meat you have.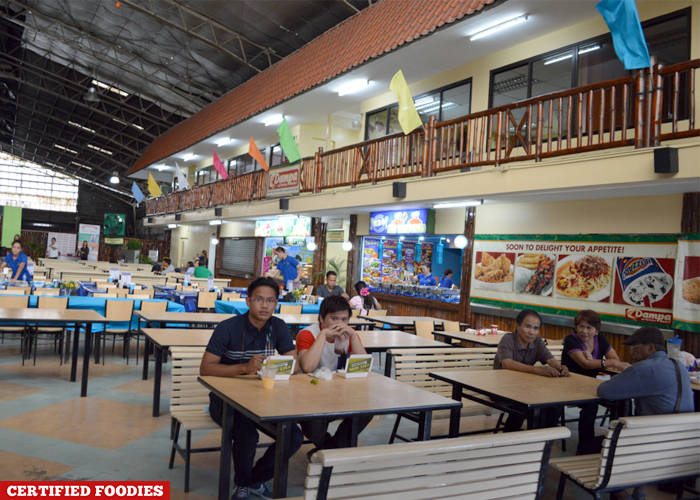 There are also several food purveyors at Dampa, where you can order freshly cooked dishes. We highly recommend you to try the Salmon Belly Sinigang from R26 Fresh Seafood's Paluto.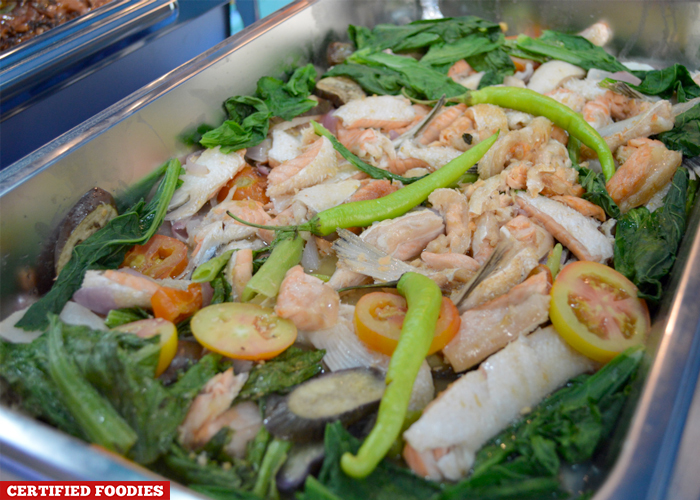 Center for Culinary Arts (CCA)
I was shocked to find out that they have Center for Culinary Arts (CCA) has a branch in Farmers Market. It opened in 2006 and they only offer short courses. It's perfect for mothers and kids interested in learning how to cook or bake. When we were there, one of their chef instructors gave us a quick demo on how to frost a cupcake.
For inquiries, you can visit CCA's official website or reach out to them through these numbers: 437-6058 or 437-7456.
Restaurants and Other Food Establishments
Farmers Market is walled by different famous food establishments, like Jollibee, J.Boy Japanese Restaurant, and Tapa King, which is their biggest branch in the Philippines. They also have the renowned Alex Sea Delicatessen that offers fresh and affordable sushi and rolls. It's the perfect item to bring at a potluck party!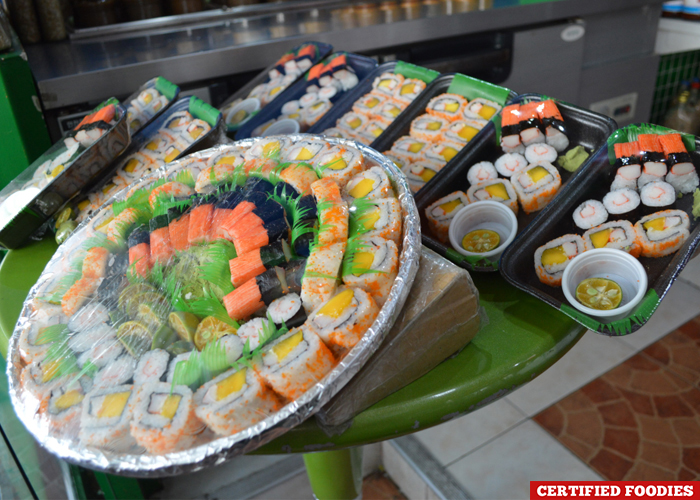 Another notable establishment at Farmers Market is Masan Grocery, where they sell a variety of imported goods from Japan and Korea.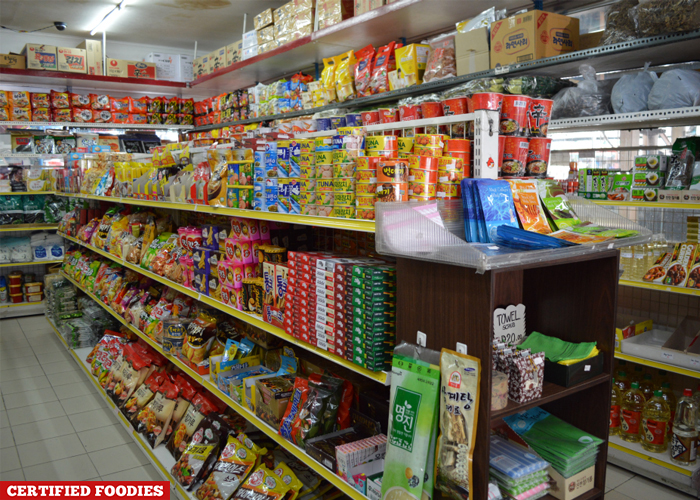 Kitchen Supplies and Equipment
You don't have to visit a mall just to buy kitchen supplies. You can get them right at Farmers Market. They sell knives, pots, pans, and even baking equipment, like cookie cutters, chocolate molds, and muffin pans. They were even cheaper than those I found at Chocolate Lover.
Farmers Market Botanical Garden 
You don't have to have a green thumb to appreciate Farmers Market's outdoor botanical garden. Here you can buy a huge variety of plants and flowers for your own garden and they also make the perfect gifts!
Consider yourself forgiven if you give your special someone a beautifully arranged bouquet of flowers. Haha! It's Mother's Day on the 10th of May, giving your mom flowers is always considered a nice gesture.
Discover Adventure at Farmers Market Promo
From April 17-30, share your experience at Farmers Market on Instagram and get a free Market Survival Kit, which contains a fan, notebook, ballpen, mineral water, and a reusable canvas bag.
Here's how you can join:
Follow @TheAranetaCenter on Instagram
Grab a free copy of the Farmers Market Day Tour map at the booth in Dampa or get one online.
Take any 3 photos out of the 7 key stations inside the Farmer's Market on your Instagram and put #DiscoverFarmersMarket
Show your posted photo at the redemption booth located at Dampa to claim your Market Survival Kit.
Farmers Market at the Araneta Center
Farmers Market, Araneta Center, Cubao, Quezon City
The following two tabs change content below.
Kenneth is the chef in the family (he studied Culinary Arts and Baking & Pastry Art in GCHA). He's responsible for most of the more complicated recipes featured here, and loves preparing pastries and desserts. Aside from being a chef, he's also a Registered Nurse and Midwife. His love for cooking led him to pursue a culinary career.
Latest posts by Ken Ignacio (see all)
Comments
comments